Welcome back to 52 Lock Up, I am your Appletini Cadma of Bitten Apple TV. 52 lock up is a series I started to talk about one of my biggest passions of true crime. A new episode on every Cadmaniac Monday for 52 Mondays, 52 crimes. Hope you guys enjoy, be sure to like, leave some feedback and subscribe; Viewer discretion is always advised.
Sorry for the late episode this week; I really need help with doing this show with my hectic schedule. I digress. I want to walk you down the path of Synthia Varela's life from a young age. She was born to a middle class family in 1975 to her 5 year older sister, her father divorced her mother soon after she was born. Her father raised her and her sister with the help from his mother; and Synthia rarely saw her biological mother. Her father would meet her future stepmother in 1976 but they would begin dating in 1981; and wed 2 years later in 1983. Due to her father and stepmother working at the Army Corps of Engineers their jobs would move the family to Saudi Arabia in 1983; when she was 8 years old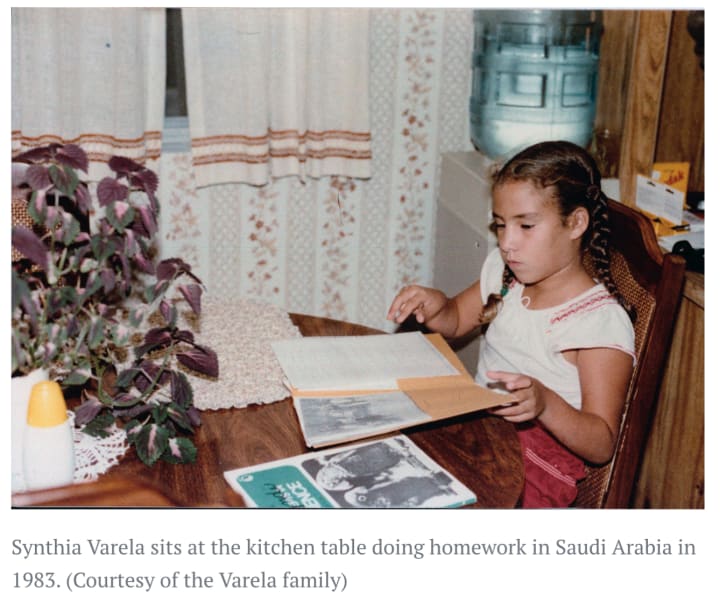 Her father and stepmother's jobs provided opportunities for Synthia and her sister to gain a world view, but with the loss of being able to see her mother more and more; the seed from the fear of abandonment would bury itself deep in her. Continuing with her father and stepmother's job opportunities her and her sister experienced excursions around the world including family vacations to gain cultured experiences from Jordan, Germany, Austria, Switzerland, Spain, Italy, Amsterdam, Hong Kong, Greece, Hawaii and Singapore; I mean truly gaining experiences that lesser privileged children would have loved. Her parents felt as if their daughters appreciated the experiences and truly grasped how lucky they were to have those opportunities".
Eventually the family would settle down in Albuquerque; the main pit stop for Bugs Bunny. The family attended a Catholic Church while their daughters attended public high schools. Synthia is described as an extremely energetic independent child into a young adolescent; however, the older she became the more rebellious she became. It is normal for teenagers to question authority and their parents because as they are growing they are learning to identify themselves as themselves; but her psychological and mental development would bring her down a different path.
While Synthia was attended Sandia High School she began to get into so much trouble she would be kicked out, begin attendance at La Cueva High School; and then was kicked out of that school as well. By 1980 when she would be 15 years old she would run away from home but would later be picked up by the police. The legal response to her behavior was her being placed in group homes in Albuquerque and Santa Rosa; but she would only run away from those group homes as well. I admit I have to wonder what was happening at home to create these reactions at home with Synthia but when I checked website FosteringPerspectives.org; they stated "Youth in foster care are more likely to run away the first time if they entered care due to lack of supervision and less likely to run if they entered due to sexual abuse or physical abuse. The more placements they have, the more likely youth are to run." Which is interesting and I wonder if it is due to her lack of developing relationship with her biological mother.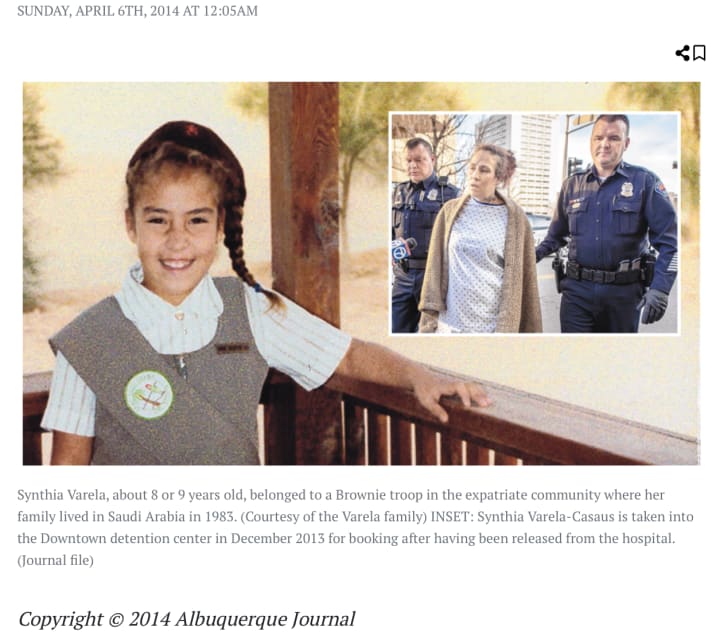 In a research article in the National Library of Medicine called "The Effects of Parental Absence on Children Development: Evidence from Left-Behind Children in China" by MingZhi Mao, LiJun Zang and HaiFeng Zhang stated "A vast literature has shown that the absence of parental care in early childhood negatively affect children's development in health status, daily behaviors, and in-school performance. A longitudinal study in Thailand finds negative impacts of parental absence on the school enrollment of left-behind children (LBCs), and shows the long-term absence of the mother appears to reduce the educational chances of LBCs." Is this what is happening with Synthia; especially because abused children bond to their abusers where in Synthia's case it is plausible that she lacked proper supervision.
Synthia collected an arrest record like she was collecting stamps, and this included shoplifting, disorderly conduct, concealing identity, failure to appear in court, contempt of court, failure to comply with the conditions of her probation, aiding illegal activity, multiple arrests for prostitution, and a host of drug-related arrests for such things as possession, distribution and trafficking. Regardless of the number of cases, not all of those cases would result in a conviction and to be honest majority of them would be dismissed. Although they would be dismissed in the Bernalillo County Person History Report generated by the Metropolitan Detention Center, Synthia would create 28 pages of crimes. Synthia would stay in the juvenile detention until October 1993; right before her son would be born.
In the article in the Office of Juvenile Justice and Delinquency prevention.gov website discussing "Consequences of youth substance abuse" stated that "There is an undeniable link between substance abuse and delinquency. Arrest, adjudication, and intervention by the juvenile justice system are eventual consequences for many youth engaged in alcohol and other drug use. It cannot be claimed that substance abuse causes delinquent behavior or delinquency causes alcohol and other drug use. However, the two behaviors are strongly correlated and often bring about school and family problems, involvement with negative peer groups, a lack of neighborhood social controls, and physical or sexual abuse (Hawkins et al., 1987; Wilson and Howell, 1993)." So is Synthia not receiving proper attention and supervision and beginning to branch out into trouble and drugs? One of the drugs that would consume Synthia is methamphetamine which she would bounce back and forth from consistently.
For those who may not know what methamphetamine hydrochloride is, it's popular name is "Crystal Meth" or "ice" is a smokable, crystalline solid form of methamphetamine, a stimulant that is used for recreational purposes. The human body has 50 identified hormones that all have different jobs; there are other ones but they are still undergoing studies. Methamphetamine creates the release of neurotransmitters dopamine, norepinephrine and serotonin and activates the cardiovascular and central nervous systems; it is a stimulant and incredibly addicting.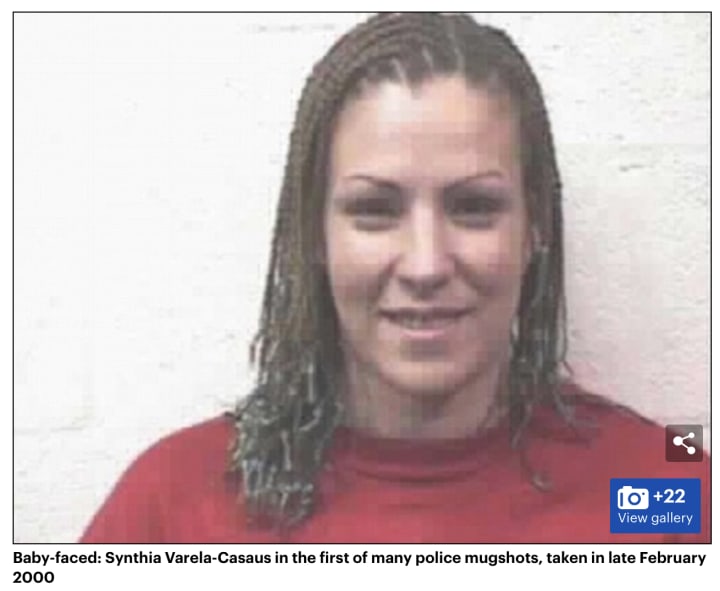 So Synthia is on crystal meth and when her first son was born Synthia would move in with her 18 year old drug dealer Alan Waseta; but by February of 1994 their home would be raided while Synthia was preparing a bottle for her son. According to news articles when the raid occurred Alan would grab a briefcase filled with money, drugs and a gun and push Synthia out the back door with him. He would be shot during his run and would collapse on top of Synthia; which he does survive but this is additional trauma for Synthia whose brain is rewired due to the meth and her psychological lack of development. As a side note, police also found in the home more drugs, weapons which included a sub machine gun; but the baby was uninjured baby inside the home.
During this investigation medical teams at the hospital would see that Synthia had numerous burns and unidentifiable marks on her body; which took a lot from her to admit to the staff that these wounds came from her abuse with Alan. In 1995, Alan would be sentenced to a year in prison and five years of probation; along with a required 2 year residential drug treatment program. When he went to prison their son would be taken out of their custody. Synthia became concerned that she would never be able to see her child again and agreed to have her child placed into foster care of her father and stepmother until they were able to adopt him and care of the child; although she would come to regret that choice.
Due to her decision to give up her first son to her parents; she hated her parents for this. Synthia's new affection is Christoper Clewis and she would go to have 2 more children and the second oldest of that children would be Omaree and his sister; Omaree was born on March 2nd 2004. It is also known that Omaree was born while his mother was in prison on drug trafficking charges. Christoper Clewis is another individual deep into criminal activity and drugs. She seems to date her dealers. Their relationship would spiral out and Christopher was shut out of Omaree's life forever.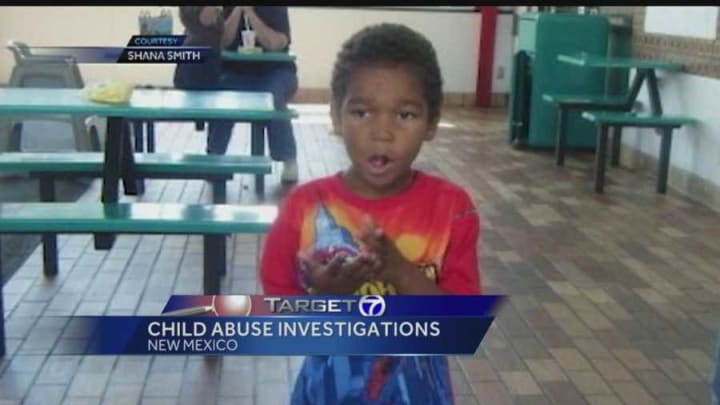 Synthia is raising 4 kids alone and she meets in and out prisoner Steve Casaus, he "likes" the kids and becomes a stepfather. Synthia continues to struggle with her drug addiction and then stop, continue then stop. The Children, Youth and Families Department and Albuquerque Police Department would receive referrals to check in on the household especially concerning Omaree or the family.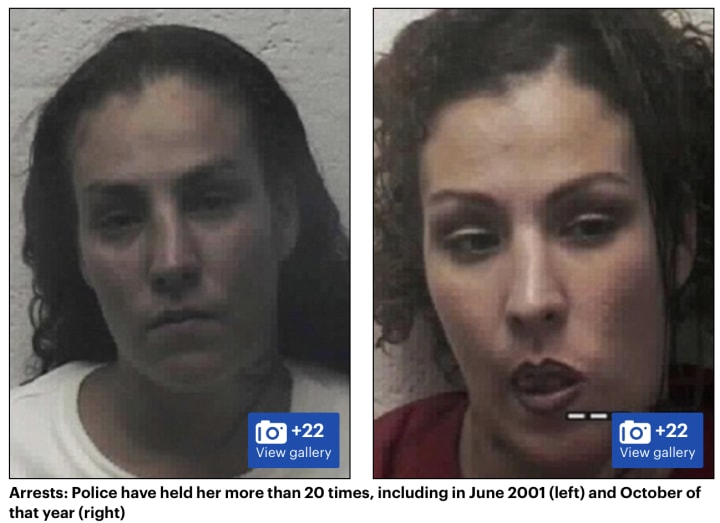 During her drug struggle Synthia made a friend/babysitter for Omaree and his baby sister named Essie Sotelo; and when Synthia did not return home while she was taking care of them Child Protective Services were called. Essie became the guardian of 2 of the children and she took the kids to Phoenix, Arizona in March of 2011. She signed the paperwork to do this; for the second time. The kids were two months away from her and then she revoked her decision and took the kids back; the children were returned to her. You're starting to see how they failed these kids. There were 9 referrals to that house hold and apparently according to the records only 2 could be substantiated.
The struggle with drugs and jail continues and The 2nd oldest child was Omaree right, when he was 5 years old he lived with his Aunt for about 7 months. The cops had taken him out of the house in the middle of night apparently but due to her regret of her first born; she decided she wanted her son back. Synthia underneath it all did not concern herself completely with her son's well being but rather more about being in control of something in her life; but this did not stop her from going to her parents to ask for money or the neighbors to sell stories about how she needed money for daycare. She always promised to pay people back but never did; to give her the control she sought after.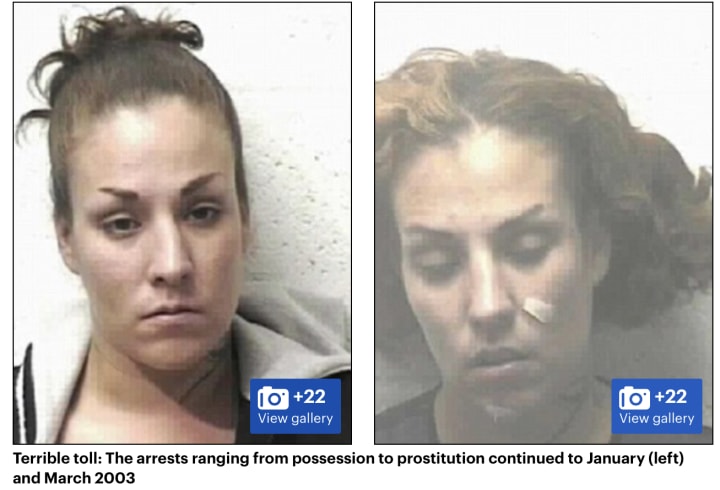 Synthia in between all this to feed her habit meets her next husband Steven Casaus; and the children lived with them. Steven and her bond over drugs and criminal charges; like drug trafficking and possession and transfer of stolen vehicles. This is how Steven and Synthia chose to make money; well that and public assistance. Synthia used Omaree to gain Supplemental Security Income or SSI; and of course she received food stamps. Truth is, you can't actually work and get food stamps anyway and have to be in the level of poverty to get it. I wonder if the programs expanded the requirements to help higher than currently listed would it have motivated them to find work and keep the job? Perhaps that limited program pushed them to stay around drugs because she couldn't get the assistance truly needed for their situation. Perhaps she still would have made the wrong choices still; but why add on more weight to limit an opportunity to growth.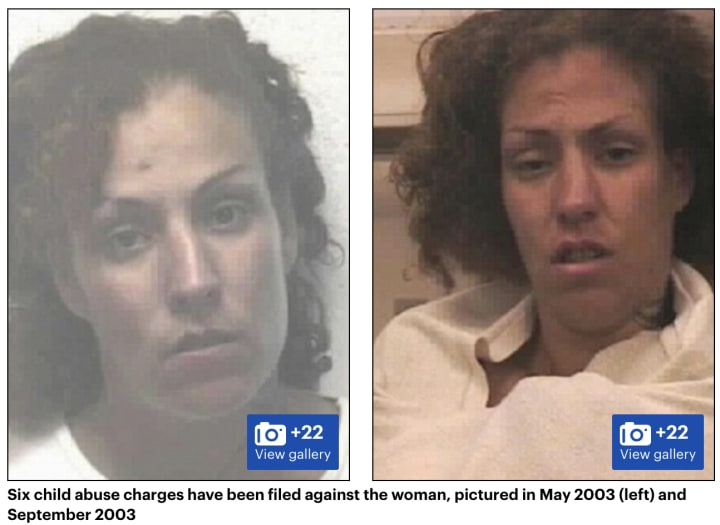 I digress, Steven gets out of prison and they tried to pretend that they were one big happy family. They disregard the jail and drugs they have surrounded their lives around. However, that happiness would not last long. June 2013, 911 dispatchers would trace a call to the home of Synthia and Steven due to a listening to obscene and violent language towards a child by both parents. It is presumed that Omaree is the one that called 911; her second oldest. During the call you can hear Steven stating "I can't stand your (expletive) ass, I really can't stand you. You make me so (expletive) sick, Omaree. Not even my worst enemy got me as mad as you (expletive) pain in the (expletive). … I never hated nobody like you in my life, ever. You know that Omaree. I hate you more than I've hated anybody in my whole life, and I've been on this earth 41 years and nobody has ever made me (expletive) feel the way you do Omaree, ever, and you're a (expletive) kid and that's bad."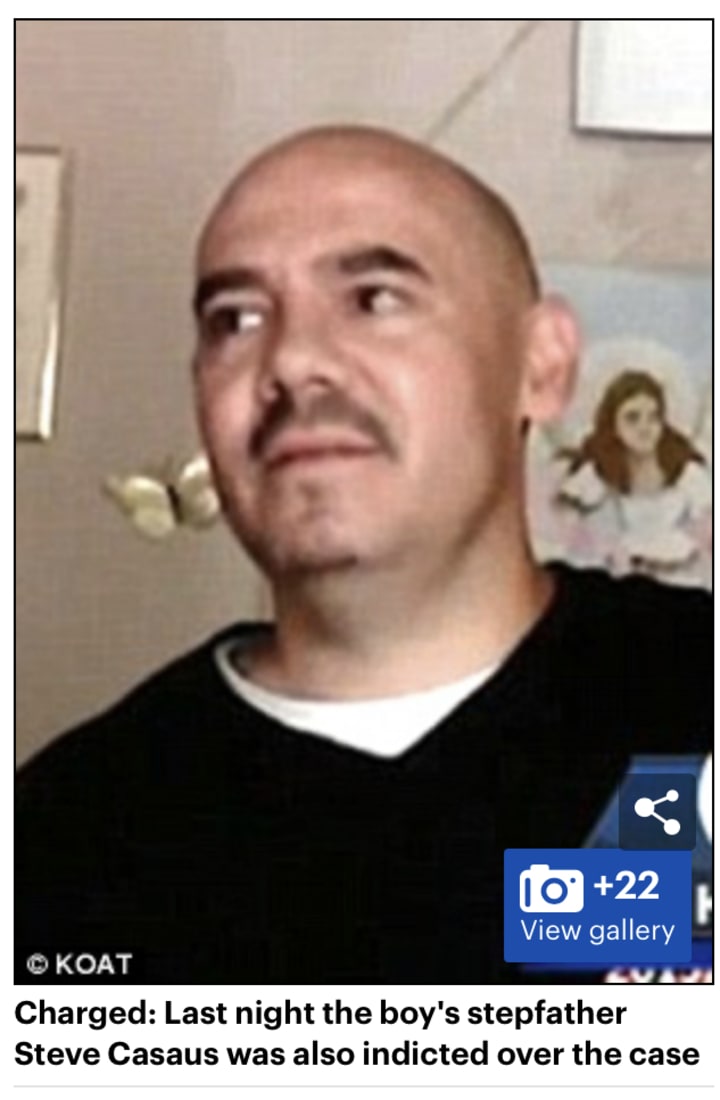 I do not think I have to explain the gaslighting, the abuse, the misconduct, poor language dealt to this kid; and I am confident it is not the first time Omaree was addressed this way hence the multiple calls to help these kids. I want you to picture this with me, it's December and there's Christmas decorations everywhere; and it's two days after Christmas in 2013 and you hear in the news that a 9 year old boy was killed. As the investigation begins, Synthia tells a story of how her son hit his head by falling off a toy horse. The media plows in on details to find out and Synthia admits while being escorted to the Prisoner Transport Center in Downtown Albuquerque "It was an accident. I was discipline him and kicked him the wrong way." As if there is right way to kick a child.
9 year old Omaree Varela was brutally beaten and stomped on repeatedly. He lost 25 percent of his blood volume to internal bleeding. The medical examiner catalogued injuries to the child's head, chest, abdomen, back, right and left forearms, left knee, mid-right shin and tongue. There were also various lacerations, bruises, burn marks, what looked like a bite mark and indications of past physical abuse. I looked up that the average weight of a 9 year old boy is about 63 pounds leaving their blood volume to be about 2,000 mL, which means he lose 500 mL of blood; that's 16 ounces out of 67. The cause of death was listed as "homicide" from "blunt trauma." There were marks found on his body that were old and proved that there was evidence of abuse prior to being killed by his mother and stepfather; and Steven was also doing heroin in the bathroom while Omaree was being brutally beaten.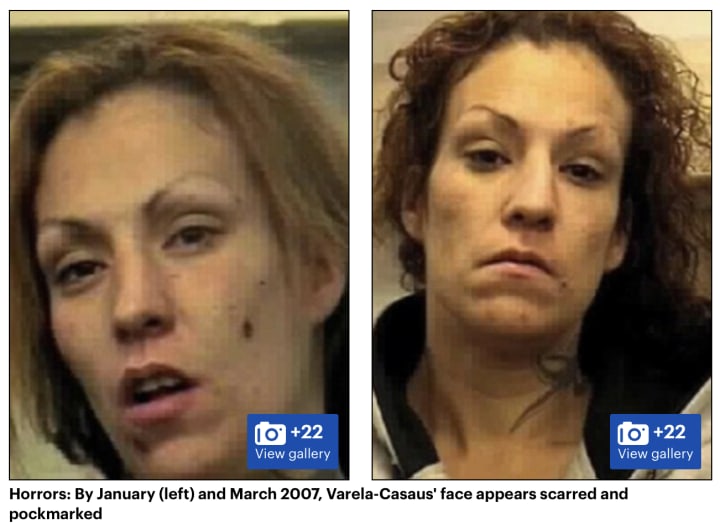 When Omaree's body was found first responders reported that the 9 year old boy's body was cold and stiff at the foot of the bed with cigarette burns and bite marks on his skin. Did you know that for a human body to be cool to the touch it's about 12 hours and 24 hours to become cool to the core; and rigor mortis starts after three hours and lasts until 36 hours after death. Omaree was dead at least for 12 hours; meaning he was dead the day after Christmas.
It was also discovered that when Synthia had recently given birth to a third child, who had tested positive for cocaine. Just some FYI, Hospitals are required to report any exposures to Child Protective Services (CPS) under the Child Abuse Prevention and Treatment Act (CAPTA), meaning all newborns are given a toxicology screen as part of a routine newborn physical assessment, which shows exposure to drugs, alcohol and MAT medications; which are medication-assisted treatment (MAT), a treatment combining the use of medications Methadone, buprenorphine and naltrexone.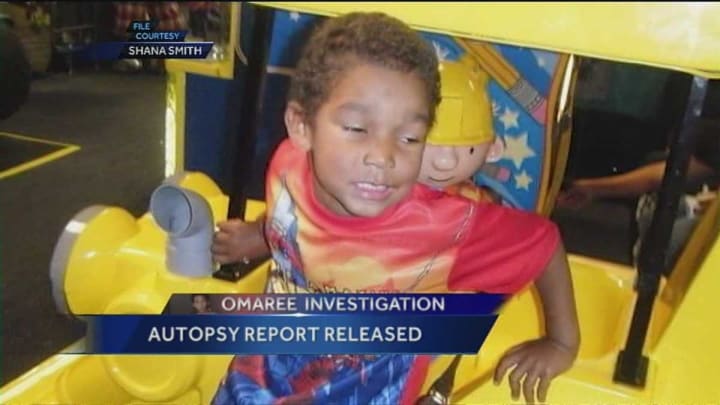 April 2014 Steven was charged alongside his wife for Omaree's death separately and by September 2015 that is how the jury learned he was in the adjacent room during the child being beaten. He was not charged with the most serious charge like his wife was charged for participating in the beating of Omaree but was found guilty of child abuse with reckless disregard resulting in death, for not seeking immediate help for his stepson, tampering with evidence, bribery and intimidation of witnesses. At 43 years old Steven would be sentenced to 30 years in prison but there are additional Federal drug charges against him that are still pending.
Synthia was placed under psychiatric and competency evaluations and stood fit to stand trial. In the courtroom, she was rocking back and forth and sobbing as the charges against her were read. She had pleaded guilty to six counts including 2nd-degree murder; and sentenced to 40 years.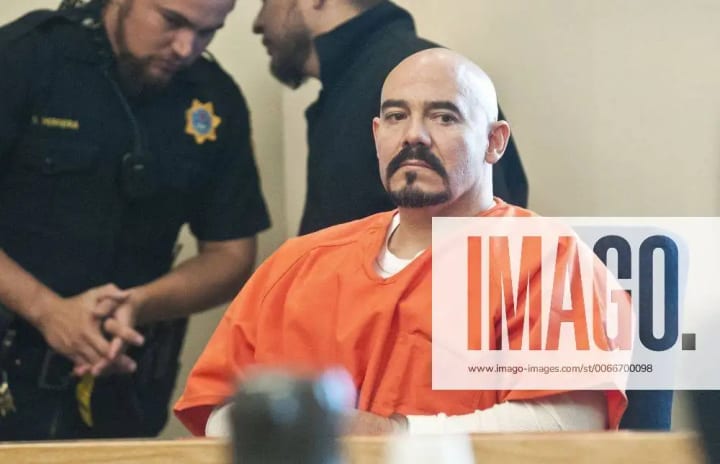 During those trials it was discovered that Omaree's younger sister and younger brother witnessed the beating and murder of her brother; they are currently being raised by their aunt. Ya know, Synthia oldest son lived a normal healthy happy life and even has a tattoo stating "Truly Blessed". Oh how right he truly is.
A woman named Gabrielle Valdez would sue on behalf of Omaree against the two social workers in 2015, multiple investigations that had exposed troubling drug abuse and child neglect upon which the department had failed to act. The third child was tested and had drugs in their system; I do not know what else could they possibly need to do more. Omaree's estate said the social workers committed an obvious violation of the child's constitutional rights.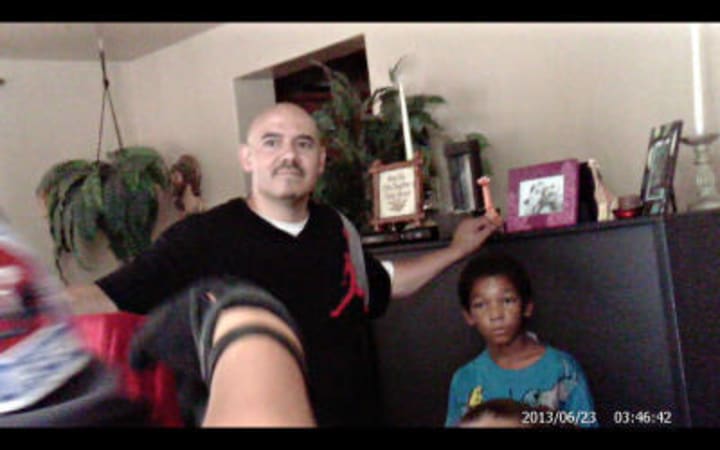 Andrew Schultz told the court: "We have two state social workers who clearly violated the New Mexico Children's Code. "These decisions resulted in the death of one child, and the serious injury of another. ... The children had been placed with two adults, both of which had served jail time, and neither of which had seen [Omaree] in a year and a half." Attorneys for the state asked the 10th Circuit panel to affirm the ruling that its social workers had qualified immunity for Omaree's death. Meaning aocial workers acting within the scope of their employment should be immune from prosecution for taking any actions they reasonably believe are necessary and proper in the performance of their functions. I would love for a social worker to comment on about this case and how this could happen to this child and the abuse for their other children.
The last meth case I covered was about Shad Thyrion. Methamphetamine is a central nervous stimulating drug that looks like glass fragments, it's shiny like bluish white rocks; and is part of the amphetamine family. You may be familiar with amphetamine or dextroamphetamine also known as Adderall for ADHD; attention-deficit hyperactivity disorder and sleeping disorder narcolepsy.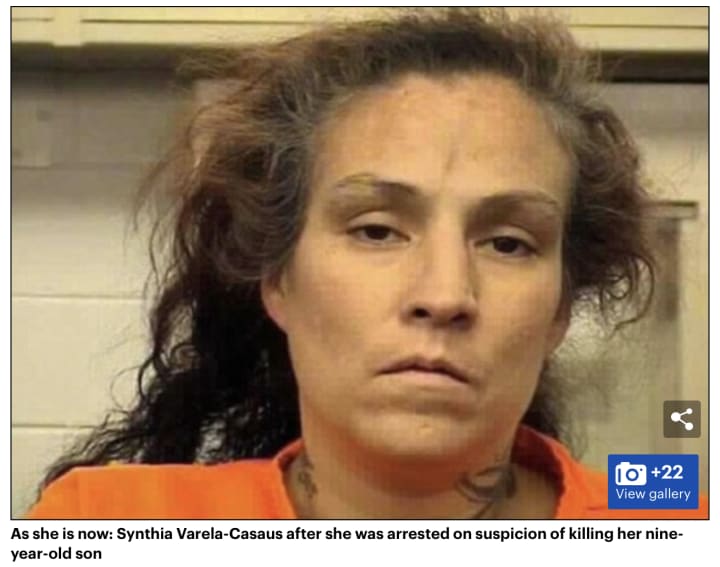 Methamphetamine is consumed into the body by smoking, swallowing (pill), snorting, mixing the powder into water/alcohol and injecting it. People on this drug repeatedly take doses by binging and crashing. As stated earlier Methamphetamine increases the amount of dopamine in the brain. Dopamine is responsible for motivation, pleasure and satisfaction. The more rewards the brain receives from the dopamine in the body the more the brain wants it; hence the need to repeat it.
When injecting methamphetamine people have an increased risk of contracting infectious diseases like HIV, Hepatitis B and Hepatitis C; diseases that are transmitted through contact blood or other bodily fluids especially through sharing drug equipment. Meth can alter judgment and decision making which leads to poor/risky behaviors like Synthia and Steven.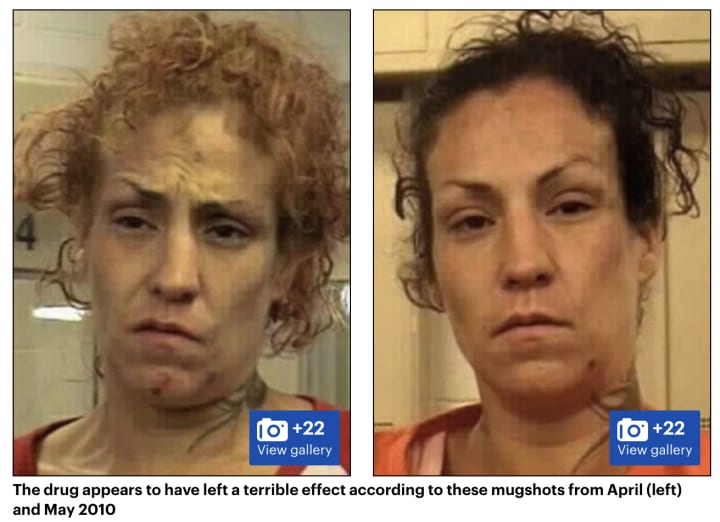 Continued methamphetamine use causes changes in the brain's dopamine system that are associated with reduced coordination and impaired verbal learning. In studies of people who used methamphetamine over the long term, severe changes also affected areas of the brain involved with emotion and memory. This may explain many of the emotional and cognitive problems seen in those who use methamphetamine. Although some of these brain changes may reverse after being off the drug for a year or more, other changes may not recover even after a long period of time. A recent study even suggests that people who once used methamphetamine have an increased the risk of developing Parkinson's disease.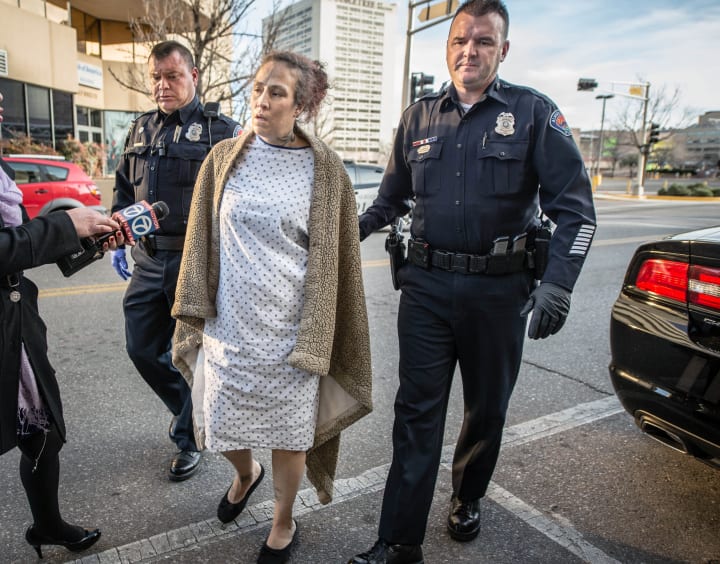 Omaree's stepfather Steven was using heroin which acts like a massive release of endorphins in the brain. The heroin floods the endorphin receptors, stimulating the two actions of endorphins. Large quantities of dopamine are released, activating the reward system and producing feelings of well being.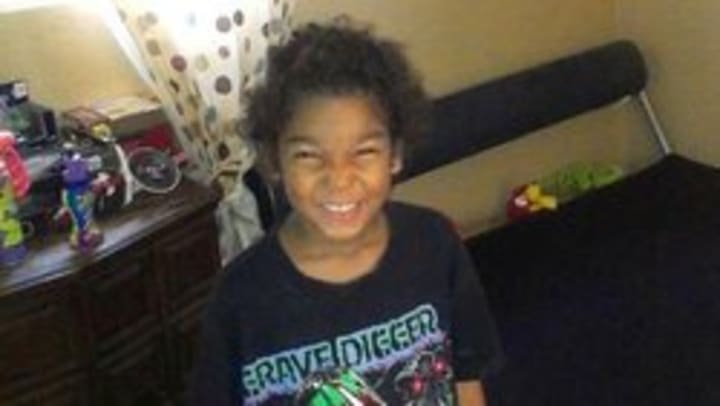 This is an incredibly sad case and this child was failed on a dark deep level. If you know anyone struggling with substance abuse SAMHSA's National Helpline 1-800-662-4357 (HELP). Obviously call 911 if you know or witness of abuse especially for children. There is also the Childhelp National Child Abuse Hotline (Call or text 1.800.4.A.CHILD [1.800.422.4453]).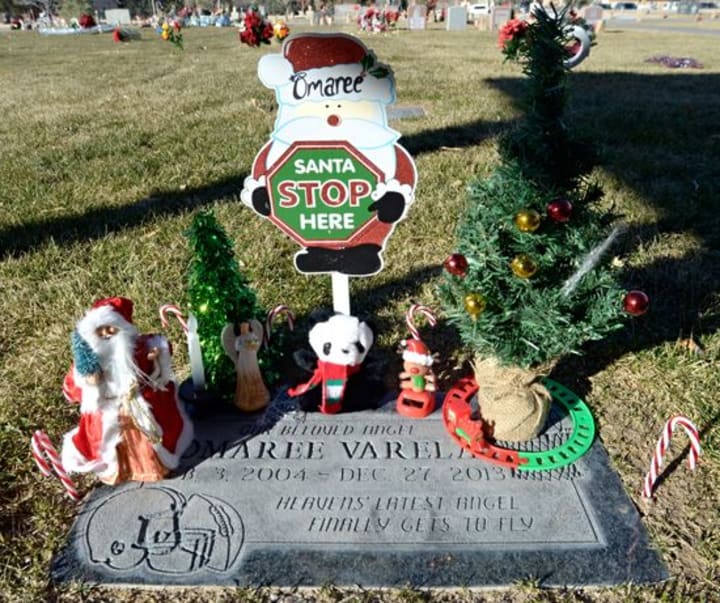 Most importantly, listen to the victims. I've heard people say they worry about "someone lying" and it's how victims get swept under the rug; it's how things get overlooked and disregarded. When there's a call for help there should be a proper investigation done; listen to the victims. Don't dismiss their cries for help. When you're in a position to help or find them help; please help.
Stay vigilant and Stay Safe
References
https://www.abqjournal.com/379910/meth-became-her-life.html
https://www.abqjournal.com/769491/omarees-mom-set-to-be-sentenced-in-sons-brutal-death.html
https://www.childwelfare.gov/topics/responding/reporting/how/
https://www.courthousenews.com/slain-childs-estate-blames-nm-caseworkers/
https://www.kxan.com/news/woman-sentenced-to-40-years-for-kicking-9-year-old-son-to-death/
https://www.koat.com/article/horrible-crime-shook-city-state-including-victims-young-siblings/28753226
https://www.krqe.com/news/omarees-mom-during-sentencing-i-love-my-kids/
https://www.krqe.com/news/judge-omaree-varelas-mother-competent-to-stand-trial/
https://www.theepochtimes.com/t-synthia-varela-casaus
https://www.dailymail.co.uk/news/article-2617634/Terrible-toll-meth-mother-stomped-son-9-death.html
https://nida.nih.gov/publications/drugfacts/methamphetamine
https://www.dea.gov/factsheets/methamphetamine
https://www.cnn.com/2023/02/26/us/phoenix-arizona-fentanyl-methamphetamine-seizure/index.html
https://medlineplus.gov/methamphetamine.html
https://www.samhsa.gov/meth
https://www.frontiersin.org/articles/10.3389/fnins.2015.00178/full
https://muschealth.org/health-professionals/progressnotes/2019/spring/in-short/estrogen-and-meth-addiction
https://sanescohealth.com/blog/methamphetamine-addiction-and-neurotransmitter-balance/
https://www.huffpost.com/entry/omaree-varela-911_n_5266973
https://www.pressreader.com/usa/albuquerque-journal/20150904/281509339954283
https://www.change.org/p/supreme-court-new-mexico-don-t-free-child-killer-c2aa0837-c797-4bcf-802d-6b79eb4b83db
https://www.durangoherald.com/articles/albuquerque-mother-gets-40-years-in-prison-for-killing-9-year-old-son/
https://www.petedinelli.com/2019/07/30/nine-year-old-omaree-varela-settlement-needs-to-be-made-public/
https://mylifeofcrime.wordpress.com/tag/synthia-varela-casaus/
https://www.santafenewmexican.com/news/local_news/stepfather-gets-30-years-in-abuse-death-of-9-year-old-omaree/article_4e3ab57e-4bf5-5390-95a0-081dd29d682c.html
https://fosteringperspectives.org/fpv18n2/runaways.htm
https://www.ncbi.nlm.nih.gov/pmc/articles/PMC7559575/
https://www.ncbi.nlm.nih.gov/pmc/articles/PMC3574772/
https://ojjdp.ojp.gov/sites/g/files/xyckuh176/files/pubs/drugid/ration-03.html
https://www.ojp.gov/ncjrs/virtual-library/abstracts/relationship-between-drug-use-and-crime-among-adolescents-drug-use
https://www.ncbi.nlm.nih.gov/pmc/articles/PMC2413312/
https://my.clevelandclinic.org/health/articles/22464-hormones
https://www.epa.gov/endocrine-disruption/overview-endocrine-system
https://www.courthousenews.com/wp-content/uploads/2017/01/ValezComplaint.pdf
About the Creator
A sweetie pie with fire in her eyes
Instagram @CurlyCadma
TikTok @Cadmania
Www.YouTube.com/bittenappletv
Reader insights
Be the first to share your insights about this piece.
Add your insights