Welcome back to 52 Lock Up, I am your Appletini Cadma of Bitten Apple TV. 52 lock up is a series I started to talk about one of my biggest passions of true crime. A new episode on every Cadmaniac Monday for 52 Mondays, 52 crimes. Hope you guys enjoy, be sure to like, leave some feedback and subscribe; Viewer discretion is always advised.
Picture it you're maybe 10 years old or you have a 10 year old child or a even a teenager and for the first time they break a rule. They skip school for no reason. You smoke for the first time on school grounds. Maybe you were jaywalking. Maybe you're feeling silly and make a MySpace account before it is recognized as social media to poke a little fun at a staff member of your school. You're sent into court and there stands Judge Ciavarella and he has listened to your case. However he decides for the jay walking or other minor offenses you are going to a detention center; not much evidence is needed. You're going to kid jail. You weren't given an opportunity to put up a defense or even say goodbye to your family and friends. Just gone.
Welcome to Pennsylvania, where it was though that the juvenile justice system focused on rehabilitating juveniles opposed to punishment to promote a healthy productive citizen of society. Most children who commit "delinquent acts" face probation with court-ordered terms or conditions like "staying in school", "attending counseling" or community service. The goal is to help the child. Why do teenagers get into trouble?
The Department of Justice Library shows a published work from 1980 discussing a bevy of studies discussing this very thing in "Psychosocial Factors Underlying Juvenile Delinquency." I quote "The study found that the psychological factors contributing to juvenile delinquency are the presence of extraversion, neuroticism, psychoticism, and criminal propensity. Other psychological factors involved in delinquency are greater creativity, lower intelligence and level of aspiration, high suggestibility, greater cognitive dissonance, and an unfavorable attitude toward family. The social and personal attitudes contributing to delinquency are educational level of parents, order of birth, and an unstable and emotionally deprived family. The educational status of the father, juveniles' relationship with parents, an underprivileged community background, juveniles' estimate of their parents' concern for their welfare, and movie attendance were also found to have a significant relationship to delinquency."
https://scholarlycommons.law.northwestern.edu/jclc/vol53/iss1/1/
Well if those can be the causes then what is juvenile delinquency? Well 1962, John W McDavid & Boyd R. McCandless stated in their works "Psychological Theory, Research, and Juvenile Delinquency" that"Among the arbitrary criteria for defining delinquent behavior, one commonly employed for research purposes is that of legal conviction and sentencing. Other researchers use the criterion of court appearances or records of arrest, regardless of their outcome. However, because police practices and court functions differ from one city to another, or for one social class or ethnic group as compared to another, such definitions suffer limitations. Dependent and neglected children are more likely to be booked and committed than children with families intact. Such facts lead to the demonstration of spurious relations between family structure and delinquency or between social class and delinquency. Other criteria for defining delinquency include the use of judgmental ratings of behavior by teachers, social workers, or others in close contact with adolescents. Delinquency may be defined for the rater in a very general manner, or it may be defined explicitly in terms of specific kinds of behavior such as aggression, property destruction, or dishonesty. Other researchers, instead of using judgmental ratings by others, may seek behavioral assessment directly from the adolescent, asking him to describe his own behavior in terms of similar dimensions. Still other research workers may base their definition of delinquency on certain assumptions about the attitudes and values held by the adolescent, with empirical and normative research called upon to determine the nature of attitudes and values normally held by socially accepted adolescents. All of these definitions can be useful for research purposes, but serious problems arise in the integration of research findings from various sources. One cannot superficially combine evidence that delinquency (by one definition) is related."
Michael T Conahan was born on April 21, 1952 and received his Juris Doctor Degree from Temple University. He served between 1994 and 2007. During his last 4 years as judge, he was the President Judge of the Luzerne County, Pennsylvania. He would later marry his wife Barbara Conahan and very little can be found about her online or if they had any kids.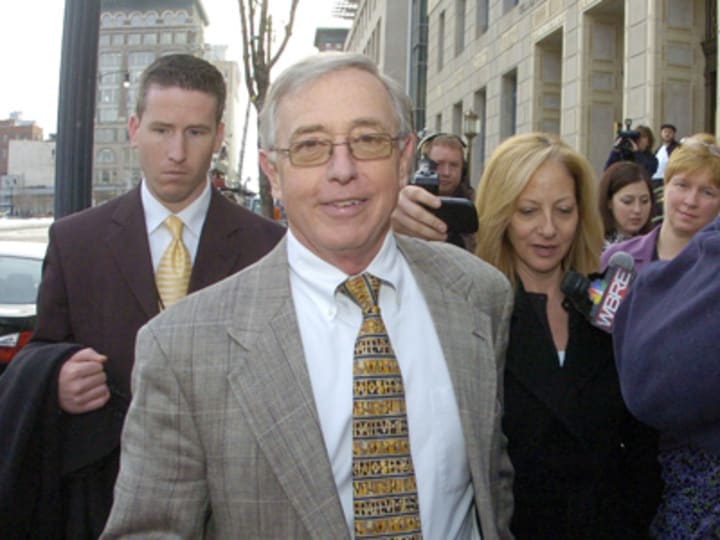 Michael Conahan's soon to be partner in crime was Mark Ciavarella who was born in Wilkes-Barre, Pennsylvania. Mark would attend St. Mary's High School to continue his education at Duquesne University School of Law and receiving his Juris Doctor Degree in 1975. He initially practiced law as a partner at the Lowery Firm. He was a city solicitor for two years before becoming a solicitor for the city zoning board until 1995. Afterwards he would run for judge in Luzerne County on a democratic ticket and would even be reelected for a second 10 year term in 2005. He would marry Cindy Baer and have 3 kids of his own. They would separate on September 15, 2010 and officially divorce papers were filed in May 2013.
The county public youth detention facility needed funding and Michael Conahan was supposed to send funding to the center. Instead Michael would stop the funding and send juvenile delinquents to a newly constructed, for-profit facility; agreeing to generate at least $1.3 million per year in receivables that could be billed to taxpayers in exchange for receiving kickbacks from the facility owner.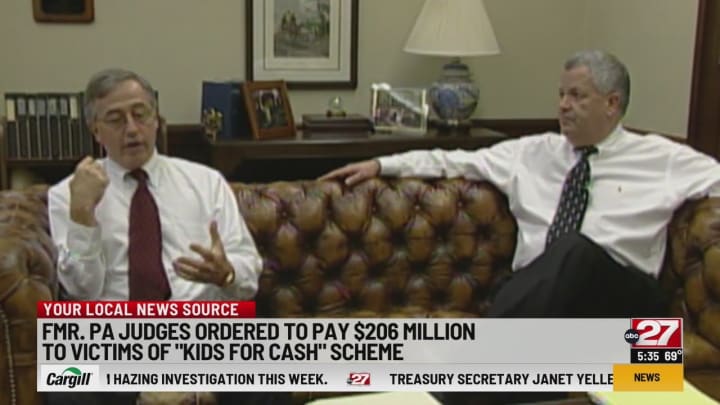 Between 2004 and 2008 the Pennsylvania state Judicial Conduct Board had received four complaints about Michael Conahan but no one looked into it. In between the complaints in 2006 the FBI was tipped off about former judge Conahan's nepotistic activities in the county courts. A Philadelphia based juvenile law center determined that several hundred cases had been tried without the teen's defendants having received adequate assistance of counsel; meaning they were just tossed in by early 2007. April 2008, the center would petition the Pennsylvania Supreme Court seeking relief for the alleged violations of the juvenile's civil rights. The court initially denied the application for relief until January 2009 once the corruption scandal surfaced.
How could that many court cases go unseen in PA? Well there's former judge Anne H Lokuta who in November 2006 was responding to charges against her using court workers to do her housework; yes housework instead of properly hiring someone. She would also publicly humiliate courthouse staff cause mental distress. Eventually the board would rule against Anne Lokuta in November 2008 to remove her from the bench but she swore this was a plot against from Michael Conahan; she begins to sing like a canary. Anne Lokuta aided the FBI's investigation in what we now know is the "kids for cash" scheme; in exchange for having her bench removal postponed to March 2009. They would uphold Lokuta's bench removal in January 2011.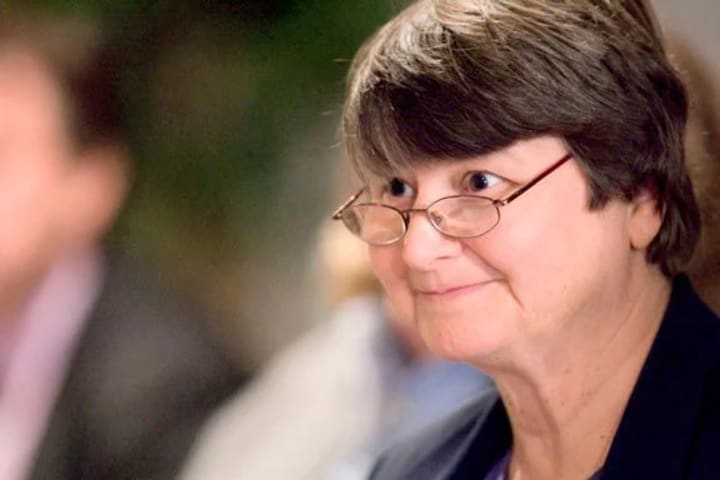 Because of Anne letting this go by and not saying a word until it benefitted her, the same court ordered the expungement of records belonging to 2,401 juveniles affected by the judicial misconduct of Michael Conahan and Ciavarella. Judge Michael Toole would be going down with them all for case fixing. By January 2009 Michael Conahan pleads guilty although he did try to withdraw it to have it go to trial but then plead guilty again. On September 23, 2011, he would be sentenced to 17.5 years in prison and ordered to pay over $900,000 in fines and restitution. He was held in a low security Federal Correctional Institution in Florida. During the pandemic Michael Conahan would be transferred to home confinement with anticipated release in 2026 under a provision of the CARES Act that authorizes such transfers due to covid.
Sources stated that a man named Ronald Belletiere from Florida was sentenced in the 1990s to 4½ years in federal prison in connection with a Hazleton cocaine-trafficking ring. A witness in that case testified that in 1986, then-Magisterial District Judge Conahan called to tip him off that his drug connection was being investigated. Conahan allegedly referred Ronald as a safer source to obtain drugs. During a sidebar with a judge in that case, the prosecutor described Conahan as an "unindicted co-conspirator." That disclosure became public in 1994, eight months after Conahan was sworn in for his first term as a county judge. At a press conference he held to deny the allegation, he blamed the charges on "common criminals" looking for favorable treatment with prosecutors.
Now let's look at Mark Ciavarella who pleaded guilty on February 13, 2009, pursuant to a plea agreement, to federal charges of honest services fraud, wire fraud and tax evasion in connection with receiving $2.6 million in kickbacks from Robert Powell and Robert Mericle, the co-owner and builder respectively, of two private, for-profit juvenile facilities of PA Child Care.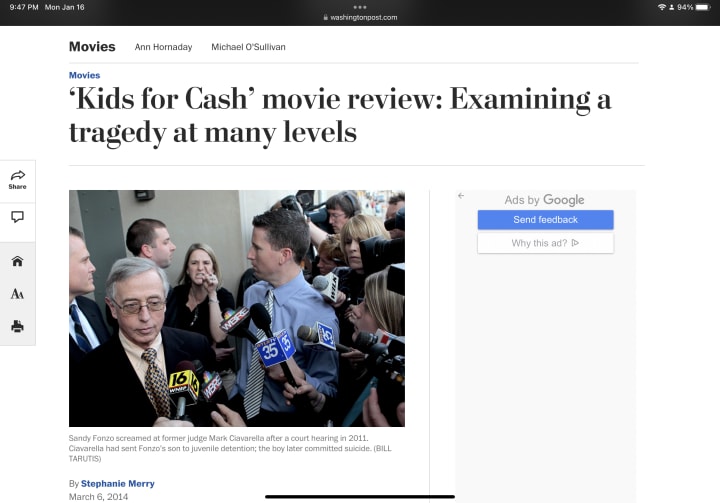 This exchange required Mark to sentence children for these "extended stays" in juvenile detention for offenses even something as minimal as mocking a principal on Myspace, or trespassing in a vacant building, and shoplifting DVDs from Wal-mart; yes these are specific cases. The crimes he would be charged for were the conspiracy to deprive the public of the "intangible right of honest services" or in others corruption; and conspiracy to defraud the U.S. by failing to report income to the IRS. Remember the IRS will always come for their money. He would serve up to 7 years in prison, pay fines and restitution and take accountability for his crimes. Mark chooses to deny there was a connection to the juvenile sentencing he dished out to the perks/kickbacks he received. Judge Edwin M. Kosik rejected Mark's plea and called it for what it was; a "quid pro quo". His representation requested for a reconsideration from the judge rejecting it but it was all denied.
Michael and Mark's motion would be denied on August 24th and since it was denied they withdrew their guilty pleas so they can have their case go to trial. On 09/09/2009 a federal grand jury in Harrisburg, Pennsylvania returned with a 48 count indictment against them both which included racketeering, fraud, money laundering, extortion, bribery, federal tax violations. The attested not guilty of the 48 charges and remained "free" on a $1 million bail; but prosecutors were not having it and said the money for the bail should be heavily increased especially since they faced additional prison time.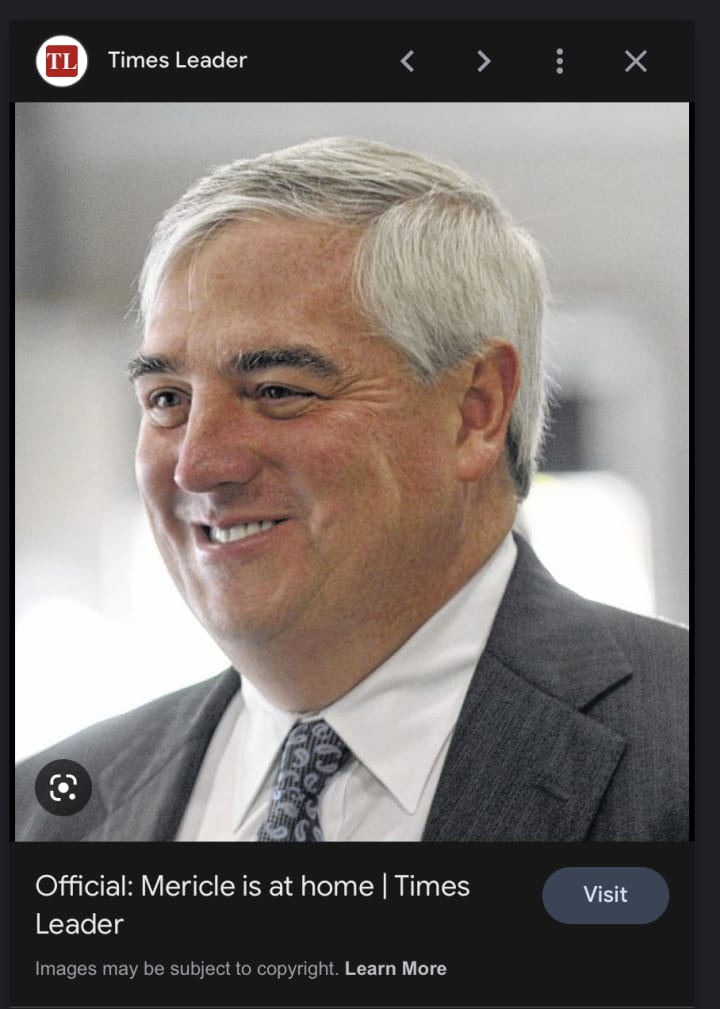 Now it is February 18, 2011 jury in the federal court found Mark guilty of racketeering which was due to Mark accept $997,000 in illegal payments from Robert Mericle, (whom is a real estate developer of PA Child Care, and attorney Robert Powell, a co-owner of the facility. There were 38 other counts of accepting payments from the same two and tax evasion. By August 11, 2011 Judge Kosik was tired of this back & forth, Mark Ciavarella would be sentenced to 28 years in federal prison. Mark plays ball & appeals his conviction & sentence to the U.S. Court of Appeals for the Third Circuit.
This brings us to May 24th 2013 when the Third Circuit would vacate one count, just one but all the other charges stuck; including his sentencing. I can't help but to wonder about the conspiracy theories of this going on and he's trying not to go to jail and if he could take others with him; would be killed to be kept quiet? And is that he wasn't able to appeal for his freedom no matter how hard he fought. But of course there was another appeal, the Supreme Court declined to even hear the case's appeal in 2014. If he's on good behavior he could be released in 24 years; he would be about 85 years old by then. He was originally sentenced to Pekín, Illinois but was moved to Ashland, Kentucky and his projected release date is June 18th 2035; which is in about 10 years and change from now.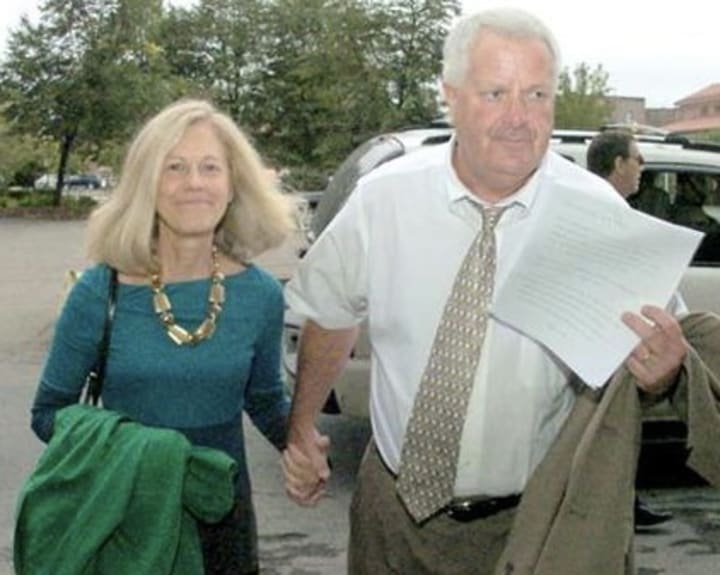 Now the story doesn't end because 01/09/2018 Federal Judge Christopher C Conner tosses Mark's convictions for racketeering, conspiracy to commit racketeering and conspiracy to commit money laundering on appeal. Judge Conner upheld Mark's contention that his attorneys failed to raise statute of limitations claims on those charges. He ordered a new trial for those counts, but he did allow the honest services fraud convictions to stand; I guess doubt can't creep in here. 01/24/2020 before the world shut down, prosecutors sent a "note" that they were not going to retry Mark on those particular 3 counts; because of this his defense attorney tried to get his sentence reduced. DENIED!
I'm not trying to mock anything but this back and forth almost comes across as a kid who got caught and has to sit in the corner and is fighting it every step of the way. While he was in prison Mark was actually disbarred to practice law by the Commonwealth of Pennsylvania on 10/01/2019. Also, the State Employees' Retirement System (SERS) denied pension benefits to Mark; which reversed his ability to receive benefits until he was sentenced officially. Stripped of everything!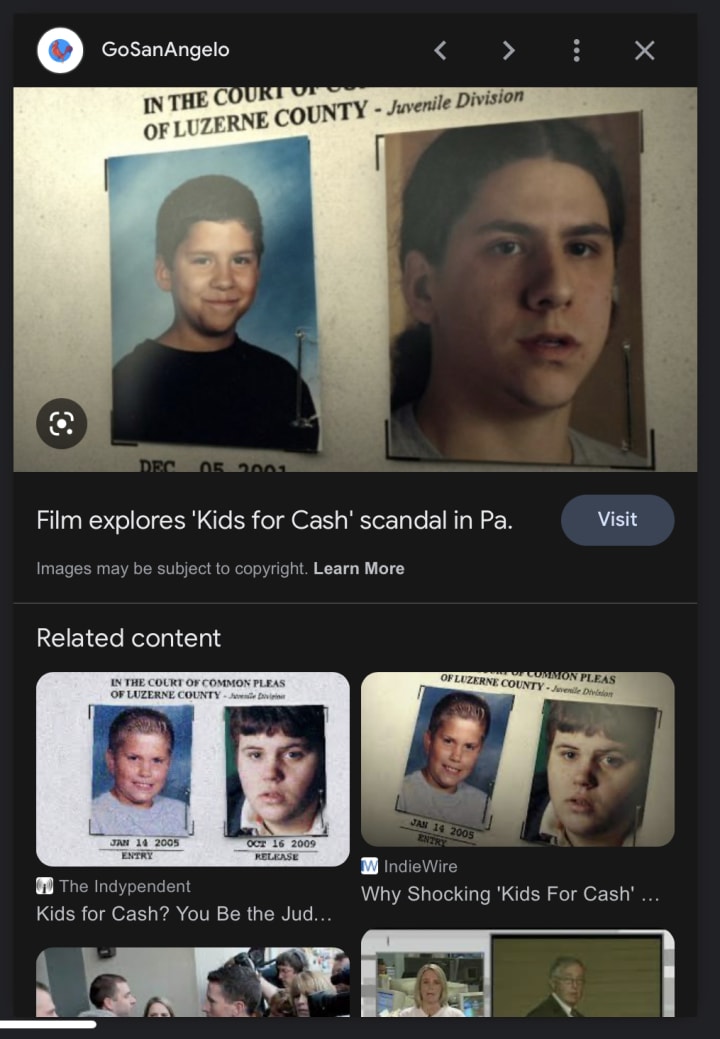 Now that's not the end let's go back to 2009 very quickly, there's also a class action lawsuit filed by the Juvenile Law Center on behalf of the juveniles that were exchanged for. Now this lawsuit was moved to a dismiss because he has judicial immunity; this would be argued that they should not be fully shielded by their judicial immunity. The Pennsylvania Supreme Court invoked their rare Pokémon law card and invoked the power of "King's Bench Jurisdiction" and appointed Senior Judge Arthur Grim to look at this case. He would throw out hundreds of Mark's juvenile convictions based on the grounds that the defendants rights were violated.
Kids for Kash, profiting off sending children to jail this included children as young as 8 years old, first time offenders including jaywalking, mocking the principal on MySpace (not harassing, just a smart ass comment), smoking on school grounds; these kids were arrested and sent away without having a moment to say goodbye to their families. 4,000 juvenile convictions were thrown out. 7 years of doing this to children and taking advantage where they want to. One of the plaintiff's in their cases was a 16 year old who was sentenced to 11 months for driving down the street the wrong way on a one way street without a license, a 10 year old girl who was sent to detention for a schoolyard fight with no serious injuries, a child who stole a Hershey bar, one child wrote on a school window with a marker or even a plaintiff who was told to pick a sports team and because he "picked the wrong one" he got 8 months in Juvy.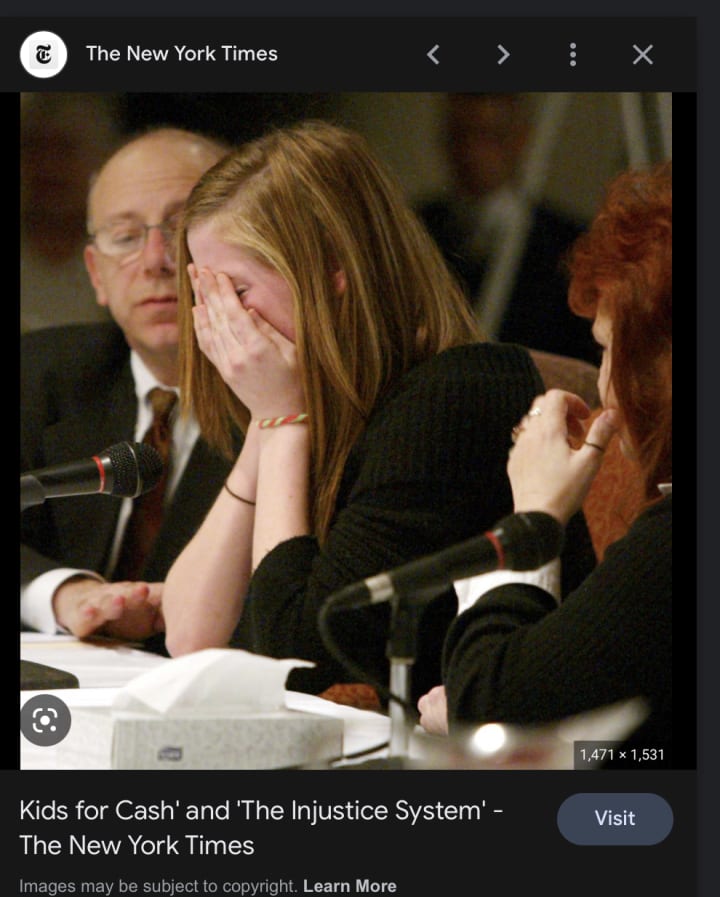 "Luzerne County Court System failed us," said one unnamed plaintiff. "They [Ciavarella and Conahan] had abused their power and, in my opinion, should never see the daylight again. The scars of this scandal will continue to live with all of us. As a survivor, I can assure you the impact of this man's greed [will never] be over or forgotten."
It was discovered that several children that were sent to the detention center died by suicide or drug overdose in the years after being imprisoned; because of how much it changed them. Mark gets 28 years and Michael got 17 years (although Michael was released to home confinement due to covid)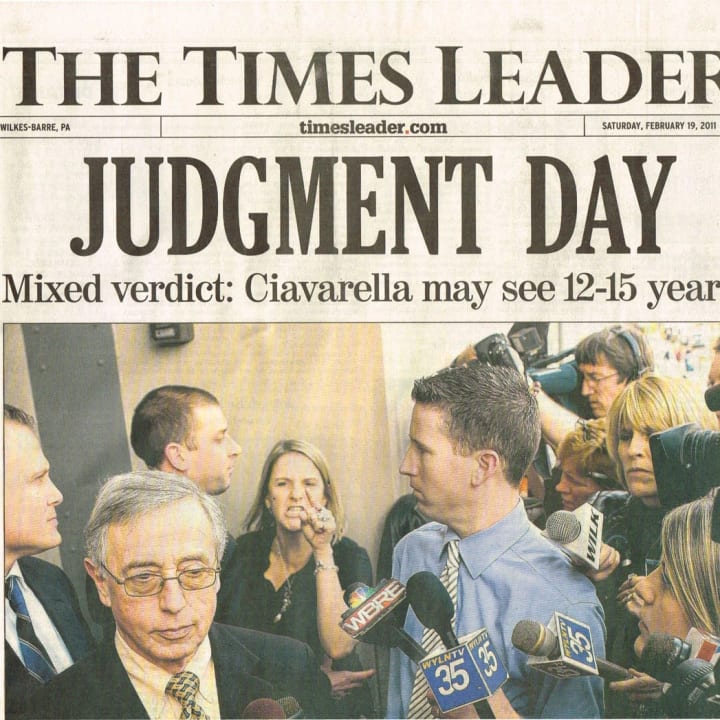 Marsha Levick, who is a lawyer for the victims, told the A.P. News "recognizes the gravity of what the judges did to these children in the midst of some of the most critical years of their childhood and development." For example, there was a kid, 17 year old all-star wrestler and never got into trouble; had drugs (probably weed testing it out as a teenager). He had been diagnosed with ADD before he was 10 years old. This kid Ed Kenzakoski would sentenced to the juvenile boot camp for a minor charge. He was getting a college scholarship; lost it. He missed his senior year of high school. When he finally returned, he was angry, bitter, depressed and killed himself at 23 years old one summer in June.
Now there's another case going on with Michael Conahan with Powell Law involving a past loan on a failed Wright Township residential development. This involves his wife's name; Barbara Conahan. For this property, The Conahan's are sticking to their story that they have already paid more than $1 million dollars towards this particular project and are stating that Barbara's signature was forged on the loan guarantee documents. Yes this the same Powell Law that was involved in the exchange for Kids for Kash; Powell himself would actually serve 18 months in prison for failing to report their 2.8 million dollars. The head of Powell Law was not charged; her name is Moran but she did resigned from her seat in March 2009 as part of an agreement. She was the only officer of W-Cat in the state corporation records. People with money have too much; the trickle down theory does not work. There are people struggling to feed themselves and these people are out here being fools; for what? The rest of us do not want all of it; just a pinch of what these people get would change the world in ways even Musk couldn't Edison his way into.
Well that's been a spinning super fast cyclone kind of case
Stay Vigilant and Be safe
References
https://www.usatoday.com/story/news/nation/2022/08/17/ex-judges-ordered-pay-200-million-kids-cash-scheme-victims/10350694002/
https://www.theguardian.com/world/2009/mar/07/juvenille-judges-cash-detention-centre
https://reason.com/2022/08/18/judges-who-sent-kids-to-detention-centers-for-financial-kickbacks-ordered-to-pay-over-200-million/
https://www.pennlive.com/midstate/2011/02/mom_blames_luzerne_county_judg.html
https://www.theguardian.com/world/2009/mar/07/juvenille-judges-cash-detention-centre
https://www.washingtontimes.com/news/2017/feb/25/teen-in-courthouse-kickbacks-scandal-puts-life-bac/
https://www.washingtontimes.com/news/2014/apr/6/judges-daughter-kids-for-cash-teen-join-forces/
https://www.nytimes.com/2009/02/13/us/13judge.html
https://www.legacy.com/us/obituaries/citizensvoice/name/edward-kenzakoski-obituary?id=22466977
https://nypost.com/2014/02/23/film-details-teens-struggles-in-state-detention-in-payoff-scandal/
https://www.nbcnews.com/news/us-news/judges-sent-children-profit-jails-kickbacks-ordered-pay-200-million-da-rcna43538
https://www.cbsnews.com/news/kids-for-cash-judges-mark-ciavarella-michael-conahan-200-million-damages/
https://www.nydailynews.com/news/crime/ny-pennsylvania-judge-jail-profit-conahan-ciavarella-kickback-20220817-wxcegetxsjfgviqbiqxmxliyey-story.html
https://www.fox29.com/news/kids-for-cash-judges-ordered-to-pay-more-than-200m-to-hundreds-of-pennsylvania-children
https://www.citizensvoice.com/news/father-of-suicidal-man-in-kids-for-cash-case-i-basically-framed-him/article_ec6ba98a-fd55-54a8-970a-9530eb8ff027.html
https://dailyvoice.com/pennsylvania/adams/news/cash-for-kids-ex-judges-fined-200-million-in-pennsylvania-ap/840941/
https://www.inquirer.com/news/pennsylvania/pa-kids-for-cash-scandal-judges-mark-ciavarella-michael-conahan-20220818.html
https://www.timesleader.com/news/688220/judge-overturns-some-of-ciavarellas-convictions
https://www.washingtonexaminer.com/news/kids-for-cash-pennsylvania-former-judges-ordered-pay-200-million
https://www.wsj.com/articles/former-pennsylvania-judges-in-kids-for-cash-scandal-ordered-to-pay-206-million-in-damages-11660784373
https://www.abc.net.au/news/2022-08-18/kids-for-cash-judges-to-pay-200-million/101345318
https://www.wnep.com/article/news/local/luzerne-county/kids-for-cash-judges-ordered-to-pay-more-than-200m-ciavarella-conahan/523-f127ae84-3d5e-4ffc-89c8-3a2d79140b4c
https://www.jurist.org/news/2022/08/former-pennsylvania-judges-ordered-to-pay-200-million-to-victims-of-juvenile-detention-scandal/
https://www.ojp.gov/pdffiles1/nij/grants/204024.pdf
https://www.aclu.org/issues/smart-justice/mass-incarceration/criminalization-private-debt
https://www.theepochtimes.com/kids-for-cash-judges-ordered-to-pay-more-than-200-million_4670595.html
https://www.staradvertiser.com/2022/08/17/breaking-news/kids-for-cash-pennsylvania-judges-ordered-to-pay-more-than-200m/
https://www.npr.org/2022/08/18/1118108084/michael-conahan-mark-ciavarella-kids-for-cash
https://www.pccd.pa.gov/Juvenile-Justice/Documents/Pennsylvania_Juvenile_Collateral_Consequences_Checklist.pdf
https://www.thedailybeast.com/pennsylvania-judges-michael-conahan-mark-ciavarella-ordered-to-pay-dollar200-million-for-kids-for-cash-jail-scheme
https://www.timesleader.com/news/788963/source-ex-luzerne-county-judge-conahan-no-longer-in-prison
https://abcnews.go.com/Politics/wireStory/kids-cash-judges-ordered-pay-200m-88489737
https://vimbuzz.com/michael-conahan-family-wife-children-kids-parents-siblings/
https://vimbuzz.com/michael-conahan-wife-who-is-barbara-conahan/
https://www.theguardian.com/us-news/2022/aug/17/pennsylvania-judges-kids-for-cash-damages-ciavarella-conahan
https://www.timesleader.com/news/local/526438/former-luzerne-county-judge-michael-conahan-sues-moran-powell-and-others
https://www.davidmckenzielawfirm.com/faqs/what-are-some-punishments-given-to-juvenile-offenders-in-pennsylvania/
https://www.jcjc.pa.gov/Publications/Documents/Juvenile%20Delinquency%20Benchbook/Pennsylvania%20Juvenile%20Delinquency%20Benchbook_10-2018.pdf
https://scholarlycommons.law.northwestern.edu/cgi/viewcontent.cgi?article=5061&context=jclc
About the Creator
A sweetie pie with fire in her eyes
Instagram @CurlyCadma
TikTok @Cadmania
Www.YouTube.com/bittenappletv
Reader insights
Be the first to share your insights about this piece.
Add your insights