Welcome back to 52 Lock Up, I am your Appletini Cadma of Bitten Apple TV. 52 lock up is a series I started to talk about one of my biggest passions of true crime. A new episode on every Cadmaniac Monday for 52 Mondays, 52 crimes. Hope you guys enjoy, be sure to like, leave some feedback and subscribe; Viewer discretion is always advised.
This trip will be to head to the state of Maryland. Rajaee Shareef Black was a young man who graduated from Coppin State University with their Bachelors in Nursing in 2008. He would attend Morgan State University for his Masters degree in Nursing Education in 2013. He would attend Drexel University for his Post Masters Certificate to become a Nurse Anesthetist, and in September 2014 he would receive a congratulations from the Diversity in Nurse Anesthesia Mentorship Program with the school from the Nick Black (in the photo) President of the New Jersey Association of Nurse Anesthetists; right before graduating in 2015. He would become a licensed CRNA which is the acronym for Certified Registered Nurse Anesthetist.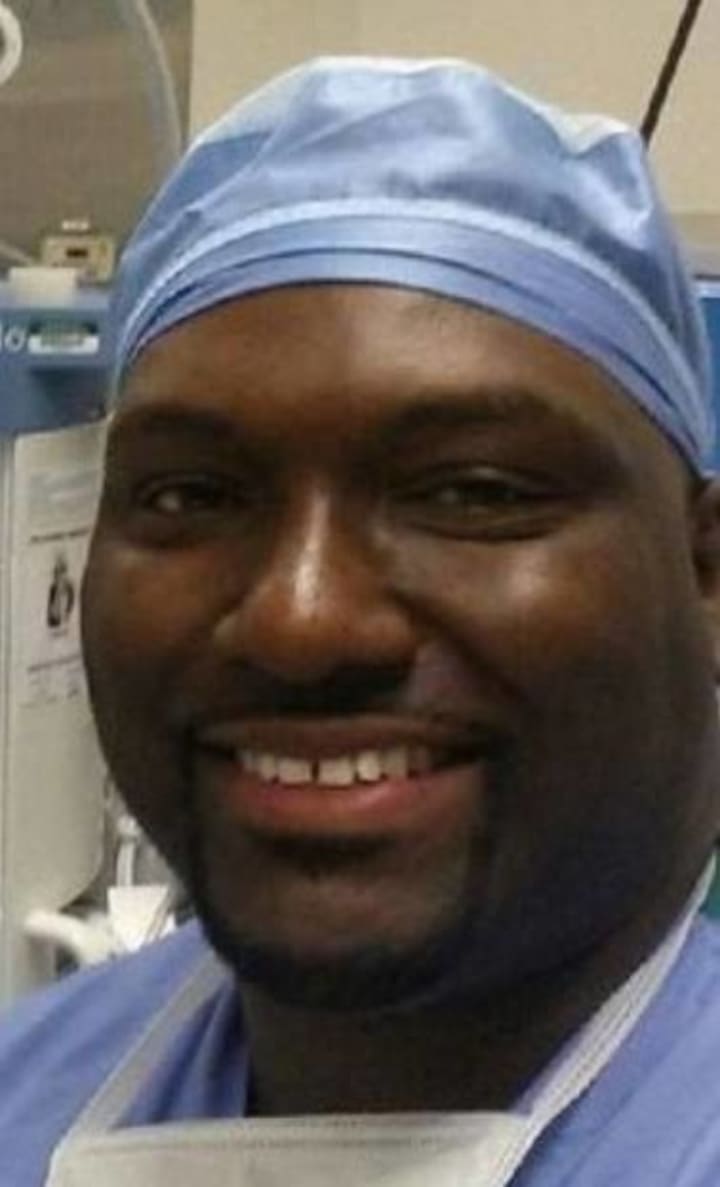 A CRNA is a nurse anesthetist who provides pain medication like anesthesia care for patients, prior, during and after surgery. Anesthesia disrupts the messages going through the body; it is a central nervous system depressor. Your central nervous system is made of the brain and the spinal cord for the brain controls things of how we think, learn, move, feel, and breathe. Since the spinal cord carries messages back-and-forth between the brain and the nurse to run through the body, a CRNA as to calculate the exact dosages to provide the patient and then keep them alive by monitoring their biological functions; this will also include a tube for breathing.
During his educational journey, he would meet who would become his future wife, Wendy, Natalie Black; who was also a certified registered nurse anesthetist. After the couple would marry, they would have two children, but their relationship veer down a turbulent path. Wendy Black was an employee at Howard County General Hospital for nearly five years, while Rajaee held a nurse anesthetist position at the US Department of Veterans Affairs. Although he seemed to "have it all", but there was a lot more going on than people have realized. The couples relationship or walked on the path of domestic violence, which would lead to their divorce and Wendy filing to the court, multiple times her concerns for her well-being and safety.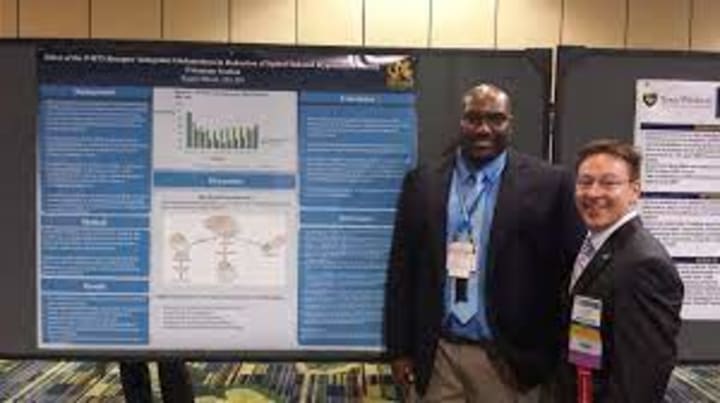 According to news articles quoting court records, it was stated that his ex-wife Wendy had filed multiple protective orders that were continuously denied. In 2020 Wendy would hand write a note stating "I am terrified because I do not know what he's capable of doing to me and the girls. I do not feel that we are safe. I do not feel safe at all. I feel that my life is in danger." Unfortunately, these calls for attention are not always garnered the attention they need; especially for women. When the married couple divorced a custody battle ensued; and court filings and custody battles are frequently utilized as a tool from abusers as another way of tormenting their victim. The custody filings between them begin in July of 2018 along with the series of domestic violence cases against Rajaee. One of those domestic violence case occurred in April 2020 and then there was a peace order filed from March 2019; that would be dismissed by the judge. I did not find the resources to explain why and what happened. There were another two filed and dropped in July and September of 2018. Some may see this is fickle filing but often the abusers and aggressive person will immediately want to "keep face" and often will threaten about not having the police involved.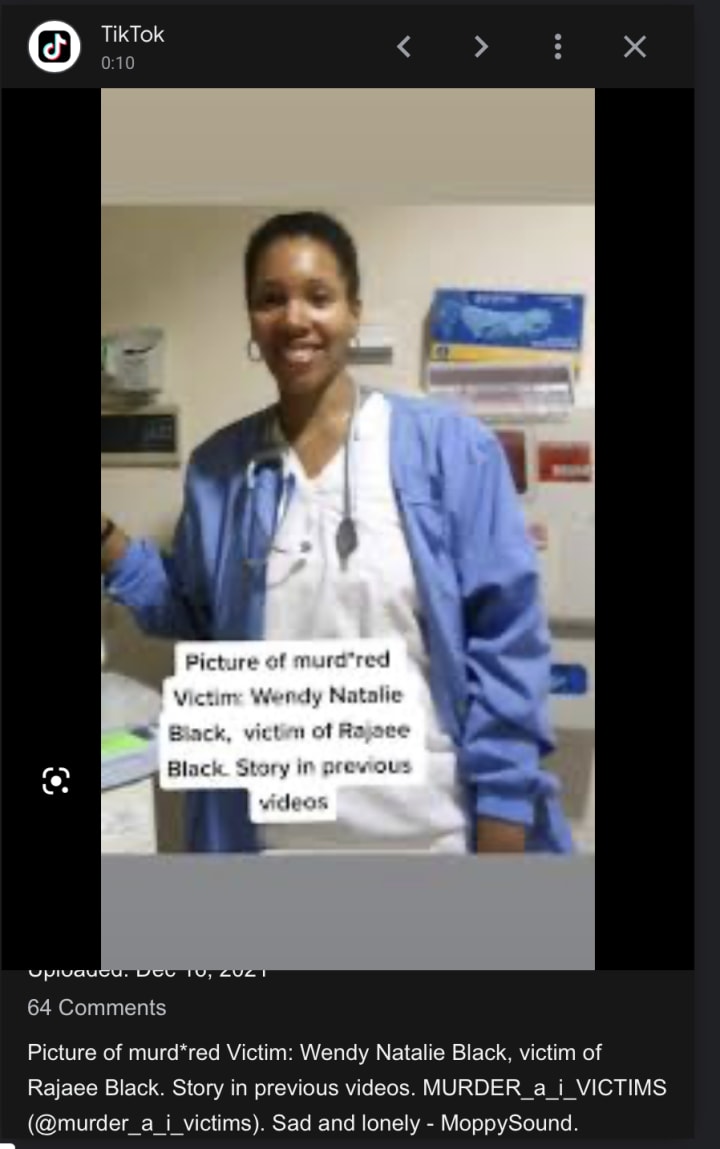 Quick example, a woman I knew was entering the beginning stages of dangerous physical abuse and when she returned home with him after giving birth to their first son, he kicked the crib at her which bursted her stitches; she had to return to the hospital. As much as the medical team kept asking her repeatedly how did the burst happen; she was too scared to speak and move forward. Fear is a major controlling factor in what pushes people to do what they do.
Back to Rajaee, during this custody battle he would venture out to date a woman who wants to remain anonymous; so we will call her Jane Doe. Rajaee would meet Jane Doe in March 2019 but at that point Rajaee had what she described to be severe depression but did not get the help they needed. She commented that "I felt like I was the only support system for him in a way, but I had to choose my own sanity. I had to choose my own well-being. When I broke up with him, I still loved him, incredibly, but I knew that I had to put myself first. I couldn't be a part of it because he wouldn't get help." The former girlfriend shared a text message Rajaee sent where he wrote, "There was a time that I was so low that I didn't want to live anymore. it was you that helped me get through it." She admitted she was not afraid of him and that "Jay never cursed at me. He never raised a voice at me. He always told me because of what I had been in a previous relationship of being abused that he would never hurt me. That's what he said to me." They would date until March 2020.
During this time, Rajaee was still battling his ex-wife Wendy, who repeated herself to the courts stating "Rajaee threatened to kill me with a gun." "He has access to weapons, guns and has been known to abuse drugs and alcohol." "He has pushed, shoved, threatened and bitten me in the past. I am afraid of him and his anger and do not want him to know where I live." "I am terrified because I do not know what he is capable of doing to me and the girls. I do not feel we are safe. I do not feel safe at all. I feel that my life is in danger."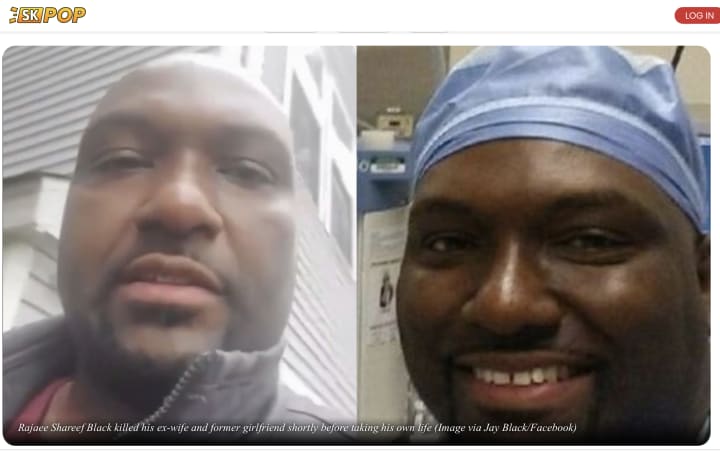 Some may question why the difference in behavior and immediately blame the ex-wife for his behavior; when the ex-wife is trying to remove herself from the threat through all avenues. Abusers can be anyone which is what makes it so dangerous; because you won't know until you're on the receiving end of it. I wish I could tell you if you about the right pair of shades it will tell you everything you need to know about the person but there is not.
However, they do often portray certain characteristics like frequently denying the existence or minimizing the seriousness of the violence and abuse; its effect on the victim. This provides control over the narrative and allows them to continue control over their victim. Their victims are seen more as property or sexual objects for them. Abusers have low self-esteem and often feel powerless and ineffective in the world; even if they are successful the feeling of inadequacy will always win. Abusers will blame their victims for their behavior, or having a bad day, or because they were drunk. Abusers can be pleasant and charming in between periods of abuse; to again control the narrative.
There are other signs on the National Domestic Violence website that state other red flags to look for include: extreme jealousy, possessiveness, unpredictable pity, a bad temper, cruelty to animals, verbal abuse, extremely controlling behavior, antiquated beliefs about roles of the women and men in relationships, forced sex or disregard of their partner's unwillingness to have sex, not honoring agreed upon birth control methods, blaming the victim for everything that happens, obstructing the victims ability to work or attend school, accusing the victim of things like flirting or having an affair; well because it's always the thief that feels robbed. Embarrassing the victim in front of others, harassing them at work, demeaning the victim privately or publicly; my God I'm sure you get the point.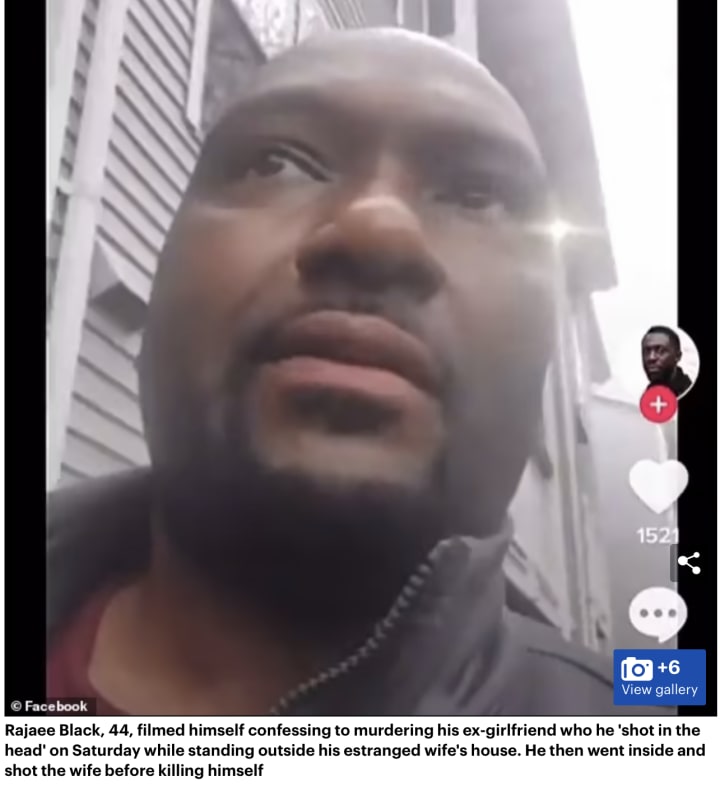 So yes this unnamed woman Jane Doe had one experience with him; but how else can you seem like you're the victim of the world and maintain the narrative. How else to make it seem like "see this person says I treat them good"; regardless of anything their relationship would not last the pandemic. In January 2020, Rajaee would also sue the University of Maryland Medical System would be labeled a "whistleblower" following an incident where he accused or exposed a doctor for hiding drugs in his locker; during this investigation Jane Doe and Rajaee would break up in March 2020. He would be terminated in April 2020 because his colleagues refused to work with him. He also claimed that he was "forced" to risk his safety and well-being by working as a nurse amid the COVID-19 pandemic due to the job loss; which seems to be another deviation.
While being terminated he would petition to be a child-care provider; which was denied by a judge. I must admit I am very curious about the case and if he really was targeted or did they see signs of his problematic behavior and let him go on his merry way; we saw the same pattern with Dr. Giovanni Bezerra and Dr. Ricardo Cruciani or even with Charles Cullen. Were there signs that were ignored?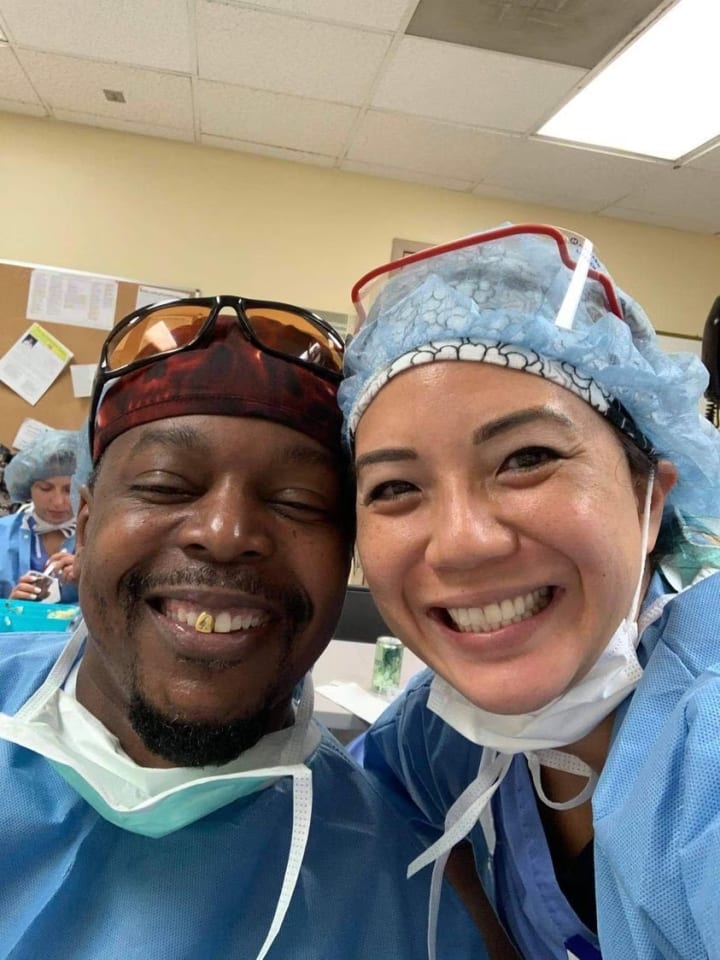 I digress, but we would later meet Tara Labang and it is unclear to when they began dating but they were dating long enough for her to become pregnant with a boy. Tara also worked at University of Maryland Capital Region Health as another CRNA but had previously worked at Saint Agnes; a former colleague named Yul McIntyre remembers Tara very well and describes her as someone who lit up a room when she walked in and cared very deeply about others. Yup stated "She was a hard worker. She was fun to be around. She had this smile and this energy about her that: When she was happy, you were happy,"
Rajaee and Tara were getting into arguments and Tara began to worry about the situation she was in; and Tara decided it would be best if she had custody of the child. I presume it was another moment of losing control of what was "property" to him. She did not his involvement with the baby or the pregnancy; Rajaee showed those signs that women fear and worry about when it comes to their significant others. Unfortunately her fears would come true where Rajaee made the conscious decision by blaming his ex-girlfriend Tara for his behavior and would shoot her dead in her home after sneaking in on December 11, 2021 in Baltimore around 1:37 p.m. After leaving her house, he makes his way 30 minutes away to his ex-wife's apartment to stand outside her home in Columbia, Maryland and begin a facebook live confessing to what he had just did to Tara.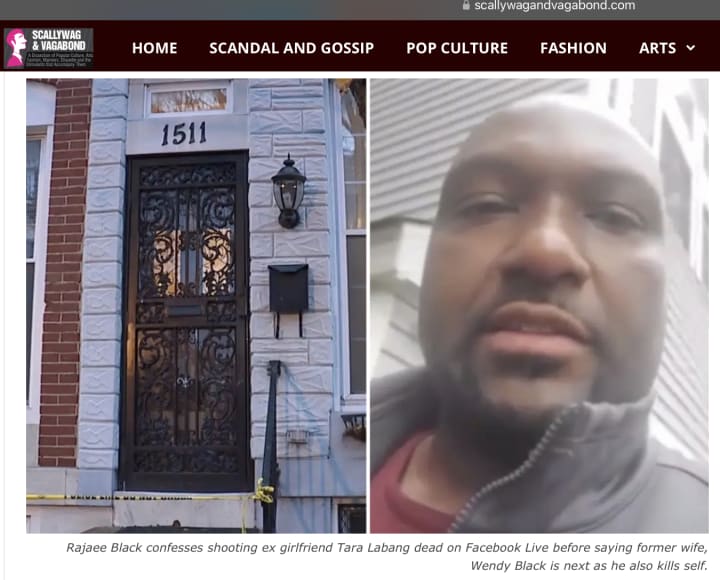 "I just did something crazy, man, I just shot my ex-girlfriend in the head, yo. Um, felt like a dream. I never thought I would be that guy. sh-t has been real crazy, and I can't go to prison. The person that really started my depression and all of this is my ex-wife, So, she next. And then I'm going to do myself, too. But I just wanted to say this to people: Don't play with people's emotions, man. Don't lie on these men. Oh, here's my ex-wife right now."
During this live, the camera would be dropped as he runs to grab his ex-wife Wendy; she would be shot and he would shoot himself afterwards around 2:08 p.m. Their 2 children ages 4 and 5, were found by neighbor Michael Eisenberg who lived in the same complex in their father's BMW crying and confused to what was happening. It is apparent people contacted authorities and authorities reached out to the other county to get to the ex-wife before him but right when they arrived; both victim and killer would be deceased.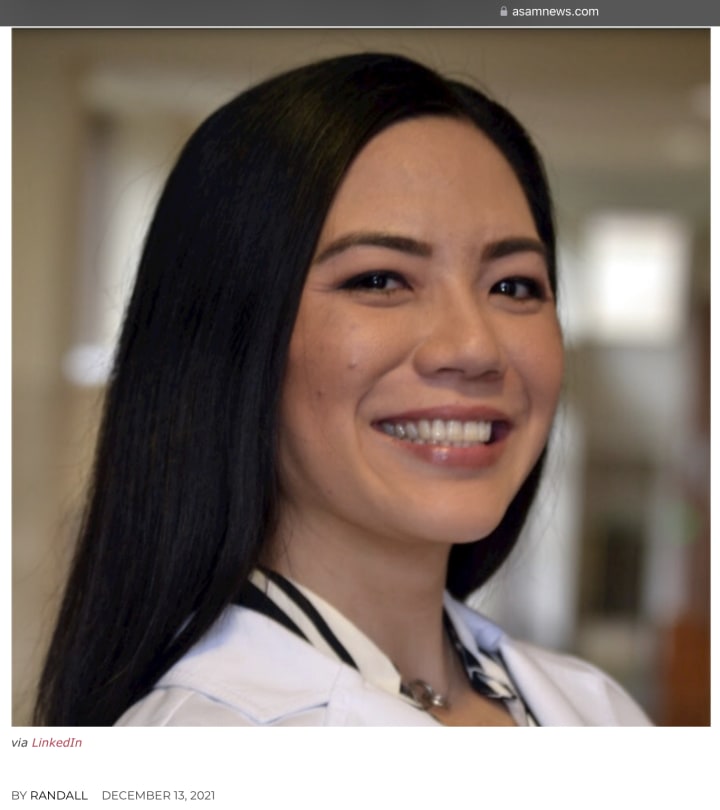 It is too often that people do not take it serious when people say that their life is in danger; Jane Doe stated that and also stated "Definitely about protecting women, there's definitely a broken system."
Here's another quote "Just because there were a lot of court filings doesn't mean it's a 'he said, she said,'" said Dorothy Lennig, director of the legal clinic at the House of Ruth. There had been more than 3,600 documents filed in the custody battle. The most recent filing came last week, four days before Rajaee Black allegedly killed his ex-wife along with his ex-girlfriend. Lennig says abusers often use the courts as a tool of control.
How did we get here? You know that is always my first question. Were the signs ignored that something was wrong like with Bezerra Brazilian anesthetist who was raping his pregnant victims while they were drugged or Dr. Ricardo Cruciani who was intentionally increasing narcotic dosages to his victims including cancer patients to get them addicted to drugs in exchange for sexual favors; there were complaints filed against them. There were suspicions on Charles Cullen and when one nurse spoke against him that nurse was fired; and he was continuously released to be someone else's problem. Sure, Jane Doe states Rajaee had severe depression but how did we jump up to blaming depression onto the other person and going for premeditated murder suicide.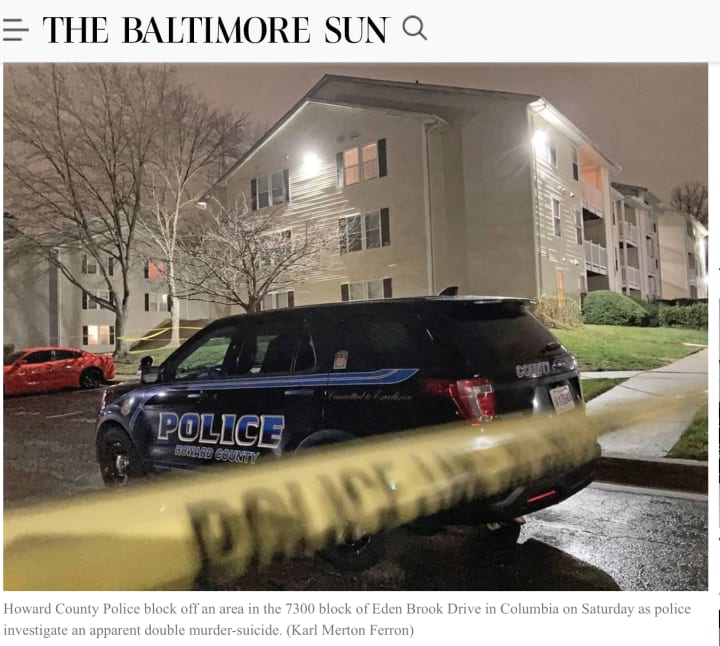 There have been several studies that demonstrate there is a relationship between narcissism and depression. One study found that nearly 29% of those with narcissistic personality disorder (NPD) also had a mood disorder, and about 7% of those had major depression. Another study found the prevalence of NPD in those with major depression to be between 0-16%. Of course, there is a strong necessity for further research to obtain a stronger correlation between them. Narcissism involves a desire to meet grandiose expectations and receive external attention and validation. Narcissists will base their self-worth on these treatments. If the accolades they seek are not received then they may experience depressive symptoms like shame and isolation. Going a bit further, because narcissism is often the result of attachment disorders and a history of abuse or neglect, narcissists may also be more susceptible to depression. Despite if the person is presenting themselves with confidence and high self-esteem, narcissists tend to have underlying low self-esteem and self-worth — both of which are symptoms of depression — that often go unacknowledged and untreated due to them presenting quite the opposite.
Some articles state that these are six common signs of narcissistic depression:
Damage to interpersonal relationships
Hostility toward others (e.g., blaming, making accusations)
Suicidal ideation typically triggered by external events (e.g., perceived rejection)
Hostility toward others (but typically not toward self)
Temporary alleviation of depressive symptoms through social contact
Underlying low self-esteem and low self-worth
Quoting Dr. Grant Hilary Brenner in their article "Why are narcissistic people prone to depression?" In Psychology Today "Vulnerable narcissism, on the other hand, often arises out of childhood adversity, trauma, and neglect, evoking empathy and caregiving from others—for a time. Vulnerable narcissists understand the idea of empathy but expect it from others without seeing the give-and-take, leading to victimhood and disappointment. Those around them often end up feeling burned-out, bitter, and finally just done. The authors discuss different theories connecting narcissism and depression. Narcissistic individuals may not effectively process feelings about themselves personally and regarding social situations. Negative feelings get stuck, building up over time. Wanting to hide their flaws, they maintain a front with others while inside growing more distant and depressed. Depressive states interfere with feeling in control and throw off behavior in social and work settings, further driving the cycle."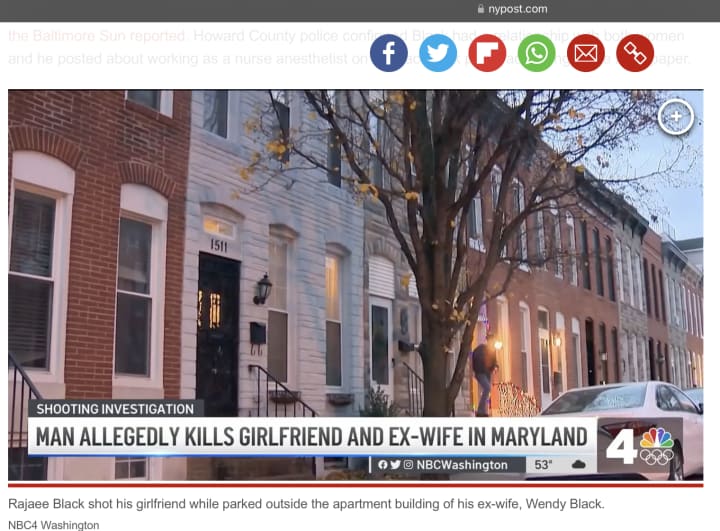 If you know anyone struggling with depression, substance abuse or mental illness please look into SAMHSA.org or their National Helpline, 1-800-662-HELP (4357)
If you know anyone who is in trouble and dealing with domestic violence please be sure to reach out. It is anonymous and with confidential help that is available 24/7, call the National Domestic Violence Hotline at 1-800-799-7233 (SAFE) or 1-800-787-3224 (TTY) now.
As always, Stay Vigilant and Stay Safe
References
https://nypost.com/2021/12/13/man-confesses-to-murdering-ex-girlfriend-on-facebook-live/
https://www.cbsnews.com/baltimore/news/friend-remembers-nurse-killed-in-south-baltimore/
https://www.thedailybeast.com/rajaee-black-confesses-to-murdering-ex-girlfriend-on-livestream-before-killing-ex-wife-himself
https://www.baltimoresun.com/news/crime/bs-md-cr-murder-suicide-crna-20211213-gv3mmax7pva47kl44lrwpvoxn4-story.html
https://www.washingtonpost.com/dc-md-va/2021/12/12/double-killing-social-media-baltimore/
https://www.wbaltv.com/article/rajaee-black-wendy-black-custody-battle-murder-suicide/38507117
https://www.dailymail.co.uk/news/article-10305351/Man-confesses-murdering-girlfriend-Facebook-Live-kills-wife-himself.html
https://www.boston25news.com/news/trending/man-citing-dual-custody-battles-kills-both-women-self-while-streaming-facebook-live/4PELNASVNBDWZFPXQMGAUXZPJY/
https://lawandcrime.com/crime/maryland-man-ranted-on-facebook-live-between-allegedly-murdering-his-ex-girlfriend-and-ex-wife/
https://www.nbcwashington.com/news/local/kids-were-in-car-outside-while-father-killed-their-mother-himself-in-maryland-police/2907894/
https://www.oxygen.com/crime-news/rajaee-black-killed-exes-tara-labang-wendy-black-then-self
https://www.cbsnews.com/baltimore/news/woman-killed-by-ex-husband-in-columbia-murder-suicide-was-denied-several-protective-orders/
https://www.wftv.com/news/trending/man-citing-dual-custody-battles-kills-both-women-self-while-streaming-facebook-live/4PELNASVNBDWZFPXQMGAUXZPJY/
https://www.baltimoresun.com/news/crime/bs-md-cr-murder-suicide-follow-20211212-wckpf2qcbrdp7ehvxddfourwlu-story.html
https://www.fox13memphis.com/trending_archives/man-citing-dual-custody-battles-kills-both-women-self-while-streaming-on-facebook-live/article_6f77873f-8287-55e6-bc2f-02156a7b773d.html
https://m.facebook.com/208421665712/posts/oh-heres-my-ex-wife-right-here-todays-the-day/10166700142850713/?locale=ms_MY
https://foxbaltimore.com/news/local/accused-killer-was-embroiled-in-lengthy-custody-battle-with-ex-wife
http://middaymysteries.com/452839182.html
https://www.healthdirect.gov.au/central-nervous-system
https://my.clevelandclinic.org/health/articles/21202-nervous-system
https://pubmed.ncbi.nlm.nih.gov/21626858/
https://www.sciencedirect.com/science/article/abs/pii/B9780444818713500242
https://nida.nih.gov/publications/drugfacts/prescription-cns-depressants
https://www.ncbi.nlm.nih.gov/pmc/articles/PMC2908224/
https://www.uclahealth.org/medical-services/anesthesiology/types-anesthesia
https://ncadv.org/signs-of-abuse
https://www.choosingtherapy.com/narcissistic-depression/
https://psychcentral.com/depression/narcissism-and-depression
https://www.psychologytoday.com/us/blog/experimentations/202002/why-are-narcissistic-people-prone-depression
https://www.samhsa.gov/find-help/national-helpline
About the Creator
A sweetie pie with fire in her eyes
Instagram @CurlyCadma
TikTok @Cadmania
Www.YouTube.com/bittenappletv
Reader insights
Be the first to share your insights about this piece.
Add your insights