Welcome back to 52 Lock Up, I am your Appletini Cadma of Bitten Apple TV. 52 lock up is a series I started to talk about one of my biggest passions of true crime. A new episode on every Cadmaniac Monday for 52 Mondays, 52 crimes. Hope you guys enjoy, be sure to like, leave some feedback and subscribe; Viewer discretion is always advised. I will be discussing missing children and the death of a child.
Today's episode is a 62 year old cold case. On July 31, 1960 Las Vegas school teacher Russell Allen would be searching for rocks to decorate his garden at home and would stumble across a partially buried body of a small child in Sand Wash Creek Bed on Old Alamo Road in Congress, Arizona; about half a mile west of Highway 93. Russell spotted the body with reddish shorts and a blue blouse, adult sized rubber thong sandals that were trimmed down to fit their feet and leather straps fastened to the sandals. The child's roes and fingernails were painted bright red.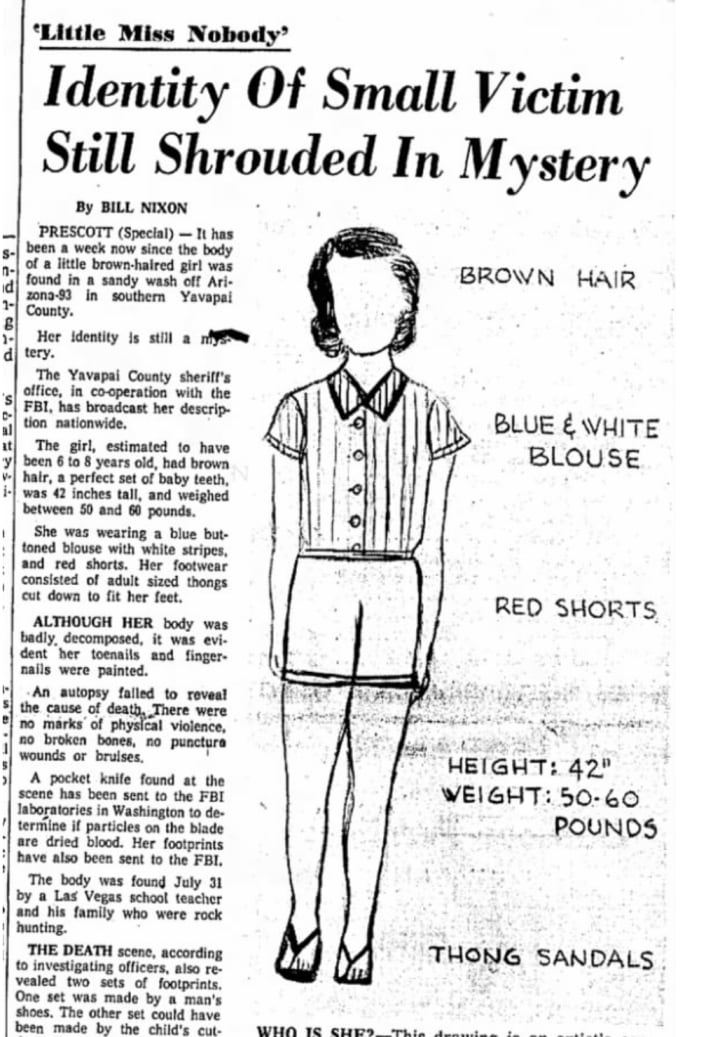 Officers arrived to find children's clothing in the shallow grave. The body was originally taken to Widmer Funeral Home for an autopsy. At the crime scene there were tire impressions in the dirt showing the perpetrator drove off Highway 93 and then returned to the same high way. There were two seats of footprints where one set was obviously of an adult and the second set of footprints were smaller; which were considered to be the footprint of the child. There was a knife found by the body as well.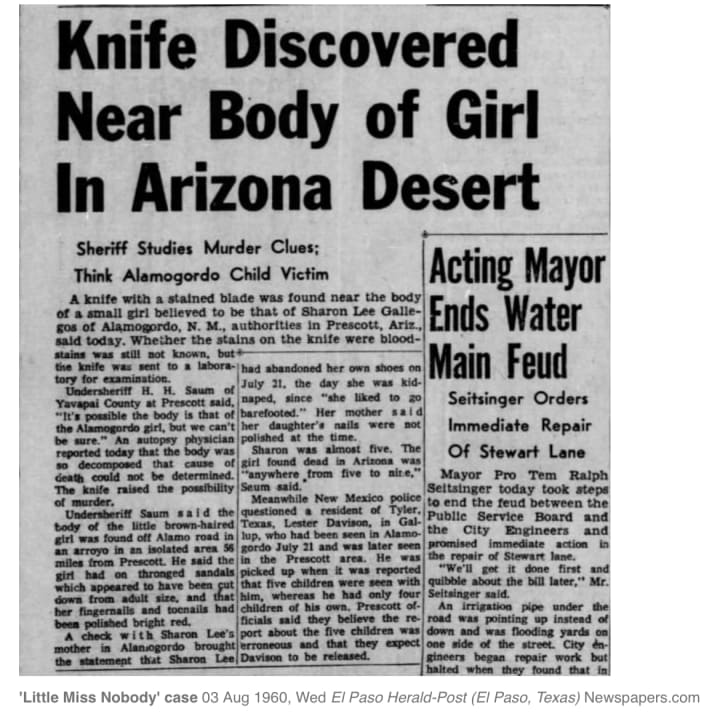 At Widmer Funeral Home the forensic pathologist had determined the body was of a 5 to 7 year old white girl between 3 feet 6 inches to 4 feet 5 inches and weighing at about 50-60 pounds. The remains indicated the body had been there for at least one to two weeks before it's discovery. All of the child's milk teeth were still in good condition and completely in tact; and for those who do not know what milk teeth are those are just the baby teeth. Medical examiners did not define what the exact cause of death of the child was but it was indicated it was a homicide. It was concluded that the child did not suffer from any puncture wounds regardless of the knife and no bone fractures at the time of death; the only confirmation was that the child's remains were burned. Due to the poor recovery of the body and it's decomposition they were unable to create a composite drawing of the child's face.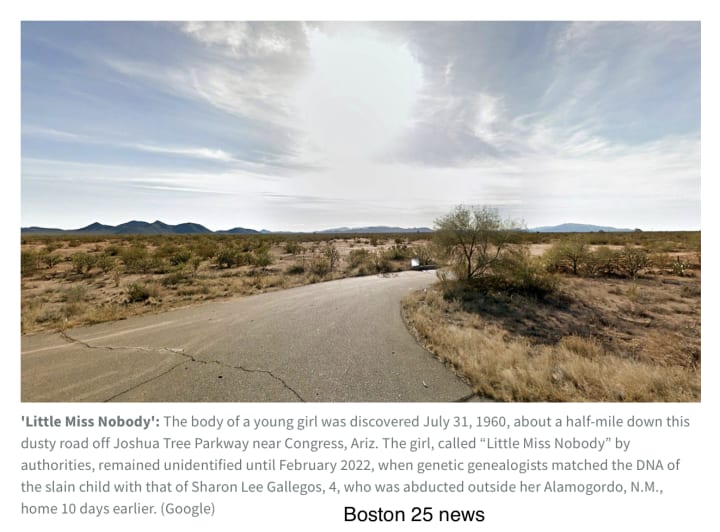 Officers now have to figure out how to identify this dead child and which missing child of the 60's was it. There was a released police sketch of the clothing but eventually the body would be nicknamed Little Miss Nobody with a description of the body; tips would come in but could not be confirmed or was not the correct lead. There were witnesses that stated there was a family seen walking close to the child's body on July 27th and one of the 2 children in the family had been wearing similar clothes. This family would be the Davidson's and after being interrogated for over an hour in early August it would later be confirmed the family was hitchhiking and had no connection to the deceased child. The child's body would be buried on August 10, 1960 at Mountain View Cemetery.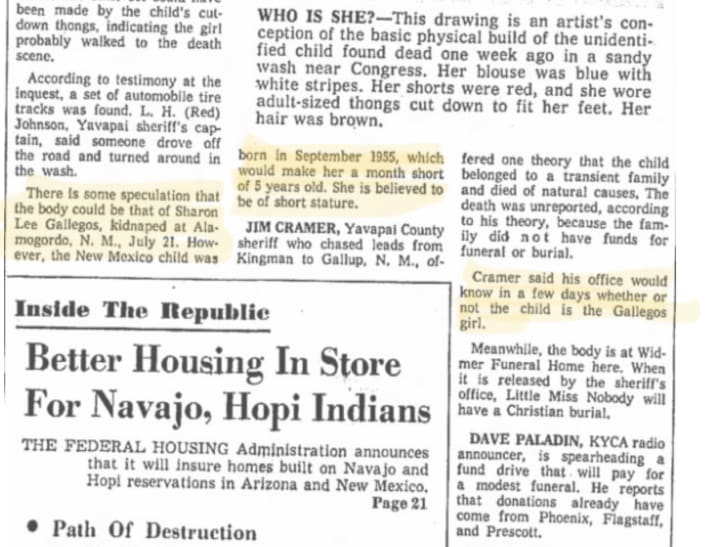 There was speculation that the body belonged to missing 4 year old Deborah Jane Dudley from Virginia. This was another case that police could not close of her missing body after her 7 year old sister Carol Ann's body was found dead wrapped in a blanket February 9th 1961; I know it's a year later but this is based on what I found and Deborah's remains would later be found in Southern Virginia where the parents would be charged for murder. Despite their bevy of efforts locally and nationally identifying the child were failing.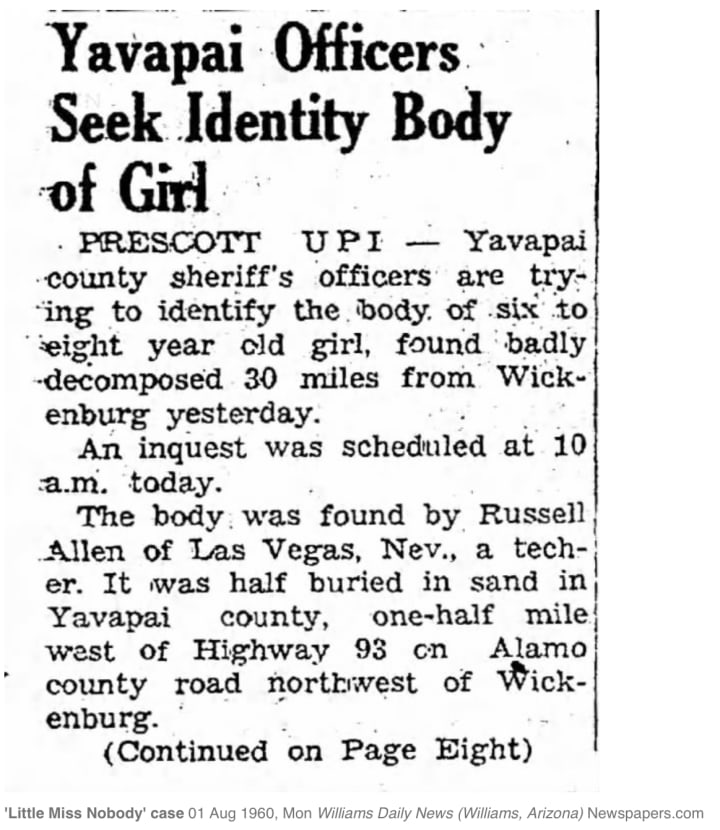 In 2018, National Center for Missing and Exploited Children reached out and offered to pay for the exhumation of Little Miss Nobody and necessary testing to identify the child's remains. Little Miss Nobody would be exhumed and tested with recent dna technological advances. University of North Texas Center for Human Identification would recreate a forensic facial reconstruction of the child's remains of what they may have appeared like prior to their burial. In January 2022 of this year, the child's DNA was sent to Othram which is a corporation that specializes in forensic genealogy to resolve unsolved murders, disappearances, and identification of unidentified decedents or murder victims. March 15th 2022 Yavapai's County Sheriff's office would finally identify Little Miss Nobody to Little Miss Somebody Sharon Lee Gallegos.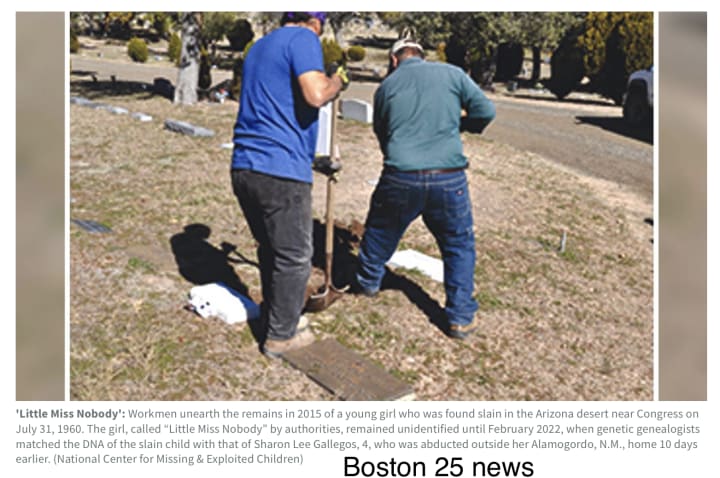 Sharon Lee Gallegos was born on September 6th, 1955 to her mother Guadeloupe Gallegos and her father who's was a soldier; couldn't find a name. She would be the youngest of the 5 children. The family lived together until the father left shortly after Sharon Lee was born. Guadeloupe's mother would move in with them. The family did not have much money and Guadeloupe did her best to support her family by working as a maid at the local motel.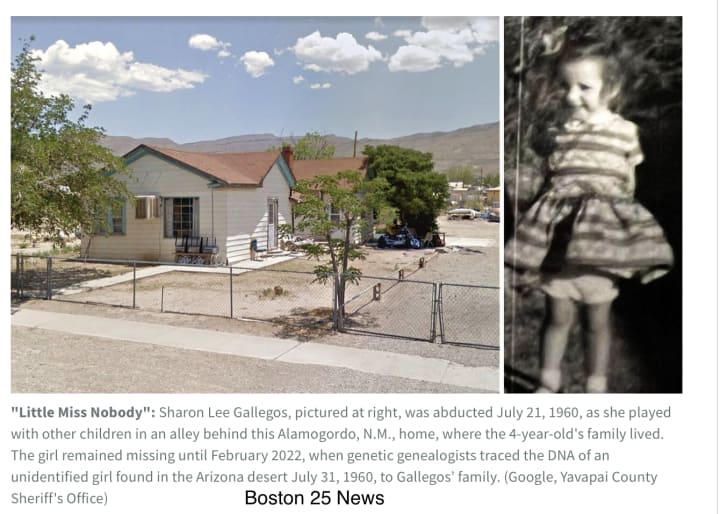 Growing up Sharon was described as feisty sometimes but also a happy-go-lucky child. She loved running errands with her mother and was very close to her siblings. Due to her complexion being fairer than her siblings she became nicknamed La Guera. Some of you going to directly translate that as "the war" but it is a slang term to describe a someone with blonde hair or light skin; like flaquita, morenita, chembita etc etc. Does her complexion have anything to do with why the father left? I do not know for those other true crime detective fans looking for every scrutinizing detail.
July 17th 1960 was a simple Sunday morning of the 60's but there was a strange couple in the neighborhood in a very distinctive dark green sedan car with two children; a freckle faced boy and a small female in the parking lot of the church Guadeloupe attended. The woman in the car had asked several church goers specifically about Sharon and Guadeloupe. A few days prior to the disappearance Sharon Lee seemed to be acting very strangely at home as if she was very nervous and suddenly stopped enjoying running errands with her mom. Sharon would become extremely obviously upset whenever she would she the same dark green car near the house or wherever she went; she would ask her family to specifically pick her up and carry her past the vehicle. This is gives the indication that they must have approached the child, escaped and was not able to communicate her fear to her family.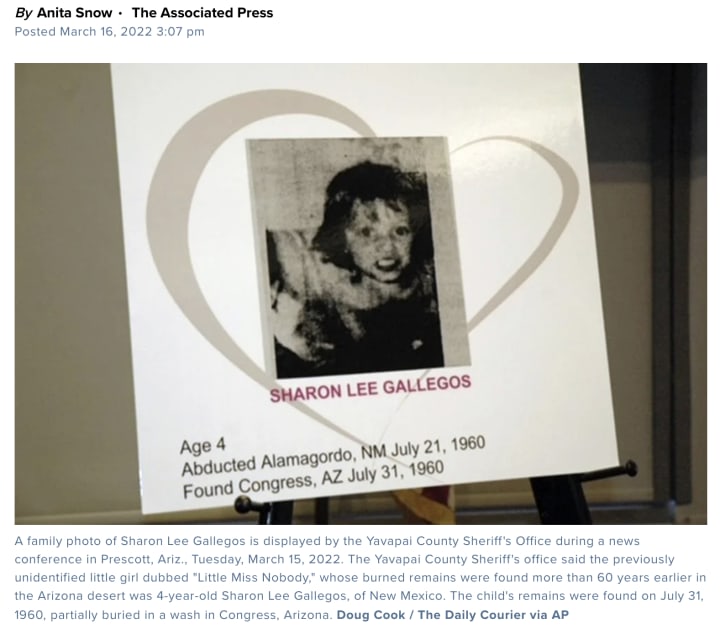 July 19, 1960, the same woman who was asking questions about Sharon and her mother at the church boldly approached the neighbor's asking more and more detailed questions about Guadeloupe to confirm their address, about the children including specific questions about Sharon, their current financial situation; and told the neighbor her intention was to offer Guadeloupe a job.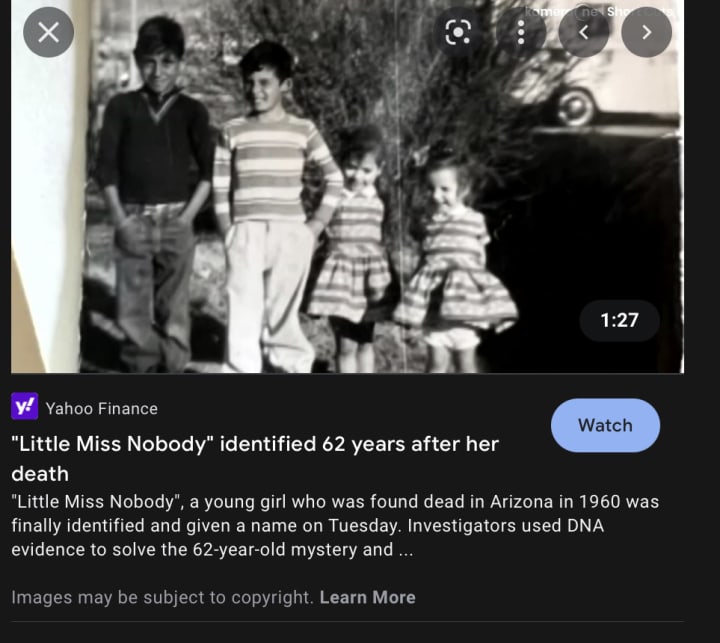 July 21, 1960 Sharon would get up that morning wearing her pink shorts and white shoes to play with her cousins aged 5 and 11 at the house. The distinct dark green car would pull up again to the house. Neighbor 11-year-old Dolores Badial would be heading to the store and remembers seeing this very distinct car parked in front of the house. Sharon would snatched from the alley at the rear of her Virginia Avenue home. The same couple approached Sharon offering to buy her candy and clothes if she would get into the car; and when she refused and tried to run she would be dragged into the dark car.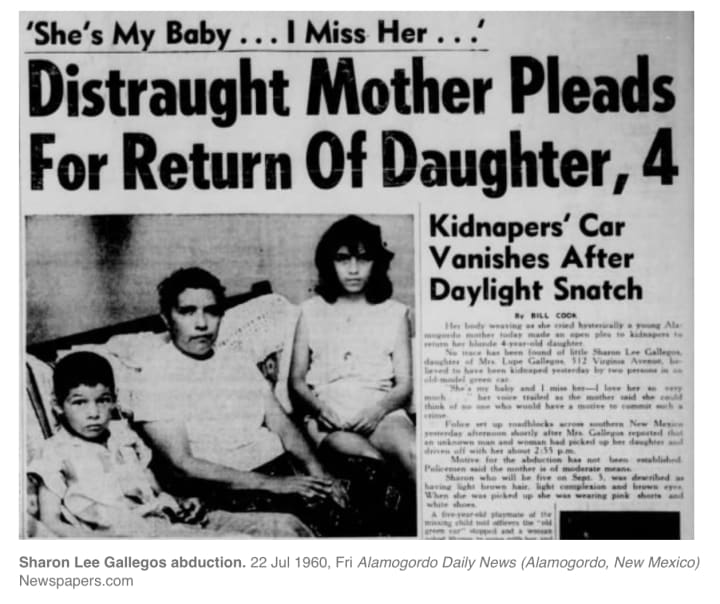 The car is believed to be a dark green 1951 or 1952 Dodge or Plymouth Sedan by the same woman who had exited the vehicle. The woman was described by witnesses as someone who was short, heavyset, in her 30's and dirty blonde hair. The man would be described as a thin white man with a long nose, straight sandy colored hair. As soon as Sharon was dragged into the car they obviously sped away heading West onto Fifth Street. Sharon's cousins would tell her mother about the abduction and within the hour the police setup roadblocks and searched every vehicle they could matching the descriptions; and this obviously did not lead to their capture.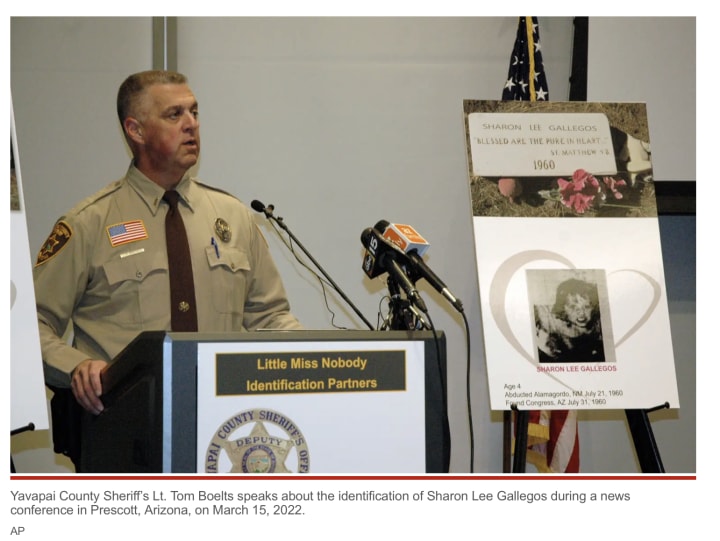 She child would either be killed immediately or a few days after to match forensics reports stating she was dead between a week to almost 2 weeks from the date of July 31st 2022. It was never connected that this was Sharon because of the incorrect age range and they began trying to identify a missing child closer to the age of 6 or 7 years old. Sharon's clothes would be changed to a blue blouse and given poorly constructed shoes. It was also discovered that neighbor Helen González remembers this car again parked at the house again on the previous Sunday as well; it would seem they had been stalking this child for weeks prior to their questioning of their neighbors and church goers.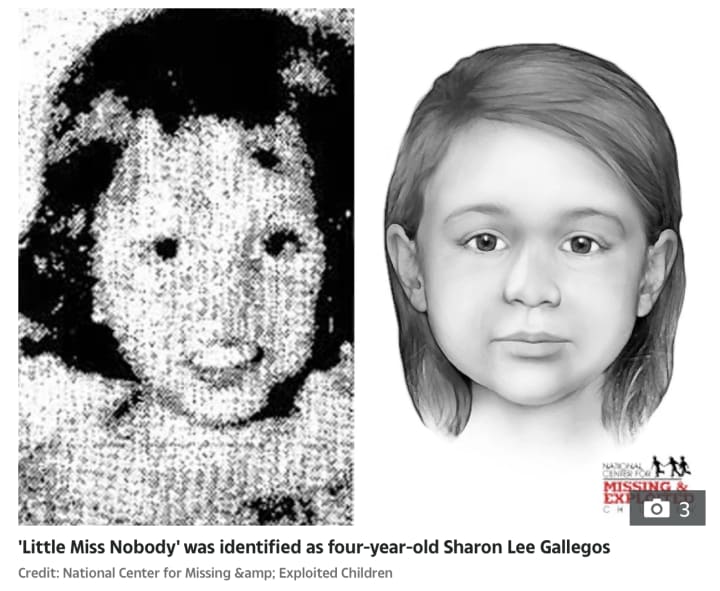 Why? Why would they take a child? Well investigators considered maybe it was for ransom but there were no demands for money. There a number of reasons why children are abducted. Pedophiliac is a person sexually attracted to children and young minors. It could be for sexual reasons. It could be to "have a kid", maybe because they can not have their own. It could be sell the kid into human trafficking. There are a lot of reasons.
It was reported that based on the latest child abduction statistic in 2020 there were 400,000 children reported being kidnapped. 178,747 teenaged boys and 209, 375 teenaged girls. There has been support to show that the older the person is decreases the chances of them being abducted; since less that 160,000 adults were abducted in 2020. Usually these cases are performed by someone who is part of the family or is a parent; while 1% of abductions are performed by complete strangers. Statistics also show that 7.57% of abducted children by strangers make it home; of course as long as everyone acts quickly.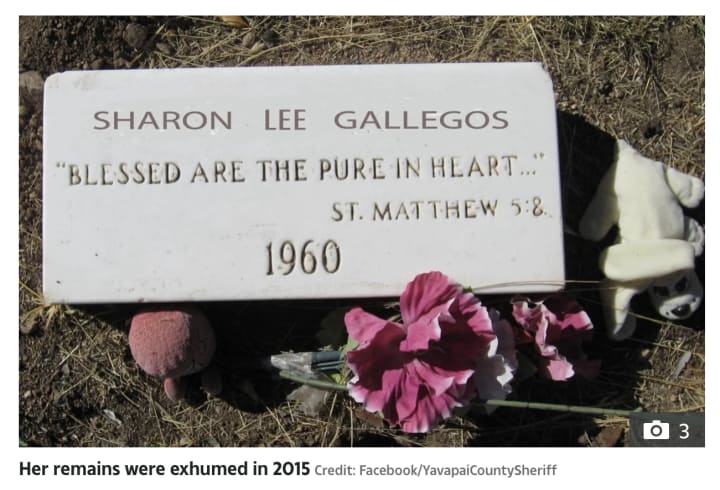 The first three hours of an abduction are extremely crucial. 71% of abductions by strangers happen outdoors and usually in the day time or afternoon; like when they are walking to and from school or playing outside their home. Children from low-income houses are more likely to be abducted and the chances increase more when the parents are divorced or separated. The comparison is drastic looking at 9 in every 1000 children experiencing an abduction in two-parent households compared to a whopping 84 in 1000 in single-parent households; like Guadeloupe's home. As a side note, did you know that Alaska takes the cake when it comes to the state of the highest abductions in the country?
Kidnappers similar to serial killers will have a "profile" of who they are looking for based on their goals like completing a family; and I know I keep stressing it but I think it strange that for a kid who was the lightest of the bunch was taken by a white couple with blonde hair. Usually kidnappers fall into one of the three main categories of financial gain (ransom or human trafficking), extremism or emotional disturbance. Guadeloupe was struggling to take care of her kids so it wouldn't make sense she would be a target for financial gain. Extremism are picking their victim based on social status, religion, ethnicity or their genetic makeup. Leaving strong emotions and a mental defect as the last option as well like if a kidnapper thinks that Guadeloupe's financial situation is not up to their standards and decide for them that they will take her with candy and new clothes.
I'm quoting from The Psychological Impact of Kidnapping by Francis A Akwash "Kidnapping is one of the most psychologically damaging crimes of all. Victims typically take many years to heal from the psychological wounds inflicted upon them, and some never completely recover. Kidnappings cause deep emotional and mental scars that leave victims to battle through issues of trust, independence, love, sex, respect, and a litany of others."
The sad part is that they did not even attempt to "keep her alive". They knew she was terrified. Traumatized this 4 year old severely, kill her and leave her body in a ditch. Whether it was for sex or anything else; they could have easily left her at a gas station or something in the store for the clerk to call the cops and return her home. She was a terrified 4 year old.
The case is currently ongoing still and now that they have a body; police are working to identify the abductors. But at least Little Miss Nobody finally has a name.
If you believe you are about to be abducted that's the moment to fight like your life depends on it; because it does.
Tips to help not be abducted can include
-Finding different routes to take to go on your route.
-Do not accept rides from strangers.
-Secure your home from alarms and cameras; Mr. Ballen has a collab with SimpliSafe.com Go to his channel to use his promo code for it.
-Carry self defense weapons from mace or a taser or knife ONLY if you know how to use it properly other wise it can be used against you; or if you're licensed to carry something heavier with more punch then do what you need to.
-Tell your child to never talk to strangers, to never walk off with strangers and to be by your side when in public.
-Have at least one person know where you are going there are a ton of apps that can help with that like Safetipin or get yourself or a loved one Invisalign jewelry or jiobit.com for kids
Security and Personal Safety
https://www.invisawear.com
SimpliSafe.com/mrballen
www.Jiobit.com
We have more options nowadays than the Etan Paz's milk carton days; which for the record started in 1979.
Use the tools you have and stay safe.
References
https://www.cbsnews.com/news/little-miss-nobody-identified-sharon-lee-gallegos/
https://nypost.com/2022/03/16/arizona-4-year-old-girl-abducted-62-years-ago-idd-as-sharon-lee-gallegos/
https://www.azfamily.com/video/2022/03/15/how-little-miss-nobody-was-identified-sharon-lee-gallegos-more-than-years-later/?outputType=amp
https://www.washingtonpost.com/nation/2022/03/16/little-miss-nobody-identified-sharon-gallegos/
https://www.dailyadvent.com/news/facbdd8da01fca4778e4e245aa1b8548-Little-Miss-Nobody-No-Longer-Sharon-Lee-Gallegos-identified-as-little-girl-from-Yavapai-Desert
https://www.yahoo.com/now/little-miss-nobody-found-dead-013147180.html
https://vicksburgnews.com/a-missing-4-year-old-little-miss-nobody-identified-after-62-years/
https://www.ky3.com/video/2022/03/15/lt-tom-boelts-tells-story-sharon-lee-gallegos/
https://www.the-sun.com/news/4910652/little-miss-nobody-case-solved-sharon-lee-gallegos/
https://6abc.com/little-miss-nobody-cold-case-sharon-lee-gallegos-identified/11653580/
https://news.google.com/newspapers?nid=MNNNGtAgD4EC&dat=19610810&printsec=frontpage&hl=en
Little Miss Nobody' Buried by Community". Rome News-Tribune. August 11, 1960
https://charleyproject.org/case/sharon-lee-gallegos
https://www.azcentral.com/story/news/local/arizona/2018/03/28/little-miss-nobody-sheriffs-office-hopes-image-helps-solve-58-year-old-case/467973002/
https://www.dcourier.com/news/2018/mar/30/cold-case-ycso-continues-seek-identity-childs-skel/
https://www.tbotech.com/how-to-prevent-kidnapping-and-protect-yourself.htm
https://news.google.com/newspapers?id=xhRPAAAAIBAJ&sjid=eU4DAAAAIBAJ&pg=6603%2C1352427
https://globalnews.ca/news/8687757/little-miss-nobody-sharon-lee-gallegos/
https://medium.com/cold-case-files/little-miss-nobody-cold-case-solved-after-62-years-in-2022-8db317148fed
https://pursuitmag.com/the-psychology-of-kidnapping-and-abduction/
https://childfindofamerica.org/resources/facts-and-stats-missing-children/
https://safeatlast.co/blog/child-abduction-statistics/#gref
https://childfindofamerica.org/resources/facts-and-stats-missing-children/
https://www.reuters.com/article/us-usa-missing-children/missing-children-in-u-s-nearly-always-make-it-home-alive-idUSBRE83P14020120426
https://findthekids.org/2021/06/how-many-missing-children-are-found-each-year/
https://scholarly-journals.com/sjsre/publications/2016/March/pdf/Akwash.pdf
https://www.psychologs.com/article/looking-through-the-eyes-of-a-kidnapper
https://smartifylife.com/gps-tracking-jewelry-for-kids/
https://www.jiobit.com/how-jiobit-works-search?gclid=CjwKCAjw9NeXBhAMEiwAbaY4lqEpFVxvZqCtpEip9ZnriSPG5u2-UYk_rCRPw0raZ-T15PG487LjcBoCiPkQAvD_BwE
https://www.angelsense.com/gps-tracker-for-kids/?utm_source=google&utm_campaign=Search_Child_US2-Exact&gclid=CjwKCAjw9NeXBhAMEiwAbaY4ll5PHEswq8xpreccj0MeWlkauM2qqPEAiozIps9kTWWtpf3loxlrQBoCfa8QAvD_BwE
About the Creator
A sweetie pie with fire in her eyes
Instagram @CurlyCadma
TikTok @Cadmania
Www.YouTube.com/bittenappletv
Reader insights
Be the first to share your insights about this piece.
Add your insights