Best Cleats Under $50
Looking for quality cleats under $50 for adults or kids? You've come to the right place!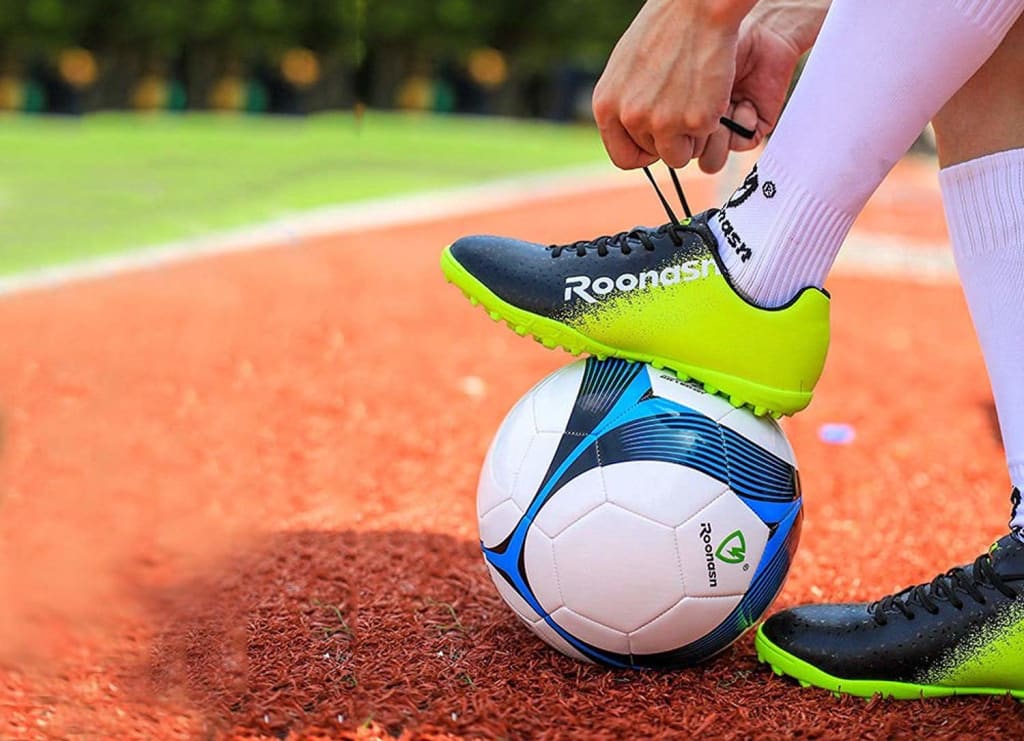 Coming across heavy duty cleats under $50 can be hard. After all, most people are going to want cleats that don't just get them through the soccer or football season, but instead provide longevity for many years to come. Yet, when sports come into play, there's no telling how long cleats will last.
Whether you're looking for a nice pair of cleats within your budget for an adult or for a child, some of the top cleats under $50 may very well be the best options available to you.
Starting off with cleats for men, ANLUKE Men's Athletic Hightop Cleats are under $40 and can be bought in three different color combinations: black and red, blue and green, or orange and silver. These soccer cleats are also suitable for football players.
With a comfortable PU leather high-top knit fabric, ANLUKE claims that these boots will give you dependable performance. These soccer shoes also help you improve your ball control so that one can play soccer in both dry and wet environments for added versatility.
Featuring neon pink and neon yellow, you're sure to spot your children on the soccer field with these Diadora Kid's Cattura MD JR Soccer Cleats. Diadora constructed these soccer cleats with wider studs to ensure the wearer has proper stability while playing.
On Amazon, these soccer cleats are offered in toddler, little kid, and big kid sizes up to a kid shoe size 12. However, if you're hoping for a different color scheme, there are other options, too, depending on the size your looking for.
Right at the top of your budget, if you're looking for soccer cleats under $50, are these Diadora Maracana Women's Soccer Cleats, originally priced at $94.99. The design on these soccer cleats is a bit more on the traditional side, but nevertheless look stunning out on the field.
You're getting a great deal with these cleats as not only are they attractive, but they offer a premium leather, water-resistant, soft ankle collar lining for better ball control and support, and conical studs for proper traction and grip.
If you're looking at getting your child a pair of soccer cleats that offers a more concealed appearance, these boots might be suitable for your little one. They're offered in five different designs, featuring variant bright, neon color combinations.
With its molded design, consistent ball control, high top fit collar, rotational tract configuration, and rubber sole suitable for both dry and wet environments, these kid's cleats are comfortable, versatile, and perfect for kicking and stopping any soccer ball, competing with many of the other top indoor soccer shoes of 2018 for functionality.
Among the best deals for cleats under $50 with a favorable 4.3 out of 5 star rating are this DREAM PAIRS Men's 160860-M Cleats. For under $27, you'll be floored with the amount of colors offered: a whopping 17 from Black Neon Green to Orange/Black/Lemon Green.
These DREAM PAIRS soccer and football cleats offer a perfectly cushioned insole, lightweight design, and rubber molded studs with proper rotational traction configuration. According to reviewers, you won't have to worry about blisters thanks to its fitted, comfortable design!
These Littleplum Soccer Cleats for football and soccer offer a sleek stripped and ombre design featured in sizes from toddler to teen. They claim to have an antibacterial top lining, foot bed deodorization, all-conditions control technology, and innovative fly mesh for ball control.
You can purchase these high-top soccer cleats in four different colors including blue, green, orange, and black. Within the same price range, you can also get non-high tops versions of these cheap cheap soccer cleats with a similar design.
For just $12.99, these DREAM PAIRS 151028 Men's Sport Lace Up Soccer Shoes could be yours in one of eight colors. These may be cheaper soccer cleats, but they prove themselves favorable for the cost as they offer a nice grip and pleasing construction quality.
Overall, these shoes are equipped with a plush insole, rubber-tipped studs, rotational traction configuration, and a lightweight and comfortable overall design. These cleats are a great option for teens whose feet are still in the process of growing and require replacements often.
Vizari makes a number of the best soccer cleats for kids to use on the field, and after reading some of the reviews for the boots above, you won't be surprised as to why that is. Priced under $25, you can get your toddler or child age 4 to 8 these Vizari Blossom FG Soccer Shoes in either pink and blue (featured above) or black with a purple sole. Featuring a floral graphic on a shiny surface, your child will be rocking the field at their next game!
With a sturdy rubber sole, padded heel, cozy collar lining, tight fit around the ankle for safety, and a molded rubber outsole for traction, these soccer cleats on a budget will provide the comfort and function your child or toddler will need.
Adults looking for adult soccer cleats that are simple and conservative in design, yet sleek in appearance, will love these Joma Aguila Gol Firm Ground Soccer Cleats. While at the higher end of a $50 budget, these shoes are regularly priced at $64.99.
You can ensure proper traction and comfort with these soccer cleats, due in part to a 360 degree wrap to help the boots properly fit on the foot during an intense game. The full grain leather on these shoes also provide the flexibility one needs to kick a soccer ball at maximum velocity.
Adidas can be an expensive brand as it is well-trusted. However, the price for these soccer cleats under $50 range between $29.96 and $48.18. Having earned an average 4.3 out of 5 stars on Amazon, these cleats for women might just be a great fit for you, literally and figuratively.
Adidas is confident that these red, white, and blue cleats will power with you through several long soccer games, as these cleats are lightweight with a comfortable fitted design and offer favorable traction on all surfaces both wet and dry.
As a disclaimer of sorts before purchasing them though, know that these cleats are sold in men's sizes, although they are more suitable for women considering the men's sizes offered are on the smaller end of the spectrum. That said, expect to translate your size before purchasing. Additionally, these shoes will be a bit wider.
Reader insights
Be the first to share your insights about this piece.
Add your insights