All of the Soccer Cleats Worn at the World Cup 2018
Check out all major soccer cleats worn at the World Cup 2018.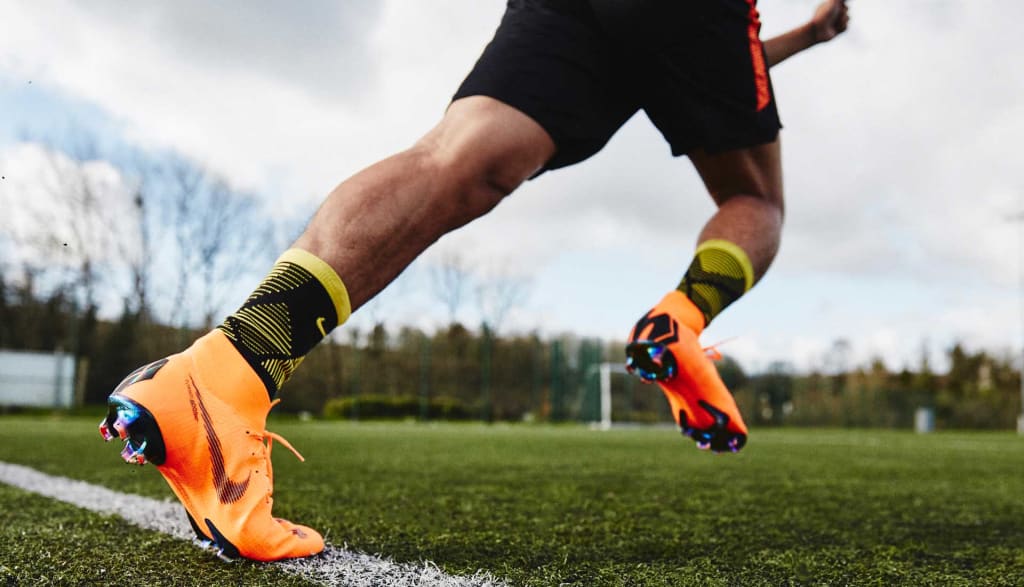 A total of 736 players represented 32 nations at the recently concluded World Cup. There were a lot of familiar names in the mix, while some became famous over the course of the tournament.
However, most of them enjoyed their time under the spotlight at arguably the most interesting sporting spectacle in the world.
Because of its global appeal, the World Cup was also a unique opportunity for brands like Nike, Adidas, and Puma to showcase their products, especially soccer cleats, to soccer fans.
Nike boasted of stars like Neymar, Cristiano Ronaldo, and Eden Hazard while Adidas had the likes of Lionel Messi, Luis Suarez, Paul Pogba and Mohamed Salah sporting the three stripes.
If you are planning to buy new soccer cleats to emulate your favorite soccer superstar on the pitch, then you will enjoy our comprehensive list of all of the soccer cleats worn at the World Cup 2018.
Nike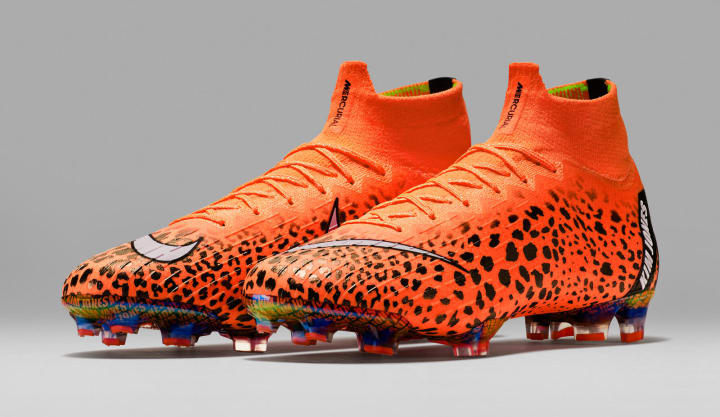 The US kit-manufacturer has been at the forefront of the revolution in soccer cleats. Their impressive lineup of soccer cleats includes names such as Mercurial Superfly, Magista Obra II Elite, Hypervenom III Elite, Tiempo Legend VII Elite and more. These cleats cost $230 to $390 in the market.
Here's the complete list of Nike football boots worn by players at 2018 World Cup.
The American company launched the '360' version of their famous firm-ground soccer cleats on February 14, earlier this year. According to Nike, a lot of attention has been paid to the fit of the boot. Their statement read: "Fit is the foundation of fast. No matter how innovative a pair of football boots maybe, if the fit isn't right, if the foot slides even 1 mm inside the boot, speed can be compromised. For this reason, fit became the focal point in designing the new Mercurial, leading to it is game-changing 360 construction made possible through a new advancement in Nike Flyknit technology."
Within a very short span of time, these boots have become favorites of a huge number of soccer stars. They are, overall, one of the best cleats for soccer in general of 2018.
Cristiano Ronaldo (Portugal), Dries Mertens (Belgium), Eden Hazard (Belgium), Isco (Spain), Kylian Mbappe (France), Luka Modric (Croatia), Marco Asensio (Spain), Ousmane Dembele (France), Philippe Coutinho (Brazil), Radamel Falcao (Colombia), and Willian (Brazil) were the top stars to don this super-famous boot in Russia.
These ankle-length FG boots provide precise touch and control on the ball, and they are suitable for playmakers. They use innovative Flyknit material and they also incorporate All Conditions Control (ACC) technology which provides improved control in wet conditions too.
Magista Obra II Elite was worn by the likes of Andres Iniesta (Spain), Christian Eriksen (Denmark), Kevin de Bruyne (Belgium), Sergio Busquets (Spain) and Thibaut Courtois (Belgium).
Hypervenom Phantom III Elite are also ankle-length boots, but these are designed specifically for goalscorers. Its flyknit upper gives an unmatched stability to the foot during lateral contact with the ball. This boot also has a HyperReactive plate which helps with the agility of a player, so they make for some of the best soccer cleats for strikers.
A number of top strikers such as Harry Kane (England), Edinson Cavani (Uruguay), Gonzalo Higuain (Argentina), Raheem Sterling (England), and Robert Lewandowski (Poland) donned these boots in Russia.
These Nike Tiempo Legend VII boots are made from kangaroo leather, and they provide unmatched support and cushioned touch on the ground. They also use the NIKEGRIP technology which prevents the foot from slipping inside the boot.
These cleats are favored by center-backs, and famous names such as Sergio Ramos (Spain), Gerard Pique (Spain) and Raphael Varane (France) prefer these boots.
Adidas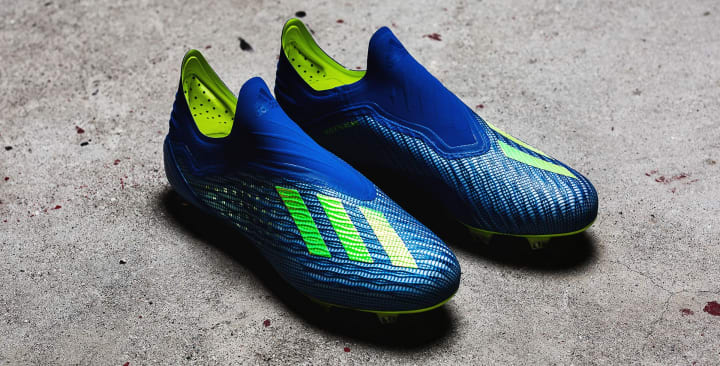 Adidas, a Germany-based company, had some awesome cleats on display during the World Cup. The Adidas line consists of famous soccer cleats like X18+, Predator 18+, Nemeziz 18+ and Glitch.
Following is the detailed list of soccer players and their Adidas boots from the World Cup.
These firm-ground cleats are minimalist in design, and they are made for speed. X 18+ FG have a low-cut collar, which provides a game-changing stability to the foot. They are laceless cleats, but the X 18.1 variant comes with an adaptable lacing system.
Angel Di Maria (Argentina), David De Gea (Manchester United), Gabriel Jesus (Brazil), Gonzalo Higuain (Argentina), James Rodriguez (Columbia), Luis Suarez (Uruguay), Marcelo (Brazil), Mohamed Salah (Egypt), N'Golo Kante (France), Son Heung-Min (Korea Republic), and Thomas Muller (Germany) were some big names to endorse the X 18+ in Russia, and were some of the most popular soccer cleats worn at the World Cup 2018.
18+ is the latest variant of Adidas' world-famous Predator boot. These boots provide additional support on the ball. Adidas claims that the Controlskin upper provides great control in all conditions and keeps the ball glued to your feet.
These ankle-length cleats were worn by stars like David Silva (Spain), Dele Alli (England), Ivan Rakitic (Croatia), Manuel Neuer (Germany), Mats Hummels (Germany), Mesut Ozil (Germany), and Paul Pogba (France) in Russia. Make sure if you get these, that you know how to clean your soccer cleats properly so that they stay in great shape!
These cleats feel like gloves on your feet, and they are endorsed by none other than Barcelona star Lionel Messi. The laceless strike zone offers some of the purest contact imaginable, allowing you to hit long balls and shots with pinpoint accuracy.
According to Adidas, Glitch are the world's first interchangeable soccer cleats. The starter pack comes with one Inner Shoe and two Outer Skins. This model is currently available in the United Kingdom, Germany, and France only.
Paulo Dybala of Argentina was seen wearing Glitch at the FIFA World Cup.
Puma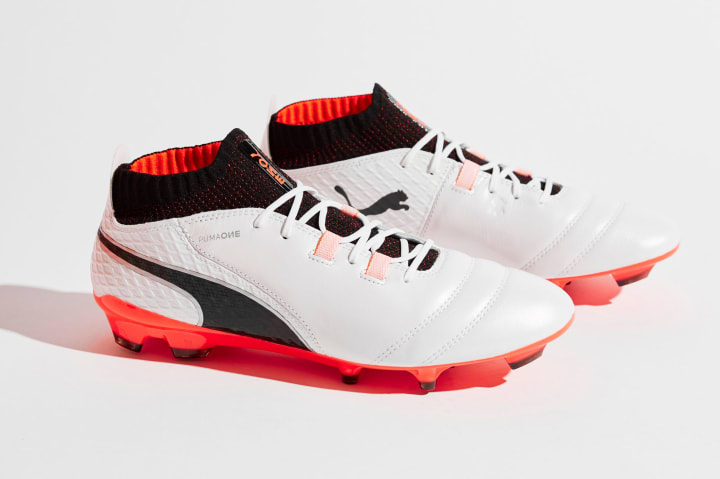 In recent years, German manufacturer Puma has cemented its position as the third-biggest player in the sports industry. Puma's roaster of soccer players includes some big names like Sergio Aguero and Antoine Griezmann.
Puma has two main models of soccer cleats—One and Future.
Puma has branded "One" as a versatile football boot which suits a striker as well as a defender. Sergio Aguero (Argentina), Romelu Lukaku (Belgium), and Diego Godin (Uruguay) are some international stars who are fans of Puma One.
This boot is comparatively cheaper than Nike and Adidas models as well.
Puma describes these shoes fit for players who can change the game in an instant. As one of the soccer cleats worn at the World Cup 2018, The Pebax hybrid lightweight sole provides maximum speed and optimal traction on both natural and artificial grass.
World Cup winner Antoine Griezmann wore Puma Future in Russia.