Best Soccer Cleats for Strikers to Own
When you're a center fielder and the ball is headed your way, you better hope you're wearing the best soccer cleats for strikers.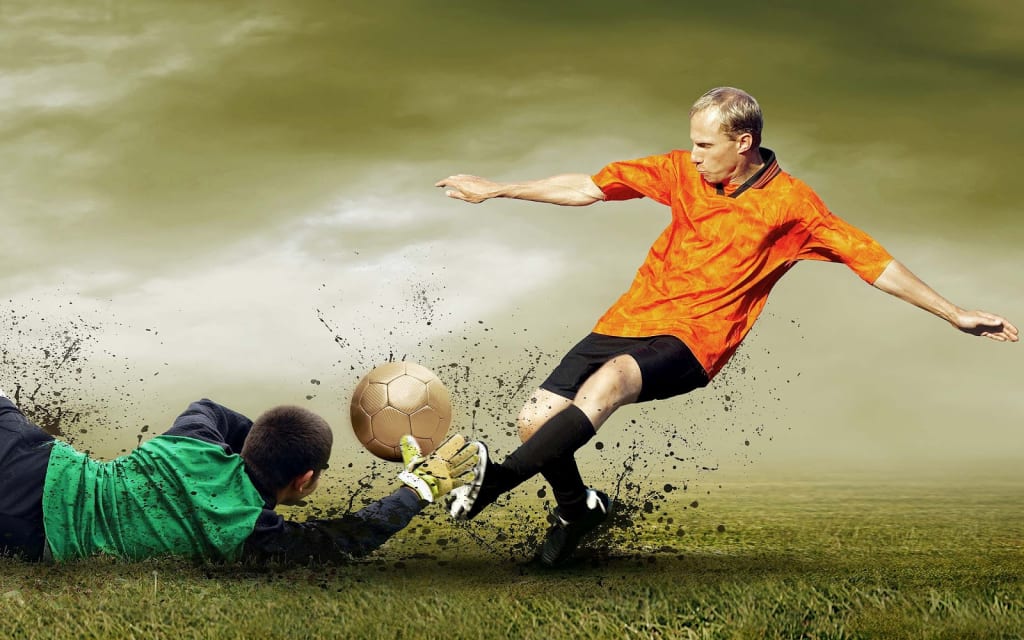 Listen, you don't want the most expensive soccer cleats on the market, because you'd be wasting your money. You want the best cleats that'll ensure you get the most performance, whether it be speed, accuracy, ball control, or so on. Strikers take the most shots, attempt the most goals, and are most likely the one's on the ball the most—at least, you'd hope so. Owning a pair of the best soccer boots doesn't alway ensure victory, but it sure as hell beats walking into a game without style or the best advantage.
Some of the most authentic boots come from Nike and Adidas, but there are some hidden gems out there that many soccer aficionados are missing out. Thanks to the best of the best, players like Cristiano Ronaldo and Lionel Messi, soccer boots are shifting in the right direction. Aspects like quick turns, playing style, and even ball control are all being taken into account when designing the most top notch football boots on the market. If you're a forward, or a valuable scorer, and want to make the best out of your cleat game, try any of the best soccer cleats for strikers to own. They're more than just a goal; they're primed for victory.
Running shoes aren't the same anymore. There are cleats for under $200 that say they can improve your game by adding both speed and control to your athletics on the pitch, but none of those on the current market do this more so than Adidas and their X 16.1 line of football boots.
Here we have the synthetic, rubber sole, solar red pair that are considered one of the best soccer cleats for strikers. While they may not literally enhance your playing style, the Firm Ground engineering done at Adidas certainly help to toughen up your shoes against astroturf.
Despite the fact that these are a tad bit more expensive than the X 16.1s, Nike is well versed and universal in the area of sportswear engineering. That's no different when creating quality, performance enhancing cleats, Nike never fails to provide some of the best soccer cleats for strikers (and for every position, in general).
Their Tiempo Legend VIIIs, made with kangaroo leather and synthetic soles, has stability Nikegrip pods in the collar to support your ankle and foot from sliding inside the shoe. Superior breathability and stretching are allowed thanks to the flyknit constructed heels and tongue, plus their a hyperstability plate gives the Tiempo Legend VIII the best in lightweight traction and comfort.
In addition to Lionel Messi, Robin Van Persie and Luis Suarez rock these sweet football boots, simply because their among the best soccer cleats for strikers to own.
While Messi has his own special edition pair, the normal hybrid touch synthetic leather F50 adiZeros still enhance traction by way of the adding a second level on the forefoot base. This is due to the Speed Traxion FG outsole, which has a new high speed stud configuration, adding both grip and maximum acceleration.
Thanks to players like Zlatan, Mario Mandzuki, and even Cristiano Ronaldo himself, the Mercurial Vapor IXs became a necessary soccer investment. Nike's brand new Vapor XIs, however, have now come to change the game—in many more ways than just speed or control.
The Mercurial Vapor XI offers embossed horizontal ridges across the entire shoe for ball control and accuracy. Not to mention a host of other features, like an updated stud configuration for optimal torque, balance and comfort, compressed nylon plate for a lightweight feel, and a low-profile toe-box gets you up and under, all of which only add to the fact that it's among the best soccer cleats for strikers.
Much like the X 16.1s, except upgraded for a more professional feel, the 16+ is made with a much more lightweight texture and dolls out a far gentler touch than your average Adidas boot.
These Purechaos designs for firm ground play are some of the best soccer cleats for strikers, because they add supreme stability, thanks to the mid-cut design, in addition to quality control, what with the SPRINTFRAME outsole. If you want to make your soccer friends jealous, the 16+ is sure to do that, and get you goals in the process.
Not only do they make for some of the best soccer cleats for strikers, the Mercurial Superfly V are among the best soccer cleats of 2017! That's saying something in and of itself, especially when you add the fact that they were made for lightweight comfort and controlled stability, all for an integration of speed and traction.
The Superfly Vs aren't worn by any major soccer players, but that doesn't mean they're inferior to the rest. In fact, they may very well be the next best thing, what with the host of components, from new heel features and stud configurations, it's no wonder they're so difficult to buy.
If you want the best soccer cleats under $100, PUMA's got you covered. With evoSPEED, the company has tried to improve upon their past mistakes by adding such components as grip enhancements, stud configurations, and even ankle support for a natural, comfort fit that doesn't subtract from speed and acceleration.
These boots were crafted and designed for the utmost performance in goal scoring, what with the canonical stud configuration, Pebax speedtrack spine, plus an integrated external heel counter. Add to that the fact that Monaco's very own Radamel Falcao wears these, it's safe to say they're among the best soccer cleats for strikers.
Unlike any other among the best soccer cleats for strikers, the Hypervenom Phantom II by Nike have a locked down comfort thanks to the Dynamic Fit collar design. It's almost like having another sock for extra comfort and stability.
There's also a host of other components, like the ACC technology, allowing for all conditions control, plus multi-directional quickness engineered through the agility traction pattern. There's also quality touch and striking due to the all new NikeSkin technology, which even cushions your feet for a reduced stud pressure.
These bad boys come standard with a microfiber, monolayer speed frame, which give your feet superior traction and speed. They're also made from extremely lightweight material, which help to make quick turns and stopping a breeze.
PUMA has some quality cleats, but none compare to the true superiority offered by evoSPEED designs, which have been worn by soccer players all around the world. Especially for as low as $70 for one of the best soccer cleats for strikers, there's really nothing to complain about.
Like their II design, the Hypervenom Phantom III bring quality performance and handling back to the pitch. These soccer boots are worn by some of the best players in the game, from Neymar to Wayne Rooney, obviously making them some of the best soccer cleats for strikers.
Upgraded from the previous design, the Phantom III offers some upgraded components, like the studs. These configurations are made to assist in stopping, quick turns, and scoring all in one layout. Plus, like the prior boots, these also offer the Dynamic Fit collar, which makes for a comfort fit that stays on no matter what conditions you're playing in.
These may not look like the most superior or powerhouse soccer boots on the market, due to the fact that they've been overruled by Nike's Hypervenom range, but Borussia Dortmund's Robert Lewandowski may say otherwise. Having worn these for his entire career, the expert scorer has sworn by them for years, and apparently they have a cult following unlike any other shoe. That's unheard of, even for one of the best soccer cleats for strikers.
The T90 Laser IV are molded cleats with a stud configuration that adds weight to your shot without reducing your speed or accuracy. They're also made with comfort in mind, so while they may not look like your typical futuristic football boot, they pack some hidden aspects: extra cushioning, added power for shots, and expert goal performance.
About the Creator
English psycho therapist. I like to help people and oftentimes do, when people take my advice seriously. It's all in the mind, you'll see...
Reader insights
Be the first to share your insights about this piece.
Add your insights