Most Expensive Soccer Cleats on the Market
The ultimate list of the most expensive soccer cleats on the market, ranging all the way up to $350.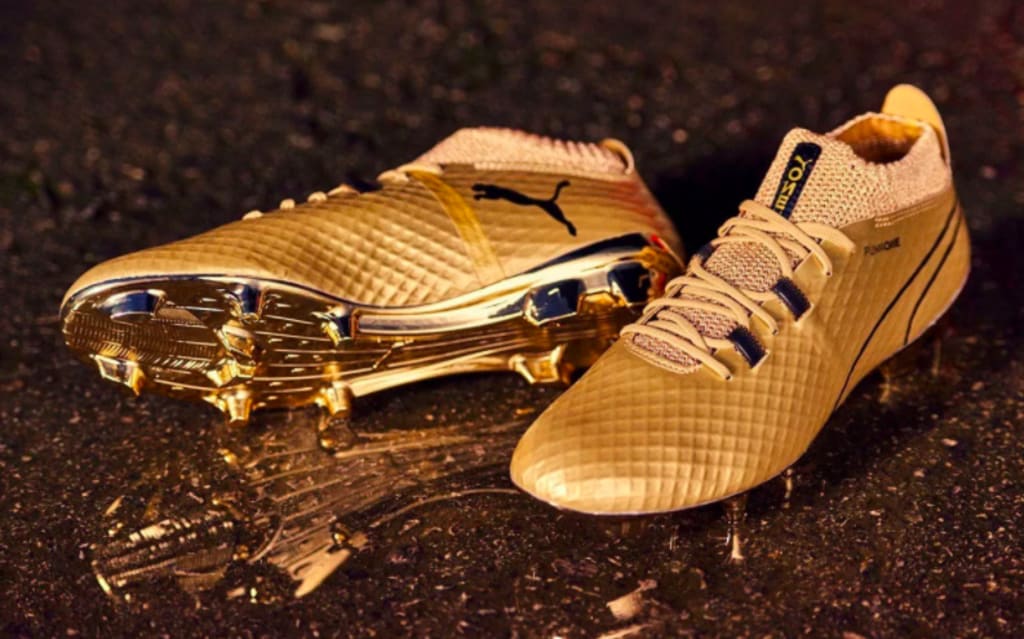 Though soccer doesn't take a lot of equipment, cleats are a player's most valuable asset when taking on the field. There are plenty of options to find cleats online, but which are the best?
Discovering the ultimate cleats comes with a hefty price tag. This is a list of the most expensive soccer cleats on the market. Ranging from $275 all the way up to $350, this footwear will cost you a pretty penny. What makes them worth the price? And what sets them aside from your typical $100 cleats?
To begin our list of the most expensive soccer cleats on the market, believe it or not, approximately $275 will be our least expensive option on the list. PUMA's evoPOWER Vigar 3D 1 FG Soccer Cleat is the newest generation of the line and is here to stay.
The luxury shoe is made for dominant players, ones who need a skin-like fit for ample movement and flexibility. Controlling the ball comes with ease with these on the feet, and has a comfortable cushioning and durable outer. They would certainly be one of the best gifts for soccer fans.
Next on our list of the most expensive soccer cleats is the second least expensive pair, ranking in at almost $290. Mizuno is one of the reoccurring brands on the list, and has a plethora of luxury soccer shoes.
These soccer cleats are shapes and structured to perfection, as they are created with a mixture of only quality materials. The outsole is created with a conical stud shape which is perfect for traction as well as agility. Plus, the upper is made of thin leather materials, for speed and comfort.
Adidas is another brand that you will see frequently on this list of the most expensive soccer cleats. At approximately $290, the Nemeziz 17+ 360Agility FG Soccer Cleat is one any soccer player would dream about.
With its unique design, the Abilitybandage is wrapped around the middle of the foot, incorporating a compression fit for a skin-like feel. Plus, there is a dual lock collar which is perfect for ankle protection.
Do David Beckham, Zinedine Zidane, and Steven Garrard ring a bell? These are just some of the legends who have sported these Predator 18+ FG Soccer Cleats by Adidas.
As one of the most expensive soccer cleats, there is much reason behind the necessity for this footwear. With a Primekit upper, sock-like fit, and naturally cushioned feel, these cleats will aid in even the best soccer player's ability for almost $300.
A cleat that certainly looks expensive, the PUMA ONE Gold 17.1 Firm Ground Soccer Cleat is coated in gold coloring. Most known for Sergio Aguero appearing in them, the PUMA ONE special edition is one meant for goal scoring, as its legacy attests.
Though PUMA has tough competition with Nike and Adidas, their brand has held strong among athletic wear. These cleats are advertised as feeling like an "extension of the leg" and will aid in even the toughest games, all for approximately $300. They would certainly make for one of the best gifts for soccer coaches.
Another Mizuno option among the most expensive soccer cleats is their Rebula V1 Japan FG Soccer Cleat, which comes in a simple black and blue detailed design for almost $300.
Made of quality and sturdy leather, the footwear has been seen on Japan's Honda superstar. Plus, the outsole is made with an engineered groove for power and an upper with moldable materials for comfort.
Ranking in at approximately $300, Adidas' ACE PURECONTROL FG/AG is one of the most expensive soccer cleats on the market.
Some features of the cleat include its internal TechFit system which is for ample foot fitting and an enhanced outsole construction for ample ball control, as well as a compressed upper for comfort and fit. It's lightweight, fashionable, and very expensive.
Nike is the owner of the majority of the most expensive soccer cleats on the market, and their Magista Obra II AG-PRO is no exception.
With a 3D upper with a sock-like fit, a midsole with lightweight material and a sock liner, and an outsole made to prevent ankle twisting, while still remaining flexible, what more could you ask for?
For the price of approximately $310, you will take on the field with confidence. Plus, this pair is made specifically for midfielder success.
At approximately $325, the Nike Mercurial Superfly V CR7 FG Soccer Cleat is the runner-up for the most expensive soccer cleat on the market. As one of the most expensive pairs of cleats you can purchase, this pair has been created in tribute to Cristiano Ronaldo's career with Real Madrid.
Made specifically with his path in mind, the white coloring and vibrant reflections represent a diamond for the player. Plus, they are lightweight, made for wear and tear, and most importantly, improve speed, agility, and strength performance. They're one of the best soccer cleats of 2017.
Ranking in at our number one spot in the most expensive soccer cleats on the market, Nike's Hypervenom Phantom III DF SE FG Soccer Cleats take the cake. At approximately $350, these cleats are hard to find. At only 3,000 pairs worldwide, this footwear is limited edition.
What makes it so special? This new edition has a full Flyknit upper, Flywire on the side of the upper as well as texture, PORON foam pods, hybrid studs on the medial side, and chevron studs on the lateral side. There's not much luxury equipment that will be as much of an investment for your game as these will be.
Reader insights
Be the first to share your insights about this piece.
Add your insights