Coolest Gifts for Soccer Fans for Any Occasion
Looking to give a major soccer fan a gift but don't have any options? Take a look at these great gifts for soccer fans!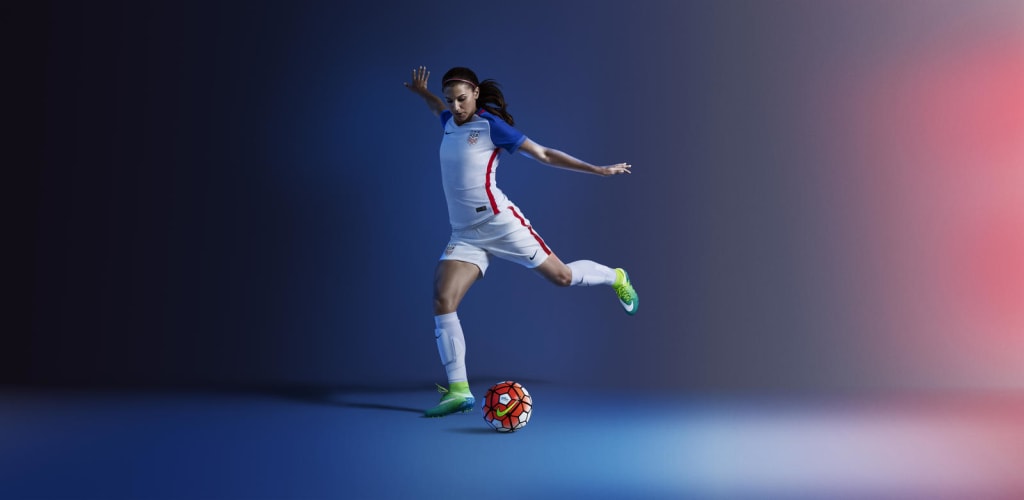 Those who know a soccer fan or is a soccer fan themselves know exactly how passionate soccer lovers are. They're so dedicated to their favorite team that some of them even risk their lives standing up for it and for their love of the game. I've actually seen a bar fight occur that involved two fans from opposing soccer teams, the two got kicked out — that's how serious they are about the sport. Just like any other sport, actually, there are some diehard fans that own jerseys, sneakers, shorts, hats, even a huge flag representing their most cherished soccer team.
But, if you don't know where to start, I've listed some of the best gifts for soccer fans that you can give for their birthday, Christmas, even Valentine's Day. Each one of these gift ideas are all soccer related. So, in case you don't know which team she loves and really don't want to buy her merchandise from the team she seriously hates... any of these are great choices to go with.
This is an awesome gift to give to anyone who enjoys drinking coffee, tea, or other beverages out of large mugs, or even has a mug collection. But, for someone who loves soccer, this is undoubtably one of the coolest gifts for soccer fans. Simply because this large mug is designed as a soccer ball — with a goal, too!
Your friend can now play with his food with this awesome mug with an attached goal. Score pieces of cereal into milk, or even marshmallows into hot chocolate! This mug is so large that you can even eat ice cream dessert out of it. Even adults can get a kick out of this mug.
Little brain teasers are great gift ideas for anyone, but this specific puzzle set can make any soccer fan go crazy. Have them kill time when they're bored by putting this unique puzzle together! The challenge to this puzzle is what lures nearly anyone into completing it.
This classic game is fun for anyone in the family. Take it apart and reassemble it back into its original shape. Once it's finished, it becomes a beautiful, wooden soccer ball to display anywhere around the house!
If you know someone who can't sleep without a nightlight, and if she's a diehard soccer fan, do I have a great gift idea for you! Check out this amazing 3D LED soccer night light among gifts for soccer fans. Despite the fact that it totally looks holographic, it can change into seven different colors! So, if your buddy isn't fond of the blue or red lighting display, they can switch it to either yellow, white, pink, or green.
Other than the bedroom, this unique soccer nightlight is perfect for anywhere in the house. Place it in the living room, kitchen, corridor, etc., wherever you need a little extra light. The nightlight is operated by USB and saves energy.
I couldn't leave this out on the list of gifts for soccer fans, look how cozy and impressive it is! If you have a friend whose room is decked out in soccer themed furniture, add this soccer chair to complete their room. Your friend can place this in the living room or basement, too. Allow him to cozy up in this chair while watching the game!
The soccer themed chair features a black and white finish made with wood, foam, and polyurethane. It even includes a small footstool to rest your feet on. When your friend wants to store the chair away, they can simply place the footstool on the seat of the chair.
Want to give your buddy something small for the upcoming holiday, but still want it to be meaningful? Don't give her a gift card if you know that she's really into soccer, buy her this cuddly soccer ball pillow which is seen to be one of the most perfect gifts for soccer fans! Your friend can use this to sleep on or snuggle with while watching the game.
The soccer ball pillow is made out of polyester material that makes it really cuddly and soft to handle. The pillow is about 16 inches, making this small pillow a great piece for decoration, too, since it's not too overwhelming.
Speaking of overwhelming, have you ever seen a giant soccer ball? Actually, has your friend? Your friend will absolutely lose his mind if you gift him this huge inflatable soccer ball. Instead of offering them a regular-sized, boring soccer ball, go big and give them an extra large one! It's the perfect size to play with friends outside, inside (but be careful), and it's ideal for playing in the pool!
This 40 inch soccer ball is high in quality with a strong PVC inner ball and soft polyester mesh that covers the outside of the ball. It's very durable and can handle your hardest kicks; it's not among the best gifts for soccer fans for nothing.
Gift your classy soccer fan this stunning set of soccer ball cuff links. He can wear these cuff links to work, going out with friends, and even heading to the big soccer game. They're very fashionable, clean looking, and your friend will constantly get compliments from everyone, not to mention other soccer fans will be jealous of the set.
These cuff links are made with top quality sterling silver that makes them strong and sturdy. They're engraved to look just like soccer balls, and they do! Make your friend happy with one of the most stylish gifts for soccer fans.
Your friend must have tons of soccer balls if she's a crazy soccer fan. So, don't buy her another soccer ball, get her something a bit different for her birthday this year — like this soccer ball disc! If you have no idea what this is and how it works, it's actually an electrical powered device that hovers just like a hockey puck and glides smoothly on any flat surface. It's basically the more futuristic version of soccer balls.
Anyone can play with this hover soccer ball, both children and adults. The sponge on the outer layer of the disc is designed for competitive matches and able to absorb hard kicks. So, don't think that your friend's kicking will break it, she can kick it as hard as she wants! This soccer ball disc can make a game of soccer much more interesting and turn your friend into one of the fastest soccer players around.
Here's another piece of bedroom decor to add to your friend's soccer themed bedroom, a uniquely designed soccer lamp. Whether your child, or someone's kid is a huge soccer fan, I highly suggest you buy them this really cool soccer lamp.
The lamp features a soccer ball holding up the lamp, and beside it is a pair of cleats and the coach's whistle. Whether their room is decked out in soccer themed furniture or not, any sort of soccer lover will find this to be one of the greatest gifts for soccer fans.
While this is the last on the list of gifts for soccer fans, it's certainly not the least liked. In fact, it's seriously one of the coolest gift ideas you should consider. Rather than buying a soccer ball or a soccer video game, how about this really cool penny soccer game!
Take somebody on in a head-to-head, or finger-to-finger in this case, soccer game using a penny as the soccer ball! Flick your way across the field, avoid any of the blockers, and have your penny find its way into the goal! Your friend can now make good use of leftover change in their pockets.
About the Creator
Enjoys lounging in NYC bars, loves traveling to foreign countries, and volunteers at the homeless shelter twice a month.
Reader insights
Be the first to share your insights about this piece.
Add your insights