Best Soccer Cleats for Playing in the Rain
Throw away the hair dryer and pick up a fresh pair of cleats- you're going to need them for your next rainy game. Scroll down to learn more about the best soccer cleats for playing in the rain.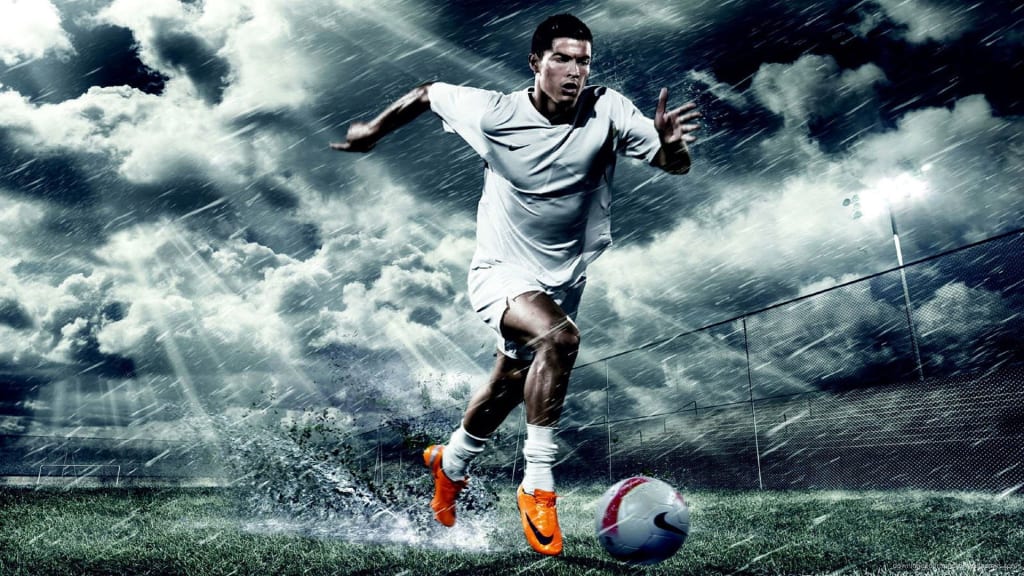 With the World Cup currently happening in Russia, we begin to wonder how these players got there in the first place. They trained their whole life for this moment. To score a goal in front of millions of fans and viewers around the world, they had to start from the beginning. That means learning everything from scratch.
Luckily, soccer isn't one of those expensive sports that we always hear about such as baseball or lacrosse where you have to buy hundreds of dollars worth of equipment just to play the game. Soccer is its own entity. Purchase some shin guards, buy a basic soccer ball, grab your best pair of cleats, and you're good to go.
Soccer is one of the most convenient games out there. All you need is an open field, players, and some goal posts, which is probably why it's the most popular sport in the world. However, weather always plays a factor in the outcome of the game. If you are a serious soccer player, you know the rule of playing rain or shine. There comes a time in your soccer career where you need to switch out the hair dryer for a quality pair of soccer cleats for playing in the rain.
Enhance your performance and your abilities by buying a pair of soccer cleats for playing the rain. With so many options for soccer cleats out there, we picked the best 10 that you should consider buying now for your next match in the rainfall.
This all-weather cleat is labeled as a firm-ground soccer cleat, but athletes have been known to wear them in unconventional, muddy terrain due to the lightness of the cleat and perfect fit.
This cleat comes in black so they will not appear ruined when playing in the mud. The shoe provides acceleration on the field by gripping the ground even when flooded with water.
In 2015, Nike announced the launch of their newest all-weather soccer cleats that feature ACC (All Conditions Control) Technology. Among the several pairs that were released, the Tiempo Legend IV was one of them.
Now, three years later, Nike has released the seventh version of this cleat for maximum performance. This type of rain prevention technology allows the rain to fall off the cleat leaving it dry and comfortable in all types of rainy weather.
The Mercurial Superfly is a multi-ground soccer cleat designed for all types of terrain—muddy, soft ground, and turf. It provides exceptional ball touch and is comfortable and light, not to mention has a very sleek design.
The high-top hugs your ankle which leaves you with more support and keeps water from entering your feet. Pivot from left to right without worrying about hurting your ankles because this cleat allows directional change on multiple types of surfaces.
Known as a soft-ground soccer cleat, this is the pair you need when the field is almost flooded with rain. If you've been playing soccer for a while, you know how difficult it can become playing in the rain, which is why soccer players needs a specific soccer shoe for this environment.
This cleat wraps your foot fitting it tight and perfect allowing you to switch directions when necessary. The outside is mud resistant and provides traction to the field. The next time you need soccer cleats for playing in the rain, consider buying a pair of these.
This pair of cleats is a multi-ground soccer shoe part of the Nike Just Do It WC Pack. It is built for high speeds and all terrain. It is a timeless and traditional fit that you can wear rain or shine. The outsole is made of a responsive traction that will grip onto any surface making it easier for movement.
Worn by soccer legends David Beckham, Steven Gerrard and Zinedine Zidane, these soccer cleats have revolutionized the way soccer is played. The upper part of the show is sock-like which hugs your ankle and forms to the shape of your foot. There is also a heel tab that helps you put your shoe on and keeps you locked in at all times.
You won't have to worry about your cleats falling off in the middle of a game. The elements of the shoe offer extra friction and control with the ball. On the upper part of the cleat, there is Controlskin technology that gives you a close touch on the ball in all types of weather keeping your foot stabilized at all times.
Your classic Adidas soccer cleat is back with an enhancement. Made up of soft kangaroo leather and an extended heel counter, this shoe offers durability and stability in any weather rain or shine.
To enhance the quality of the shoe, it is fully lined with nylon to give it additional longevity. The soft ground design is for soft, natural surfaces or anyone planning on playing on unleveled terrain, so they're also some of the best soft ground soccer cleats.
Both anti-clog and soft-ground, this cleat has it all. The high-rise ankle offers support like no other cleat and you are assured that you will not be twisting any ankles on a muddy field. For those soccer players that cut, strike and straight out move in all directions will find this soccer shoe to be highly convenient.
This shoe is agility based with a Dynamic Fit Collar that hugs your ankles giving it more compression and a relaxed fit. The laces wrap around your fit offering double the support. At the bottom of the cleat are conical studs that help in gaining traction to wet and muddy surfaces, no matter how flooded the field gets.
If you want to perform at your highest quality on the field, try the Magista Obra II, as it provides enhanced touch and control technology. The studs at the bottom of the shoe are made for traction and will grasp onto any surface that you are playing on. The outsole helps shed mud and allows the rain to simply fall of so that your shoes will not get that soaked and heavy feeling.
These are a pair of soccer cleats under $100 you need to own. For those of you who enjoy all of the qualities of the Hypervenom Phantom III Elite, but do not feel comfortable in the tight high-ankle, this is the shoe for you. With similar qualities, this shoe is lighter and is designed to increase shot velocity as well as enable fast changes in direction on the field. Just like the Hypervenom Phantom III Elite, they're perfect soccer cleats for playing in the rain.
About the Creator
Enjoys lounging in NYC bars, loves traveling to foreign countries, and volunteers at the homeless shelter twice a month.
Reader insights
Be the first to share your insights about this piece.
Add your insights