Best Soft Ground Soccer Cleats
Whether you're an amateur or professional soccer player, finding the best soft ground soccer cleats can help you stay in the game on the rainiest days.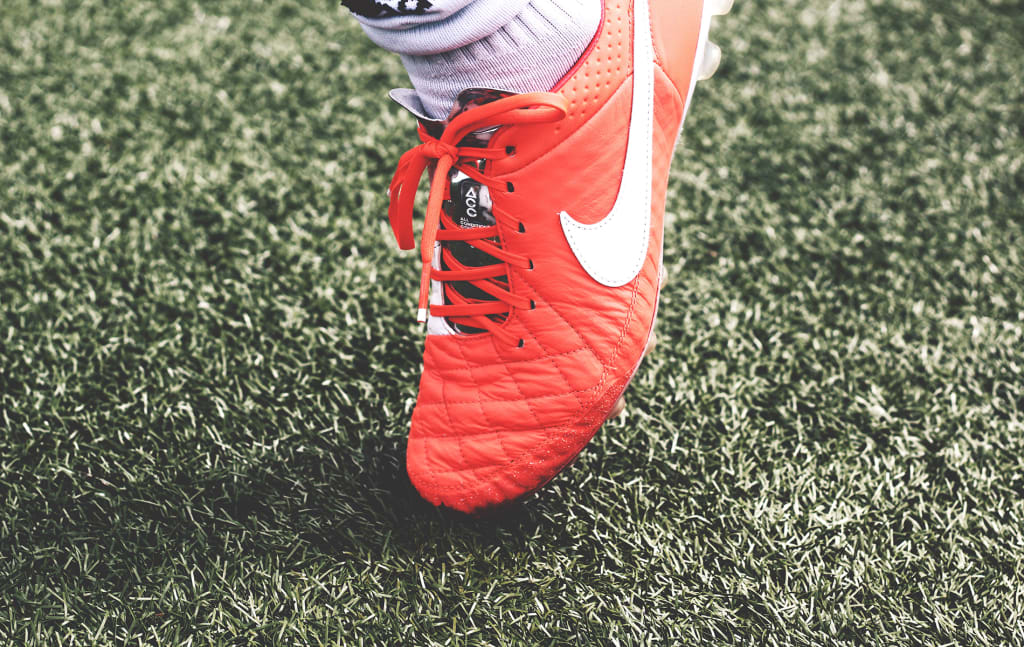 Photo by Tom Sodoge on Unsplash
Selecting the right soccer cleat may seem like a straightforward process. However, in order to maximize performance and prevent injury, soccer players have to consider both the weather and the surface they are playing on. Soft surfaces, in particular, require a unique type of soccer cleat with specialized attributes.
For most soccer players, it isn't unusual to play in conditions that are wet, damp or muddy. However, these types of surfaces can be both dangerous and difficult to play in, especially in a fast-paced performance sport like competitive soccer.
That being said, it's critical to find gear that will minimize the dangers of slipping and maximize speed, composure and performance, regardless of the weather. From lightweight shin guards to fan gear and more, it's important to have the best equipment in order to put out your best performance.
Below, you will find industry-leading soft ground soccer cleats on the market today.
In a high-intensity sport, like soccer, one of the most important considerations when choosing the right footwear is overall weight. Soft ground soccer cleats need to be equipped with heavy duty studs and materials that allow a soccer player to quickly change direction and navigate muddy, wet surfaces. When choosing a soft ground soccer cleat, specifically, soccer players often have to compromise weight for functionality.
The Nike Hypervenom Phantom III, however, solves the weight dilemma by offering aluminum detachable studs, All Conditions Control technology and anti-clog coating in a soft ground soccer cleat that only weighs 7 oz.
Not only is the Nike Hypervenom Phantom III an overall lighter shoe, its unique anti-clog traction feature reduces the weight of accumulated mud and debris build-up that is common in soft ground conditions.
That means, that even on the rainiest days, soccer players will not have to sacrifice traction or performance for weight.
Known to be a revolutionary soft ground soccer cleat, the Adidas Predator is a top pick for legendary soccer players like David Beckham and Steven Gerrard.
Most notably, the Predator soft ground soccer cleat maximizes comfort by offering a unique sock-like fit that expands with the movement of the foot. In other words, this soccer cleat will allow a soccer player to make sharp, quick turns and maneuvers on wet or muddy surfaces.
In addition, this soft ground soccer cleat is known for its ControlFrame technology with interchangeable metal studs to maximize traction on grass surfaces. In other words, soccer players benefit from the ability to change the lengths of their studs, depending on weather conditions and the type of surface they are playing on.
All of these perks are packed into a shoe that weighs just under 8.5 oz.
Aptly named, the World Cup soccer cleat by Adidas has been worn by some of the best players in the world for the last two centuries and it's for a good reason.
Both iconic and aesthetically appealing, professional soccer players agree that the kangaroo leather upper found in this soccer cleat maximize comfort and durability. Though it is slightly heavier, weighing 10.1 oz, this soft ground soccer cleat is fully lined with nylon and is equipped to last in the toughest, muddiest conditions.
Similar to other Adidas soft surface soccer cleats, the World Cup also offers a lightweight outsole with six screw-in studs that provide the increased performance, traction and speed that every player needs when playing on soft, damp surfaces.
Standing apart from the traditional black and white striped Adidas soccer cleat, the vibrant Nike Tiempo Legend VI was built for optimal ball handling and performance in wet weather conditions.
Similar to the World Cup by Adidas, the Nike Tiempo is made with a soft, breathable kangaroo leather and offers interchangeable studs. However, these soccer cleats are equipped with Nike's All Condition Control system and a Kanga-lite material, which helps with maximum water resistance.
Because these soccer cleats are equipped with kangaroo leather, Nike's hyper shield technology also enhances functionality by preventing the leather from absorbing moisture; A feature that soccer players will see the benefit of in more severe weather conditions.
These soft ground cleats weigh in at 9.6 oz, which means they fall somewhere in the middle when considering overall weight and functionality.
The Mercurial Superfly is as subtle in performance as it is in look and name. Aside from its noticeable vibrant orange color, most soccer fanatics will recognize this as the soccer cleat worn by superstar forward Cristiano Ronaldo, one of the best Real Madrid players. It shouldn't come as a surprise that this soccer cleat was built for optimal speed in the most challenging weather conditions.
Weighing just 7 oz, the Mercurial Superfly offers a lightweight popular plate in the heel and forefoot that is meant to mimic the natural shape of the foot and maximize speed. It also boasts a short Dynamic Fit Collar, which offers a soccer player more range in movement and a mixture of metal and chevron studs to enhance traction.
Similar to other Nike soft ground soccer cleats, the Superfly is equipped with anti-clog coating that will prevent buildup of mud or grass. This is the ideal soft ground soccer cleat for soccer players that want to get up and go as fast as possible.
With the word 'speed' proudly displayed in its name, it shouldn't come as a surprise that the Puma Evospeed 1.2 was built specifically with speed in mind. Modestly priced, Puma proudly re-released this soccer cleat with enhancements to its overall performance.
Puma markets the Evospeed as a "mixed soft ground" soccer cleat and appeals to soccer players that play on more 'natural surfaces.' Could this be the cleat that balances the demands of both soft and hard ground playing conditions? That is certainly what it looks like this cleat is trying to do.
Unlike some of the other cleats listed, the Evospeed does not have interchangeable studs. However, what it lacks in stud diversity, it makes up for in a sleek, lightweight design. In fact, the Evospeed 1.2 is engineered to be Puma's most lightweight and flexible cleat yet.
They may not be the newest design, but don't count them out. The Puma V Konstruckt III was considered groundbreaking soccer cleats when they were first released and they continue to be a favorite amongst soccer players today.
These soccer cleats have a sleek, classic design meant specifically to tackle the most challenging, soft, wet and/or muddy surfaces. In fact, the Konstruckt III offers a unique feature built specifically for traction and control: An extra screw in stud over the forefoot.
Though the average soccer cleat offers only six screw in studs, an additional stud over the forefoot increases traction and overall control in slippery/muddy situations.
So, even though the V Konstruckt III aren't the newest soccer cleat on the market, they are worth considering for soft ground performance.
Another top contender for soccer players that are looking for maximum speed, the Nike Mercurial Vapor XII is the lightest soft ground soccer cleat on this list.
Weighing in at just 6.6 oz, Nike constructed this soccer cleat to have a "skin-like" fit. In addition to lightweight materials, this soccer cleat was built with a low-cut Flyknit collar to guarantee a maximum range of motion.
Similar to other Nike soft ground cleats, soccer players have the added benefits of All Conditions Control, micro-texture for controlled touch, a combination of metal and chevron studs, and anti-clog coating.
You cannot always control the conditions you play in, but with soft ground soccer cleats, you can control how you perform in wet, muddy conditions. Whether you're looking to maximize speed and traction or simply want to protect yourself from injury, there are options that will allow you the freedom to keep doing what you love: playing soccer.
product review
About the author
Former obese teen turned nutritionist. Enjoys writing about staying active and proper nutrition.
Reader insights
Be the first to share your insights about this piece.
Add your insights