Best Lightweight Shin Guards
Don't want shin guards to weigh you down while playing a match? These are the greatest lightweight shin guards you can use for all of your soccer games.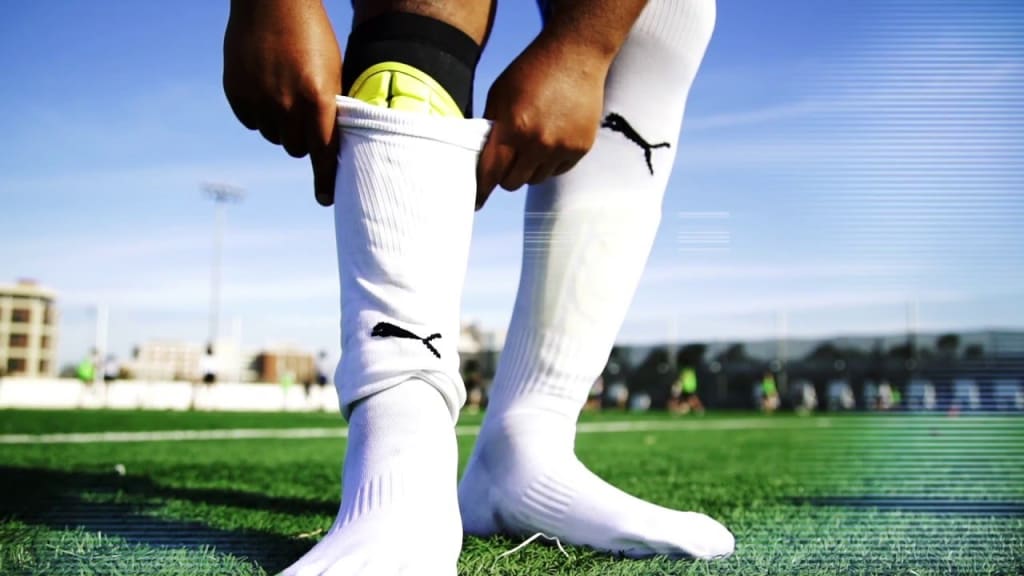 When it comes to soccer, we have to wear the best gear and protection that will benefit our performance on the field. Especially protection. Like the majority of sports, the chances of a player getting hurt is pretty high, such as soccer. It's one of the things every soccer player experiences. These players are literally barbaric on the field, so getting injured is expected at every match. But the only way to prevent getting hurt is by wearing the ideal protection, like shin guards. Since our legs are doing all the work and getting the impacts from the soccer ball and other players, our shins can easily get beaten up. That's why all players should wear shin guards, to protect yourself from a soccer injury.
Even though all serious soccer players do wear shin guards, there are guards out there that are pretty heavy. The reason that they're heavy is because they're designed to be super durable and have the ability to absorb a lot of impact. However, those heavy guards can weigh down a player during the matches—and no player wants this. In fact, lightweight shin guards can absorb a lot of impact, too. Since they're created out of light, but super durable material, many players prefer these types of guards instead. They're comfortable, light, and still offer the best protection for all soccer games. If you're looking for top-quality lightweight shin guards, check out these guards that won't let you down.
The best type of lightweight shin guards are the ones that are made out of carbon fiber. Carbon fiber is a very strong material that's not only really light, but it's insanely tough, too. Which means it can withstand a ton of impact and it still won't budge. And a pair of shin guards that are constructed out of carbon fiber are these by Diadora. Lightweight, strong, and long-lasting, these shin guards will surprise you by how well they perform during matches.
Wearing these won't feel like you're wearing any shin guards at all. The carbon fiber material can absorb impact from the soccer ball as well as incoming players. Plus, they last a lot longer than regular shin guards, because of the fantastic quality they offer. And these guards are also a must have women's soccer gear.
The shells of shin guards are what usually weigh the players down. They're created out of a really hefty material that's designed to protect your shins from intense impact on the field. Even though players do want full protection, they still don't want to be weighed down by their guards.
And what better, lightweight shin guards that still have durable shells than by Vizari? These guards have a lightweight PP shell for protection so you won't have to worry about your shins getting hurt during all of your games. Or possibly weigh you down, too. There is also a foam padding in the back for maximum comfort and it's also designed for the shell to not come in contact with your shins.
We all know how amazing Nike is and the gear that they're always providing us is fantastic. And if you play soccer, you have to have at least one piece of Nike gear. These shin guards can be your first purchase by them! And not because they're by Nike, but they're high quality guards that perform awesome during matches.
These shin guards feature a low-profile design that gives great protection as well as dense foam backings for comfort. All shin guards should be really comfortable when wearing them and lightweight, of course, which these guards are. Plus, these guards have the left and right-specific fit that follows the contours of your legs. And players are definitely looking for that, because it gives off more comfort when playing on the field.
Franklin Sports is a pretty underestimated sports brand that creates top-quality gear—especially for soccer. Among the greatest lightweight shin guards ever, these guards are super lightweight, but they don't look like it! The shell is constructed out of a very durable material that's both super strong and light at the same time. And many guards don't possess the two aspects.
With the vented foam, not only are you getting great comfort, but no heat will be trapped inside of the shin guards. The symmetrical design fits precisely to your legs so there's no discomfort when you're moving in them. In addition, there are detachable ankle pads that still move with you and offering you great comfort.
Want shin guards that slide on easily like socks? From the best lightweight shin guards you can purchase now, these G-Form shin guards can swiftly slip right over your shins and won't slide down easily, either, which is something that so many players hate. When your shin guards are slowly sliding down your legs in the midst of a match, you can't be worrying about pulling them back up. But these guards would never allow that to happen.
In fact, G-Form is known to be the world's first soft, flexible, sleeve-style guard to meet NOCSAE standards. And now it can meet your standards, too. They're very flexible, so running your fastest in them won't bother you at all. And the shell on these are soft, but super durable when it comes to protection against any impact on the field.
Kids deserve a great, comfortable pair of shin guards, too! And as a parent, you certainly want your child to be protected at all times during their matches. But you also definitely don't want them to be equipped with heavy guards that will weigh them down during matches. That's why these shin guards by Brava are the ideal guards for kids!
Among the really useful lightweight shin guards you can buy for your kid right now, the Brava shin guards are super lightweight with a polyurethane shell that won't bother your child's performance on the field. Padded with EVA foam on the ankle guards to help protect your child's legs at all times, your kid will be most comfortable when playing in these shin guards.
For someone who hates wearing gear, these shin guards by Nike are perfect. Given the fact that they're lightweight, when wearing these, it'll feel as though you're not wearing any form of protection at all. Plus, they're very durable and still strong enough to absorb all impact coming from opposing players. And these guards are specifically designed to contour to your leg shape, so you won't feel uncomfortable when wearing them during your games.
Since this is an incredibly low-profile guard, this is the type of protection for people who believe that gear in general weighs them down and distracts them. While still lightweight and basically invisible, the shell is so tough and can last much longer than you think.
Probably one of the most flexible and comfortable lightweight shin guards, Wilson's guards will constantly keep your shins protected and injury-free whenever you're out there playing matches. You can easily move, run, kick, and perform other types of footwork swiftly when these guards are attached to your shins. And they're built with light, reinforced shells that holds their shape without adding too much mass to the lower body.
With a perforated foam backing, these guards are certainly an ideal selection for someone who wants the ultimate protection, but still move comfortably in them. A sleek black design with the red Wilson insignia, these guards are very heavyduty even though they feel very light. And that's what many players are looking for when purchasing shin guards.
It's no surprise that these great-looking shin guards are by Nike, and they're certainly one of the coolest and most protective lightweight shin guards you can buy. The ultra-thin coverage with intense cushioning, these guards are super comfortable and perform perfectly when it comes to all of your matches. Not only will it feel like you're wearing no gear at all, but all impacts will be absorbed with these guards.
Fitting the contours of your legs for the best comfort you need at all times, the durable shell is bonded to a dense foam backing for impact diffusion. Also, the expansion-moulded waffle-defined EVA foam is there for disperse energy on impact for cushioning and comfort against the skin.
Lastly from the greatest lightweight shin guards you should check out soon are these by Puma. They look fantastic, but these shin guards aren't just about show, but performance, as well. While they're amazingly lightweight, they're highly protective shinguards. The high impact PP shell is perfect for excellent fit and safety when you're out there on the field.
With protection for your ankles, too, you don't have to worry about your legs getting injured when you're playing games. The EVA backing with lining offers additional protection and comfort, all while an elasticated strap and padded fixed ankle sock are there to secure the guards to your legs.
product review
About the author
Has a vegetable garden in his backyard, 5th son out of 8 and is a sucker for chick flicks.
Reader insights
Be the first to share your insights about this piece.
Add your insights