How To Clean Your Soccer Cleats Properly
Need to prep your filthy cleats for the next game? This is how you properly clean your soccer cleats after every game or practice.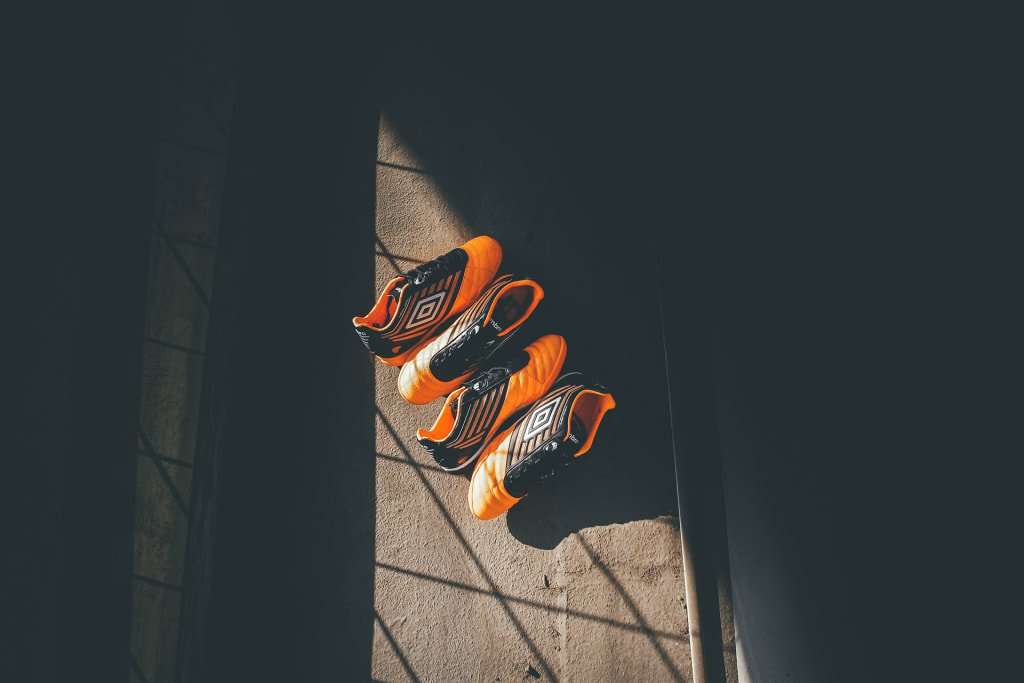 Playing any sport is bound to make us filthy and sweaty at the end of a game. It simply shows how much effort we put into every game. However, soccer is definitely a sport that has us covered in dirt, sweat, and grass from head to toe. And our soccer cleats are the real victims in every game, unless you're wearing indoor soccer shoes for indoor soccer. Since the soles on cleats are constructed to be studded, they literally pick up everything, from chunks of dirt locked all around our soles and blades of grass tucked away under the laces. But we do need our cleats to be cleaned up and ready for the next soccer game every time.
Sometimes, it's difficult to really get in there and fully clean our cleats. We might clean our soccer shoes halfheartedly, because we don't truly know how to. Plus the chunks of dirt is really stuck in there and it's basically stained the top of the cleats. Cleaning soccer cleats properly isn't impossible. In fact, I've found a way to really get in there and deep clean cleats in the easiest manner for women's and men's cleats and even soccer cleats for kids. This is how you really clean your soccer cleats in the best possible way.
First, knock off any excess dirt from your cleats.
Once after finishing up a game, if you're playing on natural grass, your cleats will be totally covered in dirt, mud, and grass. So, when the game is over, take off your cleats and bang them against each other to get as much dirt and grass off as possible. Hit them against the bleachers, on concrete ground, anywhere to get the chunks that are stuck right off.
This way, it'll be much easier to really start cleaning your cleats. You shouldn't come home to cleats completely covered in dirt and muck, too. You're better off getting the bigger residue right out by knocking them off.
Now here comes the dry scrubbing part of how to clean your soccer cleats properly. Grab a cleat brush with soft bristles to start dry cleaning the soles of your cleats, like this cleat brush by Softspikes! Dry scrubbing will help get rid of any more excess and built-up dirt that didn't come off when knocking your cleats together.
This brush is also designed to precisely clean the sides of the soles without damaging the top of the cleats. Since this brush features very soft bristles, it won'tscratch any surface of your soccer shoes. If you're using it really strongly, chances are that you might ruin the soles and even damage parts of your soccer shoes.
Using a sports spray is a crucial part when you clean your soccer cleats in the best form. The formula within the spray is designed to specifically tackle any dirt and muck that's leftover on the soles of your cleats. It breaks the particles down, so it makes it much easier to scrub them off.
The Sports Spray by Clear Gear works amazing on the soles of any cleats. Its EPA-approved formula is known to demolish over 100 germs and viruses as well as break down the filth that's stuck between the studs on your cleats. You can also use this spray on your shin guards to get rid of the sweat and dirt!
Use the sports spray to really scrub the soles of your cleats.
This is where we really start to clean your soccer cleats—time to start scrubbing! Now that you have your sports spray, spray the soles of your cleats and start scrubbing away with the same cleat brush you used earlier. Don't be too rough either, but gradually scrub it enough to get the dirt and muck right off.
When the brush starts to have dirt and grass building up, place it under running water in the sink. Once the brush is clean again, spray more onto the soles of your soccer shoes and get right back to scrubbing. For the sides of the soles, gently clean around the bottom of your shoes with the same brush. Try to avoid the top of your cleats when doing this.
Go get some paper towels and properly wipe down and dry the bottom of your cleats.
Now that the soles of your soccer cleats are dirt-free, grab a paper towel, apply the sports spray on it, and go over the bottom one more time. Even though the scrubbing got the majority of the dirt out, going over it once more is necessary in case there is any dirt residue leftover.
Use your finger to get around the studs and in the gaps of the soles, too, if your brush couldn't get in there. Your brush might have been too big to get in between the gaps and studs, so this is a better method to really get in there for a spotless clean.
You have to remove the laces and clean those, too.
It's time to clean the top of the cleats! That means cleaning the laces. To clean your soccer cleats in the easiest way, you first must remove them. It's possible for dirt and strands of grass to be caught under those, and if we want to properly clean our soccer shoes, remove the laces.
Apply the sports spray onto the laces and let the spray kill any germs and dirt on the laces for about ten minutes before going in there with your fingers and gently scrubbing the laces for any residue. Once finished, run the laces under water and either pat dry them with a towel or allow them to air dry on a flat surface.
For this step, use a smaller brush, like this one by ProActive to scrub the top of your cleats. With this soft-bristle brush, spray your cleats with the sports spray and start scrubbing the top of your soccer cleats. The best way to do this is by starting in the middle and working your way down the sides to really scrub and push down any muck.
Since you've removed the laces, this gives you the chance to really clean the tongue of your cleats and under the flaps. While the top of the cleats is much more soft and delicate than the bottoms, you must be careful when scrubbing. If you're scrubbing way too hard, it's possible that you might scratch and damage the material of the cleats.
Using a cleaning cloth is a great way to clean your soccer cleats, and these microfiber cleaning clothes are ideal for getting the job done! Gradually apply the spray onto the cloth and get around the top of your cleats to wipe down any leftover dirt. Also get around the tongue, under the flaps, and in corners where your brush couldn't get into.
The soft material on these cloths won't harm the material on top of your cleats. They're also created to swiftly pick up any dirt and muck on any surface. So, if you're in need of a cleaning cloth, this is one of the best on the market!
Now, be sure to dry off your cleats completely.
You've finished scrubbing and cleaning both the soles and tops of your cleats. It's time to completely dry them up! Grab a clean, dry paper towel and wipe off any leftover dirt, filth, and everything else that's lingering.
Also, get in between the studs on the soles, under the flaps, and around the tongue to completely dry the cleats. If the inside of your soccer shoes absorbed some of the sports spray, you can stuff the insides with paper towels and allow them to soak-dry the insides.
Then re-lace your cleats and they're ready for the next soccer game!
Finally, after you clean your soccer cleats properly, you're ready to put your laces back onto your cleats and they're all set for the next big game! Every soccer player should show up to practice or a game with clean, dry soccer cleats.
Playing with filthy soccer cleats will only lead to more dirt and muck built-up and it certainly won't feel comfortable when wearing them. That's why you should always prep your cleats before anything with this easy method! You'll always have the best-looking soccer cleats on the field when following these steps.