To the Beat: December 2020
A playlist curated by creators, for creators.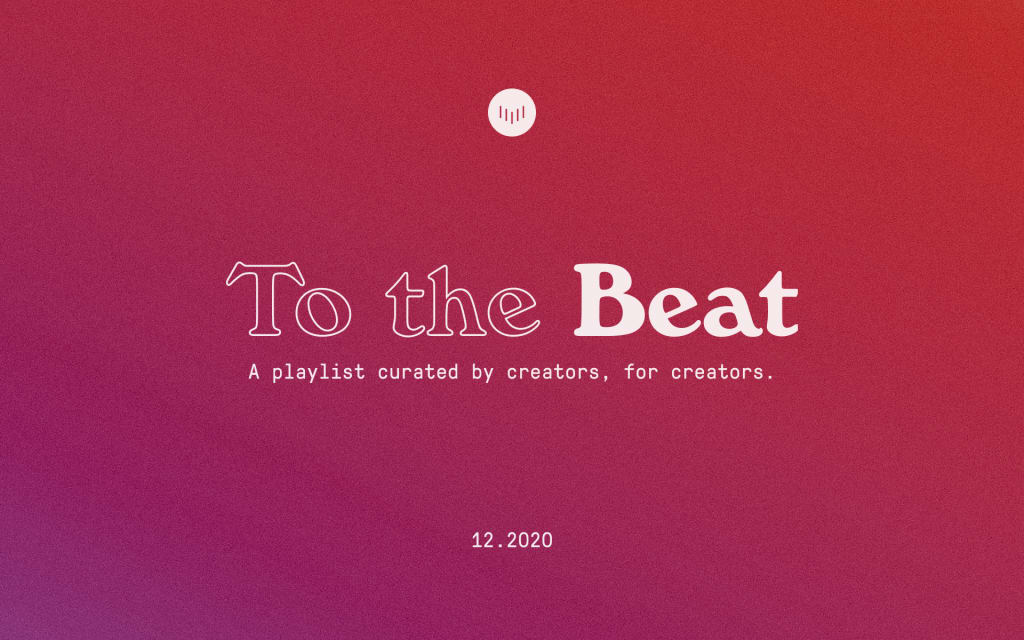 Cheers to a new edition of To the Beat and Happy New Year!
As we wrap up the month of December on Beat, we're saying goodbye to 2020 and toasting with another playlist, creatively curated based on the stories you shared. We laughed about really bad song lyrics, related over your "year in music" stories, and crowned Charli XCX as the "QuaranQueen." This month's playlist is sure to bring back memories from the months that felt like years as you get ready to ring in 2021.
Before we get into the monthly round-up of songs from December, we must address the year we've had. 2020 was something we'll tell our grandchildren about, and we have the playlists to prove that it was a year to remember––as challenging as it was. We curated over 60 hours of music this year, thanks to all of your stories. We discovered enough artists to expand our music libraries for years to come. We read every album review, new artist spotlight, and stories about songs that helped you get through this time. Every month's edition of To the Beat helped to build a pretty epic soundtrack for 2020.
Without further ado, here are the five stories that stood out to the team the most this month:
Who says you can't be an old white dude that loves K-Pop? Terry shared his decades-old passion for the genre that continues to push boundaries and encompass a wide variety of musical and visual elements, starting with Psy's classic "Gangnam Style" and closing with Balckpink's "Ddu-Du-Ddu-Du." His love for the genre and today's most popular K-Pop stars may have turned us into K-Pop stans ourselves. Listening and dancing (even in slow motion) to K-Pop makes him feel young again, and we agree this genre is true to its all-encompassing nature.
Nashville had a heck of a year, but Music City didn't disappoint. There more female artists and representation this year, and thanks to Leah, she gave us a breakdown of the 20 best country albums of 2020. Despite the uncertainty and tragic events, these Nashville stars didn't let 2020 get in the way of releasing some of their best music to date. Some bands changed their names, like The Chicks and Lady A, and the women of country music continue to takeover. 2020 did not stop these artists from creating more classics.
Talia showed us how she's been staying home, tuning out, and staying creative. Her global playlist of such a wide variety of languages and genres is impressive and shares a special message to those with Autism. In honor of herself and others in the Autism community, she created an original song inspired by Latvian artist Tobu's song "Puzzle." This song helps represent the puzzle pieces that are utilized to represent Autism awareness.
Taylor granted us 32 songs this year, and it was the most on-brand for the artist in 2020. Juliette narrates the battle of folklore versus evermore, and we honestly don't know which side to pick as the winner. Both albums made their way to several of our TTB playlists this year, and it's no surprise that these albums were such a hit on Vocal due to Taylor's storytelling abilities. Juliette's story makes the case that there isn't a bad Taylor Swift song, but instead, she rates them from "not-best to best." The Swifties would be proud!
Awaited album releases were delayed, then pushed, and tours were canceled and rescheduled. There were some surprise album drops along the way this year, and Derek reminded us that these four artists released new music this year that we may have missed. We had a lot going on this year, to say the least, so you're not alone. Beyond the news of Taylor and Ariana – Ellie Goulding, Alicia Keys, Phoebe Bridgers, and Rina Sawayama all graced us with new music. Derek argues this may be the best year we've had in music in a long time, and it was definitely needed!
It's pretty cool to see what you're all listening to and excited about on Beat every month. These playlists are inspired by you and your stories and curated for you to enjoy! If you're feeling nostalgic, you can check out all of this year's playlists here on Spotify. Thank you for another great month (and year!) of music, and we can't wait to read your stories in 2021!
About the Creator
Collaborative, conscious, and committed to content. We're rounding up the best that the Vocal network has to offer.
Reader insights
Be the first to share your insights about this piece.
Add your insights