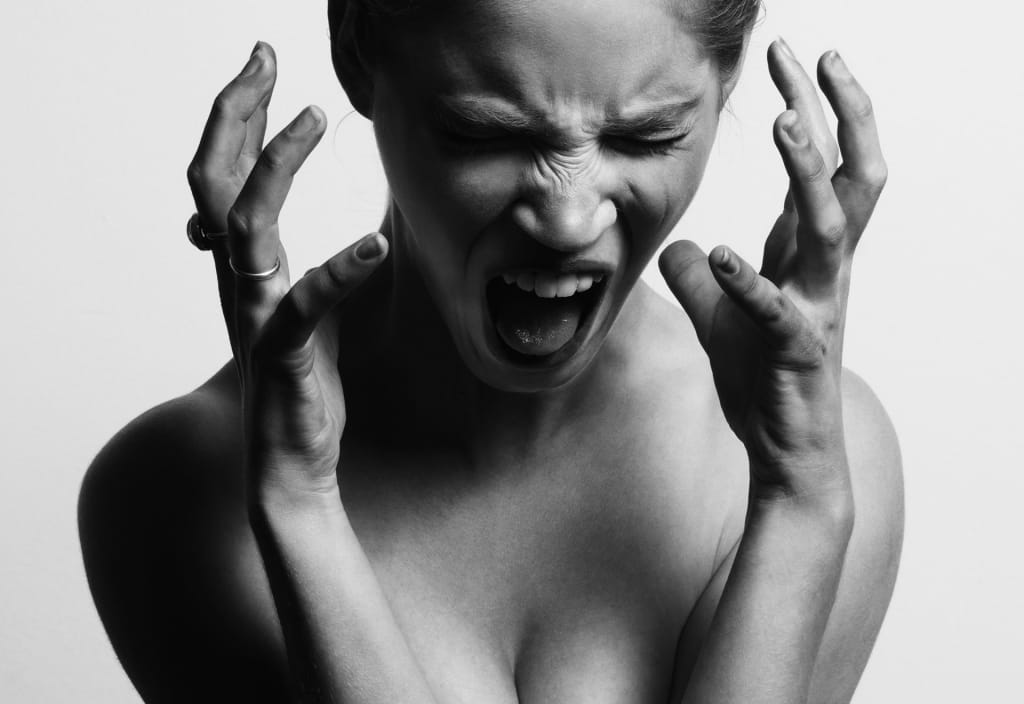 When you're angry or life's got you down, it's best to let out your emotions rather than keeping them locked up inside. What better way to express your anger and blow off some steam at the same time than listening to music? It's no secret that music makes everything better. That's why we've compiled this list of ten songs to listen to when you're angry.
Go ahead, get mad. Let down your hair, bang your head, punch a wall (or maybe a pillow). With these awesome songs, you'll be able to channel your all-consuming rage into something a little more productive, if not at least more fun. So, plug in your Walkman and fire up your boom box because you've got some listening to do.
The debut single from Canadian rock band, Three Days Grace "I Hate Everything About You" is one of the best songs to listen to when you're angry at someone. You may remember Adam Gontier's grungy vocals from your angsty middle school days when it felt like everyone was out to get you.
Now that you're all grown up, it can still feel like that sometimes. So, if you're having a bad day at work or you got in a fight with your best friend, turn up the volume and scream along to this punk-rock anthem. It's the best way to let off some steam and get your feelings out about that one person who you just can't stand.
If you're looking for a head-banging tune that you can jump around your room to, we're happy to introduce you to "One Step Closer." This song includes Linkin Park's legendary build ups, drops, and of course metal-like grizzly screams.
Get your frosted tips, baggy pants and chain necklaces ready, because channeling your inner Linkin Park is the best way to release all your anger. If you're feeling extra angsty, try breaking out your old Rock Band 2 game where you can bang on the drums to this very song.
Oh Green Day, the sound of our smudged eye-liner youth. If you're in need of a dose of nostalgia and a perfect song to listen to when you're angry, "Basket Case" may be the answer you're looking for.
Bille Joe sings this song with so much passion that you can almost feel the emotion coming out of the notes. He wrote this song about his struggle with anxiety and panic disorder, making it that much more raw and relatable. Dust off your old air guitar and jam along to Green Day's masterpiece if you're feeling particularly loathsome.
This classic 80s song is an excellent angry anthem for those times when you're feeling weighed down by all the problems of the world. Pat Benatar inspires her listeners to bounce back from adversity with her empowering lyrics.
As soon as you hit play and hear that incredibly recognizable guitar riff, you'll feel your anger melt like a popsicle. There has to be something to say for a single that sold over a million copies in the US alone. The next time your boss criticizes your work or someone cuts you off on the freeway, turn up this jam and challenge anyone who dares cross your path to "fire away."
Nothing quite says the turn of the century like Eminem's rebellious and cathartic 2000 hit, "The Way I Am." If you can manage to remember what Eminem's saying in this song, let alone actually understand the words, yelling them out at the top of your lungs when you're angry can do wonders for your mood swings.
This is a great song to listen to when all you need is to tell that person you hate, "I don't know you and no I don't owe you." With its ominous bass line and dizzying piano loops, it's not hard to channel the Real Slim Shady and your inner rapper with this angst-ridden hit.
For those all-black wearing punks of the early 2000s, Canadian pop-punk princess Avril Lavigne's breakout hit is just the medicine for your angst.
Whether you've just gone through a nasty breakup or realized you hate all your friends, shouting out Avril's iconic lyric "why you have to go and make things so complicated?" at the top of your lungs will cure even the angriest of moods. By the time this song's over, you're sure to be calm and collected saying dude, "chill out, what you yelling for?"
The 90s were a dark time for all of us, but the decade was made a little better with Metallica's legendary 1991 hit, "Enter Sandman." Looking for a go-to song to listen to when you're angry? This is it. The song that launched Metallica into eternal fame and sold over a million copies in the US is a classic that has as much anger-releasing power as it does musical value.
If you're feeling extra angry, try watching the music video for the ultimate Metallica experience. We hope you've been growing your hair out because you'll be doing a lot of hair flipping head bangs during this number.
For a slightly less known underground sound, try listening to the Descendants' "Everything Sux," hit. This song was the band's first single to reach the Billboard 200 and launched the band into indie punk-rock fame.
If you're feeling down about your life and just can't seem to catch a break, rhythmically chanting "Everything sucks today!" alongside lead singer Milo Aukerman will not only affirm your crappy life but help you get over it. Sometimes venting is the fastest way to acceptance.
We all have that one person in our lives that we literally can't stand to be around. Whether it's an ex, your annoying little brother or your coworker who never stops talking, Pink gets it. If you're the kind of person whose anger is subtle and understated, "You Make Me Sick" is the perfect beat for you.
It's the ultimate revenge song—sexy, soulful and catchy. Feeling in the mood to flaunt your stuff and get back in the game after your lover walked out on you? Let them know what they're missing by channeling your early aughts pop diva.
The last thing anybody wants to do when they just got dumped is think about is the new girl that your ex is with. For the ultimate break up song to listen to when you're angry at the world, we present to you grunge queen Alanis Morissette's "You Ought Know."
Angst literally oozes out of every note that Alanis wails and is sure to have you crying and screaming on your bedroom floor. Just remember, it's good to get all your feelings out and what better way to do that than moaning away your pain with Alanis by your side?
The lyrics alone make Drowning Pool's "Bodies" one of the best songs to listen to when you're angry to the point that you want to break someone's face in. Of course, the classic 00s nu-metal-style guitar riffs and screaming definitely help bring out the deep rage that this song was supposed to represent.
Say what you will about nu-metal, but this song is a great track to thrash to when you can't take any more bullshit in life. It's literally three-ish minutes of pure, unadulterated rage you can mosh to at any rhythm.
If there was ever a song that perfectly personified what it's like to be fuming over a cheating lover, it's this one by Kelis. The entire song is about her catching her guy cheating on her, and how she hates him so much right now. I mean, it even has a built in groan you can groan along to!
The music video is equally satisfying, with legions of angry women marching in the streets over their own betrayal. It's nice to know you're not alone, right?
Prodigy's "Smack My Bitch Up" was one of the most aggressive songs in the electronica genre back in the 90s, and still remains surprisingly relieving during those moments when you're pissed. The thing about this song that makes it one of the best songs to listen to when you're angry is the versatility.
There's enough breaks and drops that you can rage-breakdance to it, if you so choose. Or, you know, you can just flail around and scream the title over and over again. It's versatile like that.
Fred Durst's "Break Stuff" had to be one of the biggest hits of the late 90s, and may have even been what ushered in that brief (but regretful) moment in time where rap and metal ended up blending together.
This is one of the more obvious choices when you're pissed, want to listen to something that says you're pissed, and possibly want to throw a plate at the wall or something. The lyrics literally have Fred Durst talking about how he's angry and just wants to "break something tonight." So, yeah, it's a match.
Though this may be a deep cut as far as music goes, this is probably going to become one of the hottest songs to listen to when you're angry about the current political climate. If you listen to the lyrics, the entire song is basically discussing what's going on with the current state of the nation—despite it being written over 10 years ago.
Yes, the beats are sick enough to mosh to, but as you can probably tell from the music video, it's equally good for breakdancing...or breaking bones. If you're looking for an edgy song to rage to, this'll do fine.
Bottom Line
Sometimes life just doesn't go the way you had planned, you get fired, and your girlfriend dumps you all in the same week. If this sounds a little like you—we've all been there—then these ten songs are the therapy you've been looking for.
Listen to them when you're angry, sad, or just need something to vent to. There's a little something for everyone on this list: pop, punk, rock, grunge, metal, and a suspicious number of Canadian singers. Pick your poison and get angry.
Reader insights
Be the first to share your insights about this piece.
Add your insights