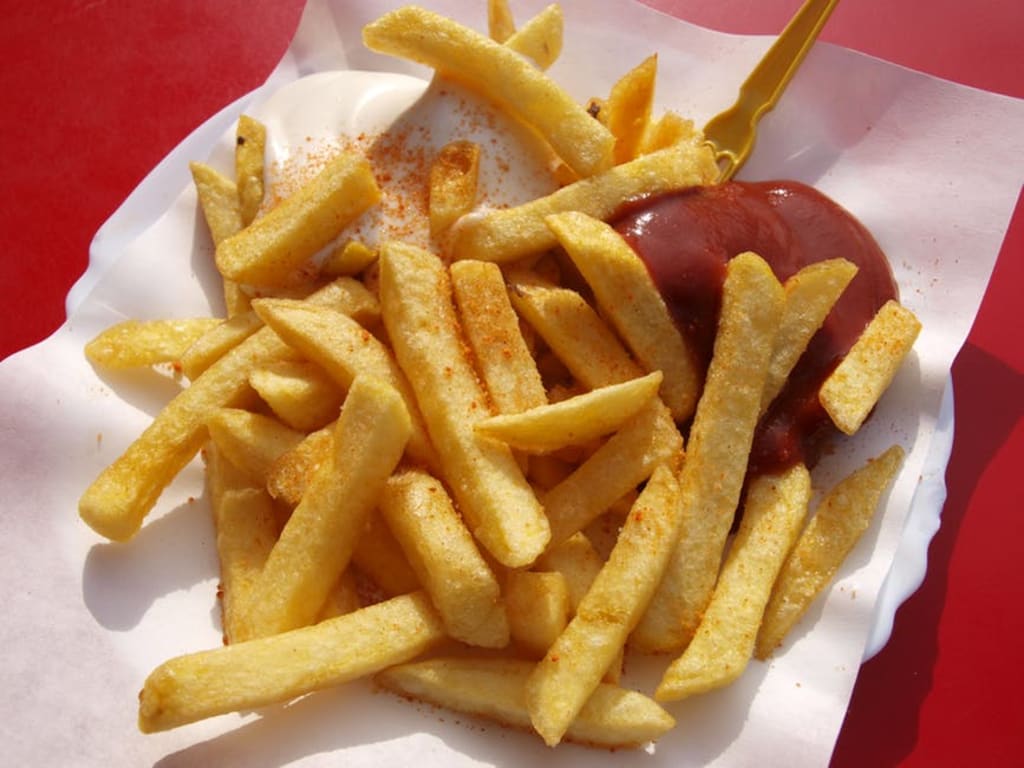 An air fryer is a little-known kitchen device that has been all the rage in the culinary world for the past couple of years. Even famous chef and television personality Gordon Ramsay has hopped on the air fryer train. So, if you're wondering exactly what is an air fryer, it's not as complicated as it sounds.
Air fryers essentially fry your food using the power of hot air instead of hot oil. This makes your fried food much healthier than it would be if you had fried it in a conventional fryer by removing most of the fat content. An air fryer is made of an electric coil that is suspended above the food. This coil gets up to crazy hot temperatures and is kind of like the broiler on your stove. There's also a fan above this heated coil that blows the super hot air down onto your food, heating it from the inside out.
While the name may be misleading, you do actually use just a little bit of cooking oil in an air fryer. It's a way less than you would use in a normal fryer and the main method of frying your food is still hot air, so the name isn't a total lie.
The small amount of oil you do use in the air fryer is sprayed onto your food in a fine mist that gives it that crunchy outer layer we all love. Finally, with the help of the food's own moisture steam inside the air fryer finishes cooking your crunchy, healthy snacks.
When to Use an Air Fryer

Air fryers can be used any time a normal fryer would be used. This means if you're craving some crispy waffle fries at home, you can easily pop them into the air fryer and soon be munching down on crispy golden goodness.
You can use an air fryer to cook all of your favorite foods, and maybe some things that you never considered eating fried. You now have the freedom and permission to experiment with frying up whatever your imagination can think of.
Chicken, hamburgers, steaks, fries, homemade potato chips, fish, pastries, and anything else you've always wanted to fry but never had the chance to are all up for game. It's even possible to bake an entire cake in an air fryer in under half an hour. With an air fryer, the possibilities are limitless.

Pros of Using an Air Fryer

With the help of rapid air technology, you can now indulge in all your favorite foods with 80 percent less fat. The best thing about using an air fryer is that you don't have to sacrifice the brown, crispiness of fried foods for healthy alternatives. Things like fries, chicken and mozzarella sticks are now less bad for you meaning you can eat them without waking up the next morning full of guilt.
Cons of Using an Air Fryer

An air fryer may not be able to be supported in every kitchen. This appliance requires between 800 and 2,1000 watts of power. So before you go out and buy your own air fryer, make sure that your kitchen is equipped with the power and wattage to support it.
Also, the capacity of an air fryer can be small if you're cooking for a large group of people or a big family. You might find yourself having to make several batches of something if you're feeding multiple people, but for those who are only concerned with cooking themselves up some fries, you shouldn't have any problems.
The Best Air Fryers We Could Find on the Market

Below are some of the highest quality and user-friendly air fryers on the market today. With these air fryers, you'll be able to fry up a healthy version of your favorite junk food in no time.
Capacity: 2.65 pounds
Features: 30% larger than average air fryers, cooks food in 30% less time
Price: $$$$
This air fryer is one of the more expensive options on our list, but is also one of the highest quality fryers available. With a golden stamp by the master chef Gordon Ramsay himself, the Philips XL air fryer comes in a sleek design that will make up to 30 percent more healthy fried foods than your average fryer.
It has even been given a spot on the coveted Oprah's Favorite Things list in 2016. Celebrity endorsements aside, the Philips XL is the air fryer to end all air fryers. If you're willing to splurge on this investment, your kitchen and your love handles will surely thank you.
Capacity: 3.7 quarts
Features: 8 cooking presets, cooking timer up to 30 minutes
Price: $
For those healthy eaters on a budget, the GoWISE electric air fryer gives you all the perks and quality of an advances air fryer for half the price. It has a decent capacity size and even comes with eight cooking presets to warm-up food, fry chicks, cook steak, checking, meat, cake or fish. With its flashy red color, the GoWISE looks almost as good as it performs.
Capacity: 3.2 liters
Features: Fries, grills and bakes all in one, includes 2 exclusive cookbooks
Price: $$
If you find yourself really wanting an air fryer, but have no clue what to do with it the Cozyna air fryer is just for you. When you purchase this air fryer, you automatically receive two free exclusive e-cookbooks. They'll give you 50 easy recipes so you can be on your way to healthy fried food heaven.
The Cozyna may be small, but it is mighty. It has the ability to fry, bake, brill and roast all of your favorite foods fast. It's even dishwasher safe for easy clean ups.
Capacity: 1.75 pounds
Features: Comes with exclusive cookbook with 150 recipes, supported by Gordon Ramsay
Price: $$$
This is the original version of the Philips XL air fryer that is also on this list. It's smaller and less powerful that it's big brother, but it gives you the same quality air frying for less money. It's also backed by chef Gordon Ramsay and comes with a unique patented starfish design. This air fryer boasts itself as the number one air fryer in the air frying world, and it's easy to see why, With its rapid air touch screen technology and even cooking design, this air fryer is a steal.
Capacity: 5.8 quarts
Features: Adjustable temperatures, touch screen technology, 7 built-in smart programs
Price: $$
The GoWISE XL electric air fryer is basically a bigger version of the original GoWISE air fryer. If you love the idea of this air fryer, but wish it was bigger for cooking meals at parties or family gatherings than the fourth generation version is the perfect option for you.
It has the ability to cook up to 5.8 quarts of your favorite chips, meat, seafood or desserts with the push of a button. Thanks to its revolutionary touch screen technology and seven built-in smart programs, making healthy and tasty food has never been easier.
Reader insights
Be the first to share your insights about this piece.
Add your insights