My Hot 100 - #50 - 26
Random Thoughts #21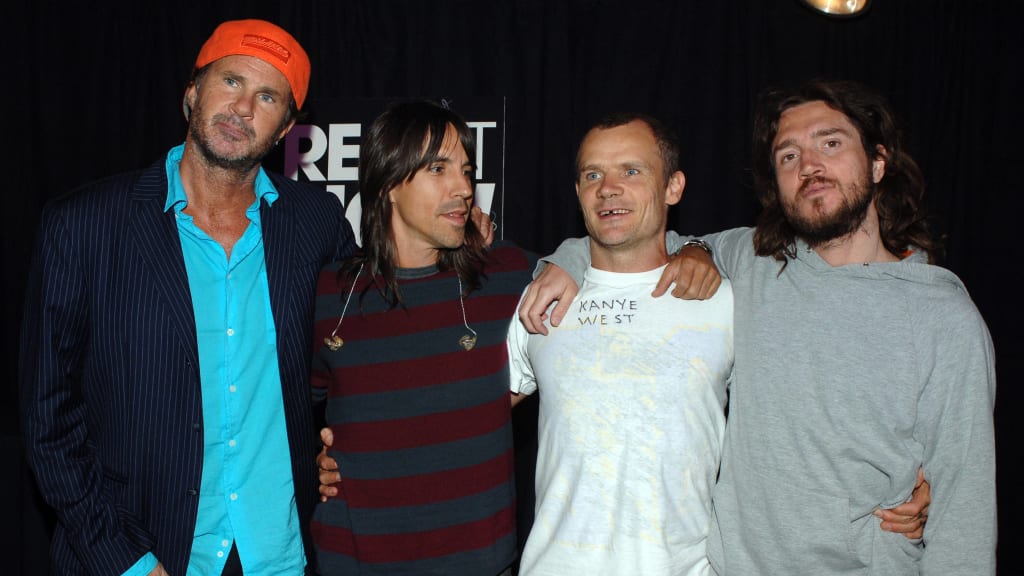 Well, it's time for Part 3 of my countdown of my 100 favorite songs of all time. If you need to catch up, here are the links for Part 1 and Part 2. Just to refresh your memory, no genre is excluded from consideration, only one song per artist would make the cut, and if a performer had success as a soloist and with a band, that counts as two separate artists.
Now, where was I? Oh, yeah!
#50 - "Hungry Eyes" - Eric Carmen
One thing that shows up in this list as much as sax solos would be songs from movies. If there's one soundtrack that deserves a spot, it would be Dirty Dancing. Despite the Grammy for "(I've Had) The Time Of My Life", I've always preferred Eric Carmen's contribution to 80s dance montages. The rock vibe here grabbed me more than the rest of the soundtrack, and what Eric Carmen lacks in vocal range, he makes up for with emotion. Having a sax solo helps this song, too. :-D
#49 - "It's My Life" - Bon Jovi
Okay, I know this will piss off the die-hard Bon Jovi fans. How could I not pick something from the Slippery When Wet or New Jersey albums??? Despite the fact that I consider Slippery When Wet to be the most perfect rock album ever recorded, I just love the triumphant feel of this song the most out of everything the band ever did. It easily earned a spot on my upbeat playlist last year for that.
#48 - "Don't Stop Believing" - Journey
Remember how I said soloists and bands count as two artists? Well, Steve Perry already scored a spot solo, and Journey earned a spot, too. As much as I love the tenderness of "Open Arms" and the classic vibe of "Wheel in the Sky", I just can't deny one of the greatest arena rock anthems of the 80s. As much as I gush over Steve Perry's amazing voice, I can't ignore Jonathan Cain providing one of the greatest piano riffs in history!
#47 - "Jump Around" - House of Pain
What can I possibly add here? "Jump Around" is one of the greatest party songs and jock jams in history! There is no way you can listen to this and not move! Not bad for three Irish guys from L.A., one of which will show up again later.
#46 - "Even the Nights Are Better" - Air Supply
The fact that this Hot 100 started with Kenny G proves that I have absolutely no shame when it comes to putting easy listening on it. Air Supply is mocked just as hard as Kenny G, but I can't help enjoying this song. It's more upbeat than usual for these Aussies but still keeps the gentleness they're known for. The fact that this song still has millions of defenders shows that I'm not alone in liking it.
#45 - "I Want To Know What Love Is" - Foreigner
Here's another one that's almost impossible to talk about. It's one of the most perfect rock ballads ever. Lou Gramm gives the vocal performance of his life, and the production from Mutt Lange is flawless. It was one of the most deserving songs to get on my soft rock playlist years ago.
#44 - "Dead Man's Party" - Oingo Boingo
After so much soft stuff, time for a Halloween staple courtesy of Danny Elfman and Oingo Boingo! Besides, I needed more New Wave on this list! This track is just fun while having the quirky, deranged tone that Danny Elfman also brings to his film scores. It's a shame Danny refuses to talk about Oingo Boingo these days. Their stuff holds up!
#43 - "Name" - Goo Goo Dolls
A punk band found a new direction with this alternative acoustic ballad. While I could've picked any number of John Rzeznik's later masterpieces like "Black Balloon" or "Iris", I just prefer the simplicity of this one. I could definitely understand how he had the writer's block he talked about on Behind The Music. Trying to follow up something as great as this had to be daunting.
#42 - "Addicted To Love" - Robert Palmer
This song and its legendary video are the embodiment of sex appeal. Period. Robert Palmer's rough voice adds to the semi-sleazy lyrics to provide a feel perfect for trying to make a pick-up at a bar. However, his sophisticated appearance keeps the song more approachable than the dirtier songs out there.
#41 - "Pride (In the Name Of Love)" - U2
U2 gained a reputation as social justice warriors back in the 80s (back when SJW wasn't an insult). It makes sense for Bono and company to do a song about Martin Luther King, Jr. Fortunately, Bono and the Edge knew how to make their message song airy and upbeat rather than preachy and pretentious like too many message songs. MLK would definitely approve.
#40 - "I Can Dream About You" - Dan Hartman
I didn't have much to say when I put this song on my upbeat playlist last year, and I still can't say much. It is just one of the happiest love songs ever recorded. Listening to it always puts a smile on my face. Really, I don't need anything more than that!
#39 - "Axel F" - Harold Faltermeyer
Remember when I talked about Daft Punk? How I said I don't care for electronica? Meet the one exception. Even if this wasn't intimately tied to one of my favorite movies of all time (Beverly Hills Cop at #4), this is leagues past the generic EDM crap on the radio these days. It's every bit as cool as Axel Foley himself. It deserves to have his name in the title.
#38 - "Said I Loved You... But I Lied" - Michael Bolton
Yes, Michael Bolton is on my list. No, it's not a joke. I'm not a fan of his normally overwrought singing, but he dials it back here to produce a 90s classic. I already talked about this in my soft rock playlist. While I'll never call myself a fan of Michael Bolton, I just can't deny this one.
#37 - "As the World Falls Down" - David Bowie
As a child of the 80s, I was introduced to the legendary David Bowie through the movie Labyrinth (which is still one of my favorite movies). While I could've picked "Magic Dance" or "Within You" (or any of his classics outside that movie), I just like the chilling vibe of this love song, a perfect fit for the Goblin King putting the moves on a young Jennifer Connelly.
#36 - "Dani California" - Red Hot Chili Peppers
I said I love funk; so, the Chili Peppers were absolutely getting on the list. While any number of songs could've made it (as long as they weren't on the album One Hot Minute), I had to go with this modern classic. While there was a lot of great experimentation their entire career, this is probably the purest Chili Peppers track. It is just the perfect fusion of punk and funk, and its lyrics even tell a compelling story about a woman who lived fast and died young.
#35 - "Let's Get It Started" - The Black Eyed Peas
Here's another act that's not one of my favorites that managed to win me over for just one song. Unlike most of the Peas' discography, the beat is fun rather than annoying, the vibe is a pure party, and all four members at that time get time in the spotlight. The later tracks tended to focus entirely on Will.I.Am and Fergie while ignoring apl.de.ap and Taboo, and that stuff sucked. I have no further interest in the Peas, but this track will always work in my playlist.
#34 - "Lights" - Ellie Goulding
Now for a eerie-sounding dance song. I just love how chilling this Scottish lass made this one. Apparently, Ellie Goulding based it on her childhood fear of the dark, and the heavy synths hammered the feeling home. It is a downright hypnotic track that feels like a more digestible version of one of her biggest influences Björk (one of Ally's favorite singers that I just can't get into).
#33 - "2 Become 1" - Spice Girls
Simply put, this is one of the greatest songs ever recorded that is explicitly about sex. What makes it work is just how innocent it sounds. Its smooth and gentle tone lulls you into a false sense of security if you aren't paying attention to the lyrics. It almost feels perverse to hear "Baby Spice" Emma Bunton sing about the need to wear a condom! It's so wrong, and, yet, so right!
#32 - "Walking In Memphis" - Marc Cohn
This is one of the greatest story songs ever recorded. I'd think so even if I didn't go to school in Memphis for three years. Marc Cohn painted an amazing portrait of the city with his words. Listening to this song is about as much of a spiritual awakening as the one he described having from visiting Memphis. Little wonder Todd In The Shadows had to talk about him.
#31 - "November Rain" - Guns 'N Roses
This was the second inspiration for putting together my "Epic" Playlist (alongside the previously mentioned "Bohemian Rhapsody"). What puts Axl Rose above Freddy Mercury in my Hot 100 is the operatic feel given to the lyrics and the orchestration. I also can't get enough of Slash's legendary guitar solos. The song may be nine minutes long, but every second of it is sheer perfection.
#30 - "Ordinary World" - Duran Duran
While part of me wanted to put Duran Duran's contribution to my favorite James Bond movie on the list, I just love this song too much to deny it. This is the best Britpop song ever; both Blur AND Oasis wish they could kill it like Simon Le Bon does here! The scale is amazing in a different way from "November Rain", and I can't help but sing along whenever it comes on.
#29 - "To Be With You" - Mr. Big
Now, after two epic tracks, time for a much simpler acoustic ballad. Like "Ordinary World", this is a song I just have to sing along with. Unlike the previous example, I won't kill my voice trying to do it! Eric Martin wrote a song about fleeting passion that can connect with just about anyone, and the simple acoustic production gives it a warmth that not a lot of songs have.
#28 - "Angel of the Morning" - Juice Newton
I already praised this one from 80s CMT star Juice Newton to high heaven in my soft rock playlist. Just know that this is one of the greatest country songs and one of the greatest covers of all time. It couldn't be any more perfect.
#27 - "Suddenly" - Olivia Newton-John & Cliff Richard
I will defend the Razzie-winning movie Xanadu all day long! One thing no one will deny that it has one of the greatest soundtracks in history with "Suddenly" topping the title song and "Magic" as my favorite song on it. It's just a gorgeous love song. One thing I'll say is that Olivia Newton-John certainly made a more divine pairing with Cliff Richard here than she did with John Travolta! (Yeah, I said it!)
#26 - "Dreamweaver" - Gary Wright
This is another one I talked about already in my soft rock playlist. This ethereal synth track is pure mood music, especially if the mood I want is relaxing. As far as I'm concerned, this is one of the greatest songs of the 70s, and that's saying something considering the 70s were one of the greatest decades in music history.
However, the magical stylings of Gary Wright just couldn't break into my Top 25. What did? Check in for the big finale next time, and hit me up on Twitter with your predictions of what will be on it or just if you want to gripe about Air Supply showing up. See ya!
Reader insights
Be the first to share your insights about this piece.
Add your insights