Britpop Battle: Blur vs. Oasis
The Great Debates #1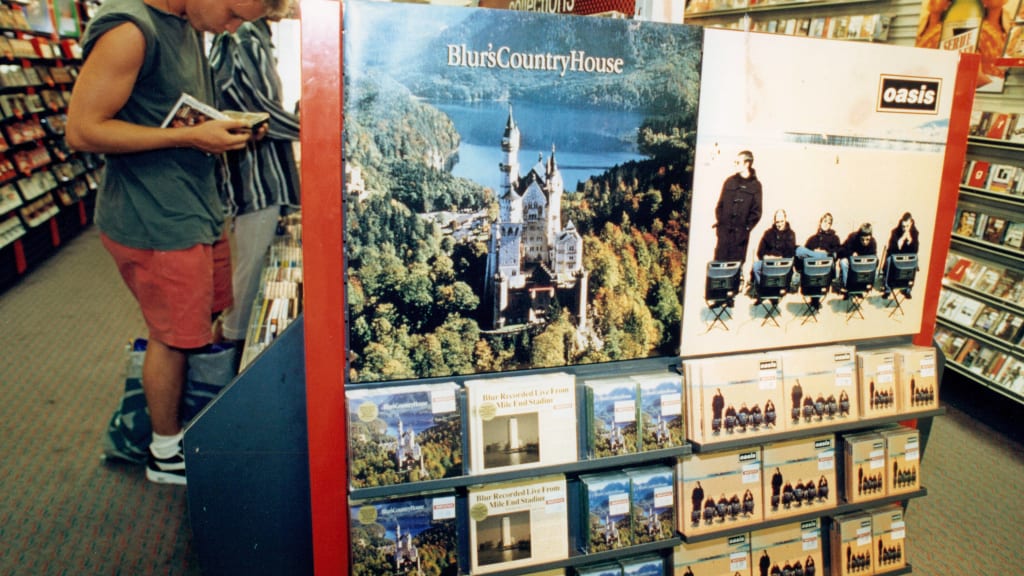 Hello, and welcome to The Great Debates.
Growing up, there have been numerous pop culture competitions. Some were lame in hindsight like Dante's Peak vs. Volcano. Others are so memorable that they're still the subject of argument to this day like Kirk vs. Picard. This new subseries is where I put my two cents in.
Today, the debate is Britpop. Britpop was pretty much the only rock genre in the 90s that could compete with grunge for relevance at the time. There were plenty of bands in there like Kula Shaker, Pulp, and the Verve. Even Duran Duran saw a successful comeback by jumping on the Britpop bandwagon; "Ordinary World" is one of my favorite songs of all time. However, to the rock press, there were only two bands worthy of ruling the genre, the London-based Blur and the Manchester-based Oasis. Though both groups fell into decline by the 2000s, they still have legions of fans squaring off over who ruled Britpop. As I enjoy both bands, I'm going to give both a thorough analysis and pick who I think is the universal, d'you know what I mean?
Blur formed in London in 1988. The frontman is the energetic Damon Albarn. Though their first album Leisure followed the Madchester scene that was a big deal at the time, their second, Modern Life Is Rubbish, basically gave them their defining sound. I use the term "defining sound" rather loosely, as they tended to do a lot of genre-mixing, much like Beck. Listen to "Country House," "The Universal," and their only hit in America, "Song 2," and you'll have a hard time telling that it's the same band. They were never concerned with their one-hit wonder status in America, or the rest of the world; they saw themselves as purely a band for Britain. Though their successful years are largely behind them, they still put out occasional albums like The Magic Whip in 2015 and do occasional reunion shows to this day.
Oasis formed in Manchester in 1991. Though it's seen numerous lineup changes over the years, the core of the group was the Gallagher brothers, Liam on vocals and Noel as lead songwriter and lead guitar. Their debut album Definitely, Maybe was the fastest selling UK debut in history, and their followup (What's the Story) Morning Glory? would become one of the greatest selling albums of all time, selling more than 22 million copies. Noel Gallagher idolized John Lennon, and Oasis's sound is very much influenced by the Beatles—almost to a fault as shown in their third album Be Here Now. Oasis officially broke up in 2009 after a backstage fight between Liam and Noel, one of many throughout the history of the band.
While Oasis was the de facto winner of the Britpop battle in the US, where Blur was only seen as a one-hit wonder for "Song 2," it was a major rivalry back in the UK where both bands took turns ruling the charts. However, while they both ruled Britpop, the two bands were very different in style and sound. Oasis had grand ambition with their production. Every track felt huge, even if the lyrics tended to be more than a little obtuse. "Champagne Supernova" is a perfect example of this. Blur didn't have such ambition in terms of production. Their tracks never got more grandiose than adding a horn section to "Country House." However, they had purpose on the lyrical side. Their focus was on spoofing the more idiotic things in British culture as heard in "Sunday Sunday." That's probably the reason Blur never became big in the US; their songs couldn't really connect to non-Brits.
There's no doubt Oasis had personality on their side. The members of Blur tended not to grab a lot of attention outside their music—not even Damon Albarn. Even those who didn't follow music knew what Liam and Noel Gallagher were up to, but that was often for the worst reasons. Liam and Noel absolutely detested each other, and their intense hatred was made public all the time. It was even the plot of one of the segments on MTV's Celebrity Deathmatch. Strangely, that personality didn't really translate to the concert stage. I watched lots of concert footage of both groups, and Blur definitely wins on this point, hands-down. Oasis almost seemed bored and uncomfortable on stage. Noel always looked like he'd rather be doing anything else, and Liam always stood like a statue, leaning toward the mic stand with his hands behind his back while he sang. By contrast, all four members of Blur looked like they were having a blast, especially Albarn and guitarist Graham Coxon.
Ultimately, what decided this debate for me was the biggest element each group's music provided. Oasis's music had the grand scale and ambitious production that could be found in the Beatles' later albums like Sgt. Pepper's and Abbey Road. However, Blur's music was just more lively and more fun to listen to. The satirical angle also scored bonus points with me, considering that it's why RoboCop is my favorite movie of all time. Both bands have great points to them, but I have to pick a winner.
THE WINNER OF THIS DEBATE IS... BLUR!
What do you think? Any other famous debates I should take on? Let me know, and take care!