20 Razzie Picks Worth Watching
Silver Linings #22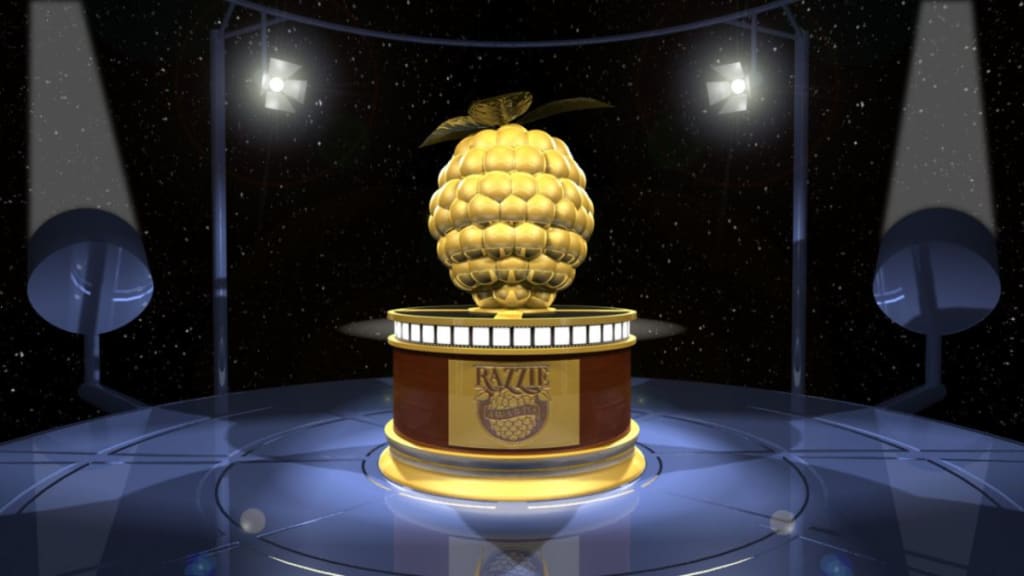 Hello, and welcome back to Silver Linings where the unfairly maligned is always welcome.
I am not a film snob. Even though I do take a look at critics' opinions about a movie, I don't take it as gospel. The same thing applies when it comes to the award contenders. I can think of plenty of Oscar-winning movies that I can't stand. On the flip side, there are the Golden Raspberry Awards. The Razzies, which are given the night before the Academy Awards every year, to "honor" the worst movies of the year. It's often tasteless, prone to going after easy targets, and a laugh riot.
I was inspired to look through the history of the Razzie winners thanks to the YouTube channel called "Cinematic Excrement" (very funny videos here; check it out!). Looking through, I saw a whole bunch of Razzie winners and nominees that I actually enjoy watching. I can understand why they were picked; they were easy targets. These picks that I'm listing run the gamut of styles and genres, but they're all great ways to pass a few hours if you're not a stuck-up cinema snob.
Now, to keep the list from getting too long, I narrowed my picks based on a couple of factors. First, though there are numerous categories used every year, I stuck to the seven categories that have been used since the first Razzies in 1980: "Worst Picture," "Worst Director," "Worst Screenplay," and the four acting categories. Second, I prioritized those that got at least two of those seven nominations. Finally, my own taste (or lack thereof) came into play. Here are twenty films in which the critics blew raspberries but I won't.
(By the way, forgive me if I don't go into too many details. I foresee plenty of future Second Chances articles coming from the picks on this list.)
This was the last fun Michael Bay movie as far as I'm concerned. Yes, this movie is friggin' stupid. Why was it easier to teach oil drillers to be astronauts than to teach astronauts how to drill? I don't care. The action scenes were fun and so was the cast. Bruce Willis won the "Worst Actor" Razzie, and the movie was nominated for four more. It's still more fun than Deep Impact or the Transformers films, though.
The only thing people think about when it comes to this murder mystery is the shot of Sharon Stone's crotch. That does the movie a disservice. Yes, Michael Douglas and Jeanne Tripplehorn deserved their acting Razzie nominations, but the movie as a whole is still enjoyable. The twists go all over the place, Joe Eszterhas' dialog is enjoyably ridiculous, and Paul Verhoeven made it look slick.
Yes, one of the most influential movies of the last thirty years won one Razzie and was nominated for another. The first blockbuster "found footage" horror movie about three teens disappearing while filming a documentary about a local legend was nominated for "Worst Picture", and Heather Donahue won "Worst Actress." I can't agree. This one is my girlfriend's favorite horror movie, and we pull it out every Halloween.
This action-adventure film about hidden treasure and killer gorillas is phenomenally stupid, but I love it! Everything is cheesy from the special effects to Tim Curry's acting, but it's all just fun. The critics didn't agree though; it was nominated for five of the seven Razzies including "Worst Picture."
I'm not a fan of slasher flicks in general, but the original Friday the 13th was a good one. The atmosphere is very chilling, and the special effects were excellent for the time. It was nominated for "Worst Picture" and "Worst Supporting Actress" for Betsy Palmer (Jason's mom). The critics needed to realize that not every horror movie had to be The Exorcist.
I already said my bit about this "Worst Picture" winner. I understand the problems others have with it. I see why it won two Razzies and got two more nominations. I don't care; I still enjoy it. Check out my previous article for more details.
This heist spoof and Bruce Willis vanity project is one of the most deserving Razzie targets because its production was a complete mess. It was picked for six of the seven categories; somehow, Andie McDowell escaped nomination for "Worst Actress." It won three Razzies including "Worst Picture". However, as messy as it is, it still has a certain charm to it that I find endlessly re-watchable.
This is without a doubt the silliest Stephen King movie ever made. Taking Christine to ridiculous extremes, this action-horror movie about machines coming to life and going on murderous rampages always gets me laughing at the absurdity. Stephen King and Emilio Estevez were nominated for "Worst Director" and "Worst Actor" respectively, but the movie is still a hoot.
Darren Aronofsky, Jennifer Lawrence, and Javier Bardem were always critical darlings, but, for some reason, this combination of biblical allegory and horror movie rubbed the critics the wrong way, earning all three of them Razzie nominations. Sure, if you don't recognize the parallels, then this movie makes little sense, and the overacting can get annoying. However, I did understand, and I found it chilling. It was certainly easier to watch than Requiem for a Dream.
This comedy of errors about a gangster trying to go straight always gets me busting up. Yes, the acting is overblown and the jokes are VERY cheap, but it works. Audiences agree with me, but the critics don't. It earned Razzie nominations for John Landis (Worst Director) and Sylvester Stallone (Worst Actor). Funny enough, Marisa Tomei was nominated for "Worst Supporting Actress" for Oscar the same year that she won the Oscar for "Best Supporting Actress" for My Cousin Vinny. Go figure.
Who would've thought that one of the most iconic action movies of the 80s would be a "Worst Picture" Razzie winner? Rambo's trip to rescue POWs from Vietnam was nominated for five Razzies and won two, but that doesn't matter because this movie kicks ass! While the first Rambo movie may be better overall, the second is just more memorable.
This action flick about a bouncer's mission to clean up a town in Missouri is my favorite guilty pleasure (and will definitely be a future Second Chances article). The action scenes are great, the dialog is memorable, Patrick Swayze manages to make a macho jerk likeable, and Sam Elliot gives one of his best performances. Yet, Road House was nominated for five of the seven main Razzies. Whatever.
Yes, Kevin Costner deserved the "Worst Actor" Razzie he won for this take on the story of Robin Hood. He couldn't even bother to fake a British accent, for crying out loud! However, this is still the most fun take on the Robin Hood story I'd seen. The action scenes were top notch, and the performances from Morgan Freeman and Alan Rickman easily made up for Kevin Costner's deficiencies.
This is the greatest horror movie ever made according to multiple sources. This is my favorite horror movie of all time. This is the movie that got me into the horror genre in the first place. The story of a family trapped in a haunted hotel by a blizzard is endlessly re-watchable. Yet, it was nominated for two Razzies, "Worst Director" for Stanley Kubrick and "Worst Actress" for Shelly Duvall. WHAT THE HELL WERE YOU THINKING, JOHN WILSON???
I've said before that I love spy movies. I even enjoy the ridiculous and completely implausible ones like Shining Through. This story about a secretary who turns spy during World War II is completely absurd in every way, but it stays absorbing for its entire runtime. I get why it was nominated for five Razzies and won three including "Worst Picture" and "Worst Actress" for Melanie Griffith. I don't care; I still love it.
This attempt at a showbiz drama that turned into an unintentional comedy on par with The Room is a riot! None of the performances are believable, the story is beyond ridiculous, and the dialog is the most out-there Joe Eszterhas had ever gotten. It deserved to sweep all seven of the main Razzie nominations, winning "Worst Picture", "Worst Director" for Paul Verhoeven, "Worst Actress" for Elizabeth Berkeley, and "Worst Supporting Actress" for Gina Gershon. However, this is one of the most fun bad movies in existence. (NOTE: Since the actual trailer is NSFW, I've attached the hilarious "Honest Trailer." Check out Screen Junkies on YouTube!)
If you look at Staying Alive as the follow-up to Saturday Night Fever, you will probably hate it. Entertainment Weekly even named it the worst sequel of all time. However, I still have fun with it. Watching Tony trying to make it on Broadway was absorbing, and the dance sequences were still amazing. I see why John Travolta and Finola Hughes were nominated for Razzies, but the movie is still enjoyable.
I think the Razzies just enjoy picking on Sylvester Stallone. This fun buddy cop action-comedy about rival narc detectives trying to clear their names after a frame-up not only gave Sly yet another "Worst Actor" nomination but also gave his co-star Kurt Russell a "Worst Supporting ACTRESS" nod (since he was in drag in the middle of the movie). That's just stupid; this movie's a blast!
Here's another unintentional comedy that was trying so hard to be a serious movie. Don't think of this as a remake of the 1973 horror classic. Think of this as an examination into how ridiculous a Nicholas Cage performance can get. Despite this earning three Razzie nominations including "Worst Picture" and "Worst Actor" for Cage, this version of The Wicker Man earned meme status which is certainly better than an Oscar.
This and Can't Stop the Music were the movies that inspired John Wilson to create the Razzies in the first place. However, this romantic musical about a struggling artist hooking up with an ethereal being is just a joy. The music from Olivia Newton-John and the Electric Light Orchestra is still wonderful, and Gene Kelly's dance routines are still a treat. I can see why it was nominated for five Razzies and won "Worst Director"; it does look quite gaudy. However, I just can't hate this one; it's too entertaining.
What do you think? What are your favorite movies that were picked on by the Razzies? Let me know, and take care!
Reader insights
Be the first to share your insights about this piece.
Add your insights