More Than A Song
Music That Destroyed The Envelope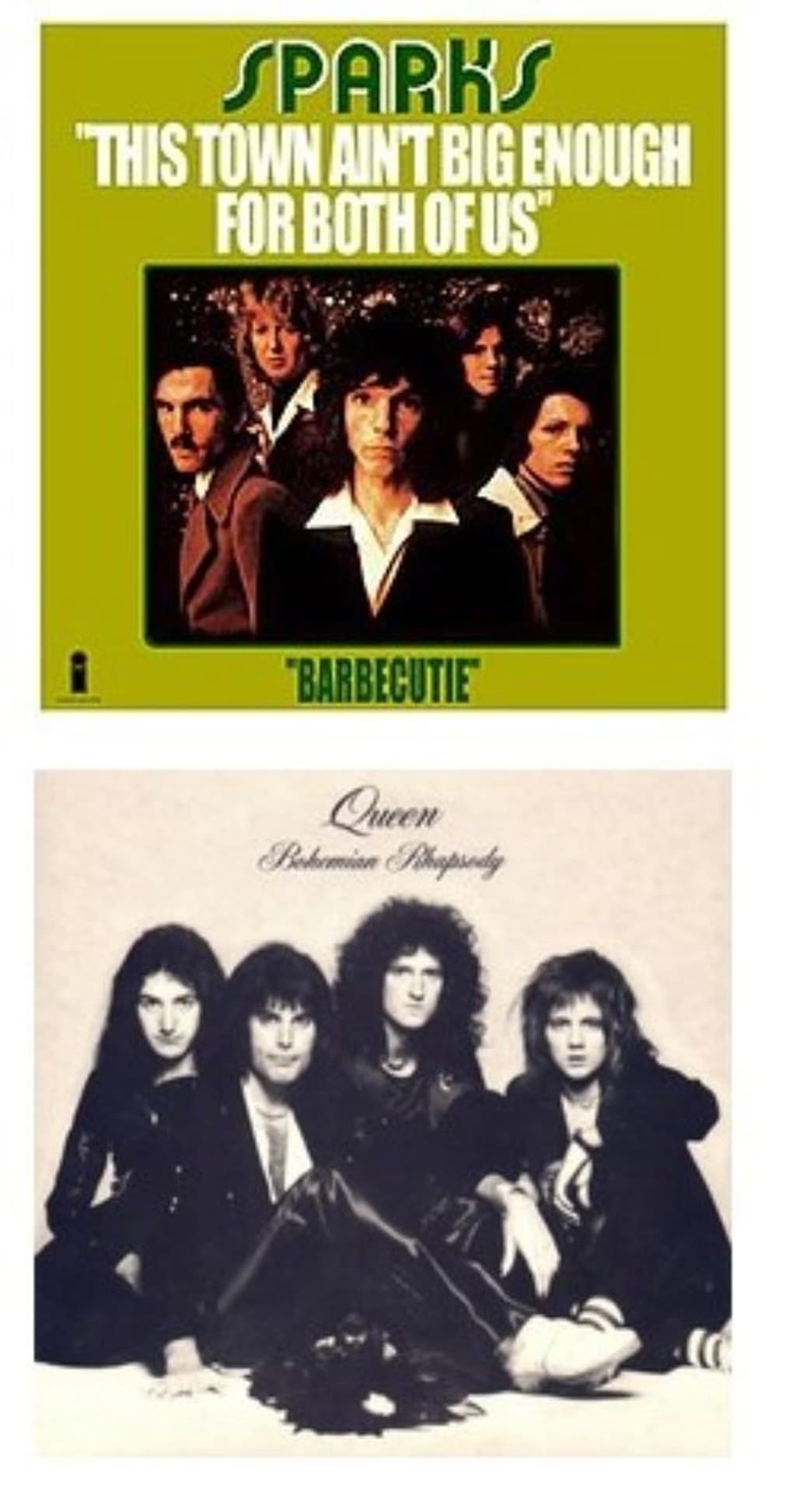 The Single Covers
Introduction
I am probably going to get slated for this piece because I will probably miss lots of songs that people think that I should have included. When I first thought about writing this there were two songs on my mind that broke the mould of what should be expected from a single in the 1970s.
Lots of songs have strayed from the standard 4/4 time 2'59" single which was defined as pop perfection. That was just the time and the song length but even in the sixties many songs defied those definitions.
During the 1960s "Good Vibrations" by The Beach Boys and "Strawberry Fields Forever" had pushed the single format pretty far, but come the 1970's these two songs went even further.
Sparks - "This Town Ain't Big Enough For Both Of Us" from "Kimono My House"
I knew of Sparks before they hit us with this absolute masterpiece, almost a classical symphony in under four minutes.
The changing time signatures and Russell Mael's vocal pyrotechnics recall many classical forms, although this was just designed as an epic pop song,
The Mael brothers are still producing intricate groundbreaking music almost fifty years on from the release of this single and still are causing jaws to drop.
On their album "Plagiarism" they made two more recordings of the song, one with orchestra and a reinstated verse from the original song, and one with the band Faith No More which was released as a single ad made the UK Top 40. The original release peaked and number 2.
The original idea for the song was that after each verse Russell Mael would sing a movie dialogue cliché, one of which was "This town ain't big enough for both of us". They dropped the idea of having different phrases and instead used only the one in the title.
The song was written without any regard for the vocal style of Russell Mael. Songwriter Ron Mael has explained:
"The song was written in A, and by God, it'll be sung in A. I just feel that if you're coming up with most of the music, then you have an idea of where it's going to go. And no singer is gonna get in my way."
Russell Mael has claimed in reply:
When he wrote "This Town Ain't Big Enough For Both of Us", Ron could only play it in that key. It was so much work to transpose the song and one of us had to budge, so I made the adjustment to fit in.

My voice ain't a "rock" voice. It's not soulful, in the traditional rock way; It's not about "guts". It's untrained, unschooled, I never questioned why I was singing high. It just happened, dictated by the songs. Ron has always written Sparks' lyrics and never transposed them into a rock key for me to sing. He always packed each line with words and I had to sing them as they were.
Queen - "Bohemian Rhapsody" from "A Night At The Opera"
This was released as the lead single from their fourth album, A Night at the Opera. The song is a six-minute suite, with no refraining chorus like most pop songs, and consisting of several sections: an intro, a ballad segment, an operatic passage, a hard rock part and a reflective coda. While it can be classed as progressive rock, despite misgivings from management and the record company it was a huge commercial success and was probably one of the first hits with a properly defined supporting video, this was six years before MTV.
Freddie Mercury referred to the song as a "mock opera" that resulted from the combination of three songs he had written.
Reader insights
Be the first to share your insights about this piece.
Add your insights