A Brief Tour Through Ethel Cain's Most Impactful Lyrics
Female Rage, Americana, and Religious Trauma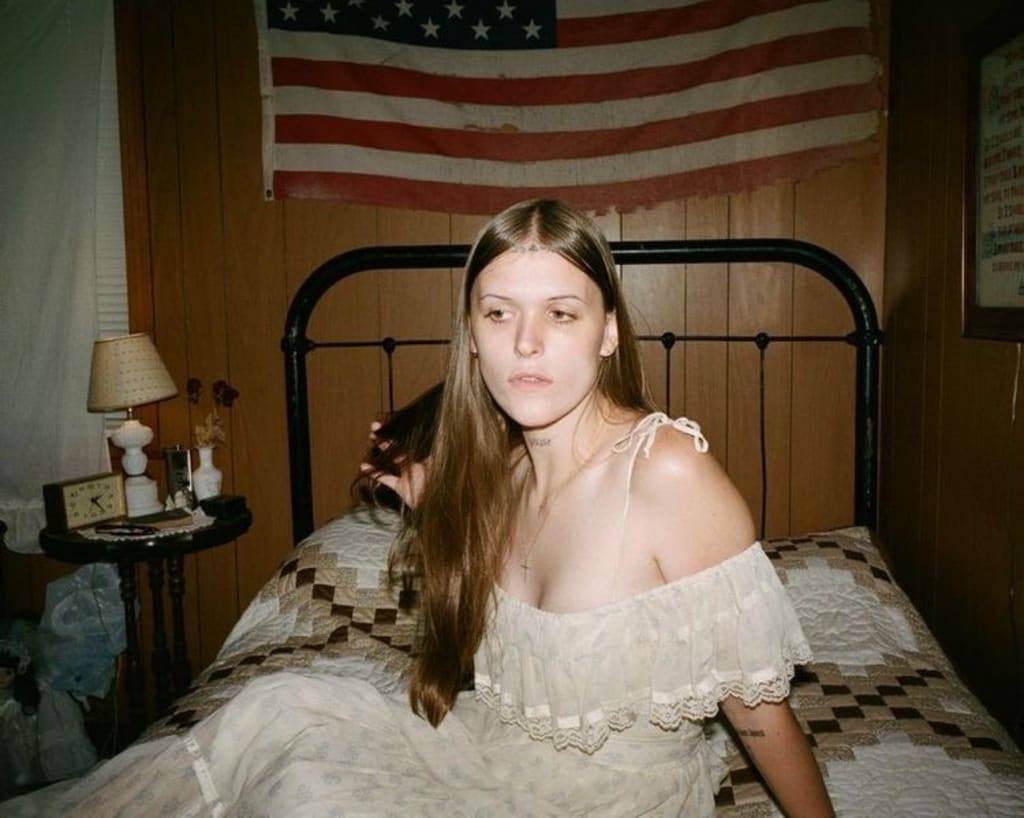 Ethel Cain is mother. No, literally. To her doted fans, she is unironically dubbed as Mother, and rightly so. It's all-consuming to step into her world.
Her independent record label, Daughters of Cain, a nod to her cult-like following, has had a euphoric year of success: a sweeping tour, a Coachella set, merch sellouts, and more!
For those unfamiliar, Cain's debut concept album, "Preacher's Daughter," containing trippy instrumentals and hot singles like "American Teenager" ( one of President Obama's 2022 Songs of the Year), catapulted the artist into the limelight like never before.
On that note, I've officially given up trying to gatekeep her music, and honestly, seeing her songs garner millions upon millions of streams on Spotify has me genuinely overflowing with pride. Ethel Cain is an artist wholeheartedly devoted to her craft, to long-form storytelling, and to upholding a hauntingly beautiful aesthetic. She is beyond worthy of music industry stardom.
Though I could gush about her music's impact on my own life over the last three years for many paragraphs more, I decided its best to let her lyricism speak for itself. So, without further ado, here is a brief tour through some of Ethel Cain's most impactful song lyrics to give you a feel for her style and, hopefully, inspire you to stream the hell out of her album.
"Sun Bleached Flies"
God loves you

but not enough to save you
Long before "Sun Bleached Flies" was officially released, this incredible lyric had her early fanbase in shambles! I, for one, was sold the second I heard the snip-it of this incredible track. Like many of her showstopping songs, "Sun Bleached Flies" clocks in or around the 7-minute mark. The relatively long run time never feels unduly drawn out (like the worship music with a thousand reprises I grew up on).
But I always knew that in the end, no one was coming to save me

So I just prayed, and I keep praying and praying and praying
The heartwrenching nostalgia that crescendos in this piece weave together the highs and lows of deconstructing one's faith.
On one hand, there's still a sense of longing for "church this Sunday," even after the venue has lost its comfort, magic, and mystery. There's also this sense of beginning to trust and rely on oneself alone in order to heal: "I forgive it all as it comes back to me."
The lyrics are, therefore, a testament to one's ability to hold heavy emotions and still stand firm, maybe even smile defiantly at the sun.
"Family Tree"
For me, "Family Tree" is the best of the best on her debut album. I could listen to it a thousand times. A perfectly paced, hypnotic song (with a killer guitar solo) that just always hits.
So take me down to the river and bathe me clean

Put me on the back of your white horse to ride

All the way to the chapel

Let you wash all over me
Once again, the religious undertones are strong here. The ambiance is haunted and sinister tempered with a satisfying feeling of surrender.
Notably, "Family Tree" is a continuation of the album's first track, "Family Tree (intro)," which reads much like a twisted fable: "Jesus can always reject his father / But he cannot escape his mother's blood."
As always, Ethel Cain's music unnerves in the best possible way. And, like any great concept album, each track takes you deeper into a truly immersive narrative.
"Dog Days"
Now, moving away from the latest album and into the older Ethel Cain archives, we have "Dog Days" from her "Carpet Bed" EP. This song really shows off Cain's lower register in a wistful, resigned recitation of a doomed, problematic relationship.
You walk a fine line between god and animal

You're just a feral dog I worship in bedroom ceremonials

Cut me up and take me like the bread and blood at church

Love's never been more than pain, so baby, show me how bad you hurt
As many listeners are sure to pick up, themes of abuse do abound in a lot of Cain's discography. She's never one to shy away from the dark side of love and sexuality, and I, for one, have always gravitated toward storytelling that removes the rose-colored glasses and grapples directly with uncomfortable emotions and experiences.
"A Cold Unfortunate While"
Despite opening with the blunt and jarring imagery of sleeping in the body of a dead deer "out by I-40," this song is oddly comforting. Maybe it's just me, but there's something so lulling about this track. It very much channels a Southern Gothic mood, which definitely befits Cain's overall aesthetic.
You can leave the windows open

Here in our forever home

Bite down on your shoulder

And if you bleed, then I'll know
I actually wrote a short story loosely inspired by this song - you can check it out here. There was something strangely youthful yet weathered about these lyrics that inspired me, so I let it fuel my own rather unhinged narrative of grief, betrayal, and femininity.
The Ptolomea Scream
Now this isn't necessarily a lyric because it's something that transcends words. "Ptolomea" is the most haunting track on the album - named after the ninth circle of hell. It delivers a visceral build-up of chants, whispers, and buzzing flies, disorienting and vague, eventually leading to one bone-chilling "STOP!"
It's a scream that holds multitudes. The notes of betrayal and violence lodged in one simple word have become an iconic female rage music moment. Better yet, it's followed up by the stony, oddly composed delivery of the line: "I am the face of love's rage."
"Half-Cocked"
Though I could go on forever, I decided to conclude this brief tour with my favorite unreleased track. The lyricism here is very reminiscent of the "Inbred" EP (which I love).
What's gonna scare me when I've seen it all?

Been too sick to walk, so I had to crawl

When you leave, turn off the light

I leave my door open at night
I've always gathered a central feeling of hopelessness here. There's no one cohesive theme, per se, besides a downward spiral. The narration has a sharp edge to it, a fearlessness that only comes when you've been through the wringer and lived to tell the tale.
To be strung out and still be stone cold

To reach the end, but never close to old
Still, there is much despair and exhaustion in each verse. I mean, I've always disproportionately favored sad music, but Ethel Cain's world offers so much more than that. There's a realistic level of comfort in her songs - a comfort that doesn't mean your problems are solved, or your troubles are forgotten. Ethel Cain's music, for me, is about surviving the interim and making peace with the dark and ugly side of existence.
As the iconic line from "American Teenager" sprightly declares: "It's just not my year, but I'm all good out here!"
About the Creator
New Englander
Living with Lupus and POTS
Lover of Language, Cats, Tea, and Rainy Days.
Instagram: @somebookishrambles
Reader insights
Nice work
Very well written. Keep up the good work!
Top insights
Compelling and original writing

Creative use of language & vocab

Easy to read and follow

Well-structured & engaging content

Excellent storytelling

Original narrative & well developed characters
Expert insights and opinions

Arguments were carefully researched and presented

Eye opening

Niche topic & fresh perspectives

Heartfelt and relatable

The story invoked strong personal emotions

Masterful proofreading

Zero grammar & spelling mistakes

On-point and relevant

Writing reflected the title & theme
Add your insights