5 'Central Park' Songs That Will Motivate And Inspire You
The delightful Apple TV+ animated musical sitcom is chock-full of infectious motivational songs to live by.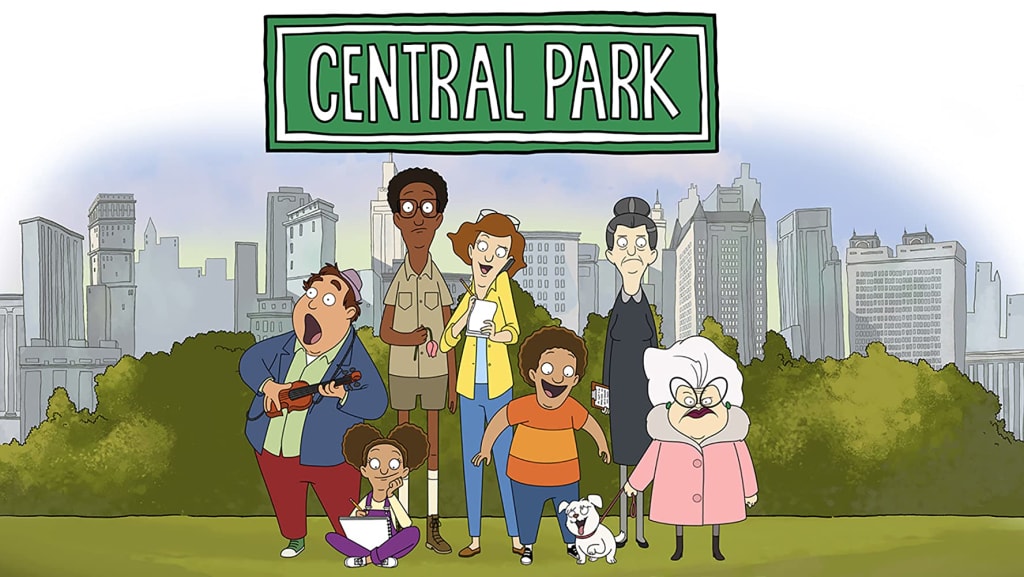 'Central Park' [Credit: Apple TV+]
If you love songs that can help get you through the day or have lyrics you could belt out with glee in real-life scenarios, do tune in to Central Park on Apple TV+.
Boasting a stellar Broadway-calibre voice cast, Central Park is a full-on musical animated comedy filled with earworm songs that not only cleverly drive the narrative, but a handful could also double up as motivational mantras.
Created by Bob's Burgers' Loren Bouchard and Nora Smith with Frozen star Josh Gad, the show revolves around the Tillerman family who lives within New York City's most famous park and whose daily routines are duly reported by busker-narrator Birdie (voiced by Gad).
Park manager Owen (Hamilton's Leslie Odom, Jr.) is a dorky but earnest chap who strives to keep the park and his family in good order. Wife Paige (Transparent's Kathryn Hahn) is a journalist desperate to write hard news rather than fluff pieces. Daughter Molly (Frozen's Kristen Bell**) loves to draw superhero comics, while son Cole (The Unbreakable Kimmy Schmidt's Tituss Burgess) is a gentle soul who loves animals. Trouble brews when obnoxious hotel heiress Bitsy Brandenham (The Hunger Games' Stanley Tucci)—who's waited hand and foot by the long-suffering Helen (Hamilton's Daveed Diggs)⁠—plots to turn Central Park into a residential and retail space.
Out of the over 40 replay-worthy songs in its 10-episode debut season, Central Park show composers Kate Anderson and Elyssa Samsel (Olaf's Frozen Adventure) wrote the bulk of them, while other noted songwriters include Brent Knopf, Sara Bareilles and, yes, the divine Cyndi Lauper.
Here are but just five Central Park songs that will motivate and inspire you in real life.
1. "Own It"
From: Episode 1 — "Episode One" Written by: Kate Anderson & Elyssa Samsel Performed by: Leslie Odom, Jr., Kathryn Hahn, Kristen Bell, Tituss Burgess, Daveed Diggs, Stanley Tucci, Josh Gad
Straight off from the very first episode, this chirpy number resonated with me as I had a former boss who never failed to drill in me that to be successful in whatever I do or suggest in the marketplace, "You got to own it!" Well, thanks to Central Park, I can now sing the phrase with gusto.
"Own It" is the pilot's crowning glory where we see each main character voicing the key thing they want to accomplish: Owen wants visitors' respect for the park's blooming flowers, Paige yearns for a big news scoop, Molly wishes "kite boy" will notice her, while Cole has a secret to hide. The funniest bit? Helen desiring to not only own all of Bitsy's assets, but also to "bathe in hundred dollar bills with a man who looks like Magic Mike."
2. "Die Trying"
From: Episode 10 — "A Fish Called Snakehead" Written by: Kate Anderson & Elyssa Samsel Performed by: Leslie Odom, Jr., Kristen Bell, Tituss Burgess, Kathryn Hahn, Rory O'Malley, Josh Gad, Janelle James, Daveed Diggs, Stanley Tucci
The very last song in the series is also one of the show's best. The number starts off as a stirring ode by Owen who's trying to catch a trouble-making fish in the park as his family supports him both in song and deed, before climaxing as a rousing anthem to Central Park by the entire cast. Again, Helen steals the limelight by wishing that Bitsy will literally "die trying" in her quest to buy up the famous park.
Besides simple lyrics such as "In the grass/ In the grassy-grassy grass" and notable lines from the show's other songs, Owen's heartfelt wish to "Let me do this one thing or at least die trying" is something many of us who aim to achieve specific goals in life will definitely resonate with.
3. "Weirdos Make Great Superheroes"
From: Episode 2 — "Skater's Circle" Written by: Sara Bareilles Performed by: Kristen Bell, Tituss Burgess
In episode two comes this stirring showstopper of a tune as Molly ponders on her awkwardness before deciding to help brother Cole reunites with Bitsy's dog. With inspiring lines such as "I want to be a superhero/ Watch me fly anywhere that I want to go" and "We're in our very own personal Comic-con/ And everyone's invited," it's hard-pressed not to feel motivated to do something extraordinary even if no one else shares your passion (or at least try and find at least one person who does.) It is also one of the series' best moments as Molly imagines herself as her comic superhero alter ego, Fista-Puffs, championing weirdos everywhere—with Cole and fellow students dressed up as superheroes too—in the fantasy sequence.
(**In light of representation matters, Central Park's creative team—which includes actress Kristen Bell—released a statement in June 2020 announcing that the role of Molly, who is bi-racial, will be recast as it "is an opportunity to get representation right." The Umbrella Academy's Emmy Raver-Lampman has since been cast as Molly for Season 2, with Bell due to play a new character.)
4. "Do It While We Can"
From: Episode 2 - "Skater's Circle" Written by: Brent Knopf Performed by: Christopher Jackson, Leslie Odom Jr., Josh Gad, Kristen Bell, Tituss Burgess, Jessica Childress
Performed primarily by yet another Hamilton alum, Christopher Jackson—who guest-stars as popular skater Glorious Gary—this groovy disco-inspired ditty will have you singing and swaying along to it in no time. Advised by Birdie to make peace with Gary for the sake of the park, Owen agrees to try skating and finds himself respecting the skaters' enthusiasm and the vibrancy they bring to Central Park. One of the many feel-good songs in the series, "Do It While You Can" is also a great motivational reminder to those of us who have a tendency to procrastinate on the things we've set out to do.
5. "Momma's Got This"
From: Episode 3 - "Hat Luncheon" Written by: Kate Anderson & Elyssa Samsel Performed by: Kathryn Hahn, Kristen Bell, Tituss Burgess
Proving she can manage to scoop a huge news story whilst bringing her two children along on her assignment, Paige delivers this inspirational number that is a tribute to every hard-working mom. (Notwithstanding the fact that Polish fans commented on YouTube that the Polish words uttered in the song are pure gibberish!) And even if you are not a mom, most single ladies I know, for example, do occasionally use phrases referring to oneself as a wise mother hen such as "Come to mama," "Momma's always right" and, yup, "Momma's got this." Nice that we now have a lovely melody to belt out that last affirmative statement to.
Special Mention: "Rats"
From: Episode 4 – "Garbage Ballet" Written By: Cyndi Lauper and Teddy Sinclair Performed by: Kathryn Hahn, Tituss Burgess
Okay, granted the word "rats" isn't exactly motivational or inspirational in the least but this mesmerizing duet is the one song on the show that made me go, "Who wrote this?!" And I was chuffed to learn that it is none other than the brilliant Cyndi "Girls Just Want To Have Fun" Lauper, together with Teddy Sinclair (a.k.a. Natalia Kills). This hilarious sequence sees a sick Paige hallucinating that the family home is infested by rats and aiming to kill them all, as the animal-loving Cole desperately tries to stop her. Thankfully, my home has no rat problem but on occasion, there is a pesky mosquito or creepy cockroach to whack and therefore Paige's declarations of "Gonna find them/ Gonna kill them" and "Mess with me/ Seal your destiny" are right on the money.
Central Park is streaming on Apple TV+. Its Season 1 soundtrack, Song-Tral Park, is available on Hollywood Records.
Read also: