Me And Pixabay
And Nightcafe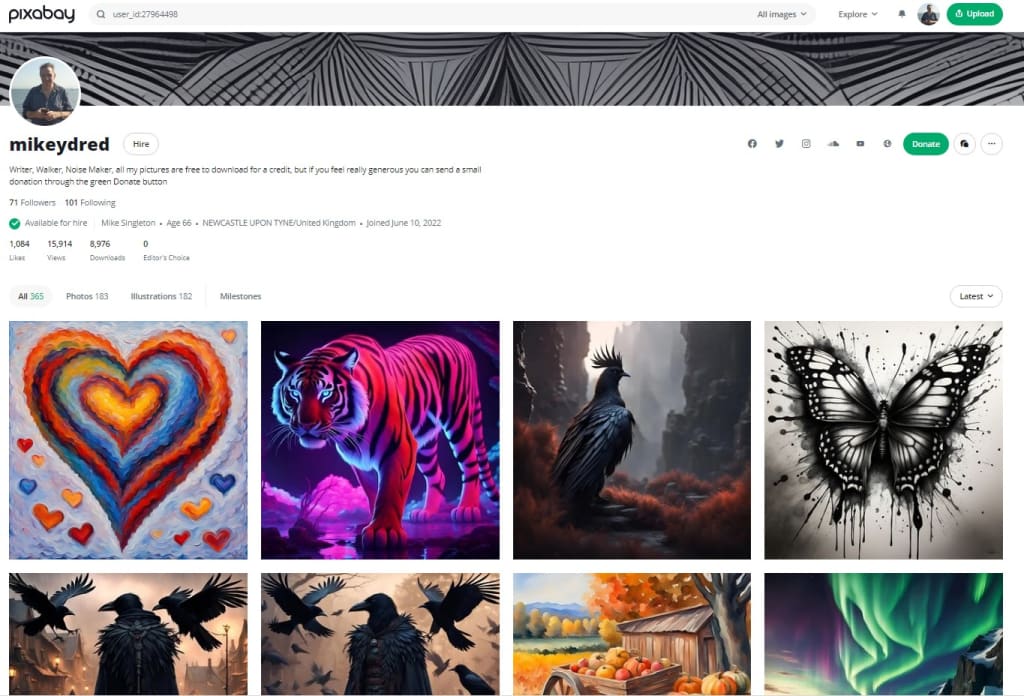 Me on Pixabay
Introduction
This week I got my first tip for a Pixabay picture of mine. The annoying thing is I don't which picture it was for or if the tipper is a Pixabay member.
The PayPal record shows the guy's name and the picture number but I can't search for picture numbers on Pixabay which is slightly annoying.
But I wanted to share this with you, that someone has possibly downloaded one of my images and sent me a two-dollar tip for it. I feel successful because of this.
The first tip I got on Vocal made me believe that my work actually had some worth, and has resulted in a great friendship with the person who tipped me. I have had a lot more since then but that first tip was the most important.
So a little more about me and Pixabay and Nightcafe.
This is my Pixabay site if you would like some free images for your Vocal stories.
This is my article on how I use Nightcafe, which supplies most of the images for my Pixabay site, although there are also a few photographs as well.
My 365 Pixabay Images - How And Why
There is a lot of anti-AI art feeling, a lot of it justified, especially when the AI platforms take other creators' art without permission. I'm unaware that Nightcafe does this but would possibly stop if that were their modus operandi. I have been verbally attacked several times for creating these images, although I treat Nightcafe as another tool.
I started creating these images because I could not find what I wanted and be certain that the image was not copyrighted. It may have been copied from the original and then posted on the internet without acknowledgment. Digital content is a form that can be stolen over and over again.
So, not being an artist, I started creating AI images for my Vocal stories. Many I have to ditch. The engines I use often have issues with faces, limbs, and physical digits. But sometimes they work, and I have created over two thousand.
Then I thought I could let other people have these for free. I looked at Unsplash but they won't accept AI-generated images, but I do have a few photographs on there for you.
Then I found Pixabay would accept them, so I have been uploading one a day to the site, and now there are 365 pictures there, some AI-generated and some photographs.
I've had nearly 16,000 views and 9,000 downloads, but only a thousand likes and one tip. To be honest this is not a money-making operation, it is a sharing operation and maybe getting my name known for my images. While I'm not chasing tips I would never say no to one, and will always be thankful for one whatever the amount.
A tip shows that someone believes in you and thinks that your work has worth. Every one that I get gives me a lift and makes me want to share more of my work with others.
Although I have five anthologies that you have to pay for, my work on both Vocal and Pixabay (and I suppose Unsplash) is free to read, and for the pictures to enjoy and use for your own purpose. It really is about the sharing.
Conclusion
I hope that this clarifies why I share things on Pixabay and hope that you don't feel that I am a pariah or a thief. I do put a lot of work into everything I do and I hope that what you read and see is more than acceptable to you.
Thank you for reading
Reader insights
Be the first to share your insights about this piece.
Add your insights