TOP 10 Things to do in LOS ANGELES - [2023 LA Travel Guide]
Welcome to our comprehensive Los Angeles travel guide for 2023! In this video, we'll take you on a virtual tour of the top 10 must-visit attractions and experiences in the City of Angels. From iconic landmarks to hidden gems, Los Angeles offers a diverse range of activities that cater to every interest. Join us as we explore the vibrant culture, stunning beaches, world-class entertainment, and mouthwatering cuisine that make Los Angeles a truly unforgettable destination.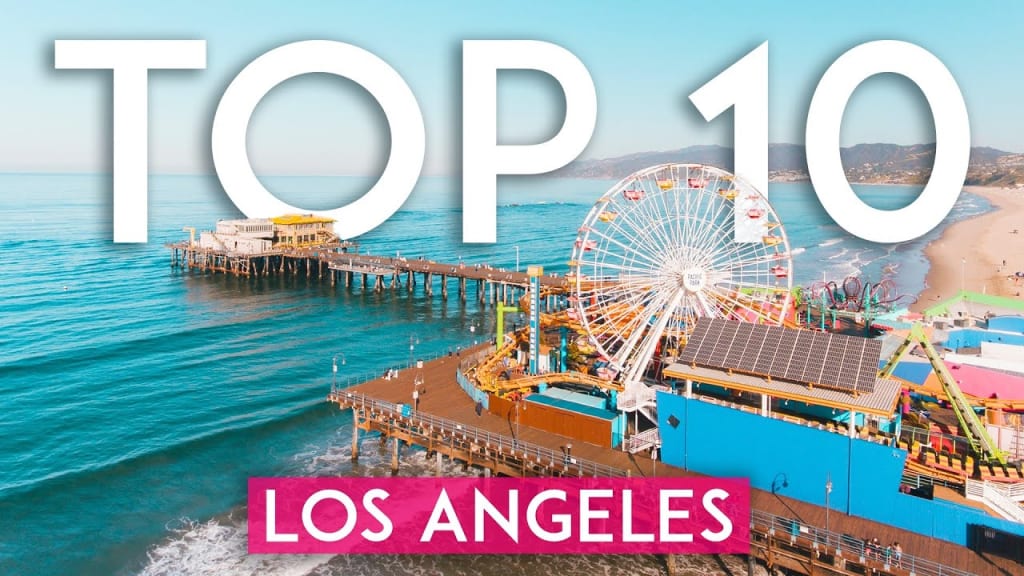 In this post, we'll show you the top 10 things to do in Los Angeles. This post is based on our multiple trips to the City of Angles. Don't forget to like this post, subscribe to our channel, and enable notifications. And share your own experience or ask a question in the comments below. Sponsored by Beeyond compression packing cubes for travel. The link is in the description. And stick around until the end because we have a bonus attraction for you.
Top 10 things to do in Lisbon ⭐ Sponsored by BEEYOND packing cubes, a revolutionary new way to pack your luggage 🧳 🎒 👉 https://amzn.to/43uwwz0 👈 (on Amazon)
🔥📚 Los Angeles PDF Guide 👉 https://amzn.to/3WSwiPo 🔥
Here are our top 10 picks:
Number 10: Downtown Los Angeles Downtown L.A. is a business and residential district packed with interesting neighborhoods and attractions. Little Tokyo, Chinatown, or Arts District each offer a rich cultural experience, and for history buffs, the Olvera Street located close to the 19th-century Los Angeles Plaza reveals the oldest part of Los Angeles. Grand Central Market, a 30,000 square-foot arcade, offers a unique food emporium operating ever since it opened in 1917. By the way, if you love food, Greater Los Angeles offers an array of fantastic food options from all over the world, from fancy dining establishments to famous hot dogs or tacos trucks, and more. Located right outside Grand Central Market, you'll find Angels Flight. With its 298 feet inclined railway, it is supposed to be the world's shortest railway. Downtown L.A is also full of green areas, like Pershing Square with fantastic views towards the skyscrap-ers, or lush Grand Park, located right in front of the iconic Los Angeles City Hall. Walk around the historic Broadway theater district, or admire architectural marvels around Downtown, like The Walt Disney Concert Hall designed by Frank Gehry or the neighboring contemporary art museum - The Broad.
Number 9: Hollywood walk of fame Hollywood Boulevard is a major street in Los Angeles, home to a number of famous attractions. Hollywood Walk of Fame features over 2,600 stars embedded in the sidewalks along Hollywood Boulevard and Vine Street. The stars are permanent public monuments to achievement in the entertainment industry, bearing names of actors, directors, musicians, producers, fictional characters, and others. Look for the famous Chinese Theatres featuring handprints, footprints, and signatures of some of Hollywood's biggest stars. Visit the Ovation Hollywood shopping center with a perfect view towards the Hollywood sign. There are many other things you can do on Hollywood Boulevard, for example, Museum of Illusions, Madame Tussauds, Museum of Death, and others. Check our immersive Los Angeles 4K walking tour to experience the real feel of L.A. The link is in the description https://amzn.to/3WSwiPo
Number 8: Griffith Observatory This impressive observatory overlooking Los Angeles offers breathtaking views of Downtown and Hollywood Sign. It also features an extensive array of space and science-related displays, including a Tesla coil, designed by inventor Nikola Tesla in 1891. Admission has been free ever since the observatory opened its doors in 1935. The view of the city from Griffith observatory can be even more fascinating in the evening.
Number 7: The Grove & The Original Farmers Market World-famous Original Farmers Market started as a dairy farm, Gilmore Oil Company, and midget car racing place. The Market now consists of over 100 gourmet groceries, trendy shops, and restaurants and has been a favorite place to shop and eat among locals and tourists since 1934. Don't skip The Grove - a shopping and dining complex that mixes retail, eateries, and entertain-ment, located on the former orchard and nursery complex. If you love shopping, check our travel guide for more suggestions. By the way, our mobile-friendly travel guide covers the top 20 things to do in Los Angeles and things to know before you visit, including maps, opening hours, links to buy tickets, itinerary suggestions, and other information. By purchasing our travel guide, you are also helping us sustain this channel, so a big thank you for that!
Number 6: Hollywood Sign The Hollywood Sign is one of the world's most famous landmarks and a cultural icon overlooking Hollywood. "HOLLYWOOD" is spelled out in 45-foot-tall white capital letters and is 352 feet long. The sign was created in 1923 as an advertisement for a local real estate agency, and it initially read: HOLLYWOODLAND. Due to increasing recognition, the sign was left up in its current form instead of being taken down. If you love hiking, there are many other trails with amazing panoramic views of Los Angeles worth exploring.
Number 5: Universal Studios Universal Studios Hollywood is both a film studio and a theme park. It is one of the oldest and most famous Hollywood film studios still in use. The park was initially created to offer tours of the entire Universal Studios sets. Here, you can experience rides and visit film sets of some of your favorite movies like Harry Potter, Jurassic Park, Back to the Future, and others. There are also other amusement parks in L.A. and its surroundings.
Number 4: Beverly Hills Beverly Hills was originally a Spanish ranch where lima beans were grown. It was incorporated in 1914 by a group of investors who had failed to find oil but found water instead and eventually decided to develop it into a town. Today, Beverly Hills is one of the world's most famous upscale places to live and shop. Visit Rodeo Drive, a famous shopping street with expensive designer stores and small private boutiques. Rodeo Dr. became immortalized by Julia Robert's "Pretty Woman" shopping spree. The area is popular with wealthy shoppers, sunglass-wearing celebrities, and tourists hoping to see fashion icons. On Rodeo Drive, you will also find the most expensive store in the world: Bijan.
Number 3: Museums Los Angeles is home to over 800 museums and art galleries, which is more museums per capita than any other city in the world. Some of the world-class museums include: Los Angeles County Museum of Art or LACMA with the famous Urban Light assemblage sculpture composed of 202 streetlamps. The Broad – a Museum of Contemporary Art, J. Paul Getty Museum or just The Getty, an art museum with amazing views of Los Angeles. Don't skip Getty Villa, displaying art from Ancient Greece, Rome, and other eras. Of course, there are many other museums. Los Angeles is also home and a creative hub to numerous artists and small galleries. This video is sponsored by Beeyond, helping you save space when you travel and organize your suit-case. A revolutionary new way to organize your luggage consists of a set of small and large packing cubes. Once you're done packing, just close both zippers, compress the air out of your packing cubes like this, and voila, your clothes are compressed, and your luggage is organized. We use Beeyond packing cubes on our travels, and they are even designed to fit your carry-on. Visit Beeyond's Amazon page to get your own compression packing cube set. The link is in the description https://amzn.to/3WSwiPo
Number 2: Venice Beach Venice is a residential, commercial, and recreational beachfront neighborhood. It was founded in 1905 as a seaside resort town. Over the years, it transformed into a free-spirited boardwalk and residential area full of funky shops, imaginative street performers, and public art. Rent a bike or an electric scooter and ride along Venice Beach, play some sports in one of many public sports areas, like Muscle Beach outdoor gym, or simply sit in the sand, watch the waves, and enjoy the vibe. The Los Angeles area is famous for its beautiful sandy beaches and picturesque piers. From surfing, sun-bathing, to sailing or boating, chances are you will find something fun to do in Los Angeles. So, if you have time, don't forget to explore the surroundings too. Talking about Venice Beach. Don't skip Venice Canals nearby. The canals were created in the early 20th century to mimic the famous canals in Venice, Italy. And if you love shopping, don't skip Abbot Kinney Boulevard shops.
Number 1: Santa Monica Pier Santa Monica Pier is a large double-jointed and over 100 years old pier located at the foot of Colorado Avenue in Santa Monica. Its iconic entrance made the pier popular with both residents and visitors. A sign on the pier marks the end of the legendary American highway Route 66, symbolizing that this road only ended when the sea stood in its way. Since the pier is a popular tourist spot, expect it can get very crowded. The pier also contains an entire family amusement park, the Pacific Park, featuring a solar-paneled Ferris wheel. Don't forget to visit 3rd Street Promenade, a pedestrian mall walkway, dining, and entertainment complex in downtown Santa Monica, or beautiful Tongva Park, named after the indigenous Tongva people, who have lived in the Los Angeles area, a lovely urban oasis with amazing views, especially during sun-set. And here is the bonus that we promised. If you love nature, explore Echo Park. This diverse neighborhood is home to beautiful Echo Park Lake with lush vegetation, lotus flower beds, and wild geese and swans. For the ultimate experience, rent a swan boat and pedal around this beautiful lake with fantastic views towards the park and downtown Los Angeles. And now continue to our video on what you should know before you visit Los Angeles.
Reader insights
Be the first to share your insights about this piece.
Add your insights