Be Careful What You Wish for — Do You Really Want a Guide for Your Next Mayan Temple?
Exploring Tikal in Guatemala with a guide who hated us…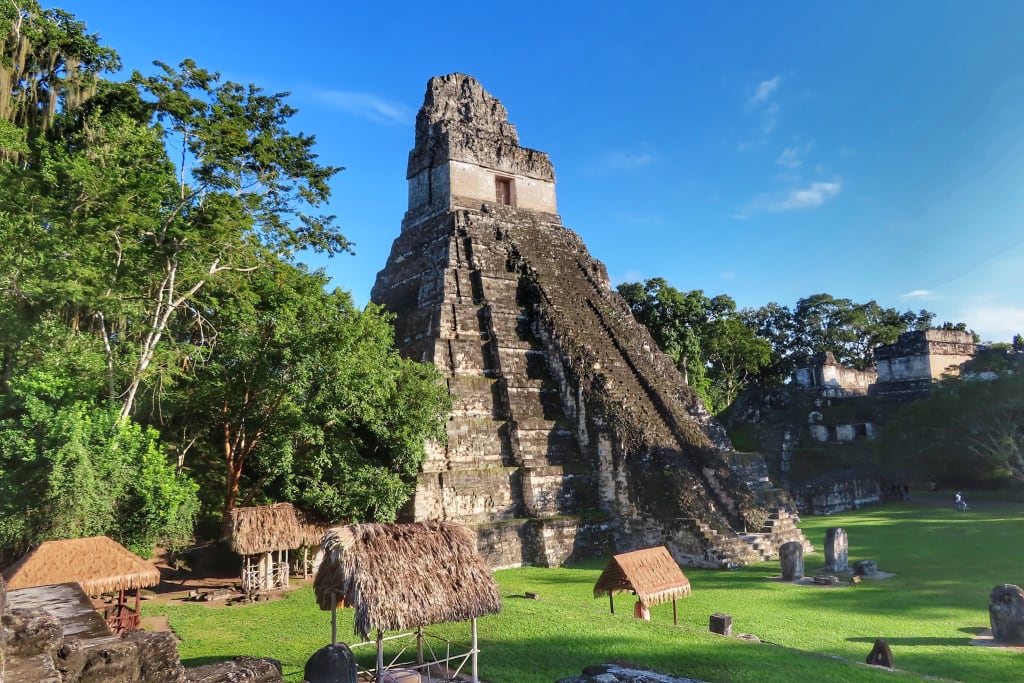 Tikal Gran Plaza — Guatemala (Photo credit to the author)
At this point in the trip, we were no strangers to Mayan temples. We'd seen some incredible feats of ancient artwork, engineering, and architecture in Mexico and Belize. Every other temple we had visited so far, we had explored independently, learning from the information dotted about and what was written in our guidebooks.
Now and then, we would overhear an interesting story or historical fact from a passing tour guide. Feeling a little FOMO, we decided for our next temple we would treat ourselves and splash out on a guide.
Tikal is the ruins of an ancient city of the powerful Mayan kingdom set in the Guatemalan rainforest. We'd heard that Tikal in Guatemala was the crowning jewel of Mayan ruins, so what better place to learn as much as possible about the Mayans?!
They weren't wrong. It truly is a beautiful crowning jewel. This was by far my favourite of the Mayan ruins we visited. I just loved the setting; the temples were truly nestled in the jungle. Some had been recovered and excavated to their former glory, but others had been left to show how they looked when the site was first re-discovered. They were strangled and smothered by the jungle undergrowth. There was one that we almost wandered straight past, looking more like a mossy hill than an archaeological gem.
The irony is that we learned less about Tikal than anywhere else, pretty much next to nothing. Our guide who we were so excited to finally have was a strange, angry, jaded man who despised tourists. Why he was in this line of work was beyond me.
If you wish to see the sunset at Tikal, you have to book a guide for safety reasons (apparently there have been some unfortunate incidents of tourists not being able to find their way out in the dark).
A couple innocently asked if they could spend the first part of the tour exploring on their own before re-joining us for sunset. A dark cloud settled over our guides face. He barked an angry lecture at everyone about the repercussions of "being caught" without a guide and about how disrespectful they were and how they would litter and mistreat the place. It was extremely aggressive. He made everyone uncomfortable and put us all on edge.
His next speech came out of nowhere and was about how Guatemala's culture has been destroyed in recent years by people like us. He singled me out, pointing to my dress not being traditional clothing and how it was a bad influence on Guatemalan youth.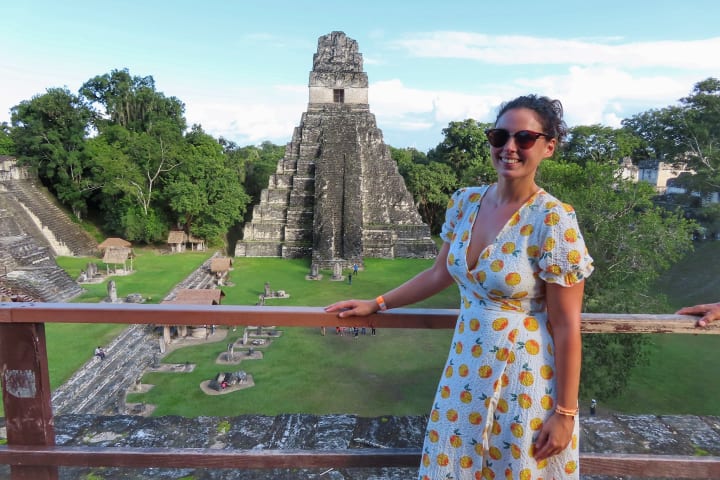 He ranted about mobile phones and Western culture and how foreigners and Europeans come here and lead local people astray and away from their own culture. I was here to learn about and celebrate Guatemala and its culture; this was a slap in the face. It felt like he hated every one of us.
Then he asked if we had any questions. One of the others mumbled,
"Well, no, you haven't told us anything about the place to ask about."
When we walked up to the Gran Plaza, he just said,
"You've got forty minutes here; ask if you have any questions."
before turning away and leaving us to it.
The most famous of the temple complex was the Gran Plaza, and it was simply stunning. I loved gazing up at the impossibly steep steps, imagining the royalty of Meso-America gracing them, as one towering structure belonged to the king and the other opposite to the queen. I took photographs from every angle and never quite tired of looking at them.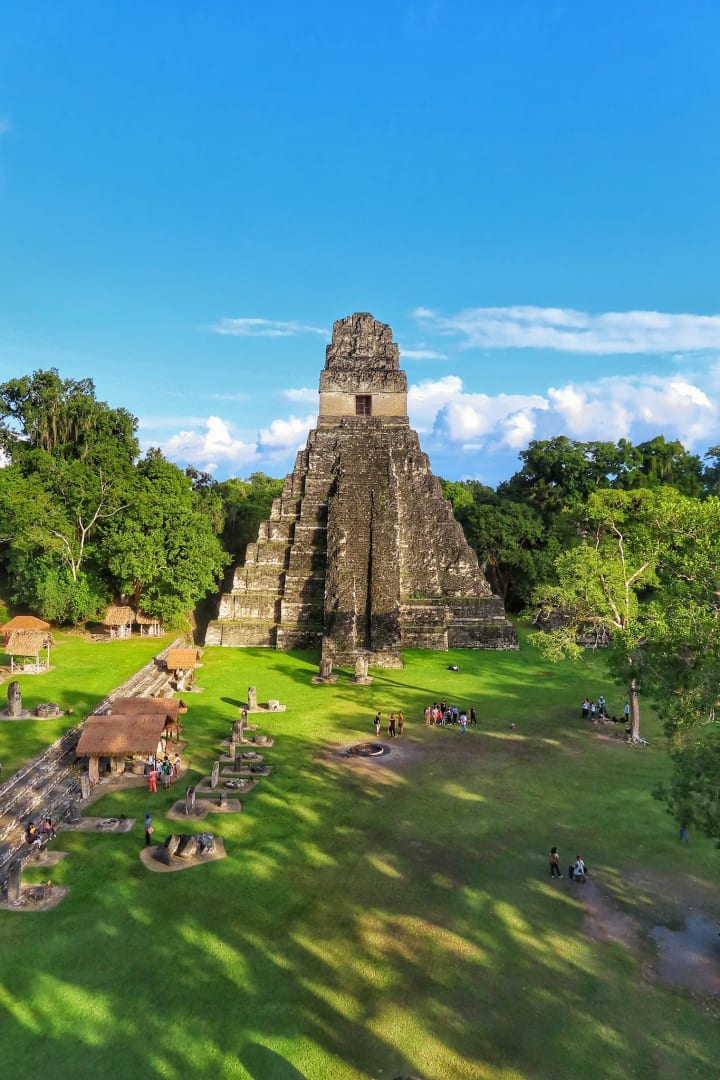 Our guide met us again to walk us around the rest of the site. He was very attentive to the Guatemalan family on the tour but cold and standoffish to all of the European tourists. It was awkward and such a shame that this was an ugly blight on an otherwise wonderful place.
We got to leave him again to climb one of the temples. It was incredible to be able to climb the temples; we weren't allowed to do that in Mexico due to COVID, so this was a real treat.
Hiking up the steps of these enormous structures, being lucky enough to spot a monkey climbing the tree beside you and a coati prowling the ground below. At the top, to sit and picnic in the clouds, looking out to the tops of the temples poking out from the forest green canopy was magical.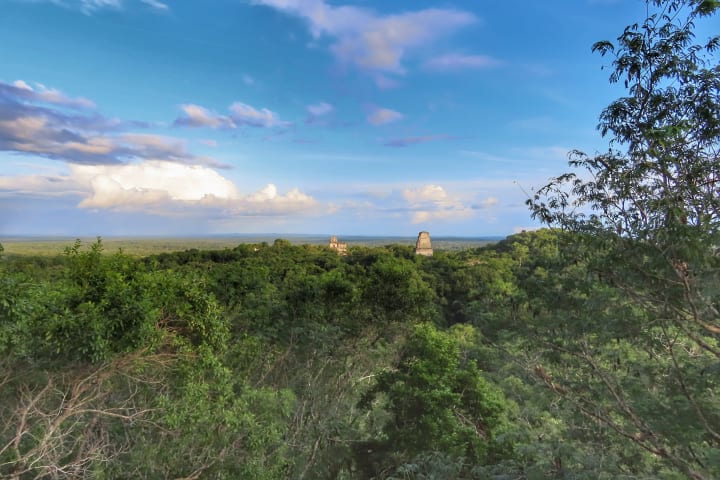 Another uncomfortable thing happened when we were watching the sunset; two women didn't have a guide but stayed to watch the sunset. Our guide pointed them out to the crowd and made a speech about what awful, disrespectful, disgusting people they were, then whipped people up into a frenzy, chanting at them to leave and then roaring in applause when they finally did. At which our guide shouted
"Thank God, those ANIMALS have left!"
I couldn't believe this ridiculous overreaction. He only meant to ruin their sunset, but he certainly ruined ours too.
Never again will I lament not having a guide! Be careful what you wish for!
Thank you for reading! Hearts and tips are always welcome and your support is very much appreciated.
If you enjoyed this, you may also like 👇
About the Creator
Hi! I'm Georgie and I share travel stories of when sh*t happens. I think that sometimes the worst things that happen to you traveling, are often the funniest
Follow me on Instagram! https://www.instagram.com/sh.t_happens_lost_girl_travel/
Reader insights
Nice work
Very well written. Keep up the good work!
Top insights
Expert insights and opinions

Arguments were carefully researched and presented

On-point and relevant

Writing reflected the title & theme
Add your insights