Flores — the Perfect Island to Start off Your Guatemalan Adventure
But make sure you book a place on the island itself to avoid sleeping with the ants!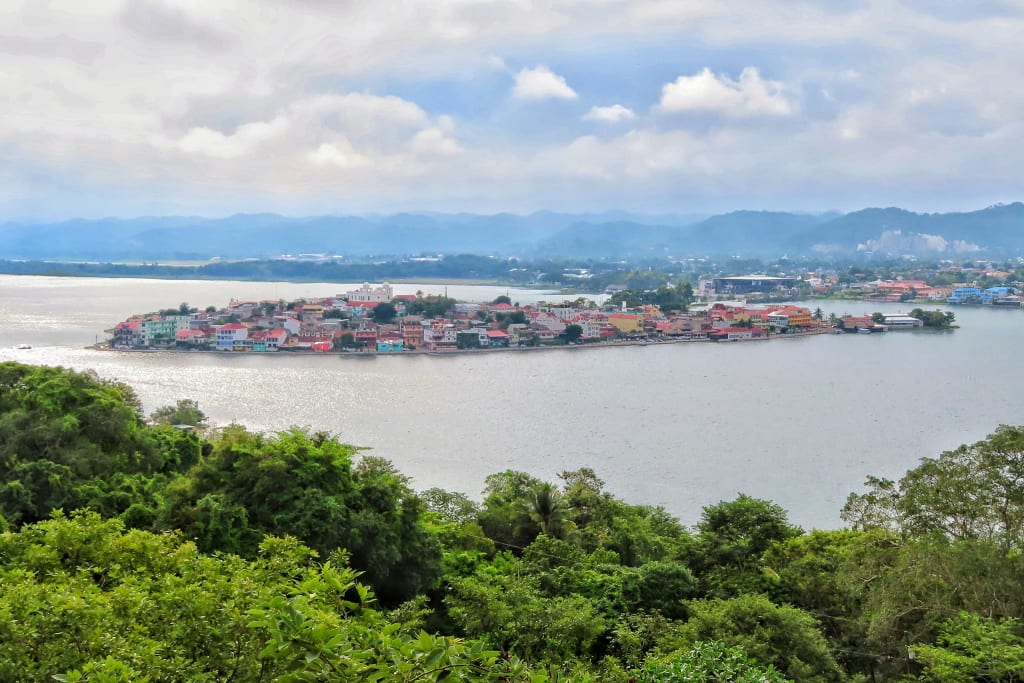 The adorable island of Flores (Photo credit to the author)
Our first stop in Guatemala was Flores, an adorable little island on a lake. Flores serves as the stopping-off point for visiting the famous Mayan temple of Tikal.
Flores means flowers. How cute is that?! Even cuter was the island itself, it lived up to its name with pink-covered trellises everywhere.
My favourite thing to do in Flores was renting a kayak. We rowed across the lake to this great little swimming spot with a rope swing. Here we spent the day chilling out and swimming.
I was lucky enough to spot two big male iguanas in the trees, glowing orange in mating season. Watching them scamper up and down trees whilst I floated in the water was perfection. Joe was happy releasing his inner Tarzan, swinging from the rope swing and splashing into the water. We were lucky enough to bask in the sunset as we kayaked back.
The sunsets were lovely here. On other nights we enjoyed them from rooftop bars.
The island is lovely and I would recommend staying there. Unfortunately for us, we weren't actually staying on the island…
We made a bit of a travel booboo. We accidentally booked a room that was within the "Flores Province" but not actually on the island itself. It was across the shore from Flores, and so close, yet so far. Whoops!
In our defence, that fact wasn't made clear on booking.com.
Our hotel could only be reached by boat. Before you start thinking this sounds quite quaint and romantic, it wasn't. The boat gave us a 9 p.m. curfew, so we didn't get to fully enjoy the lovely Flores nightlife. To add insult to injury, the accommodation didn't have a bar or restaurant, and there weren't any nearby, so we had to just sit in our room. Fun, right?
To make our sad little evenings even worse, one night we arrived back to a river of ants running along the path to our door. They were all flowing down the door like a waterfall.
A second into us tilting our heads to the side and staring at the door, my legs leaped up into an impromptu Irish jig.
"Ow! Ow! Ow!"
The ants were in attack mode, stinging our feet!
Yelping we opened the door and stumbled into the full horror scene. Our room was smothered in a black blanket of ants. And I'm not exaggerating here, we could barely see the floor, and our clothes and our backpacks were covered.
We hopped and skipped back over the ants to run and find the manager and ask what the hell we should do. He said that this happens sometimes when it rains. The heavy rain flooded the ant's nest and flushed them out. Now they were in search of a new home. I hoped that our backpacks weren't going to be their new forever home!
He moved us to another room for the night and promised that the ants would have moved on by the morning. Thank God he was right.
I guess the one nice thing about where we were staying was that it wasn't too far from a viewpoint. We climbed to the top of a tower. Here we looked out across the lake and saw the whole island from a different viewpoint.
On the woodland path home, we were cracking jokes, reminiscing about the ants, and Tikal, and singing Beatles songs.
In this moment we got to bask in the joy of starting another adventure in a new country, mistakes and all.
Thank you for reading! Hearts and tips are always welcome, and your support is very much appreciated.
If you enjoyed this, you may also like 👇
About the Creator
Hi! I'm Georgie and I share travel stories of when sh*t happens. I think that sometimes the worst things that happen to you traveling, are often the funniest
Follow me on Instagram! https://www.instagram.com/sh.t_happens_lost_girl_travel/
Reader insights
Be the first to share your insights about this piece.
Add your insights