Winning with Jasmyn Allen
Q & A an up and coming collegiate hurdler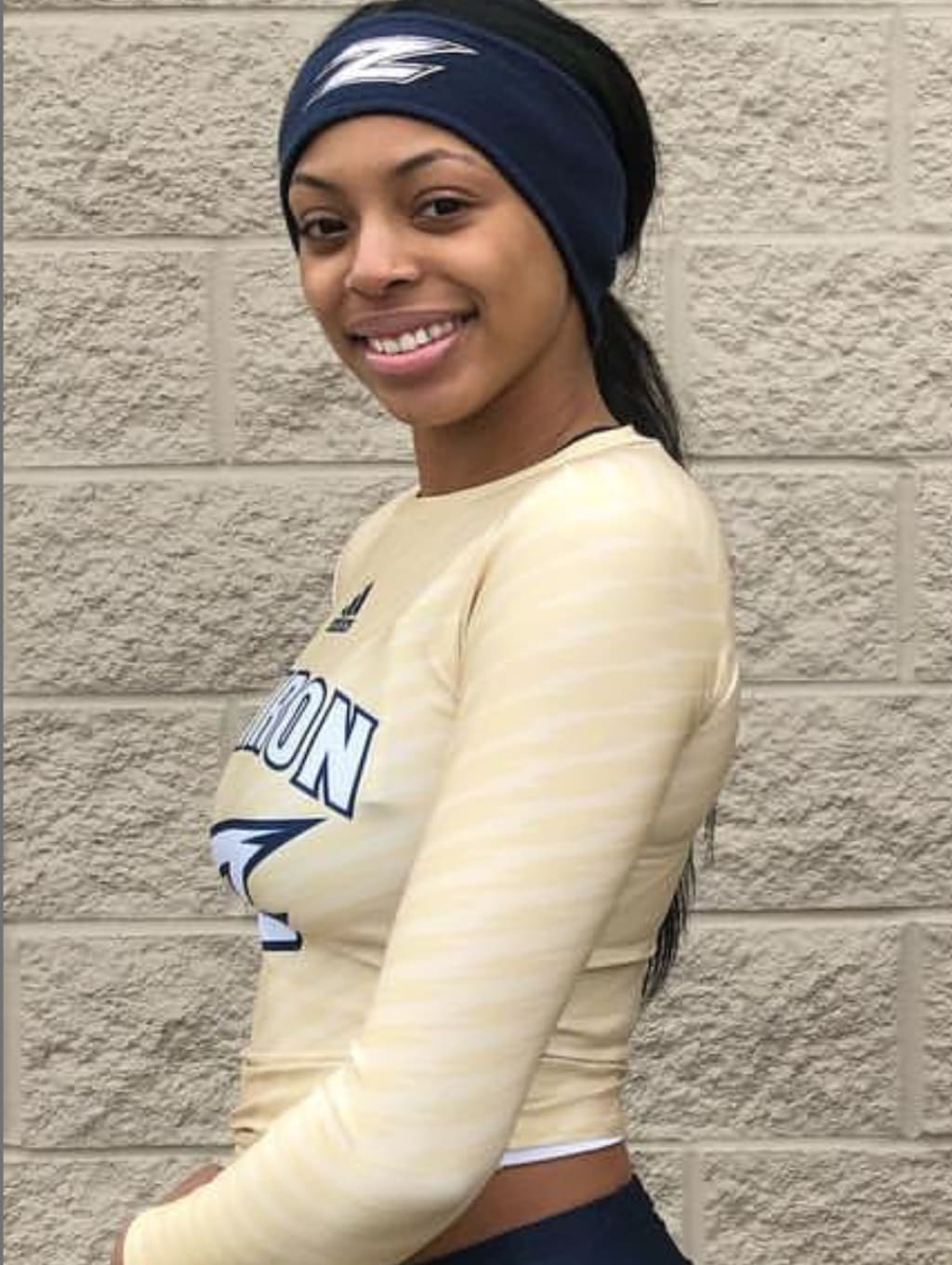 Jasmyn Allen
Jasmyn Allen is a winner. In 2019, we saw this young lady competing for the University of Akron at the Jesse Owens Classic in Columbus, Ohio. She gritted out wins in her respective heats in the 100-meter dash and hurdles. At the end of the year we uploaded a video of Allen competing at the previously mentioned meet on YouTube and by January of 2020, it had over one million views.
Wait, there's more. We created something called #trackselfiethursday on Instagram and guess what athlete's selfie got the most likes? Jasmyn Allen. Since everything she touches turns to gold, we said, "Hey why not do an interview and have the number one Q&A of the week and get rich off of the cash that Vocal Media pays."
Without further delay, we bring to you, the girl who used to beat all the boys, here's Jasmyn Allen.
Winners Only: What's your history in track and field? How did you initially get involved in the sport?
Jasmyn Allen: Well, I started in gymnastics and as I grew out of that I tried out for my middle school track team and ended up being the fastest, even with the boys. My coaches at the time were shocked, like they could not believe it. At that point I was like, "Well if I'm good like that let me keep going."
Where did you compete in high school? What were your biggest accomplishments?
I went to [Charles F.] Brush High School, [in Lyndhurst, Ohio] and one of my best accomplishments was being the fastest 60-meter hurdler in the state of Ohio in 2018.
So did you win a state title?
No I didn't. I had a bad race that day and I lost, but I was still the fastest time wise for that season. It was just a bad race.
Your success led to a scholarship at Akron. Did you have other offers? If so from where and how difficult was it choosing where you wanted to compete in college?
Yes I did. I have a book that my mom made me, I would have to go see it, but it was some other schools in the Mid American Conference. It wasn't very difficult because I liked the campus and it wasn't far from home. I didn't want to be far from home
What was your biggest adjustment during your first year of college? How did you deal with it?
My first adjustment was being away from home. I didn't get adjusted as fast as a normal person. I would always call home and want to go home. It was difficult but I eventually made friends with my girls on the track team and it got so much better.
What would you say was the best and not so best moments of your freshman season?
Trying to do that amount of school work while having intense practices was one of the worst and the best I would say would hanging with the team, because everyone gets along so well. It's just fun. We made it fun.
Did you feel your freshman season was a success?
No I don't to be honest.
Did going from being a top performer in high school to not translating the same results in college do anything to you as an athlete?
Yes i felt like that.
Did you feel more pressure in college to perform than in high school?
Yes for sure because if you don't do well in college your scholarships can easily be taken.
Your second season was going a lot better. You got a lot of top two finishes. What happened differently this season? How did you prepare for better results?
Trained by butt off for sure but right before championships, I hurt my hammy pretty bad.
Realistically how do you think you would have finished at the championship meet? Did you have a history with hamstring injuries?
I truly feel like I would have placed top two and not number two.
So by that you would've won the whole thing?
I feel I would have been top three for sure. I don't want to sound cocky but I worked so hard and I truly believe that I could have won.
No, when you work hard it's not being cocky. It's believing in the work so it makes sense to believe you could have won.
Time for a fun moment. There was a YouTube clip of one of your races that got over one million views. Any time a person who isn't a huge celebrity gets that many views it's pretty impressive. What did you think when you saw that happen?
I was really surprised especially since that wasn't my best race. It still looked good and I was really surprised
By the time you leave Akron, what would you have liked to have accomplished at the end of your collegiate track career.
I want to accomplish going [under nine seconds] in the 60-meter hurdles and able to go under 13 seconds in the 100 hurdles.
Is a NCAA championship meet appearance a possibility?
Yes I believe it.
We're close to wrapping this up. Here's a human interest question. How has the global pandemic changed your training routine? What adjustments have you made?
I just haven't been able to go a gym but I still workout for sure. The grind doesn't stop.
Finally what's the most important things that have to happen for Jasmyn Allen to cross that finish line first during next season's 60-meter hurdles indoor final at the MAC Championships?
I just need to believe and train my butt off and know that the only person that can stop me is me, and I will not let that happen.
Thanks for your time. See you next season on the podium.
Yes you will!
This interview is brought to you by Track Stars App. Click the links below to download the world's first video streaming app for women's track and field for iPhone and Android users.
Track Stars App, available for iPhone and iPad users https://apps.apple.com/us/app/track-stars/id1489617224
Track Stars app is also available for Android users at: https://play.google.com/store/apps/details?id=com.app.trackstars