This Is What the Dodgers Were Built For
How are the Dodgers doing it?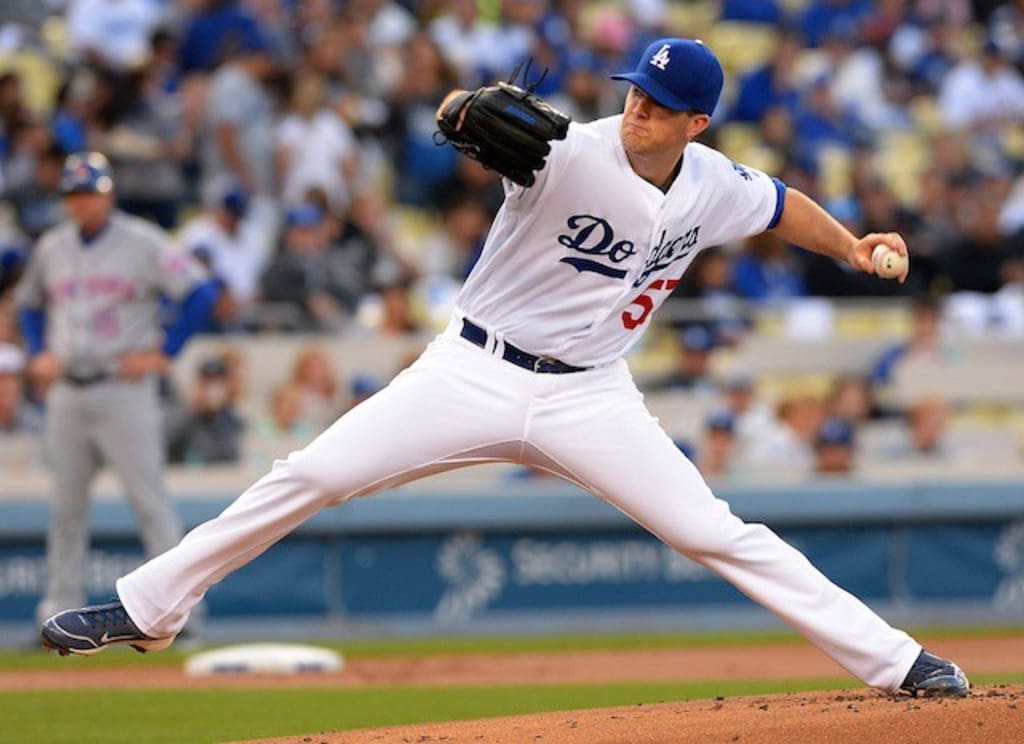 (DodgerBlue.com)
(All stats through 6/18)*
Pitchers are ever so delicate beings. There is nothing that should be expected when it comes to pitcher durability. Even the best of them, like Clayton Kershaw, break down or catch some bad luck from time to time.
The Dodgers were built to take on injuries and poor performance. They've had 6 different DL stints for their pitchers, and they've had lackluster performances from Julio Urias, Rich Hill, Hyun-Jin Ryu, and Kenta Maeda (sent to bullpen). You'd think all hell has broken loose on the Dodgers and they'd be stuck in a deep hole in both the wild card and division races.
But that's the beauty of rotation depth. There's plenty of room for error and still a lot that falls your way. The Dodgers are 46–26 (as of 6/20) and their rotation has been the third best in baseball by fWAR.
Amazingly, they've done this on the back of a Clayton Kershaw that has been far more homer prone than he's ever been before (15.9% HR/FB% vs career 7.5% HR/FB%) and is generating fewer whiffs (12.6% SwStr% vs 15.3% SwStr%). A 2.23 ERA and 3.21 FIP are nothing to complain about, but this is a Dodgers rotation with Clayton Kershaw in an off year and all the other big pieces having horrible years.
It's hard to say this is a model to copy, though. Yes, the league is filled with parity (i.e. See bullpen usage), but the Dodgers don't have any other pitchers besides Kershaw signed to ace-type money. The guys aren't cheap but the Dodgers have a great volume of high risk, high reward pitchers that most teams would simply pass up. Along with the advent of the 10-day DL, the Dodgers have been able to limit workloads on their pitchers by cycling most of them on and off the DL.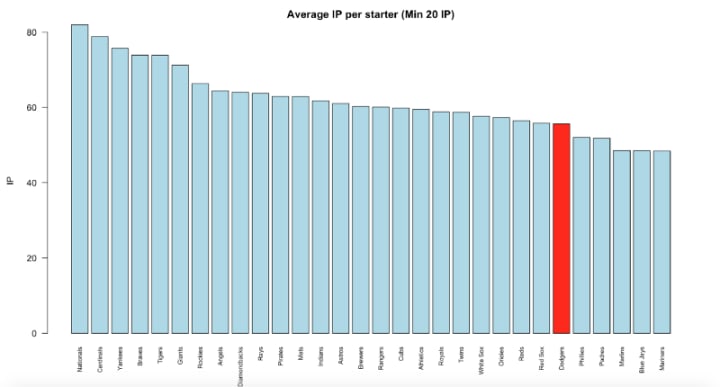 The Dodgers have the sixth lowest average IP by their starters, just in front of teams with rotations that have struggled mightily and have had to call up different players from the minors to eat innings.
But are the Dodgers just throwing their starters less than others?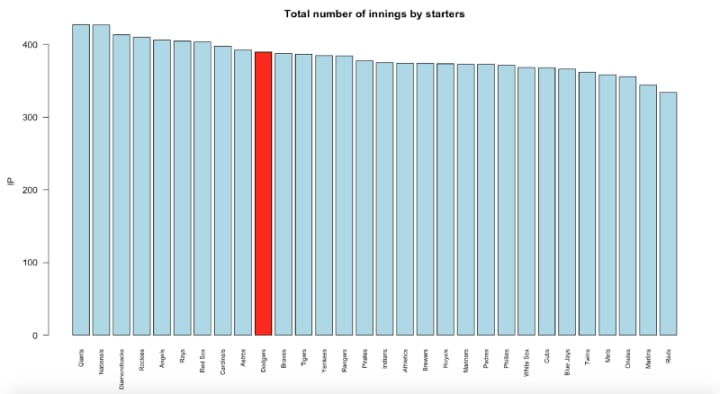 Nope, they are above the league average in terms of IP by their starters.
The Dodgers are spreading around an above-average workload better than any other team in baseball. They've been able to get the best out of injury-prone pitchers like Alex Wood (2.08 ERA, 2.1 WAR in 56 IP) and Brandon McCarthy (3.14 ERA, 1.7 WAR in 63 IP) by limiting their workloads and the workloads of their other non-Kershaw pitchers. For Brandon McCarthy, his break came in early May with what was an injury to his non-throwing shoulder, where he openly said "[my] shoulder is fine." For Alex Wood's break in late May, Dave Roberts made it clear when he said the stint was a "one start thing." Say what you will about limiting McCarthy and Wood, but their combined 4.0 fWAR total over 125.2 IP is astounding, and even more astounding in the context of their respective injury histories.
Baseball players are constantly hiding injuries. Position players and pitchers play through small strains and bruises daily. It'll probably be impossible to know when a player is playing through an injury, but for starting pitchers any small injury has extreme consequences. What the 10-day DL will do is hopefully make teams more open to resting their key players in order to have them closer to 100%. Players can be hurt, but letting them rest and get back to their true 100% self is possibly even more important. Utilizing the space and potential of resting pitchers on the 10-day DL is something the Dodgers have done to perfection this year.
As long as it's around, the 10-day DL will allow the Dodgers to cycle their quality starters around in order to keep everyone fresh. The 10-day DL has allowed the Dodgers to limit their starting pitcher workloads while simultaneously maximizing performance and keeping pitchers healthier.
Reader insights
Be the first to share your insights about this piece.
Add your insights