So About That Cubs Dynasty
All is not well on the North Side.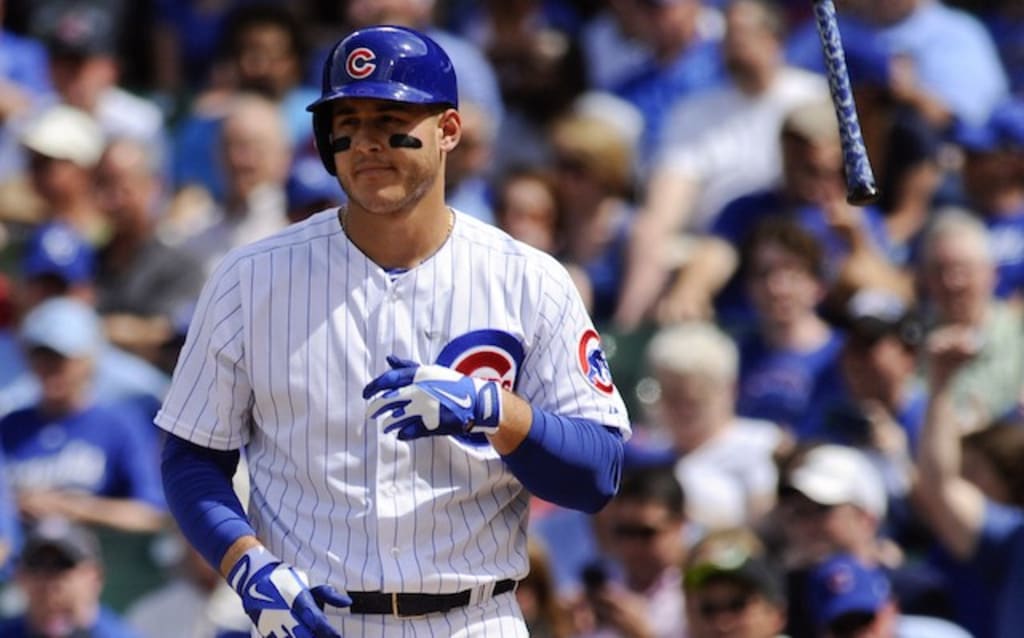 (CBS Sports)
The 2016 Cubs were something remarkable. For everything that the World Series brought to Cubs fans, I'm sure it meant so much more when talk of a dynasty was present from both traditional and saber analysts. And why not? An incredibly young core of position players headlined by the reigning league MVP and a 103 win season is freaking amazing.
Yet here we are in June of the next year and the wheels are starting to look fairly wobbly. I'll preface this by saying that this is a reaction coming early in the whole process and things can turn back around just as quickly. But I am not going to sit here and pretend that there aren't serious problems afoot for the Cubs to be serious contenders for years to come.
The Cubs are barely over .500 with a 39–37 record (as of this writing on 6/27) and are in second place in the NL Central behind the Brewers. Everyone else including me thinks the Cubs will run away with the division at some point but it can't be ignored that the Cubs have not been playing anywhere near the level they need to if they want to keep owning the league.
I'll start with the position players because things aren't as bad for them. Bryant and Rizzo are doing excellent as always with respective wRC+'s of 139 and 132 respectively, and Ian Happ has been outstanding with a wRC+ of 133 in 147 PA. It's always a welcome sign to have three premier bats in your lineup, the problem comes when the rest of the lineup is absolutely abysmal.
Kyle Schwarber: 78 wRC+ in 261 PA
Addison Russell: 83 wRC+ in 250 PA
Willson Contreras: 90 wRC+ in 229 PA
Javier Baez: 90 wRC+ in 222 PA
Jason Heyward: 87 wRC+ in 217 PA
Ben Zobrist: 88 wRC+ in 215 PA
Albert Almora Jr.: 91 wRC+ in 162 PA
That's terrible. The only other semi-regular guys to post a wRC+ over 100 have been Jon Jay and Miguel Montero and I don't expect either of them to continue to have BABIPs of .413 and .348 respectively. If these struggles continue I'm sure pitchers will adapt their approach and start to pitch around one of Bryant and Rizzo. Surely enough problems with the bats but you can easily see Schwarber and two more of those guys getting back on track. The problem, as each day goes on, is that we're waiting and waiting for some of these guys to click as they did last year but it hasn't been happening.
The biggest area for concern falls on the starting pitching. They've roughly been league average, 14th in fWAR for starters, but there's very little hope that things are going to magically turn around.
Jon Lester has a 3.83 ERA and 3.71 FIP so the HR bug (12.2% HR/FB% in 2016 vs 14.0% HR/FB% in 2017) and BABIP regression (.256 BABIP in 2016 vs .304 BABIP in 2017) have come back to knock Lester fairly hard. Sure Lester has been a little worse but there's nothing to really be worried about with him other than that he's 33 now.
Jake Arrieta has been average but far from what the Cubs are expecting him to do. A 4.36 ERA, 4.09 FIP, and 3.78 xFIP won't cut it for a frontline ace trying to push his team to another title. The big problem with Arrieta this year is that his velocity is still not picking up to where it once was.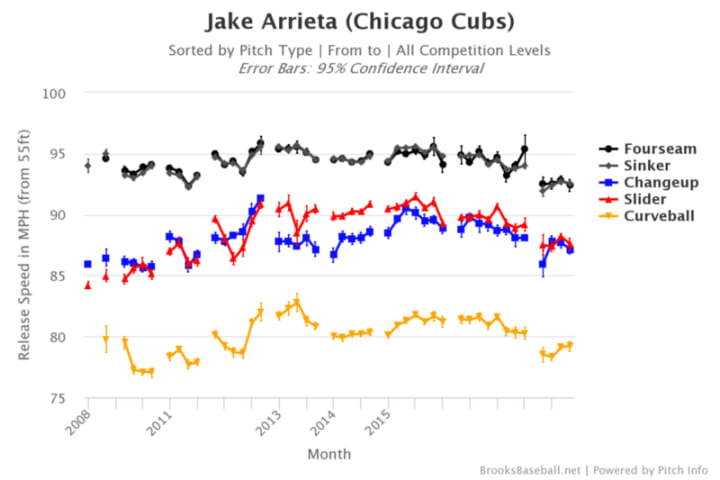 He's been generating far fewer grounders (52% GB% in 2016 vs 44% GB% in 2017) and giving up harder contact too (25% Hard% in 2016 vs 32% Hard% in 2017).
Kyle Hendricks has come crashing down to earth. He's no longer the contact-suppressing control artist who posted an ERA barely above two, he's a seemingly normal guy with a pedestrian 4.09 ERA and a 4.50 FIP. His groundball rate has actually increased this year and the strikeout and walk rates are similar, but he has come across a serious problem of giving up far more hard contact. His HR/FB% has jumped from 9.3% last year to 17.6% this year and his Hard% has jumped nearly 9% to 36.3%.
His problem? Well he's lost velocity that he couldn't afford to lose.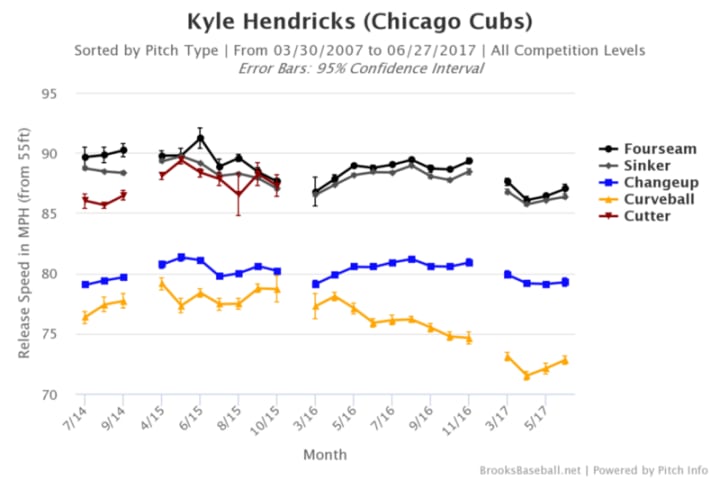 Yikes. There's nothing good about a fastball that's dipping near the mid-80s.
Filling out the rest of the rotation, John Lackey is finally showing his age as a 38-year-old, Mike Montgomery is still someone who holds 4th starter potential, and Eddie Butler has too many questions about him to be relied upon.
The Cubs' rotation has age and decreased velocity working against each of their guys to a greater extent than other pitchers around the league.
I'm sure the Cubs will trade for a frontline starter as the deadline approaches, but their farm system is already looking weak with basically nothing but Eloy Jimenez. I doubt they're willing to ship off their one blue-chip prospect, so they'll have to bite into their young core and ship off at least Schwarber and/or Baez. And you have to think that they want a starter who isn't going to be a free agent at the end of the year. Lackey and Arrieta are free agents at the end of the year and I'm sure the Cubs are not too enthused to give Arrieta the type of big money he wants as a Boras client.
The Cubs' upcoming dilemma is not enviable. Is this team going to make the playoffs? Yeah they probably will. But the Brewers seemed to have progressed their rebuild rather quickly and stand with an incredibly stacked farm system, advancing everyone's expectations on when they thought the club would be competitive. For this Cubs team, making the playoffs simply isn't enough. If they hope to go through one of the D-Backs, Rockies, Nationals, or Dodgers come playoff time, they better bring more firepower.
Reader insights
Be the first to share your insights about this piece.
Add your insights