Andrew Triggs: The Most Underrated Pitcher on the Most Underrated Staff
Andrew Triggs and the A's pitching staff are pretty good.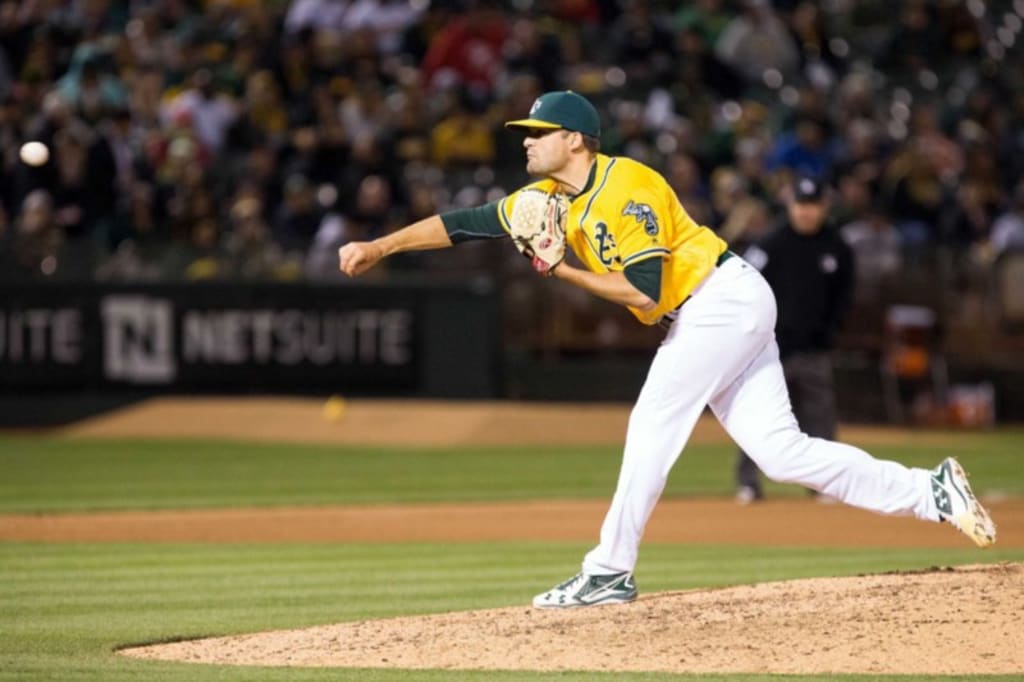 USA Today
For most of you reading this I'm sure the last time you said anything about the A's, you put your GM hat on and concluded that the Josh Donaldson trade wasn't a good one after he won the MVP award. Wow what a great analysis there, you should work in baseball! Or you noticed that Khris Davis hit 42 HRs last year and thought "Huh, neat," and moved on with your life.
But for those of you who do follow the A's, you surely know about the young and talented rotation that has been largely forged by tearing down the 2012–2014 Oakland A's. Jesse Hahn acquired from the Padres in the Derek Norris trade, Sean Manea coming over in the Ben Zobrist trade, Jharel Cotton coming over in the Rich Hill trade, and Kendall Graveman shipped over in the Donaldson trade. In all the flak that the A's receive for having to tear down their contending teams, they've turned around some surprisingly good pieces to fill out their rotation. However, the most underrated starter in one of the most underrated rotations in baseball is Andrew Triggs.
Throughout Triggs' time in the minors (from rookie ball and on and discounting the 6 IP at AA at the end of 2013), he's never run a BB% above 6.2% and a GB% lower than 55%. Given, he's done this in a small number of innings, but when stretched out as a starter in the big leagues he posted a K-BB% of 17.6% and 50% GB% in 56 IP to the tune of a 77 FIP-. Pretty damn good value out of a waiver claim from the Orioles. This year? A K-BB% of 13.6% and a 55% GB% in 29 IP, good for a 70 FIP-.
Triggs has been able to pitch with so much success due to some serious funkiness. Here is a look at his release point compared to a well-known lefty with some serious funk.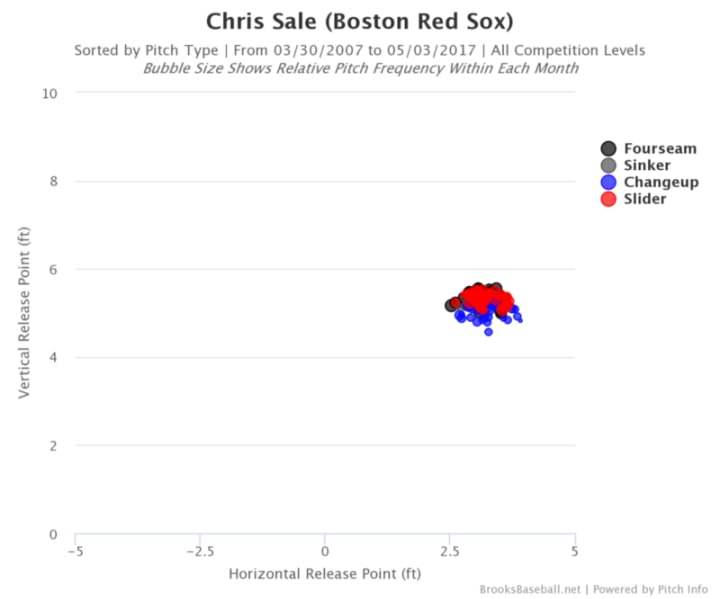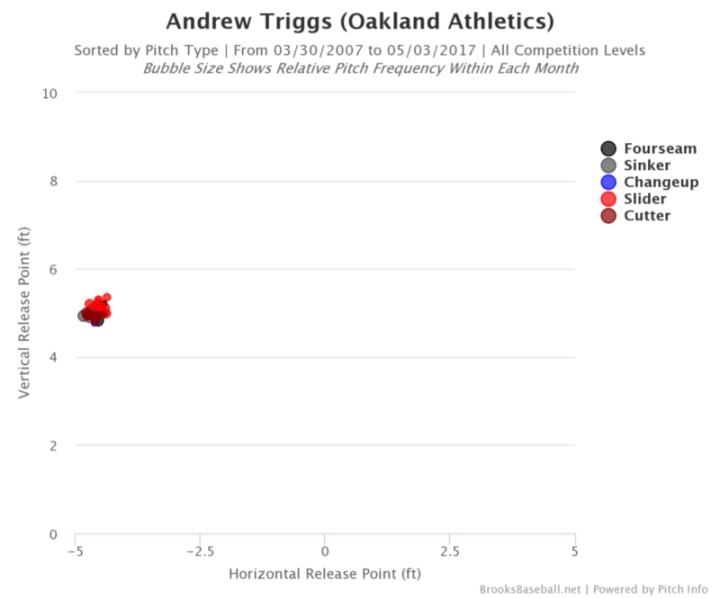 Triggs stands over near the third base side of the rubber and releases the ball from a similar height. Now, Triggs isn't built like a bird but his release point is still an example of how unorthodox it is for a starter to be throwing from a release point like his.
As you can see in the video, Triggs is doing his best impression of Sale by looking like he's about to throw behind each right handed batter (Hey ohh!). But the extreme release point would make you think he suffers against lefties similarly to opposite handed batters much like a ROOGY or LOOGY.
Yet amazingly, Triggs doesn't suffer from platoon splits. Lefties hit .216/.284/.320 and righties hit .246/.290/.363 off him in his 85 IP for his big league career. To generate these kinds of numbers, Triggs features a two-seam fastball that does well in generating groundballs. But his bread and butter pitches are his slider and curve that have been used for a combined 52%, both generating 14.7 and 12.7% SwStr% respectively.
This year Triggs has seen his K% go down (23% to 18%) despite having similar chase, contact, and swinging strike rates. His SwStr% is at 10.4%, in line with last years of 10.2% and a O-Swing% this year of 31.5% compared to last years of 30.0%. If his previous start against the Astros is any indication, the K% should go up and we should see a K-BB% in line closer to 16 or 17%.
Starters last year who were able to maintain a GB% of 50% or higher as well as a K-BB% of at least 15% (min 100 IP): Noah Syndergaard, Aaron Nola, Johnny Cueto, Steven Matz, and Jameson Taillon.
Quite the company that would be for Andrew Triggs, the overlooked waiver claim who is quietly putting together impressive work for the A's. While things are much more difficult for a pitcher whose fastball sits at 89 MPH, the amount of funk and deception Triggs possesses has gotten him to outperform every scouting report and gotten him through every level of professional baseball. For a team in the midst of a rebuild, a hidden piece like Triggs is a reminder that things are starting to work.
Reader insights
Be the first to share your insights about this piece.
Add your insights