Building a New Future for Baseball
Two-way players are the way of the future.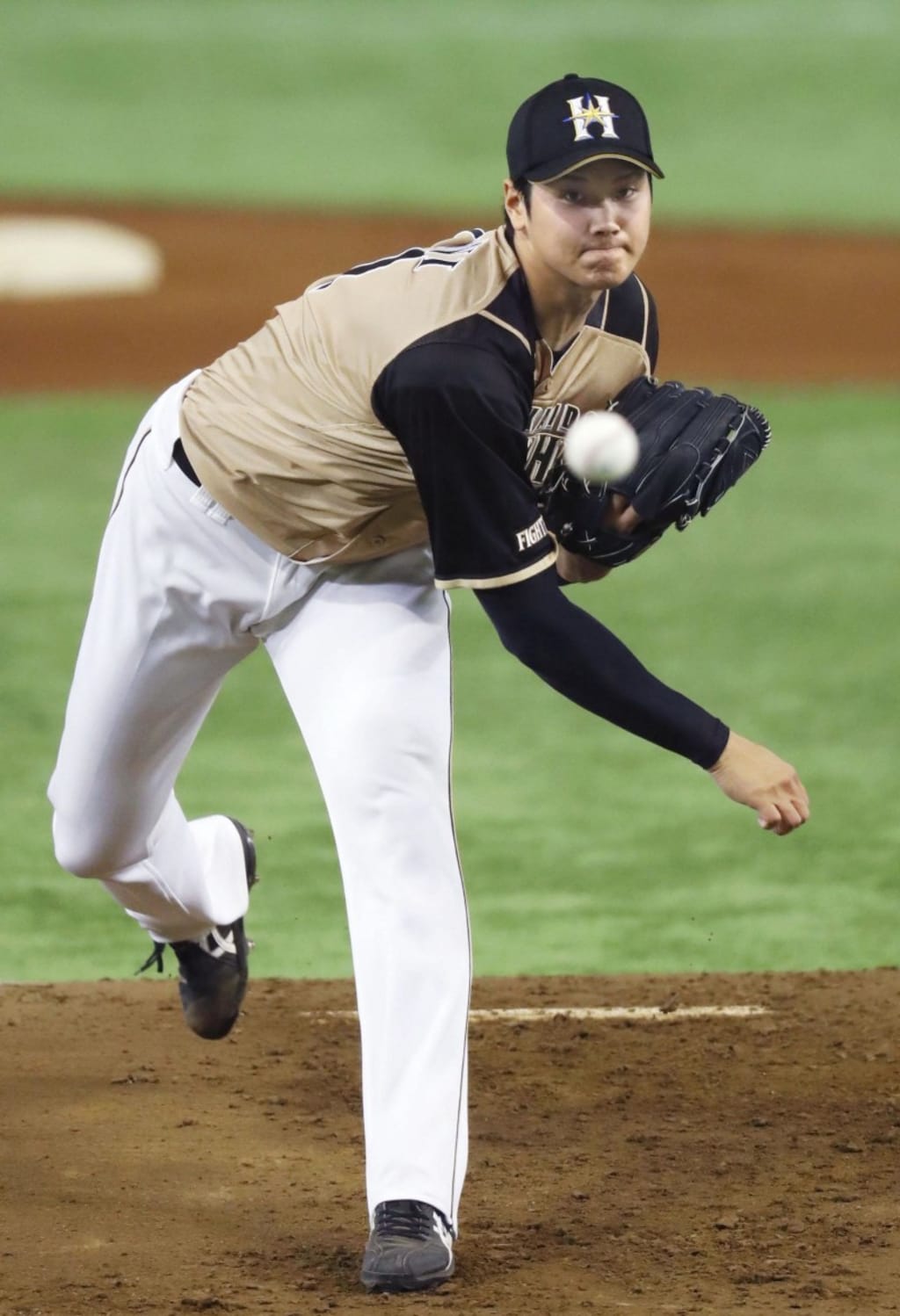 The Japan Times
Every year we debate how baseball must adapt to save itself from dying and draw a wider audience. Pace of play comes to the forefront, and for good reason, as the casual fan can grow tired of sitting through a 3+ hour game, and there are sensical ways to change the game. I am a big fan of the two-minute clock for between innings, but when I hear talk of the 20-second pitch clock and automatically putting a runner on 2nd in extras, I cringe. Major League Baseball doesn't need rule changes, it needs to embrace the true talent of its players.
In a time where teams are looking for every way to maximize player value and the commissioner's office is trying all they can to invigorate interest in the game, it is time to fully embrace the two-way player. Two-way players have been a thing of baseball past, but have never been anything significant. Christian Bethancourt was the most recent experiment in the MLB before he was sent down to AAA to work on his pitching.
But over in Japan, Otani is waiting. Shohei Otani, the 22-year-old ace and slugger, has been dominating Japan with a filthy repertoire of pitches headlined by a fastball that has hit 102 mph and towering shots that get lost in the roof. Last year in the NPB Otani posted a .322/.416/.588 line along with 22 HR in 382 PA. Pitching, he went 140 IP with a 1.86 ERA, 2.9 BB/9, and 11.2 K/9. Just for reference, Yu Darvish posted a 1.63 ERA in 232 IP in his final year in Japan and Kenta Maeda put up a 2.09 ERA in 206 IP in his final year before coming over. I think Otani's numbers will translate to the MLB just fine, and his Davenport translations seem to think as so too. A 3.01 ERA with 9.2 K/9 and 2.9 BB/9 over 137 IP and a .306/.367/.512 batting line. If you haven't heard Otani before check out some of his highlights. And if you're like me and have heard of Otani, you'll probably watch this video again:
Otani is one monster, but there are more coming in the US as well.
Just a week or two ago, this was the cover of Sports Illustrated: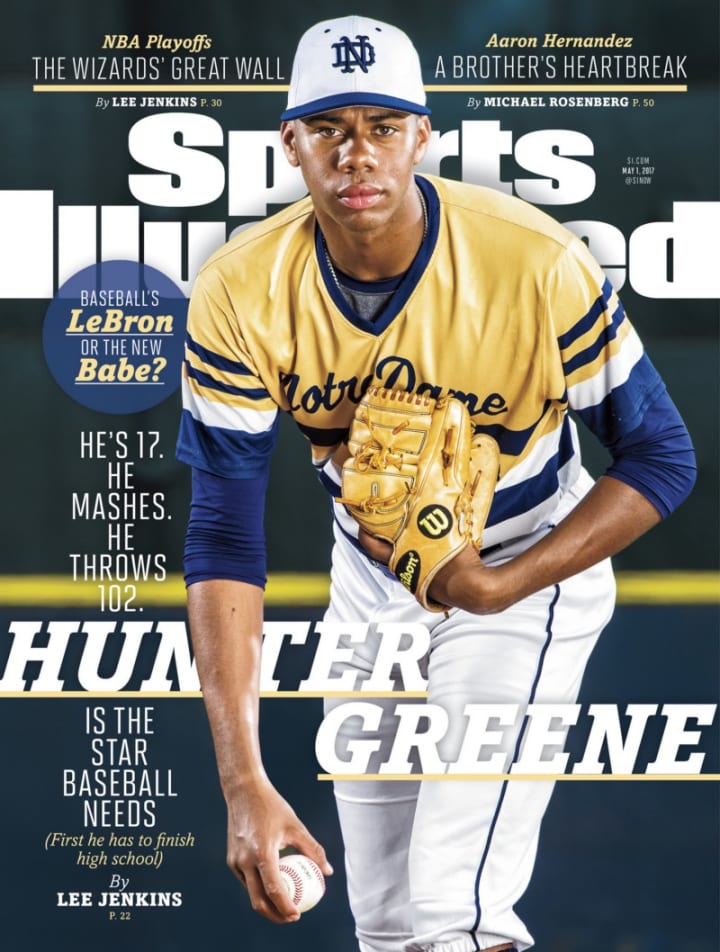 The cover sums it up pretty well (and why do they have to bring LeBron into everything?). Hunter Greene is a top hitting prospect who happens to be even better at pitching and looks to go first overall in the draft. MLB.com projects him out as a 60 grade pitcher and a 55 grade position player, quite a lofty outlook for a 17-year-old kid.
But Greene most likely isn't even the best two-way player in this year's draft.
Brendan McKay, the LHP/1B out of the University of Louisville has been dominant on both sides of the diamond this year, grading out as a 60 grade pitcher and 60 grade hitter who holds a higher floor than Greene. While he doesn't have the electric stuff that Greene has, he has already shown himself as a developed pitcher. In 67 IP he has a 2.15 ERA to go along with 16 BB and 95 Ks. At the plate, McKay is hitting to the tune of a .396/.517./716 line, a .321 ISO, and 11 HR in 174 PA.
These kinds of prospects do not just regularly come up in the draft, players with this kind of talent both ways are rare. Even if they don't turn out to be full-time guys in the rotation getting a healthy number of at bats at DH or in the field, the value they can bring to a team with their arm and bat are unprecedented in this day and age. We already marvel at what Madison Bumgarner does with the bat and the value that he brings, but imagine giving a better hitting pitcher even more at bats. Bumgarner has been able to provide ~1.0 fWAR in each of the last three seasons with the bat alone in ~90 PAs, and upcoming talent like Otani, Greene, and McKay can provide more value if they hit as they're projected to do over more PAs.
Of course, the larger concern is that it may be too difficult to develop these guys as effective two-way players, and I'm sure there are organizations out there that are unwilling to try something new like this. Thankfully, general opinion on using two-way players should change once Otani hits the open market or as soon as he starts to play. But even if these guys don't pan out as starters, they can work out as relievers. Can you imagine an Archie Bradley or Chris Devenski multiple inning reliever that hits well with the bat too? A 2.5 WAR pitcher that is also a 1.5–2 WAR batter is an elite player that teams should be desperate to have.
From the viewpoint of front offices across the majors, there is untapped value in letting players hit and pitch (Hey Yankees, Aaron Hicks has a 95 mph fastball). From a fan's perspective, you get to see baseball as you never have before and you see players doing things that no one really has before. You want to make an identity for your sport? Show guys who hit 400 ft home runs and go out the next inning and blow hitters back with 100 mph fastballs. Change the way the game is perceived by fans by changing the conventional ways that players can be used.
Reader insights
Be the first to share your insights about this piece.
Add your insights