The D-Backs Are Sneaky Good
If you haven't paid attention to the D-Backs this year, you should now.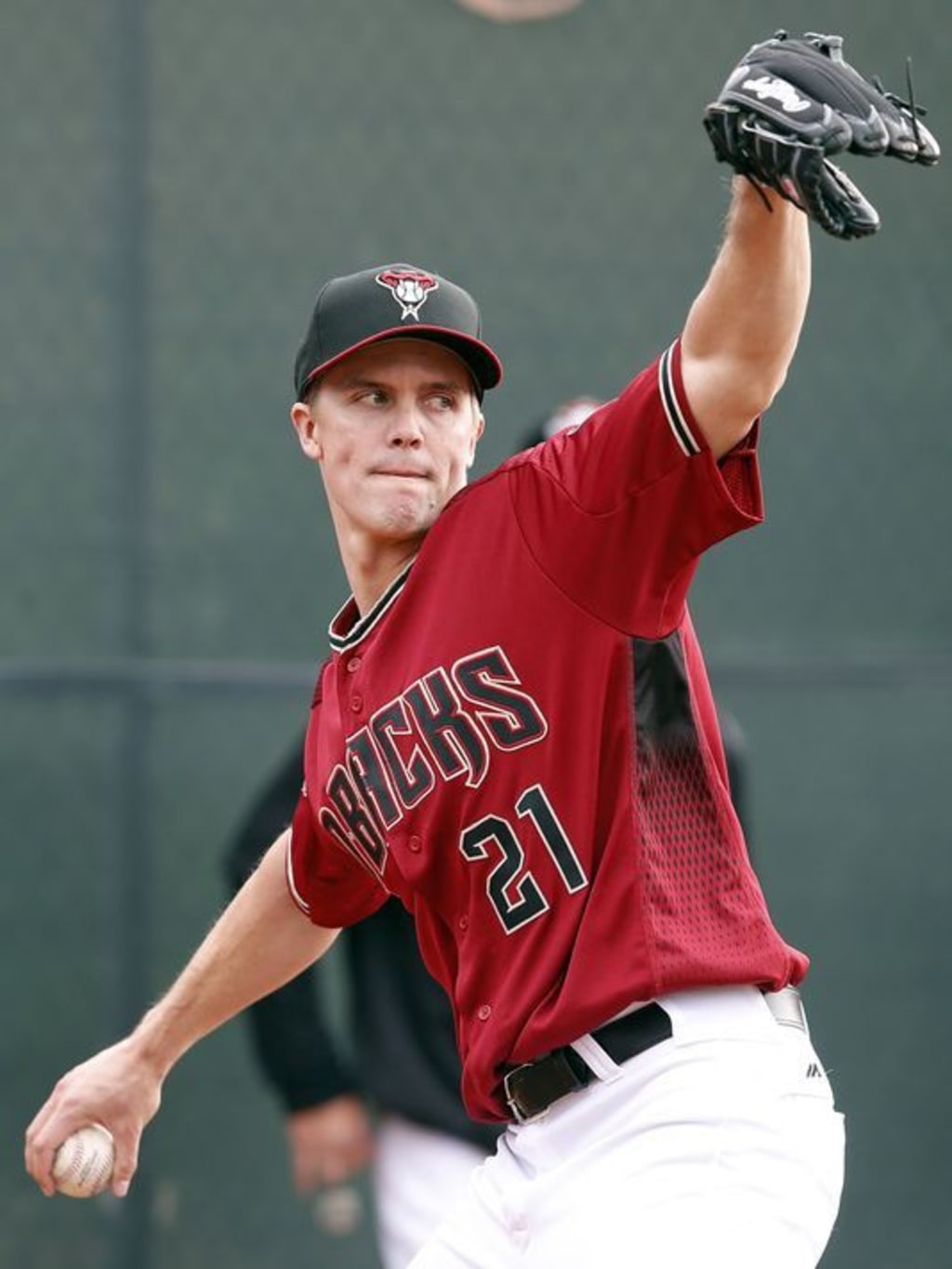 (USA Today)
If you haven't paid attention to the D-Backs this year, you should now.
The NL West playoff odds currently look like this: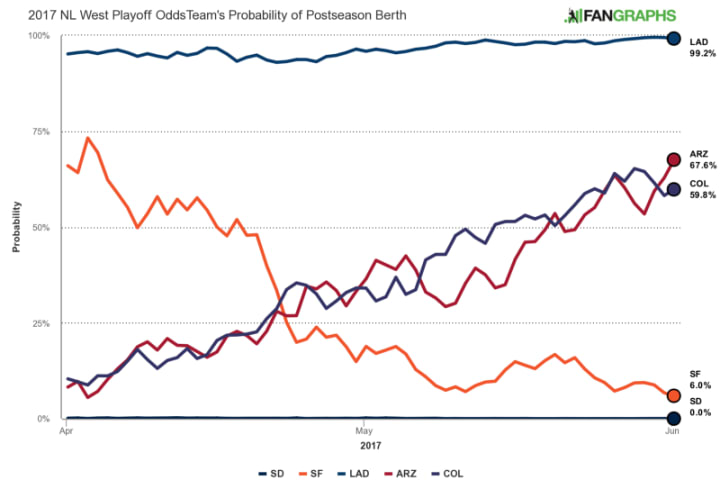 To go along with their 34–22 records they are currently 7th in position player fWAR and 3rd(!?) in pitching fWAR. Their BaseRuns record? Second best in baseball. Run differential? Right behind the Yankees, 5th best in baseball. Okay, maybe you're all about that Pythagorean record. They're third.
It doesn't matter how you chop things up, this D-Backs team has been winning and they've been performing up to their record. And amazingly they've done it on the strength of their starting pitching which leads the league in fWAR.
But before we get into that, let's address their bats.
You all know Paul Goldschmidt. The all-star, and under appreciated first baseman is performing just as you would expect with a .303/.429/.564 line and a 154 wRC+. But all while doing this Goldschmidt continues to rack up stolen bases, with 12 (?!?) this season and a remarkable 32 (?!?!!!!???) last year. Jake Lamb has improved by simply getting better at mashing righties (175 wRC+ vs RHP) despite hitting even worse against lefties this year (45 wRC+ vs LHP). And the one surprise carrying a good portion of the load is SS Chris Owings who has held a 117 wRC+ in 204 PA thus far with a 28 point increase in his ISO (.140 vs .168) and surpassing his previous season HR total in over 250 fewer PA (6 HR in 204 PA vs 5 HR in 466 PA).
The D-Backs have been holding their own on offense even without a strong performance from the one player they so desperately missed in their lineup last year: A.J. Pollock (104 wRC+).
Nothing new with the D-Backs on offense. They continue to find role players who quietly turn in above average seasons to go along with the consistently-amazing and amazingly-consistent Goldschmidt.
But their rotation has seemingly transformed overnight despite only acquiring Taijuan Walker in the offseason.
Zack Greinke is starting to own up to his contract and fighting father time by relying more heavily on his slider and dropping off the 4 seamer usage more than likely due to another velo dip. The slider comes with a 30% whiff rate that has propelled Greinke's K% to 29.6% from 20.1% last year, and his BB% has dropped down to 4.9%. He's throwing like a new type of Greinke but an ace nonetheless.
Nearly as strong this year has been the perplexing Robbie Ray. Don't get me wrong, Ray has been elite at striking guys out but always suffered from whatever ailness must hang over Michael Pineda in missing bats but giving up crazy hard contact. Ray has increased his K-BB% to 19.8% so the peripherals you would expect Ray to have are still there, but as of this year he's run a BABIP nearly 100 points lower than last year. Someone as good as Ray was not going to run a .352 BABIP much longer but his current mark stands at .256. And this is happening all as his hard hit percentage has increased from an already high 36.6% to 42.9%. The BABIP surely won't last and be THIS low but it's been long overdue for Ray to catch some luck, but a 3.00 ERA puts smiles on the faces of any long-standing Robbie Ray xFIP believer (It's your time people, embrace it).
Taijuan Walker has been surprisingly decent, seeing a strong uptick in groundballs thanks to an increase in two seam usage on his way to a 3.42 FIP and 3.46 ERA over an injury shortened 52 IP. I'm not sure whether or not he can ever live up to his pedigree when he was a prospect with the Mariners, but he has shown all the makings of being a serviceable #3 starter.
But the upside at the end of the rotation is looking to come from Zack Godley of all people. Yes, Zack Godley has run a 2.39 ERA, 2.98 FIP, and 3.11 xFIP over 37 strong innings. He hasn't quite overpowered hitters with his 21.9 K% but he's putting up a 13.4 SwStr% which should indicate that he's due for some more K's in his future. While he's been missing more bats, Godley upped his GB% too, up to 64%, far above his career norm of 53%. He's been doing it in part because he's throwing his sinker and his curve for over 70% of his pitches (previous high for the two combined pitches was 50%). I mention the curve because it's just…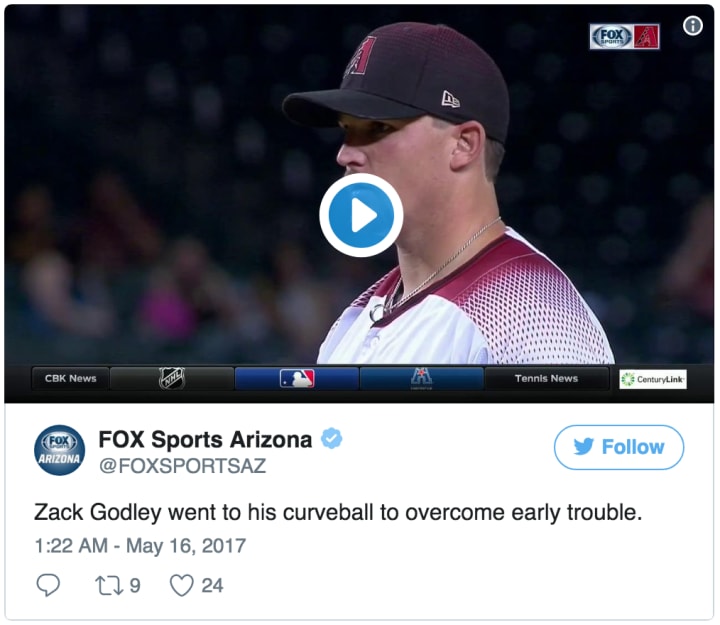 I mean that's just filthy.
And I couldn't mention all the success of the D-Backs starters without mentioning that Jeff Mathis and Chris Iannetta have been great behind the plate at getting their pitchers' extra strikes. Mathis and Iannetta rank 8th and 11th respectively in Baseball Prospectus' Framing Runs metric, and 7th and 11th in CSAA. Together they make a top 10 framing duo, something the D-Backs have not seen in a long while.
The big weakness for the D-Backs is certainly in their pen. They don't have the depth that most bullpens would have considering how good this team has played, and it seems a given that any elite team has elite guys waiting to shut a game down from the 7th inning on. Fernando Rodney has been super meh and the rest of the pen beside Andrew Chafin and Archie Bradley has been sorta meh as well.
Chafin has been performing out of his mind, by typical Andrew Chafin standards that is, so it's hard to expect him to continue to produce a 35% K% when his career norm is 22% (although he gets tons of groundballs, 59%). But the excitement for the D-Backs is having Archie Bradley serving as a lite version of the Andrew Miller, Chris Devenski super reliever. Having logged 7 multi-inning appearances and coming in during high leverage situations, the former top prospect has transformed himself into a fireballing reliever. Over 24 IP so far, Bradley has a 33.3% K% and a 6.5% BB% that has helped prop up his 1.46 ERA.
There's nothing that quite jumps at you when you glance at the D-Backs roster this year. They were not so great last year and now they're great with basically the same roster. Luck has started to fall towards Robbie Ray, Zack Greinke and guys like Zack Godley and Archie Bradley have adapted their game to become seemingly new players, and Paul Goldschmidt is Paul Goldschmidt. The D-Backs have been excellent this year and are serious contenders in the NL, don't overlook them.
Reader insights
Be the first to share your insights about this piece.
Add your insights