The Dodgers: Kings of Weak Contact
When it comes to not missing bats but not allowing hard contact, nobody does it better than the LA Dodgers' pitching staff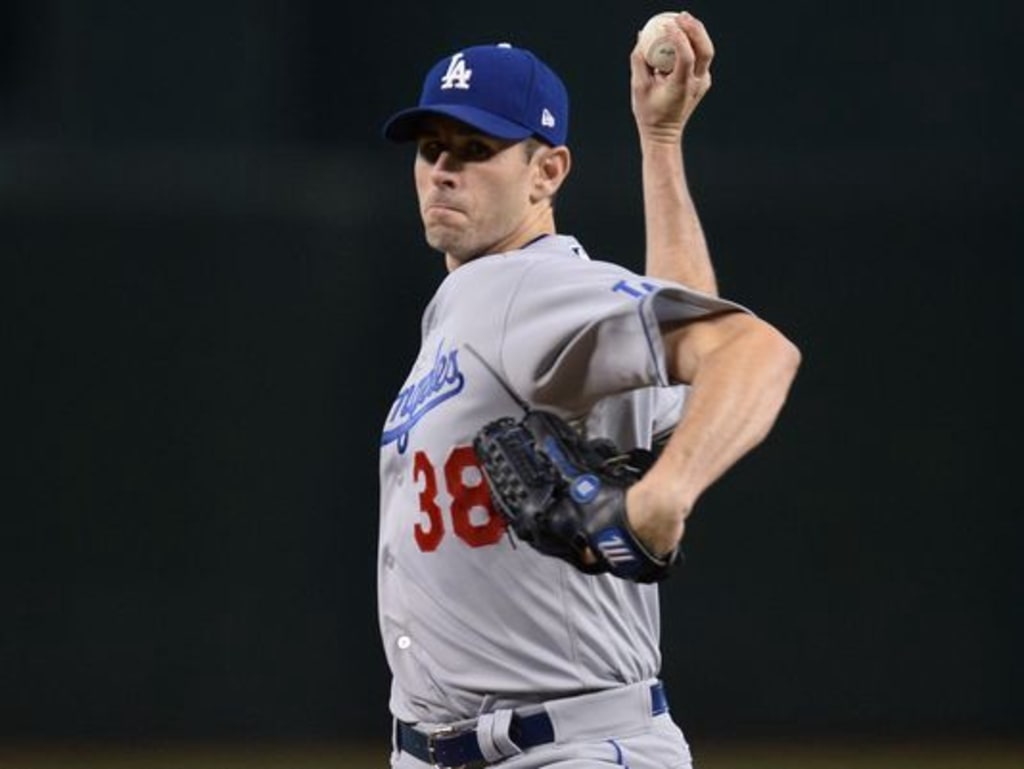 (USA Today)
The Dodgers have been the best pitching staff in baseball this year. They lead the league in fWAR amongst starting and relief pitchers, and they've been rolling through teams. They do all the things you would expect an elite staff to do. They strike out a great deal of batters (25.4% K%) and don't walk many, either (7.1% BB%), giving them the third best K-BB% in the league.
But what the Dodgers do best is creating weak contact. They hold the lowest average exit velocity, 85.8 MPH, beating out the Cubs in second by 0.8 MPH. However, average exit velo on its own is flawed. For ground balls it matters little, but fly balls and line drives matter a great deal more. Nevertheless, they have the lowest exit velo on fly balls and line drives as well at 91.0 MPH, barely edging out the Cubs by 0.3 MPH. While they hold the best averages, the range between first and last is 3.2 MPH. It means something to be the best, but maybe it doesn't matter as much as we think.
Where the Dodgers truly separate themselves from the rest of the pack is xwOBA: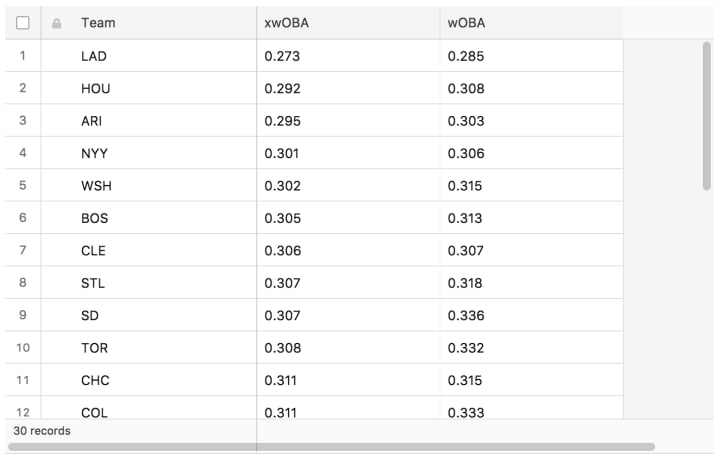 No one really comes close. For a visual:
Do you see that little dot in the bottom left corner? Yeah, that's where the Dodgers are. By both actual and expected wOBA, the Dodgers are in a tier of their own. Their pitchers have led in xwOBA in 2016 and 2015 (.291 and .281 respectively, the only two years in which Statcast data has been made publically available).
As of now, the league average wOBA is .320 and the Dodgers have USED two pitchers who have posted an xwOBA over that average. One of those was Julio Urias, who is currently out for the year, and the other was Sergio Romo, who has faced one batter in the month of July. Alright, maybe that's not fair, so let's set the mark at .300. That leaves us with four total, now including Hyun-Jin Ryu (DL) and Luis Avilan.
It's one thing to have a pitching staff with some high performers, but it's another to have quality from top to bottom.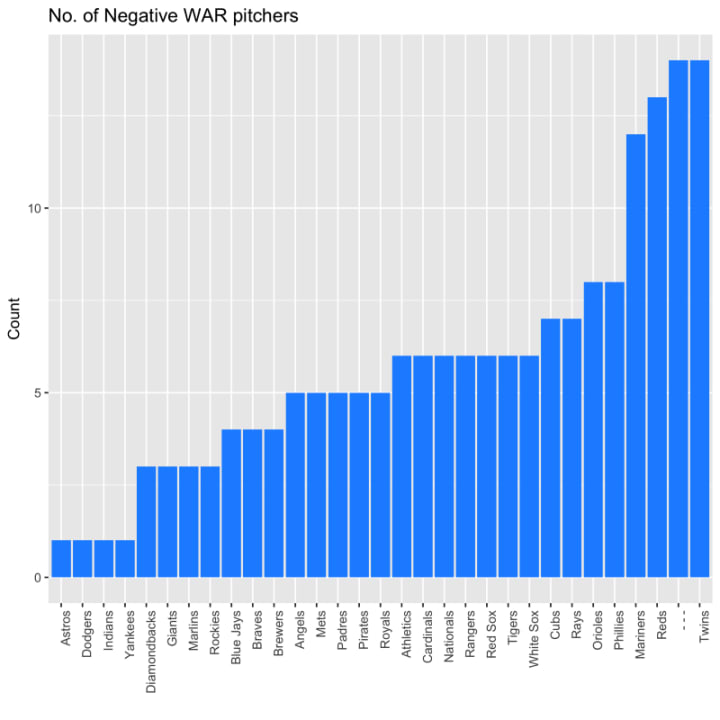 The best staffs in baseball don't carry slackers. It's a testament to depth and excellent roster construction.
I wish there were some organizational philosophy I could point to, but there may not be one simpler than this. The Dodgers lead the league in first pitch strike percent at 63.8%, and also lead the league in percent of pitches thrown when ahead in the count at 31.72%. Getting ahead in the count lets your pitchers do as they please and puts hitters in a hole. It's a large part of why the Dodgers lead the league in O-Swing% (percent of swings out of the zone) and SwStr%. Of course, it could also be that the Dodgers simply have pitchers with absolutely amazing stuff; Rich Hill's curveball, Kenley Jansen's cutter, or literally anything Clayton Kershaw throws.
But as of now, it's the whole rotation 1–5. This is where they rank in terms of percent of balls in play hit at 95+ MPH (amongst starters):
Brandon McCarthy, 20.9% (1st)
Alex Wood, 24.6% (2nd)
Rich Hill, 25.3% (4th)
Kenta Maeda, 25.7% (6th)
Clayton Kershaw, 27.6% (13th)
Yes, we amazingly found something that Clayton Kershaw does decently worse than his teammates. Much can be said of Kershaw struggling earlier this year with the home runs, but I think this is pretty telling of how well the staff has done at limiting hard contact.
We knew the Dodgers were good when it came to striking batters out, but they are in a class of their own when it comes to inducing weak contact. This isn't a team of similarly built pitchers, this is a just a group of great pitching, headlined by the greatest pitcher of this generation. The Dodgers' rotation is an incredible pitching staff that has been the masterclass of the Statcast era.
Reader insights
Be the first to share your insights about this piece.
Add your insights