It's Time to Start Giving Zack Godley Your Attention
A pitcher with a rare combo of grounders and whiffs is bolstering an already strong rotation out west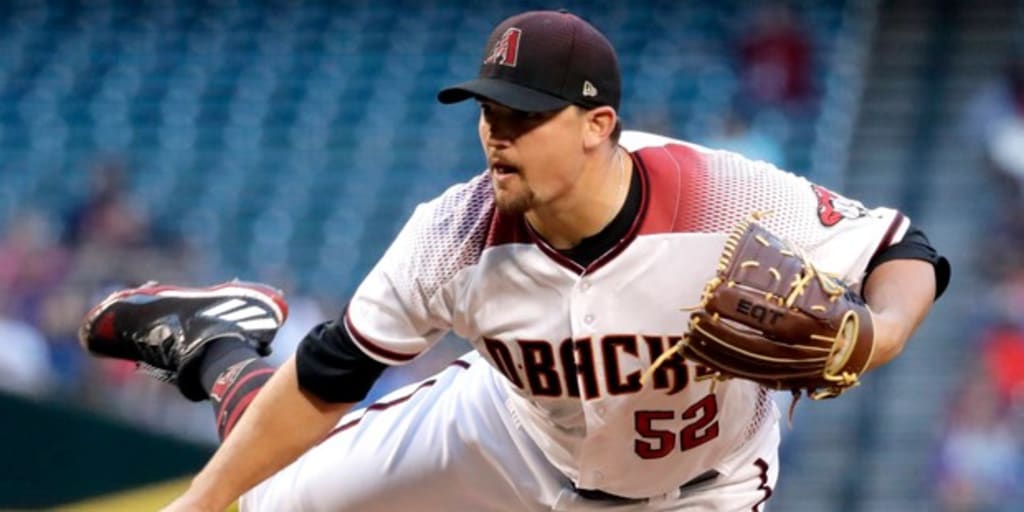 (Arizona Sports)
Earlier in a post I wrote as the D-Backs were looking more and more like legitimate contenders, I highlighted Zack Godley as someone who was having a good deal of success. The Arizona rotation is strong. Zack Greinke and Robbie Ray are great, but Zack Godley has continued to fly under the radar.
Since coming into the rotation in late April, Godley has turned in 69.2 IP good for a 2.58/3.11/3.39 ERA/FIP/xFIP line and 1.8 fWAR. He's held a K-BB% of 16.4% and a GB% of 59.5%. The combo of grounders and control is rare in pitchers. Amongst starters this year (min 60 IP), there have only been five who have posted a K-BB% greater than 15% and a GB% greater than 55%. Those names?
Lance McCullers
Alex Wood
Dallas Keuchel
Sonny Gray
Zack Godley
Godley has placed himself in more elite company. Much of his success this year is due to a heavy increase in his sinker and curveballs. They account for two-thirds of all his pitches and the combined usage for the two is up from 49% in 2016 and 33% in 2015.
First the sinker.
The sinker itself is nothing special in getting whiffs, generating a 3.0% SwStr%, but creates a gaudy amount of grounders. Of the sinkers put into play this year 71% have been ground balls, a figure similar to Dallas Keuchel's career ground ball rate on his sinker (70%). Much of the sinkers success has been on Godley to locate use that tail to his advantage, pitching away from both lefties and righties.
Against righties: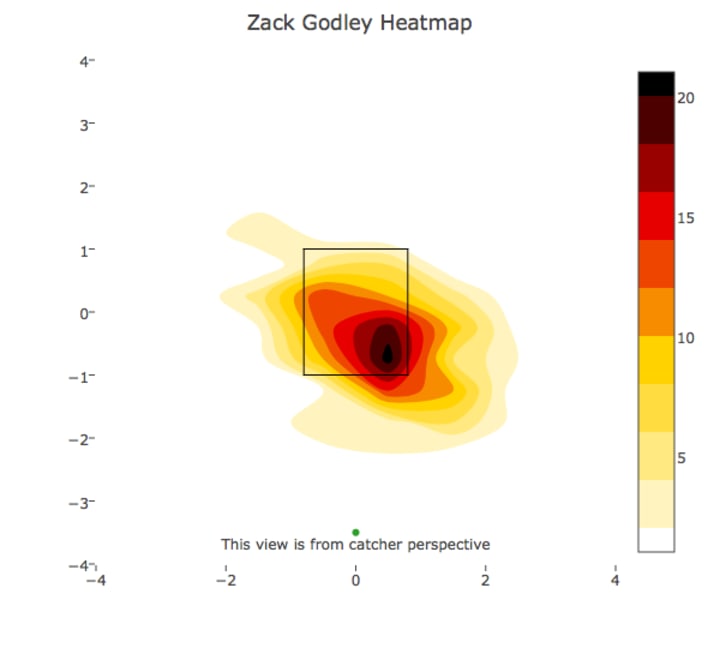 And against lefties: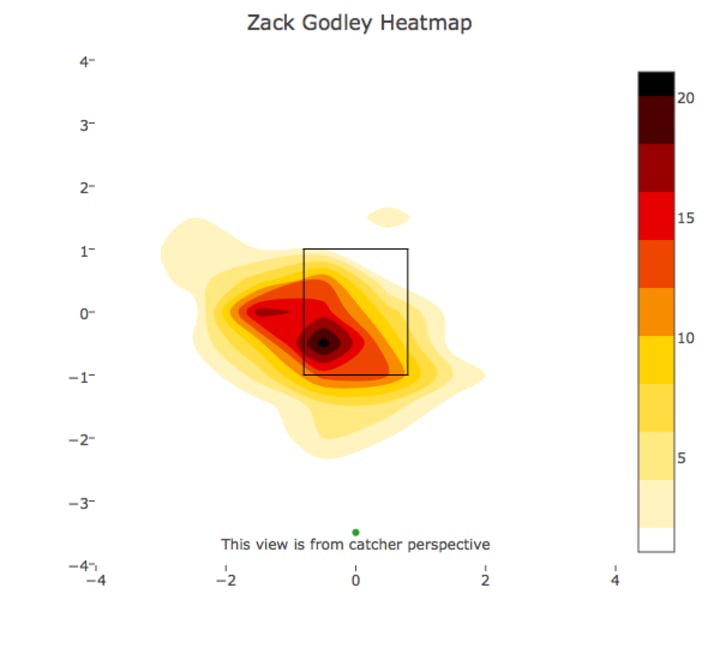 He throws his sinker just as any other sinker-baller properly would, and he has the control to live low and near the edges.
Sinker is in place, how is the curve?
That's about as 12–6 as it gets, and is the sixth hardest curve thrown by starters. The curve is Godley's whiff pitch, the one that mostly propels his 14.1% SwStr%. It's part of what has made him so successful against lefties too.
Godley vs L: .186/.277/.323, 21.1% K%
Godley vs R: .184/.255/.250, 26.6% K%
Despite a lack of strikeouts against lefties, Godley generates an incredible amount of weak contact with an average exit velocity of 82.0 MPH. Against all batters that exit velo is 84.4 MPH, good for eighth lowest amongst starters. That contact suppression has also transferred over to limiting the long ball as well, giving up four all year for a 10% HR/FB%.
Godley has done well to provide a rare combo of whiffs, grounders, and contact suppression that could prove to be so much more important in the Age of the Dinger. How long Godley will keep this up I don't know. But Godley has pitched like very few in baseball have this year and he's been excellent. And for the time being he's making a strong D-Backs rotation even stronger and primed for a playoff run.
Reader insights
Be the first to share your insights about this piece.
Add your insights