So College Football...what's next?
And why are the Big XII, SEC, & ACC still trying to play this fall?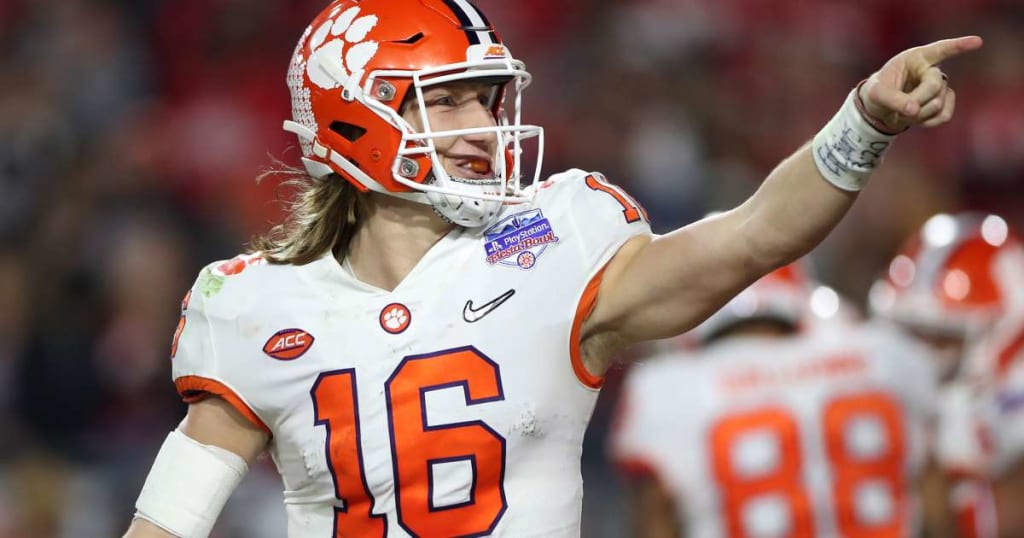 Clemson Star QB, Trevor Lawrence is the most 'Vocal'. #WeWantToPlay
With the Big Ten & Pac-12 cancelling Fall Sports and my Sooners having 9 New Positive Tests Yesterday the future of the 2020 College Football Season has never been more bleak. Trevor Lawrence, arguably the sports biggest current star, made the last ditch plea to the Power 5 before the Big Ten & Pac-12 voted with this post: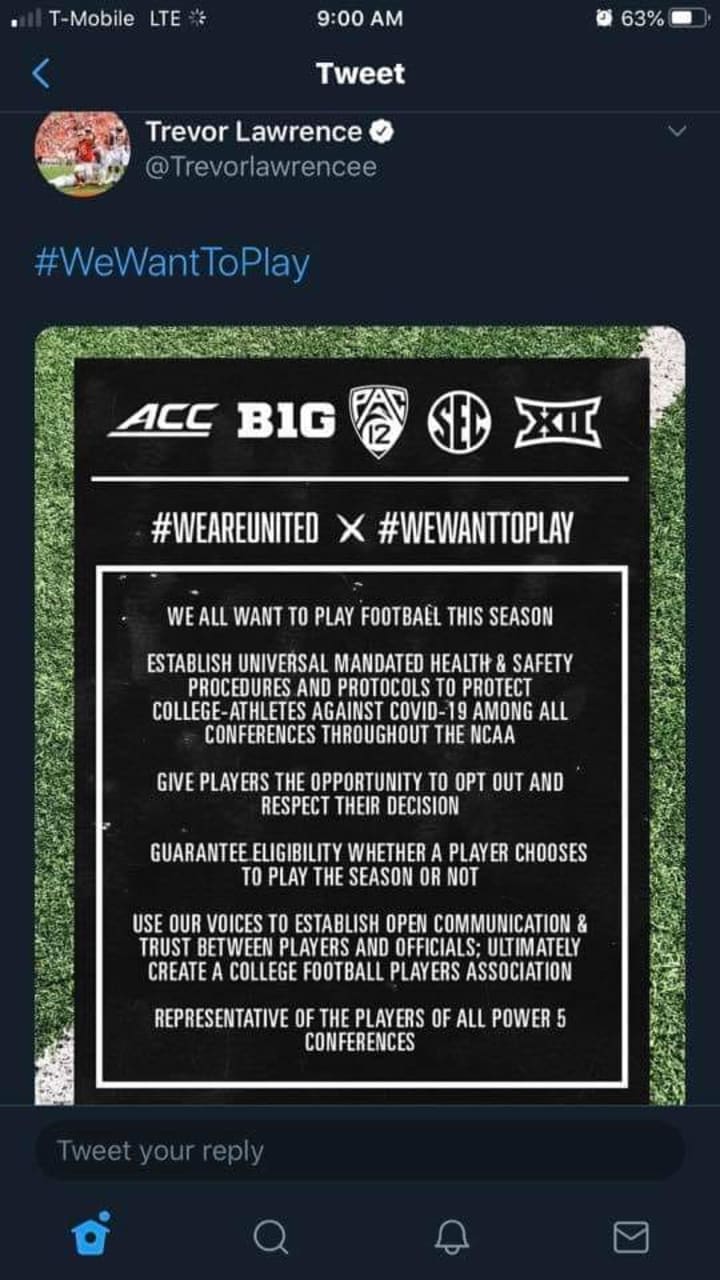 He raises many good points, but unfortunately both the NCAA and the Players kicked the can too far down the road before trying to make these plans and the last ditch plea was too late for the Big Ten & Pac-12.
If the NCAA had faced reality and planned accordingly we could've had 5 Power 5 Bubbles in Norman, OK; Baton Rouge, LA; Columbus, OH; Clemson, SC; and Eugene, OR. Current Champions Prerogative on hosting. I mean Online Classes are still a thing, right? But now it's too late and we've got 2 Power 5 Conferences too scared of litigation to proceed and 3 Power 5 Conferences willing to kick the can a little bit further down the road. The DA Show 'Mornings on the Mothership' Morning Show on CBS Sports Radio said it perfectly when they pointed out that 12 of the 14 Big Ten Schools willingly said no to $50,000,000 guaranteed TV Money this year. Showing a significant fear of litigation. And while Trevor could be right that the players might 'actually' be safer trying to play, as always the NCAA and it's members are looking out for themselves first and foremost.
Now the Big XII, SEC, and ACC are probably looking at a golden opportunity to boost their own profile and tv money by getting to play without the Big Ten & Pac-12. And on the less cynical side I get wanting to maintain as much of the traditional season as possible, but if we want a fair, functioning, full-fledged season that ship's already sailed.
It's frustrating, I'm at the point in that if we aren't headed for the College Football Playoff then what's the point of playing any season at all in the fall!? We've waited too damn long to finally have a more equitable solution for determining College Football's Champion to go back to playing College Football like it's 1975 just because of the damn pandemic. Sure if the Big XII, SEC, and ACC do play they could crown a 'Fall Champion' from a Round Robin of a Big XII/SEC Sugar Bowl, Big XII/ACC Orange Bowl, and SEC/ACC Peach Bowl. But really, my Sooners have been chasing National Title #8 since we won #7 in 2000. It'd be the cruelest irony to finally win the 'final game of the season' only for their to either be no true National Champion at all, or for it to be back in the damn Poll Voters Hands for the 1st Time since either the 90s or 2003 depending on how you look at it and who you ask.
And sure we could go stupid bonkers and let the Big Ten & Pac-12 catch up in the spring and try to play the CFP then, but really!? Some teams on form and some teams on a 5 Month Layoff does not make for a true way to crown a Champion!! (My inner soccer fan insists I say looking at you also CONCACAF Champions League since you insist on the knockout rounds being while Liga MX is on form and MLS is barely starting.)
The truth is that the season's a damn mess no matter what they decide since the Big Ten & Pac-12 couldn't agree with the Big XII, SEC, & ACC to kick the can further down the road. And the only way we get a Proper Season now is if everybody waits til the Spring! It'd have a knock-on effect on 2021 needing to postponed til roughly Halloween by many opinions that players shouldn't play full football seasons so close together. Yet another reason we need the Power 5 United moving forward since we're looking at the long-term effect on 2 Seasons now, but hey if it's what it takes for us to crown right and properly determined 2020 & 2021 College Football Champions it's what it needs to happen. Period!
Not to mention picture this:
If the NFL Succeeds we could have the NFL with National TV Games on Thursday, Saturday, Sunday, & Monday all season long with the entire country getting a regular chance to see most of the league regardless of the Directv Sunday Ticket Paywall.
Then if we start the newly revised College Football Season right after the Super Bowl, it's a non-stop Football Season from September to May!! Something we've never had and will never have again unless the Rock's 3rd Version of the XFL or some other Spring Minor League finds success. Which still wouldn't be the same as this one-off College Football Extravaganza. The sooner all parties involved realize that Spring College Football is the answer, the better the 2020 College Football Season will be.