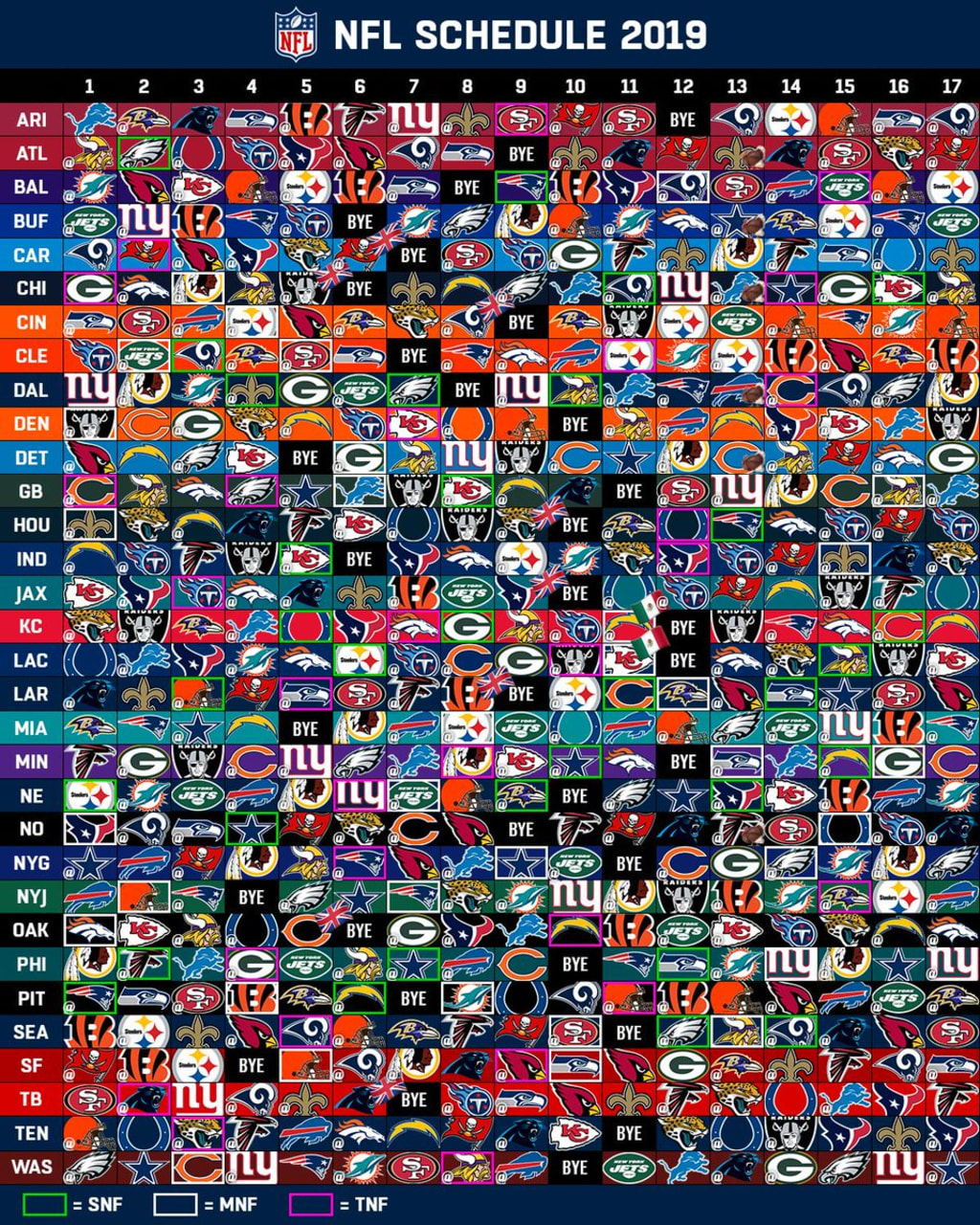 Now I don't claim to know where the NFL's coming from on imagining how this could work, but here's how I'd do it. And granted the ever-increasing appetite for International Games as well as the odd-number of games I'd imagine this is what they'd have to go with:
8 True Home Games, 8 True Road Games, & 1 Neutral International Game
It's really the only logically conclusion to draw from all of our context clues, and also really the only way to make a fair 17 game schedule. I'd be ecstatic and over-the-moon if they went with this as it's probably the only way to ever get my beloved Green Bay Packers over to London for our UK Packer Backers to see them in their own market. I've been online pen-pals with some for years, one in particular since 2007 and the days of MySpace, and it's clear that it's a political nightmare challenge. Quite reasonably with our famous Season-Ticket Holders Waiting List, Green Bay's never giving up a home game. And quite reasonably on the other side nobody's willing to give up their home game with us as we're too big of a road draw for attendance. As #PackersEverywhere is very much a real and true statement-name of one of our best fan clubs.
If they have to figure out how to get us over there under the current system, my solution is that the NFL is going to have to strong-arm the Detroit Lions into giving up one with us and go over there as they get to host us every year as opposed to AFC teams. They only do so once every eight years and our in conference teams that do so slightly more frequently. While frankly a GB-CHI or GB-MIN game would be an amazing get and a true statement for the NFL of giving them great football, GB-CHI is too important, and MIN just built their new stadium so they shouldn't be taking any home games away from them. So that just leaves the lowly, terrible Lions. Maybe in exchange the NFL could promise them a cupcake for their Thanksgiving home game or something. In any case it'd be a behind the scenes deal they wouldn't have to disclose with us.
So where does the extra opponent for the 1 Neutral International come from?
Well to figure that out, we have to first talk a look at the current schedule rotation. Currently every team plays: Every team in their own division twice, every team in a division from the same conference, every team in a division from the opposite conference, and two games against the other two teams in-conference that finished in the same position. I.e. 1st Place vs. 1st Place, 2nd vs 2nd, etc. So with everything in-conference already covered so well, there's really only a couple possibilities: a rotating cross-conference game, or an in-conference of 1st vs 2nd & 3rd vs 4th rotation which would make it easier to get an easier schedule. Frankly I'd want to go with the cross-conference game. You see the teams in your own conference enough, but you only see cross-conference teams once every World Cup Cycle, ergo once-every-four-years. And selfishly being a Green Bay Packers' Supporter, cross-conference is a big deal as my cousin's a big, big Kansas City Chiefs' Supporter. We desperately wanted to go to our SNF matchup a few weeks ago, but to be fair I still really, really want my first NFL game to be a home game for my Packers. And on his end, the date ended up not being clear enough. For me I had the actual day off but I would've needed to traverse a long, long distance back to Amarillo for work the Monday Night. Which working overnights helps, but it would've been ridiculous to do, especially by road. Anyways it's the easiest and fairest as it would be luck-of-the-draw on the game's difficulty instead of getting a prospectively really weak team from finishing 3rd or 4th.
So where should these international neutrals be?
Now London has proven to be a strong supporting city for the league, and the league seems bound and determined to eventually put a permanent franchise in London, logistical problems be damned. The number to make this work is 16 games representing all 32 teams. Now London can handle several, but it would be illogical to have a complete monopoly. And the NFL does seem determined to go to new markets. China and Australia seem to be key figures as the NFL craves the lucrative Asian market (I know, I know Australia's technically their own continent, but their soccer/proper football federation joined Asia's Confederation as New Zealand and the surrounding island nations weren't enough of a challenge. Hence why large portions of the population now categorize them incorrectly with Asia now.) But the logistical hurdles and the time-zones alone are difficult obstacles that must be figured out first. Technically the NFL has history with Japan and Tokyo with their preseason series, but that has been some time ago. The first step is probably doing in some combination China, Japan, and Australia in the preseason again and trying to figure out the next step forward. But if we were going to approve this right away I'd say we need to do without Asia in 2020.
So I'd give London 11 of the 16, let them have a chance to prove once and for all they'd support a full season. And 11 is currently the max number of home games an NFL team can have by advancing to Conference Championship Weekend through three home games. That leaves five games to allocate. Mexico has been a success, but there are plenty of reasons why Mexico games haven't been further expanded on. However, here they'd likely end up with three, as they're a proven success and it would be a logical next step to test their market. Then with the two remaining it's a tough call. Canada while it can be and has been successful in the past, comes with its own challenges from the CFL also being in season throughout most of the NFL season. But you could back-date it and give Canada a December Winter Classic. It'd likely have to be between two Northern Teams that would already be dealing with the elements anyways, but why not. Seattle-Cleveland in Toronto, here we go for the playoff push with Baker Mayfield versus Russell Wilson in the Canadian Tundra. It could work. Also there are other European markets that had respectable numbers back during the NFL Europe days. Scotland, Spain, and Germany managed to have teams every year the league operated. I'd probably go with Germany just because their culture adapts to football better than Spain, and Scotland's already being somewhat locally served by the London Series. And practically speaking if the Germany Game were slated for Week 17, 18, or 19 (spoilers: We have to add bye weeks) it could be arranged to have it fall during the Bundesliga's Winter Break as to not compete directly with the local European Football during their season. So to recap: 11 London, three Mexico, one Canada, and one Germany for the first year in this format. From there, the NFL can adjust as they see fit.
So that spoils the surprise, we need more bye weeks?
At a minimum, I would say that every team would need two bye weeks for this to work. But a somewhat likely concession to the players association if all parties could be willing to do it would be to add two more bye weeks per team to a total of three. It sounds like a lot, but it could be accommodated for like this. Start the season one week earlier and take away College Football's Monopoly on Labor Day Weekend, and end the season one week later leading to the playoffs still starting in the second or third weekend of January depending on the calendar. And the Super Bowl falling around roughly Valentine's Day and President's Day. It can work, and if they did arrange it around President's Day people would be ecstatic to get that after the Super Bowl Holiday many have been calling for anyways.
So the preseason, how would that work?
Now out of necessity to compromise on total games the preseason needs to be cut. It could simply be cut to two if the owners felt that no longer giving up home regular season games and the annual international game was enough. If not, it could be cut to three. From there, it's preseason, and they could play an unbalanced schedule rotating who gets the extra home game? Or...
Domestic Neutral Site Preseason in College Football's Cathedrals
Picture it, I know you say it's the damn preseason. But still, if you're in or from a college town how cool would it be to have the NFL come to town. Maybe even have some of your alumni playing the majority of the game desperately trying to make the roster. There's loads of possibilities. KC-DAL in Norman, GB-DEN in Madison, MIA-TB in Gainesville, OAK/LV-LAR at Stanford, ARI-HOU in Albuquerque, ATL-WSH at Clemson, NO-JAX at Tuscaloosa. The possibilities are endless. Yes it'd be a gimmick, but it could add some event status to the preseason. In any case the lost chances for roster evaluation would be made up of more joint practices in training camp, which is the trend anyways.
So there you have it—the 1-1-1: Three NFL Preseason Games & the 8-8-1: 17 NFL Regular Season in the 17 Game format. Back in the day when the 18 Game rumors were first coming out, I was really against extra football. And to some extent I guess I still am and it's not really needed from anything other than a greedy revenue standpoint. But hey, here's the fun, productive way to do it. And it'd finally get my Packers to London! Cheerio!!
Reader insights
Be the first to share your insights about this piece.
Add your insights