Early NBA Award Winners
If the NBA season were to end today, here's who would win the five major awards.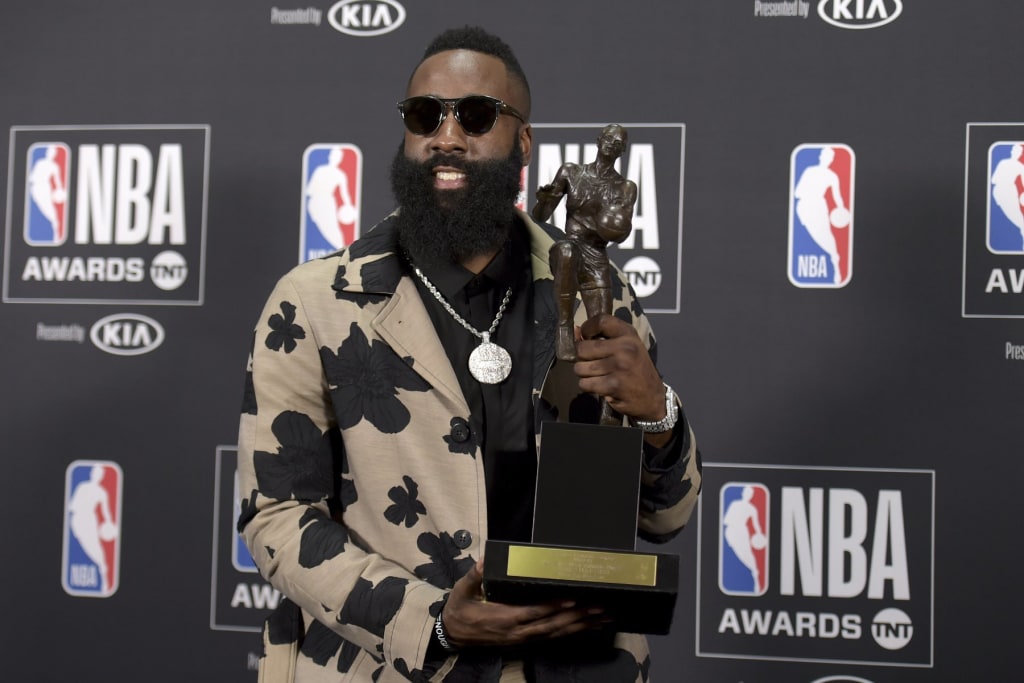 Is it just me, or does James Harden look like a slim Rick Ross in this photo?
I feel like this can be said about every NBA season, but this one has been very interesting with compelling storylines and stellar play league-wide. Even though we're a long way from the NBA Award Show in June, fans worldwide are making their predictions for who will win the five major awards. So, with just under 40 percent of the regular season completed, these are my major award winners thus far.
Coach of the Year: Mike Malone, Denver Nuggets
Coming into the season, everyone anticipated the Denver Nuggets to be a playoff team; with the amount of talent the team had paired with shifting powers in the Western Conference, many—including myself—viewed the Nuggets as an entertaining group that would most likely finish as high as the sixth seed.
No one, not even Nuggets bandwagon Jalen Rose, can honestly say they saw this coming from the team. They have the first seed in the Western Conference and are tied for the second best record in the entire league. Much of this can be attributed to the MVP-caliber play of Nikola Jokic who is singlehandedly keeping my fantasy team afloat, averaging 18.1 PPG, 10.2 RPG, and 7.4 APG. Jamal Murray has also continued his development, averaging 17.6 PPG and 5.1 APG. Despite the great play of the team, I think coach Mike Malone should get much more credit for the team's success.
In previous seasons, the Nuggets have been known for their spectacular offensive play, spearheaded by Jokic. Yet, they're only ninth in offensive rating, scoring 111.1 points per 100 possessions. The team isn't shooting the ball as they have in the past; both Jokic and Murray are shooting below 30 percent from three-point range. So, what's different? The team is finally playing defense. Last year, they were 23rd in the league with a defensive rating of 109.9 points given up per 100 possessions. This year, they're only surrendering 104.5 points per 100 possessions, which is good for fourth in the league. A team—especially a young team—doesn't suddenly go from the bottom third of the NBA in defense to an elite-stopping team in one season. Well, unless they have outstanding coaching, which the Nuggets do. Malone has the Nuggets moving their feet on defense, contesting shots, and consistently holding opponents below 100 points. And the thing is the team isn't even fully healthy. They've been without Will Barton for most of the season, Gary Harris has missed the last couple of weeks (hurting my fantasy team, ugh) and Isaiah Thomas and rookie Michael Porter Jr. have yet to suit up for Denver. This just shows how deep the team is and how scary they will be once they're at full strength. Malone recently said that Jokic should be put in the MVP conversation (more on that later), but if the Nuggets keep up this play, I think he'll be the one receiving some hardware.
Runner-Ups: Mike Buldenholzer, Milwaukee Bucks; Nick Nurse, Toronto Raptors; Billy Donovan, Oklahoma City Thunder
Looking at my list, it seems like I just placed the coaches from the top two teams in each conference on it; I did, but that's because they deserve to be here. Of the runner-ups, Buldenholzer has the best chance of upsetting Malone. In fact, it wouldn't even be an upset, as many around the league have him pegged as their Coach of the Year pick for the miracles he's worked in Milwaukee. You really can't go wrong with either Mike; I'd say it'd go to whoever leads their team to the better record, which will be interesting because they're currently tied at 21-9. Nick Nurse's team has the best record in the NBA and should certainly get some recognition for that, but I don't think the same franchise should win the award twice in a row with two different coaches, especially when the second coach was an assistant under the first. Finally, for all the crap that Billy Donovan has received from analysts and fans, he must receive some credit for the Thunder's performance, particularly his ability to finally get through to Russell Westbrook. Russ has taken somewhat of a backseat this year and has allowed Paul George to carry the offense while committing more on the defensive side of the basketball—he's currently the NBA steals leader averaging 2.6 steals a game. I thought that Donovan was simply not the right coach for Westbrook and this Thunder team, but I'm happy to see him prove me and everyone else wrong.
Most Improved Player: De'Aaron Fox, Sacramento Kings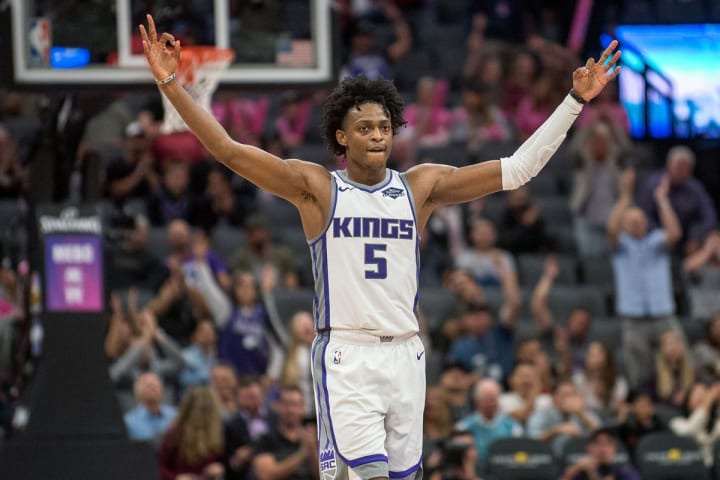 Throughout last year, I heard analysts across the association say, "De'Aaron Fox is going to be a special player." My response was "Really?" Sure, he had an OK rookie season stats-wise, but he was very inefficient and struck me as more of a long-term project.
Since the beginning of the season, Fox has been making me eat my words. When the Kings got out to a quick start, I was impressed, but feared they would be like last year's Orlando Magic who started well, but fell back into severe mediocrity. After 31 games, the Kings are still above .500 and in the playoff picture—and the main reason is Fox.
2017-2018 Stats: 11.6 PPG, 4.4 APG, 2.8 RPG, 1.0 SPG, 41.2 FG%, 30.7 3FG%, 72.3 FT%
2018-2019 Stats: 18.1 PPG, 7.4 RPG, 3.5 APG, 1.5 SPG, 47.8 FG%, 40.6 3FG%, 72.1 FT%
Aside from the free-throw percentage, there has been a significant improvement across the board. Fox is using his blitzing speed to get into the paint at will, where he's either finishing at the rim or finding open teammates. He's living up to his name, constantly swiping the ball away from his opponents. And remember my initial knock on his efficiency last year? Those are some elite shooting percentages, especially from such a young player.
With the Western Conference in a constant state of flux, there's no telling whether or not the Kings will end up making the playoffs. What is certain is that Fox is a young star and as he continues to develop, expect the Kings to rise from mediocrity and back into the playoffs for the several years.
Runner-Ups: Buddy Hield, Sacramento Kings; Zach Lavine, Chicago Bulls
While Fox leads the charge for the Kings, we'd be remiss to forget Buddy Hield's improvement. He's the team's leading scorer at over 20 points per game and remains a lethal shooter from behind the arc. Surprisingly, he's also become a factor on the boards, grabbing five rebounds a game. Zach Lavine was the early favourite for the award, posting stats of just under 24 points, five rebounds, and five assists. But, the Bulls have been so, um... GARBAGE that he's likely to get overlooked for a more successful player.
Sixth Man of the Year: Derrick Rose, Minnesota Timberwolves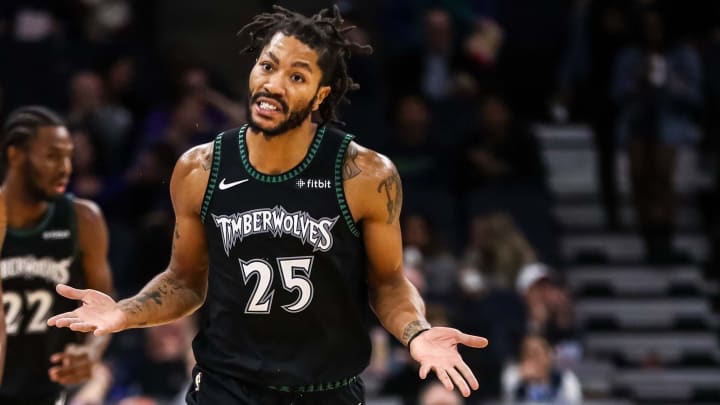 In a star-driven league, depth may never have been more crucial. Across the association, there are numerous players putting up large numbers coming off the bench, making this award one of the more difficult ones to predict. But as of right now, it's hard not to give the Sixth Man of the Year Award to Derrick Rose.
People keep saying, "The old Rose is back!" or "MVP Rose is back!"
The sentiment is there, but they're simply wrong.
This isn't the same Rose who did this to Goran Dragic:
Instead, we have a Derrick Rose who is the best shooter in the league from beyond eight feet. We have a Derrick Rose that is shooting 46.9 percent from three-point range. We have a Derrick Rose that doesn't need supreme athleticism to score a career high 50 points in a game.
The Minnesota Timberwolves have underperformed this season, currently sitting at 14th in the West, but it's safe to say they might be dead last in the conference if not for Rose. At this point, the award is his to lose. The only real threat is injury to Jeff Teague, which would force Rose into the starting lineup long-term. But with the skills and the storyline, we might as well hand Rose the trophy now.
Runner-Ups: Spencer Dinwiddie, Brooklyn Nets; Dennis Schröder, Oklahoma City Thunder; Julius Randle, New Orleans Pelicans; Montrezl Harrell, Los Angeles Clippers
Like I said to begin this section, there are a plethora of outstanding bench sixth men in the league, but I'll just highlight my favourite. Spencer Dinwiddie—another member of my fantasy team—is having yet another career year, and just secured a 3-year, $34 million contract. Despite concerns to begin the season, Dennis Schröder has been a solid backup to Russell Westbrook, giving the Thunder a viable scoring option off the bench. Julius Randle is averaging a career-high 19.3 points coming off the pine for the Pelicans, truly making the Lakers regret letting him walk this offseason. Lastly, Montrezl Harrell, AKA the Energizer Bunny, has grown into a player that teams must game plan for due to his paint dominance.
Defensive Player of the Year: Lonzo Ball, Los Angeles Lakers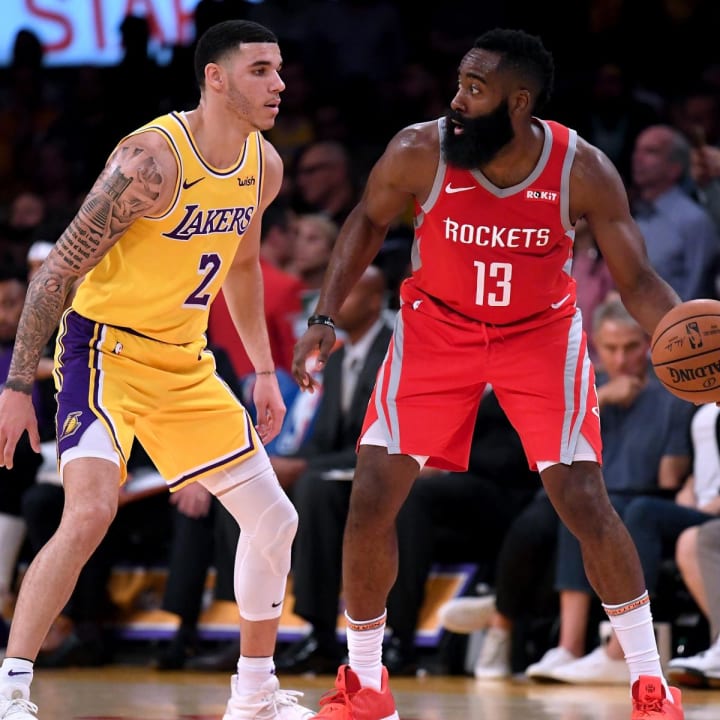 Alright, before everyone accuses me of trying to give Lakers players awards due to my love of LeBron, let me say this: This was by far the hardest award to predict. In a game where space and pace runs (pun intended) the league, defense is much harder to quantify and qualify since barely anyone watches for it. Admittedly, I don't watch games making a conscious effort to look out for stalwart D, but I don't have to look hard to notice Lonzo's effect on that side of the ball.
So many NBA fans and analysts focus on the things Lonzo doesn't do well or consistently that they fail to discuss the things he does at an elite level: Defense. Regardless of how he's playing on the other side of the ball, Lonzo gives his all on every defensive play. He fights over screens, he picks up full court press, he rebounds, he gets his hands on balls, he truly does it all. There was a two-game stretch in early December where he compiled nine steals; he had a similar stretch on the Lakers most recent road trip, totaling eight steals in their last two games. More impressively, he makes life hell for his opponents. I've already spoken on his willingness to pick up full court press, a testament to his conditioning. At 6'6" with long arms, shooting over him is no easy task. Plus, he's deceptively quick and will only get quicker as the season progresses and he gets healthier. Put all of this together, in addition to his willingness to play defense, and you have an All-NBA Defensive player.
I'm not sure if Lonzo will end up winning the award, as only two guards have won it in the award's history. But the Lakers are currently 10th in defensive rating, and that should climb as the team gets healthy and builds chemistry. Many will attest the team's defensive abilities to Tyson Chandler. While he certainly has been a large factor, Lonzo's endless drive on that end of the floor cannot be understated. If the Lakers end up being a top five defense, Lonzo's efforts will be rewarded with an All-Defensive Team selection, and just maybe, a nice big trophy.
Runner-Ups: Robert Covington, Minnesota Timberwolves; Myles Turner, Indiana Pacers; Paul George, Oklahoma City Thunder
The blockbuster Jimmy Butler trade is shaping up to be one of the rare transactions that benefits both teams. Though near the bottom of the tough Western Conference, the T-Wolves have been much better without Jimmy Butler, especially on the defensive end. This can be attributed to Robert Covington, not only his on court play, but his voice in the locker room that has caused players like Karl-Anthony Towns to have recommitted to that end of the court. Though Myles Turner may not have grown into the star many expected, he's currently leading the league in blocks with just under three blocks per game and has the Indiana Pacers sitting second in defensive rating. Finally, Paul George is spearheading the league's number one defense, ranking second in the league in steals while reaffirming his status as one of the dominant two-way players the game has to offer.
Most Valuable Player: Giannis Antetokounmpo, Milwaukee Bucks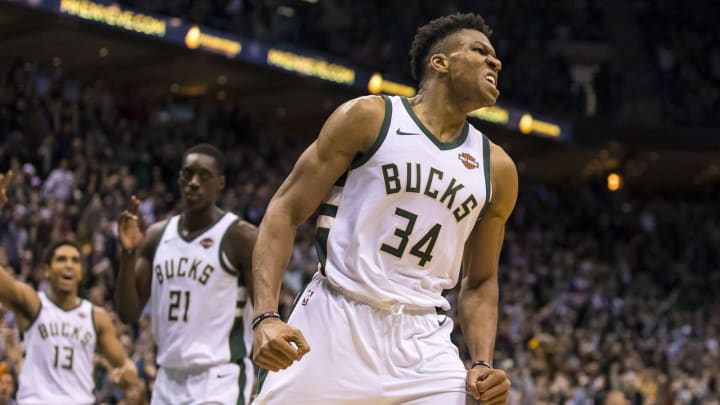 What can I say about Giannis that has not already been said? I mean, he's called the Greek Freak for a reason. So what's new?
The Bucks are winning, and the tandem of Giannis and Coach Bud are a match made in heaven. Before the season, everyone predicted the East to be run by the Boston Celtics and Toronto Raptors, with the Philadelphia 76ers and even Washington Wizards being placed ahead of the Bucks in the projected standings. Currently, the Bucks are second in the conference behind the Raptors, playing much better than the other teams that were "supposed" to be better than them.
Now back to Giannis.
The man lives inside, leading the league in points in the paint with 18 a game. He also leads the league in dunks, which has led Shaquille O'Neal to declaring him the new "Superman." Oh, not to mention, he's averaging nearly 27 points, 13 rebounds, and 6 assists per game—plus a steal and a block.
Simply put, he's a BEAST.
I don't know what else there is to say about the Greek Freak. He's having his best season yet and the Bucks are getting Ws. I can see them finishing the season second in the East, or falling to the third seed if the Celtics get their act together. Even then, Milwaukee should have a high enough record and Giannis should post gaudy enough numbers to take home the most coveted award in the NBA.
Runner-Ups: Stephen Curry, Golden State Warriors, Nikola Jokic, Denver Nuggets; Paul George, Oklahoma City Thunder; LeBron James, Los Angeles Lakers
I think if Stephen Curry hadn't gotten injured earlier this year and continued his otherworldly start, he would easily have been the frontrunner for this award. In fact, the way the Warriors performed in his absence just proves how valuable he is to the franchise. As mentioned earlier, Nikola Jokic should be in the conversation for the Nuggets' success, as should Paul George for his stellar two-way play. And while the Lakers likely won't have a high enough record for LeBron to win, it's plain to see the impact he's had on this young team and how he's helped them both win and grow as players.
That does it for this article. It is one of the longer ones—OK, maybe the longest one—I've ever written, but I thought it was important to recognize these players/coaches who've performed so well. Again, I have a lot more content coming out soon; make sure to follow me on social media to read all the latest articles, give me comments/suggestions, or just see what I do when I'm writing (I'm interesting, I swear).
Snapchat: midster007
Facebook: Olamide Olatunbosun
Instagram: @mdaywiththetrey
Twitter: @mdaywiththetre1
Aight, that's all for now. If you liked this article, be sure to share it with your friends or leave a tip if you're feeling extra generous (it is the holiday season after all). Deuces!
About the Creator
Huge NBA (more importantly LeBron) fan, love writing about things happening around the league.
Instagram: @mdaywiththetrey
Facebook: Olamide Olatunbosun
Reader insights
Be the first to share your insights about this piece.
Add your insights