NBA Christmas Day Preview
With five games of NBA action, it's shaping up to be a very Merry Christmas.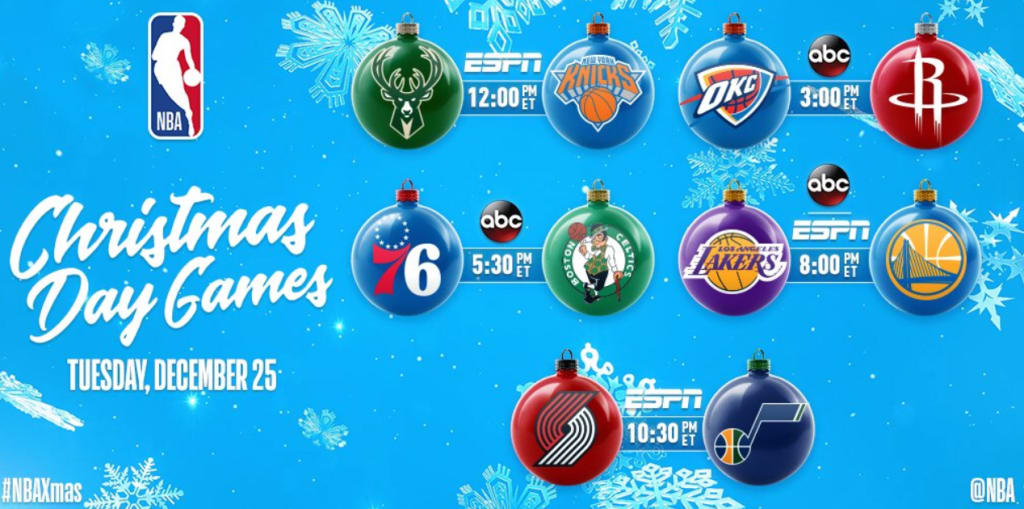 This year's Christmas Day slate has it all: MVPs, rivalries, and rising stars.
The NBA tradition of playing on Christmas games goes back to 1947, the league's second season. While Christmas is a day to be with family and unwrap presents and eat great food, it's a day to watch some of the best NBA action there is. Even though Nike again refused to give us special edition Christmas jerseys for the second year in a row (is it really that hard, guys?) December 25 should still be an entertaining day. So, here's a rundown of all the games that'll be happening and my predictions.
12:00 PM ET - Milwaukee Bucks vs New York Knicks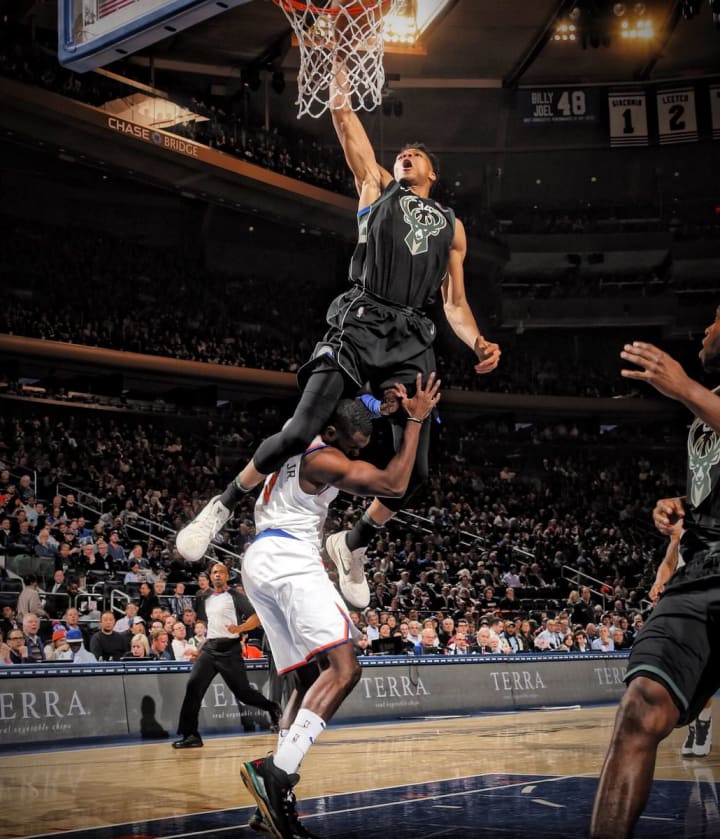 When I heard that the first Christmas Day game would be the Bucks vs the Knicks, I was kind of shocked. However, the more I thought about it, it began to make more sense why this matchup would be scheduled. Milwaukee hosts MVP-caliber (and potentially frontrunner) Giannis Antetokounmpo, who is just a dunking machine. While the Bucks haven't played on this holiday since 1977, the Knicks are no stranger to this storied showdown. They won the first NBA Christmas game and have participated in the most Christmas games of any team (52 games); in classic Knicks, they own both the most Christmas Day wins (22) and losses (30). Unfortunately, it looks like the Knicks are about to add another L to their Christmas Day record.
The Bucks are 21-9, tying the second best record in the NBA and look to build upon their outstanding season. The Knicks, however, are trending the opposite direction; they are currently 9-24, which is the fifth worst record in the league. While the Knicks did get the better of the Bucks a few weeks ago thanks to Mario Hezonja—I sincerely hope you can hear the sarcasm in my voice—I don't think Santa will gift the struggling team their 10th win of the season. Expect Giannis to explode for 30-odd points, around 15 rebounds, and enough highlight reel dunks to stuff all our stockings in this easy Bucks' win.
Prediction: Bucks 126, Knicks 102
3:00 PM ET - Oklahoma City Thunder vs Houston Rockets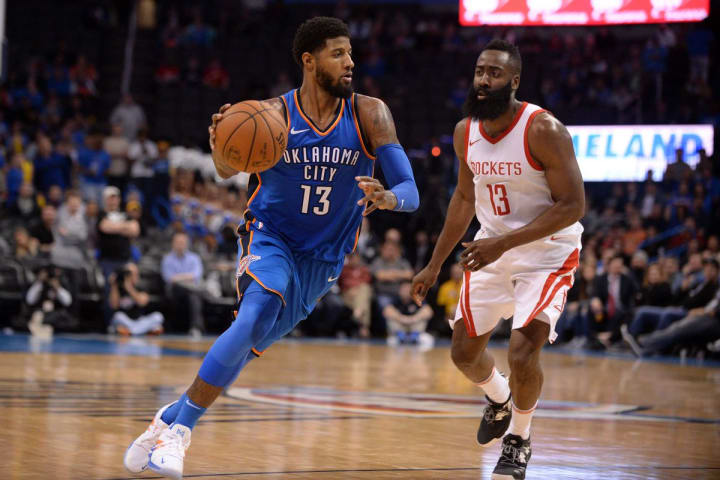 So... remember when I said in my NBA Storyline article where I stated the Rockets would be definitively better than the Thunder this season? Yeah... I was wrong, like, really wrong. The Rockets are having a tumultuous season that has seen them rank as low as 14th in the Western Conference as recent as two weeks ago. A myriad of injuries, poor defense, and, uh, whatever you want to call the Carmelo Anthony situation have the Rockets looking like a shell of their former selves. In their defense, they have been doing much better as of late, as they were on a five-game winning streak while James Harden was scoring at will. The Thunder on the other hand have been extremely impressive this whole season - well, once you exclude their 0-4 start. Currently 3rd in the West, the team is playing very well. While Russell Westbrook is still the best player on the team, he has taken a step back offensively, allowing Paul George to have a career year; he's currently averaging career highs in points, rebounds, assists, steals, and blocks. Round out the dynamic duo with Aquaman, I mean, Steven Adams, sixth-man Dennis Schroeder, and a suffocating defense (without Andre Roberson might I add), this team is looking to make serious noise come playoff time.
But it's not playoff time; it's Christmas time. Whenever these two teams match up against each other, it's bound to be a heated, intense, epic game. Last year on Christmas Day, the Thunder pulled out a five-point victory; I expect them to yield a similar result. While the Rockets have been hot as of late, the Thunder's defense will likely be too much to overcome, especially with Chris Paul getting injured again against the Miami Heat recently. I still see James Harden going off for yet another 50-point triple double, but I think Russ, PG-13, and the crew will get the W.
Prediction: Thunder 119, Rockets 112
5:30 PM ET - Philadelphia 76ers vs Boston Celtics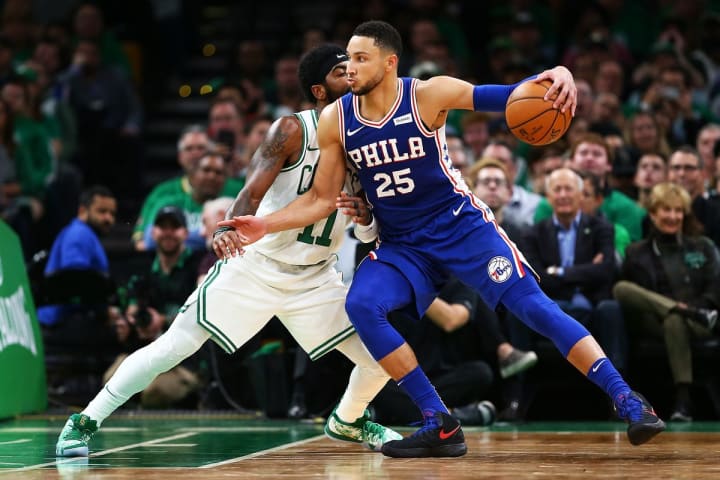 To give you an idea of how weird time is, let me tell you an interesting fact: I watched the opening night matchup between the Sixers and Celtics during a Physics midterm help session. This was way back in October but it still feels like just yesterday. I went on to perform less than admirably on that midterm but it had nothing to do with the game (I promise, Mr. Rodrigues). Coming into the season, we all expected the Celtics to dominate the Eastern Conference, with the Sixers being a couple of seeds behind them. Yet so far, it's the Sixers who have the higher seed than their rivals out in Boston. The Celtics have struggled to fit their multitude of talented pieces together to begin the season, though they just recently had an 8-game win streak ended. While I'm sure they will figure it out sooner than later, their slow start has caused some people to question the team's future. Philadelphia also got off to a somewhat rocky start, but since they acquired Jimmy Butler in early November, they've played much better and pushed them closer to championship contention.
Regardless, this is still one of the most storied rivalries in NBA, nay, sports history. The Sixers are 2-8 against the Celtics since Kyrie Irving got traded to Beantown; none of those games featured Jimmy Butler as well. While the Celtics are the better team in my opinion, they are simply undermanned at the center position with both Al Horford and Aaron Baynes out with injuries. As a result, I see Joel Embiid having a field day on the interior and look for Jimmy Butler to play lockdown defense on Kyrie all night. The Celtics, being at home, will make it competitive, but they won't be able to keep up with the 76ers.
Prediction: 76ers 111, Celtics 105
8:00 PM ET - Los Angeles Lakers vs Golden State Warriors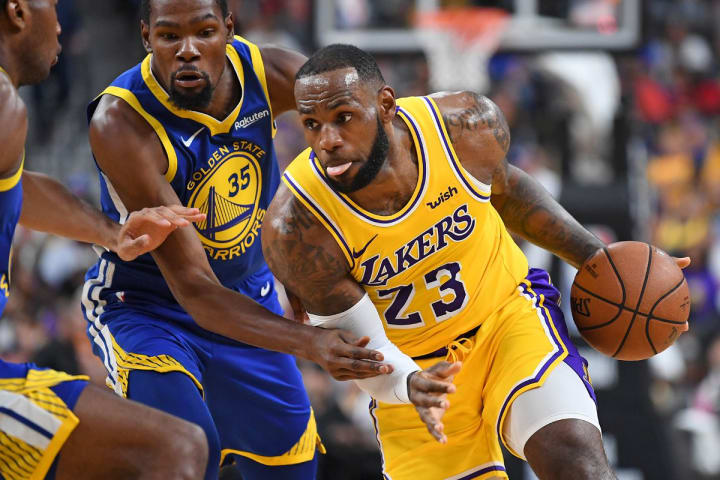 For the past three years, the NBA has hosted an NBA Finals rematch between the Cleveland Cavaliers and the Golden State Warriors. While LeBron has moved on from Cleveland to LA, the hype surrounding his fierce rivalry with the Warriors remains the same, if not greater than before. Thus far in LA, LeBron has the Lakers sitting in the fourth seed with an 18-13 record. Yes, they have dropped two games in a row but it must be stated that they're not at full strength and really haven't been all season. They lost back-to-back games with Javale McGee out, they've been without Brandon Ingram for most of December, and Rajon Rondo hasn't been active since the middle of November. While the team still has certain things it needs to sort out, if you told me they're only 3.5 games back of first place in the West and would have home-court advantage in the first round of the playoffs if the season ended today, I'd be pretty pleased. It has not been totally smooth sailing for the reigning NBA champs, with injury and a lack of chemistry plaguing them early on. After an unreal start to the season, Stephen Curry missed 10 games due to a groin injury. From there, the sky began to fall (temporarily) as the infamous incident between Kevin Durant and Draymond Green took place, followed by numerous losses and Green going down with a toe injury. Since Steph has returned, the team has regained its footing, but just lost to the Utah Jazz despite great performances from Steph and KD. Much of this can be attributed to Draymond and Klay Thompson having the worst shooting seasons of their careers. And that's exactly why I know the Warriors are going to win this game. Confused? I'll explain.
When Klay's struggles began this season, I thought, "He's going to go off sometime soon." The very next day, he dropped 52 points on the Chicago Bulls and broke the NBA record for three-pointers made in a game. I'm not saying Klay is about to repeat that performance on Christmas Day, but I think he'll get things going and shoot a much better percentage than he has been this season. Draymond also has tendency to play better when matched up against LeBron; his averages in points, rebounds, assists, steals, and blocks are higher against LeBron than his career averages. And I haven't even brought up KD and Steph yet.
I think the Lakers can make it a close game if they attack the Warriors where they're weak: in the paint. If LeBron and Kuzma can get to the rim and either finish or dish the ball to Javale McGee and Tyson Chandler, it will allow them to hang around. I also think Lonzo will continue is spectacular defensive season and somewhat keep Curry in check. But the Warriors simply have too much firepower. And with all the chaos surrounding the team, playing the LeBron James in front of the home crowd will spark them to win the game.
Prediction: Warriors 125, Lakers 114
10:30 PM ET - Portland Trailblazers vs Utah Jazz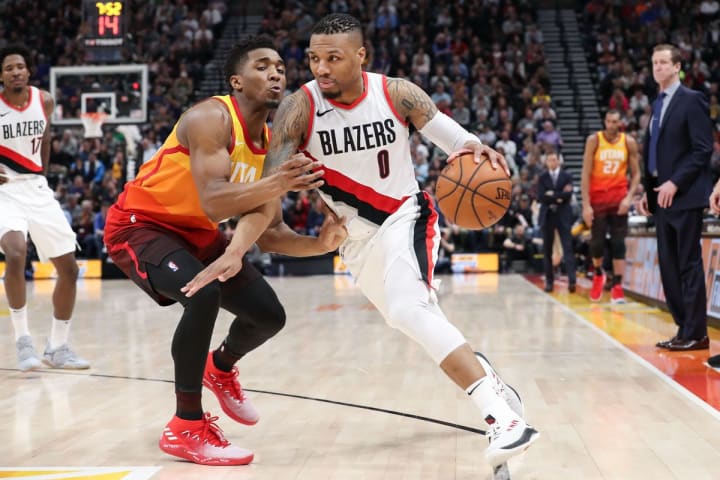 Before I break this game down, I need to say something. As much as I love university and being on the East Coast, I HATE the Eastern Time Zone. Back west, I could start enjoying NBA action at 4 PM and the latest games started at 7:30 or 8. Now, especially being a LeBron fan, most of the Lakers' games don't start until 10:30 PM; I don't know about you guys, but I'm trying to be asleep by then if I can help it. Anyways, if anyone actually has the energy to watch this game, more power to you.
Anyways, this game features two teams we have not seen play on Christmas Day in a while. The Trailblazers last played in 2010, losing to the Warriors, while the Jazz last played way back in 1997, beating the Rockets. Interesting fact, Portland has the second-best Christmas record in NBA history, going 14-3 on December 25th (only behind the 10-2 Miami Heat).
This is admittedly the strangest Christmas matchup we've seen in a while. Neither team has played on the holiday since I started following the NBA nor do they have the superstars or rivalry or narrative that more traditional Christmas Day matchups have. Or maybe there is a storyline that most people can't see or at least didn't see coming. The Blazers have been their typical selves, owning a solid record of 18-13 that has them tied for 4th in the West and seeming like a lock to make the playoffs. Damian Lillard is averaging career highs in points, rebounds, field-goal percentage, and three-point percentage and the rest of the team is performing admirably as well. The thing is, no one expected this from the Blazers. Having getting swept in the first round of the playoffs and failing to make any significant moves in the offseason, many fans wrote them off, expecting them to be competing for the lottery come June. Contrarily, fans like myself thought the Jazz would take the next step and rise the ranks in the West on the backs of Donovan Mitchell and Rudy Gobert. Yet, here they are, sitting 12th in the West with a 15-17 record, a far cry from where they "should" be. Some of this can be put on Mitchell's shoulders, as he has yet to make a jump from his impressive rookie year. His stats are virtually the same across the board, but his efficiency has decreased, particularly from three-point range.
In a sense, these teams have swapped the roles they were expected to play out this year, and I that should make for an interesting competition. Portland has the better backcourt, but the Jazz have the better frontcourt. The Blazers have a slightly better bench (or they've performed better thus far) but most would agree that Quinn Snyder is a better coach than Terry Stotts. This game could really go either way, and I imagine it will be a game of runs, with both teams taking temporary leads over the course of the contest. Ultimately, I think the Blazers will come out with the victory. While it is Christmas time, the fourth quarter is Dame Time.
Prediction: Blazers 109, Jazz 102
Alright, that's gonna do it for this article. Sorry it's been a while; I had to focus on school and getting a job. Also, if anyone reading this has coding experience with Java, please hit me up ASAP because I know nothing about Java and kind of need to if I'm going to be working with it for the next four months. But anyways, I have a lot of articles coming out soon; shoutout my boy Jason who counts my articles as his "out-of-class" reading. As always, feel free to contact me via social to catch my latest work or if you have an comments or suggestions:
Snapchat: midster007
Facebook: Olamide Olatunbosun
Instagram: @mdaywiththetrey
Twitter: @mdaywiththetre1
Aight, that's all for now. Deuces and Happy Holidays, everyone!
About the Creator
Huge NBA (more importantly LeBron) fan, love writing about things happening around the league.
Instagram: @mdaywiththetrey
Facebook: Olamide Olatunbosun
Reader insights
Be the first to share your insights about this piece.
Add your insights