My Top 5 Storylines for 2018-2019 NBA Season
The NBA becomes more like a reality TV show with each coming season...this is gonna be fun.

So the Lakers got Bron Bron, the Dubs got Boogie, and Derozan got finessed. Just another summer in the NBA.
So....it's been a while....
In my defence, I'm in first year engineering and tore my MCL in my first university rugby game so cut me some slack. Fortunately, I don't need surgery for those worrying (so like two people) and uni is, well, taking some getting used to.
But you, my loyal readers, don't care about my personal well-being. You care about basketball and my opinions on the greatest sport in the world (don't at me, soccer fans). And while I eventually get to my rookie series, I wanted to post something to at least hold you guys until then. So without further ado, here are my Top 5 Storylines for the 2018-2019 NBA Season:
1. Who will have a better season: The Rockets or the Thunder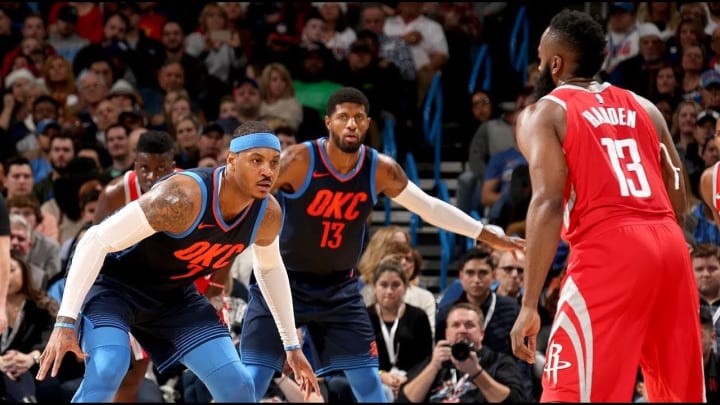 If you've read my latest article, you're aware of my feelings towards Carmelo Anthony, so I'll try not to go too hard on him; let's start with the Oklahoma City Thunder. This summer was huge for them, somehow managing to retain Paul George—spurning my new-look Los Angeles Lakers in the process—as well as adding some nice complementary pieces in Nerlens Noel and Dennis Schroeder. Though, as has been preached all summer, this team improved via "addition by subtraction." The Carmelo Anthony experiment in OKC failed, but now that he's gone, it will allow Paul George to become an even better second option. Interestingly enough, I was going to get on George for only shooting 43.0% from the field this past season, but it turns out his career FG% is 43.2% so his shooting wasn't bad. However, I expect that number to rise as he has more touches and chances to get in rhythm every game. If he can keep up his 40.1% 3FG and his elite defensive play, OKC will be dangerous. Throw in the return of Andre Roberson—who can't shoot to save his life, but cuffed Rachel Demita—a larger role for Steven Adams, and improved bench contributions, it'd be easy to say the Thunder will have the better season. Well, not so fast. It's true the Houston Rockets took massive hits to their defensive structure losing Trevor Ariza and Luc Richard M'bah A Moute. Plus, if Carmelo plays anything like he did in OKC, it's simple to assume the team will take a step backwards. However, they're just so far ahead of the Thunder, it may not even matter in the rankings. The Thunder won 48 games last season; the Rockets won 65. Even if we assume the Thunder's acquisitions + losing Melo is worth eight more wins while the Rockets' losses + adding Melo is worth eight more losses, Houston still has a better record. Plus, they still have the reigning MVP in James Harden, a point-god in Chris Paul, and one of the craftiest coaches in the NBA in Mike D'Antoni, not to mention their deep roster. I expect OKC to have the greater improvement, but Houston should still have the better season overall.
2. How will Kawhi Leonard & the Toronto Raptors fare?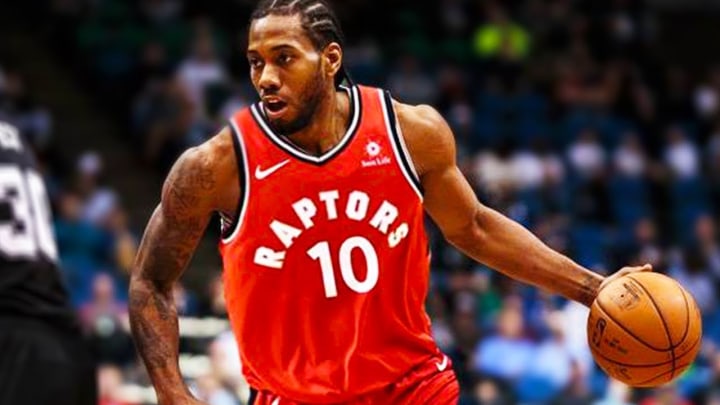 I still remember that fateful afternoon on May 14th, 2017; I was in my room at school, cursing myself for buying NBA League Pass for another year, knowing damn well that I can't watch any playoff games due to stupid "Blackout" rules. I digress...
I, being a LeBron fan (and by association, Cleveland Cavaliers fan), was very happy to see the Golden State Warriors getting beaten down by the San Antonio Spurs. The Spurs were up by 21 points in the third quarter, Kawhi Leonard was balling out, all was right with the world. That was, until Zaza Pachulia happened. When Bleacher Report reported Kawhi had been injured and had left the game, I had a sinking feeling in my stomach:
"It's over..."
Just like that, the Western Conference Finals were over. Without their superstar, the Spurs got outmatched by the Warriors in every way imaginable. That was the last time we saw Kawhi and the Spurs be a truly dominant force in this league.
Fast forward 17 months, and we have Kawhi Leonard up in Canada (meaning I still can't watch him play—freaking League Pass!) after a blockbuster trade swapped him and Demar Derozan and some other pieces. Obviously, everyone is wondering how good each team is going to be after the trade, but the focus seems to be on Kawhi and the Raptors.
Having won 59 games last year and "upgrading" their roster, it is logical to believe that the Raps will have an even better record this year. However, I'd be shocked if they won more than 52 games this year. I believe it will take time for the team to gel and adjust to both Kawhi and new head coach Nick Nurse. Besides from that, Kawhi is "healthy" but hasn't played real basketball in almost a year and a half. It'll take a little bit of time for him to truly shake off the rust. Not to mention that the Boston Celtics are still the undisputed beast in the East and the Philadelphia 76ers are getting better with each passing day. My guess is the Raptors finish with a 52-30 record, good enough for second in the Eastern Conference. Kawhi Leonard will have a stat line hovering around 23 PPG, 6 RPG, 4 APG on his typical efficiency and leads the team to the Eastern Conference Finals and lose in 6 games to the Celtics. All in all, that's still a pretty great season.
3. Who's getting bit by the injury bug this season?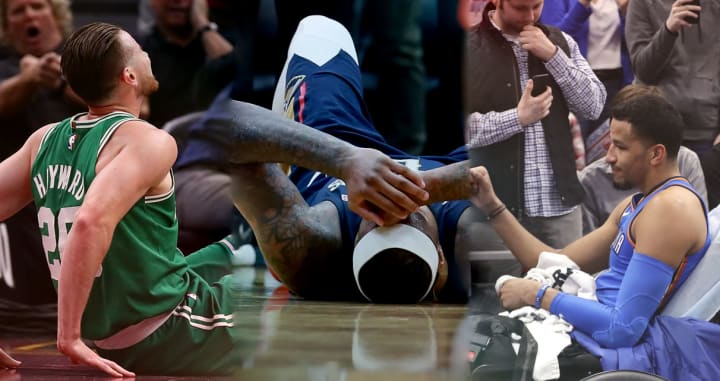 The NBA sustained its first injury five minutes into the 2017-2018 season as Gordon Hayward went down with the most graphic injury since Paul George in the summer of 2014. Hayward would be the first of a long list of injured players including DeMarcus Cousins, Andre Roberson, Isaiah Thomas who's season was cut too short. That doesn't even include stars like Stephen Curry, Kevin Love, and Chris Paul among others who missed significant time during the regular season and in Paul's case, the postseason. It's sad to say, but injury is a real part of the game (and life—take it from me) that everyone and every team deals with eventually. We've already season household names sustain injuries during the offseason and preseason: Lonzo Ball, Russell Westbrook, Devin Booker, Lauri Markannen, and literally all of the Spurs' point guards. I'd discussed this subject with a friend of mine back in September and we agreed that either Kyrie Irving of Russell Westbrook would face some kind of major setback this year; we've already been proven right in Russ' case as he's missing the season opener tonight. Of course, I'd never wish for anyone to get hurt—not even the Snake himself Kevin Durant—but Russ' game is not going to age well since it relies so heavily on his athleticism and he can't shoot. If his freakish athleticism is sapped due to injury, that spells trouble for both him and the Thunder. Also, watch out for players like Hayward, Kyrie, John Wall, and Paul who are coming back from injury-riddled seasons and are looking to have a much more productive season.
4. Who's going to be the surprise team this rear?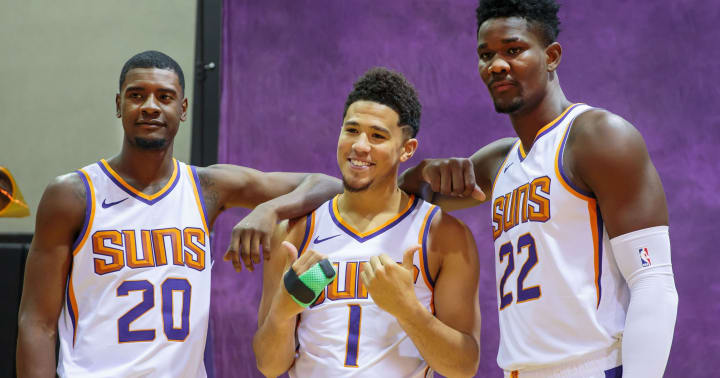 Let's get something straight: The Phoenix Suns are not going to make the playoffs in the Western Conference; not a chance. But from their wildly successful draft night to signing Trevor Ariza and Jamal Crawford (the latter taking place only yesterday), we have to wonder whether they're actually trying to compete now. They aren't alone; several bottom feeder teams believe they can make waves in their respective conferences. The New York Knicks, the Chicago Bulls, and the Atlanta Hawks all believe they'll take massive strides with their collection of young talent. Out West, the Memphis Grizzlies look to get back in the playoff picture now that they're finally healthy and the Dallas Mavericks want to send Dirk Nowitzki out with a successful season. Realistically, none of these teams (save the Grizzlies) have a real shot of making the playoffs but who knows? The Indiana Pacers were a total write-off last season after trading away their franchise cornerstone Paul George. By the season's end, they were the 5th seed in the East and gave the Cavs a real run for their money in the first round of the playoffs. This may technically be cheating because they weren't bottom feeders per se, but I'd pick the Detroit Pistons to finally figure things out with Dwayne Casey at the helm and sneak into the playoffs. However, the Western Conference is stacked as always and even the East seems somewhat predetermined. Then again, that's what makes it all the more shocking when a team breaks out.
5. What will LA-Bron season one be like?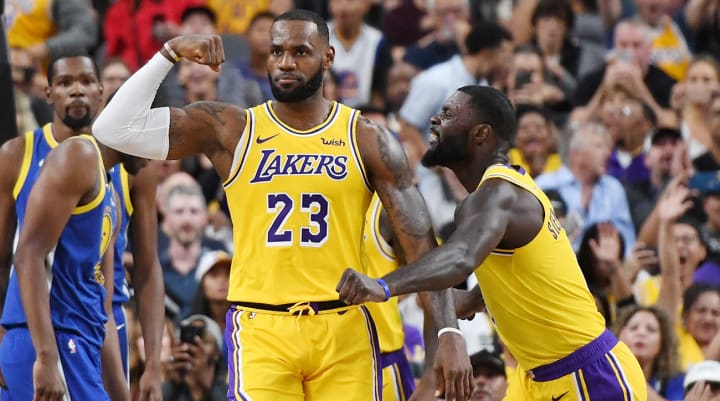 Y'all had to know this was coming. LeBron's move to the Los Angeles Lakers was the biggest news of the offseason and with all the hype around him and LA in general, all eyes are going to be on the Purple and Gold (or Banana Yellow?) this season. Many analysts are on one of two sides of the Lakers expectations this season: Either the Lakers will be a top 3-seed in the West, or they'll barely make the playoffs. Some believe that LeBron's mere presence will elevate the play of the young core of Lonzo Ball, Brandon Ingram, Kyle Kuzma, and Josh Hart and that the bizarre veterans in Rajon Rondo, Lance Stephenson, Javale McGee, and Michael Beasley will all fall in line and do their jobs. Others think that the team's lack of shooting and ridiculously high "character level" combined with being in the West will lead to a lot of struggles in the City of Angels.
Now as a Lakers fan via LeBron (I'm just owning it at this point), I'm somewhere in the middle but slightly pessimistic in terms of the season outcomes. Yes, the Lakers will improve; you can't get LeBron and remain a lottery-bound team. But, LeBron has very few shooters around him and while it was just the preseason, that was already a glaring weakness for the team. While I don't think the personalities will be as big of an issue as people like to make of it, it definitely will take time for the team to develop chemistry as a unit. Lastly, no one is talking about how poorly this team shoots from the free-throw line. 71% as a team is WAY below league average so I expect the Lakers to leave a lot of points at the free-throw line.
Overall, I'm predicting a 47-35 record (the opposite of last year) which should secure the 4th-6th seed in the West. From there, I say the Lakers make the second round sheerly on the greatness of LeBron and then get knocked out of the second round in 5 games. Of course, I would love to see the team exceed my expectations; who wouldn't want 50+ wins, LeBron winning MVP, and a WCF series with the Warriors? But, we must be realistic with this season. Besides, it's next season that really matters once all the money from the one-year contracts is freed up (Kawhi, where you at?)
Honourable Mention: Where will Jimmy Butler land?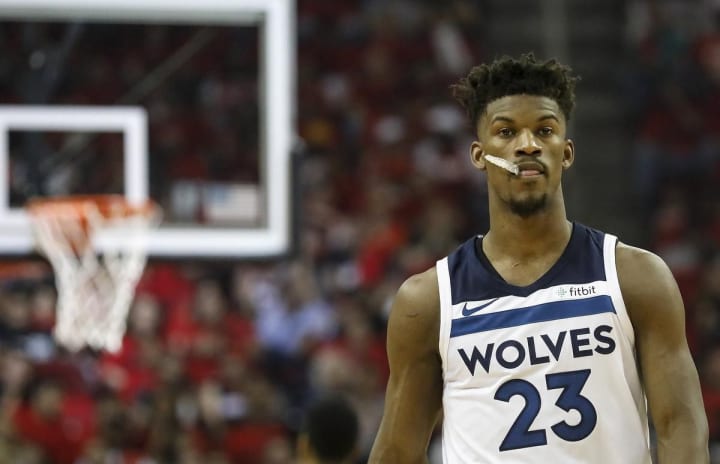 I'll be honest with you: I had started this article a long time ago and had already selected my topics before this Jimmy Butler fiasco became huge, but I had to talk about it. From the back and forth between him and Andrew Wiggins' brother (and Stephen Jackson) to the reports of his rather rude practice last week, it's clear that Jimmy has got to go. His blue-collar personality simply does not mesh with those of #1 picks Karl Anthony Towns and Wiggins (especially the latter). But coach Tom Thibodeau is asking for way too much in return for Jimmy (against the owner's wishes), making a trade virtually impossible.
This doesn't mean Jimmy will stay in Minnesota for the rest of the season; he's made it very clear that the relationship between him and the organization is irreparable. At some point, Butler will be wearing a different; it's just a matter of when Thibodeau will come to his senses and accept a trade from the Miami Heat, the Los Angeles Clippers, or any other team in the Jimmy Butler Sweepstakes (Houston?)
P.S. LOL sorry guys, uni has been crazy and I have midterms going on right now, plus having to deal with physio and stuff. In the coming days, I'll figure out a schedule so I don't go over a month without posting an article. As always feel free to contact me via social if you have an comments or suggestions:
Snapchat: midster007
Facebook: Olamide Olatunbosun
Instagram: @mdaywiththetrey
Twitter: @mdaywiththetre1
Aight, that's all for now. Deuces!
About the Creator
Huge NBA (more importantly LeBron) fan, love writing about things happening around the league.
Instagram: @mdaywiththetrey
Facebook: Olamide Olatunbosun
Reader insights
Be the first to share your insights about this piece.
Add your insights