Best NFL Running Backs of All Time
Out of all the famous names and different running styles, these are the best NFL running backs to ever step onto the gridiron.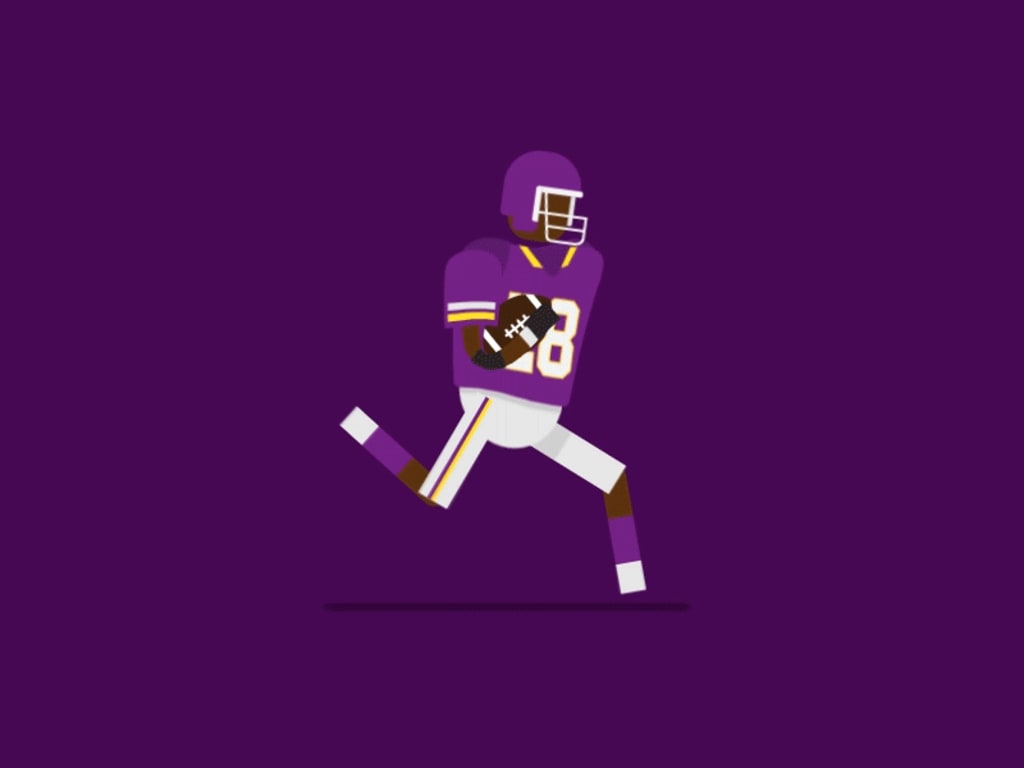 Running back has become a devalued position in the modern NFL game. It's a passing league now and quarterbacks are all the rage. They are the ones who receive the most praise and have offenses designed around them as the centerpiece. However, having a game-changing running back can make all the difference and may even be more valuable than a quarterback. Only a select few NFL running backs would fall under that category but all who do were beasts and changed the sport of football. Narrowing it down was rough, but someone had to do it. So these are the runners that would even give the best defenses in NFL history broken ankles and will be remembered forever.
If you have any doubt that Adrian Peterson deserves to be here, I'm sorry, but you're wrong. Peterson has had one of the most successful rushing careers in NFL history. Unfortunately, injuries stopped him from reaching the full peak of his powers and that is why he resides as the 12th leading rusher in NFL history. He is within striking distance of tenth, however, being only 37 yards behind Jim Brown.
Peterson holds the single-game rushing record with 296 yards, an insane tally. In his prime, he was the best running back in the league, possessing the perfect blend of power and speed. Peterson tore his ACL in 2011, an injury that can easily derail a career, only to come back the next season and win the MVP, Comeback Player of the Year award, and come eight yards short of breaking the record for most rushing yards in a season.
Going through the lengthy list of Walter Payton's achievements can take a while, but none may be more impressive than the flu game. In true Chicago spirit (Michael Jordan is a copycat), Payton set the single-game rushing record (before Peterson broke it) of 275 yards with the flu and a 101-degree temperature.
As far as NFL running backs go, "Sweetness" is most definitely at the top. Payton sits at second on the all-time rushing list and was almost impossible to tackle. The NFL now awards players who show excellence on and off the field with the Walter Payton Man of the Year award, and it is certainly fitting.
Barry Sanders was more of an artist than a running back. Anyone who saw the man play would agree. Sanders spent the majority of his career running for his life, as the Detroit Lions lacked an offensive line, among many other essential positions.
Even without a team around him, Sanders rushed for 15,269 yards, less than 1,500 yards short of Walter Payton's then-record of 16,726. He had the chance to break the record but abruptly retired at age 30. Sanders was able to find success by being the most elusive running back of all-time; he was the first to make breaking ankles into an art-form. If he continued on into his 30s, he would be the leading rusher to this day without a doubt.
Despite not have the name-brand recognition as some of the other greatest NFL running backs, Frank Gore's numbers can't be denied. He is the fifth-leading rusher in the league's history, with the chance to slingshot to fourth if he continues to play at a high level.
Throughout his storied 13-year career, he's rushed for over 1,000 yards nine times and has suited up in 14 games at least 12 times. Even though he uses a physically taxing running style, Gore has been the definition of consistency and reliability since he entered in the league in 2015.
Emmitt Smith leads the NFL in all-time rushing yards, rushing touchdowns, and has a Super Bowl MVP and three rings to his credit. Not too shabby. While many criticize him for playing on one of the greatest teams, with an incredible offensive line, he is undoubtedly one of the greatest NFL running backs to ever suit up and take the field. He was a workhorse for a Dallas dynasty and the focal point of the offense. And let's face it, playing in one of the coolest jerseys in sports for most of his career certainly helps him pass the eye test.
As soon as Eric Dickerson entered the league, you knew he would be great. His rookie season consisted 1,808 yards (a rookie record) and 390 carries (a then-record for most ever), and 20 total touchdowns. The 2,105 yards he rushed for in 1984 still stands as the most for a season. Dickerson finished his career with 13,259 yards, placing him eighth all-time. NFL records and opposing defenses were not safe when Dickerson took the field.
Jim Brown remains the only runner to average over 100 yards per game (104.3), and one of only two NFL running backs to average over five yards per carry for an entire career (5.2). The Cleveland Browns running back was awarded the NFL MVP award three teams in his career and was the first dominant (and arguably best) runner to ever play. Picturing the Cleveland Browns today, or in the past two decades really, it's hard to picture them being a dominant team. However, Brown was able to catapult them to greatness, culminating in their 1964 championship year.
The entire 2000s decade was owned by LaDainian Tomlinson. He was the player that made you want to buy every Madden NFL game. LT was explosive, made people miss, and always found the end zone. His 145 rushing touchdowns are second in league history and his 28 (31 total) in 2006 is the best mark in a single season ever.
Sixth in all-time in rushing yards, with 13,684, Tomlinson has had one of the best careers in NFL history. If he was still playing today I bet the Chargers would not have moved to Los Angeles; that's the kind of star power he possessed.
Did you think what Jim Brown did with the Cleveland Browns was impressive? Well, Curtis Martin was able to pull of being of the best NFL running backs ever... with the New York Jets. I'll let you decide which is more impressive. Martin played for the New England Patriots for three seasons before moving to the Big Apple for the rest of his career. He finished with 14,101 yards, making him fourth best in league history. What's truly impressive about Martin were the obstacles he overcame early in life. He famously addressed those barriers in his hall of fame speech, showing just how hard his journey to stardom was.
Although not the first name you consider when you think about the greatest NFL running backs, Jerome Bettis has earned the right to be in the conversation. Bettis accrued 13,662 yards over his career, seventh best ever and garnered one of the best nicknames in the NFL, "The Bus." He finished 91 rushing touchdowns and had over 1,000 yards in eight of his 13 seasons. His top-heavy running style made it incredibly difficult to bring him down and his numbers speak for themselves.
Hopefully, there will be some new players to discuss as being the best ever in the near future. There are players who could make a run at it like Ezekiel Elliott, Leonard Fournette, and maybe even the potentially game-changing Saquon Barkley. We'll have to wait and see who can give any of these guys a run (Get it?) for their money.
football
About the author
Huge sports fan, primarily hockey and football. Also a big TV and movie fan. Recent Marist graduate writing about whatever interests me!
Reader insights
Be the first to share your insights about this piece.
Add your insights