10 of the All-Time Coolest Jerseys in Sports
Admit it, everything done by your favorite sports team is just better if their jerseys rock. See if your squad cracked the list; here are the 10 of the all-time coolest jerseys in sports.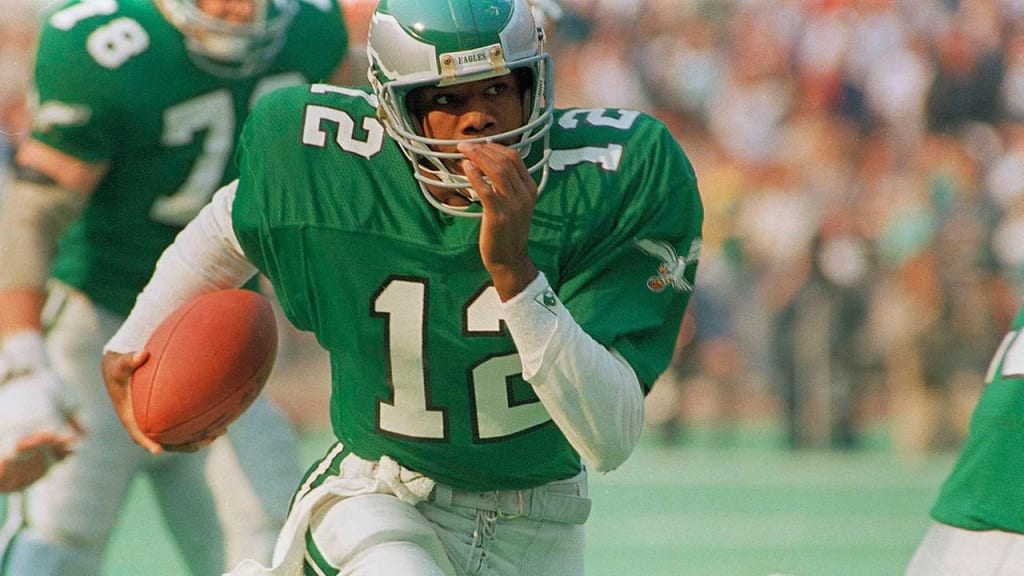 Stadiums and jerseys are not given as much attention as players and coaches are by the media. However, they can be just as big a part of the team as any star player—maybe even more so. Many of baseball's most beautiful ballparks have name and brand recognition that are known by millions of people, and the same can be said for jerseys. Whether it be the design, color scheme, style, or hidden meaning in the logo, they are recognized around the world and are sewn into the identity and reputation of the team.
Jerseys hold tremendous value and are integral parts to every sports franchise. For this reason, there are a lot of variables to consider when it comes to judging which are superior, from how cool they look to how iconic they are. Trying to differentiate the best of the best was difficult, but I've given it my best shot and completely stand by my decisions. These are the 10 coolest jerseys in sports.
In the first spot we have the old, kelly green Philadelphia Eagles jerseys. Why did the Eagles switch from this to midnight green? The world may never know. What is known is that these jerseys were stylish and unique. Kelly green is almost exclusively associated with the Eagles franchise due to these jerseys, especially when Chip KELLY (Get it?) was their head coach. Philly needs to bring back these retro jerseys, and they need to do it soon.
The Maple Leaf's color design is simple and easy on the eyes, and it's the logo that really steals the show. The maple leaf, which is also present on the Canadian flag, stands proudly in the center. I decided to go with their Stadium Series version because it is absolutely gorgeous. Leafs fans can proudly wear this jersey—regardless of how well their team is doing.
Let me tell you, the original six knew what they were doing in terms of uniforms in sports. Though the Blackhawks jerseys have changed throughout the years, they have always been stylish and cool. Their latest design of red with insignias on both shoulders and their logo in the center works incredibly well. This jersey was the only positive for a Blackhawks team that wasn't great in the past, but now that they're good it's a win-win for Chicago fans!
I would never have guessed that blue, bright lime green, and silver would make a great jersey, but here we are. I don't know what it is about these three colors intermingling with one another; they just work. The bright green makes the team seem flashy, while the dark blue base color complements that green and grounds the team. Just a touch of flash is the perfect amount on any jersey, and Seattle has perfected the formula. Hawks teams just know jerseys, I guess.
If you weren't already aware, Nike founder Phil Knight ran track and field at Oregon and has since created a mutually beneficial relationship with the Ducks. Nike creates new jerseys for them to wear every game and Oregon showcases those uniforms and the Nike brand to the entire nation.
You heard that right: a new jersey for Every. Single. Game. That is madness. (No, it's Sparta. Sorry, couldn't resist.) Sadly, this tradition may be ending, as reports have come out saying Oregon will be reducing their jersey combinations in the future, which is a travesty in my eyes. Whatever the future may hold, the Ducks have rocked some of the coolest jerseys in sports, and we can only hope for that to continue.
In my opinion, the Red Wings have the best logo in sports. It has a long, storied history, is designed particularly well, and connects with the "motor city." The wheel and wing are in the always-fashionable red and white, and together they provide a logo uniquely linked to an entire state. It just doesn't get any better than that.
Wilt Chamberlain, Magic Johnson, Kareem Abdul Jabbar, Kobe Bryant, and Shaquille O'Neal are just a few members of the NBA elite to don this jersey. A lot of unique names for a unique jersey seems only fitting.
Bottom line, any team that can make a color combination of purple and yellow memorable and snazzy deserves a spot on this list and then some. Once again I find myself wondering a how a color scheme works so well. I mean, on paper this combination should be a disaster, right? I guess not.
"Just win, baby," were the famous words of late Oakland (soon-to-be Las Vegas) Raiders owner Al Davis. They were simple and to the point. The same could be said for their jerseys. A straightforward black and white color scheme and helmet combo exemplified the Raiders: no fluff, nothing extra, just the sole desire to win at any costs. They have remained unchanged for almost the entirety of their existence—if it ain't broke, why fix it?
Ah, another decorated sports franchise. The Dallas Cowboys have been calling themselves "America's Team" for as long as anyone can remember and their jerseys are connected to that persona. Armed with, arguably, the most famous logo in sports on their helmet (the lone star), their jerseys can afford to be rather plain. The white and blue color scheme doesn't jump out at you or catch your eye. However, coupled with the helmet, the Cowboys jerseys are simple, recognizable, and one of the classiest outfits in all of sport.
One does not simply make a list of the coolest jerseys in sports without including the New York Yankees. The Yanks uniforms may be the most well-known in the world. The pinstripes are the definition of iconic and have been worn by some of the biggest names in baseball. A few examples include Lou Gehrig, Babe Ruth, Micke Mantle, Joe DiMaggio, Alex Rodriguez, Mariano Rivera, and Derek Jeter.
Jeter has since passed the keys of the Yankees kingdom to Cinderella story Aaron Judge. Judge, recently acquired Mike Stanton, and a slew of other young stars will try to continue the winning tradition in the Bronx. But no matter who leads the Yankees, you can rest assured that they will be always be doing it in pinstripes.