Analyzing the Henrique/Vatanen Trade
Both players have some time with their new teams under their belts. Now let's evaluate the year's second blockbuster trade.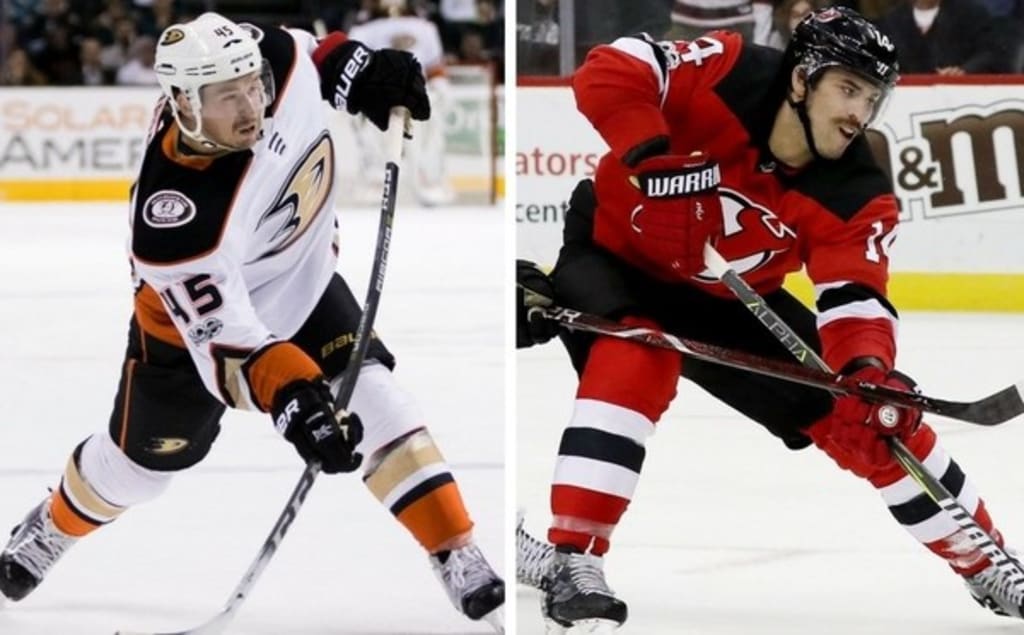 The November 30 trade sent Rico to the pond and Vat-man to the Jerz. Who comes out a winner? (Image via NJ.com)
Early season trades involving big name players have that extra level of excitement attached to them. When a trade goes through at the deadline, we're sort of expecting it. We know it's coming. When a trade involving big names comes through in November, it catches us off guard, and carries with it a new wrinkle of expectation.
Such a trade had people talking about a month ago when Matt Duchene was sent to Ottawa after a drawn out trade discussion with Colorado. Another one popped up on November 30, when Metropolitan Division leaders New Jersey sent Adam Henrique to Anaheim for Sami Vatanen. This trade has a lot to unpack, so let's get started.
The Devils received right handed defenseman Sami Vatanen, a player who was rumored to be on the move over the summer. Vatanen and fellow Ducks defenseman Hampus Lindholm both required surgery during the offseason however, which likely impacted Anaheim's ability to move him any sooner. Vatanen's talent gave the Ducks the ability to get a high return, but also addresses an area of need for New Jersey.
There's no secret about the fact that New Jersey's greatest weakness is still their defense. Despite what has been an impressive first quarter-plus, the Devils still seemed to have a need at the blue line, where they are young in some places and slow in others. The result has them giving up an average of 3.08 goals per game, which is nearly a point higher than the league average, and a massive 34.38 shots per game. That's 29th of 31 NHL teams. The team's goalies have performed better than last year, and the offense is years ahead of where they expected to be. New Jersey's defense, though, is its greatest liability. This trade, then, helps to address that issue and gives the Devils some much needed help.
Vatanen is easily a top line defensemen on this team, but not just because he's immediately the best one they have. He's also a desperately needed right-handed shot, something the Devils have very little of on either side of the puck. In his sixth year in the league, the Finnish blue-liner has averaged over 20 minutes per game and has possession metrics that show his team controls the puck more than half the time when he's on the ice (CF%-50.8, FF%-51.0). He's put up 126 points in 283 career games and has shown offensive prowess, especially on special teams. He is an excellent skater and has drawn praise league-wide for his skating ability. Beyond that, he has two other traits the Devils love: international and playoff experience. Vatanen has 40 career playoff games in six years with Anaheim, and the Devils hope to add to that total this year.
In his first three games, Vatanen has yet to put up a point for New Jersey prior to a Friday night tilt with Columbus. He's seen 20+ minutes each night and has a minus one rating with just two shots on goal. It's still an adjustment for Vatanen, but his skill speaks for itself. It's only a matter of time before he's contributing in a big way for this team. He's under contract for two more seasons, and the Devils hope to utilize his skill to lead the once dominant defensive team to playoff success again.
In many ways, Adam Henrique has been the total package during his time with New Jersey. A character guy who has made an impact in his community and given the team some of the greatest moments in recent memory, Henrique contributed in ways that aren't often quantifiable with statistics. Even so, Anaheim received a contributor to the two-way game in this trade who fills a position of need at center. With injuries to Ryan Getzlaf and Ryan Kesler, the team was short at the center spot, and Rico can jump in and fill that void until their return. Once they do, they look to have Getzlaf, Kesler, Henrique, and Antoine Vermette down the middle, which is an impressive combination.
Henrique had been relegated to the wing in New Jersey, which is not his natural position. He has experienced his best statistical years when playing center, such as in 2015-16 when he posted career highs in goals (30) and points (50). Since his Calder nominated rookie year, he has been a valuable two-way player, racking up minutes on both special teams units for the Devils, and has developed into a dangerous penalty killer. Henrique has 13 short-handed goals in his eight-year career. His yearly scoring has been a bit inconsistent, and Henrique seemed to be in a down year this season after posting just four goals in 24 games. Regardless, Henrique has been a high quality character guy for the team and an alternate captain. He was also a fan favorite for his extensive community work and help in raising awareness for men's health (check out his Movember page here) and his entertaining Twitter antics. And Devils fans will never forget the time he ousted the hated Rangers in the 2012 Eastern Conference Finals. Sadly for the fans, now, as then, "it's over."
Henrique has had far less trouble adjusting to his new team. In his first four games with Anaheim, Adam has a four-game point streak, going 2-3-5 and scoring twice in his home debut. Perhaps being back at the center spot has him feeling right at home, even in a new place. Either way, Henrique is already winning over the fans and coaches alike with his play and his outstanding character.
Anaheim also received 23-year-old center Joseph Blandisi from the Devils, who has made his first two appearances of the season with the Ducks, averaging ten minutes per game. A speedy player with a desire to shoot, Blandisi never quite held down a starting spot for the Devils until the end of last year when half the AHL squad got the call up. He is fast and has shown skill, but also has a tendency to be a little undisciplined. Nicknamed "Blender" for his penchant to mix things up, Blandisi has racked up nearly a penalty minute per game in his short NHL career. This, along with his positional blunders, have often held him back from being a a contender in the NHL.
In the early going, Anaheim has gotten the more immediate payoff in this deal, with Henrique debuting with better than a point-per-game since the trade. They also added depth at center with Blandisi and got themselves a third-round conditional pick to boot. However, looking long term, the Devils addressed a position of long-term need with a little more stability; they get a younger player on a longer contract in return. In any case, both teams address a need and do so with players of upper-echelon talent. Vatanen was easily one of the more sought after defensemen on the trade block over the summer, and Henrique easily would've been envied if rumors had sprung up back then. For what each team did for the stability and need of their respective clubs, it is perhaps easiest to call this trade a fair swap. Both teams walk away happy with this deal, and as it pans out over time, that will likely continue to be true.
Reader insights
Be the first to share your insights about this piece.
Add your insights