First Quarter NHL Award Leaders
A look at the players who have emerged as leaders for some of the NHL's major awards.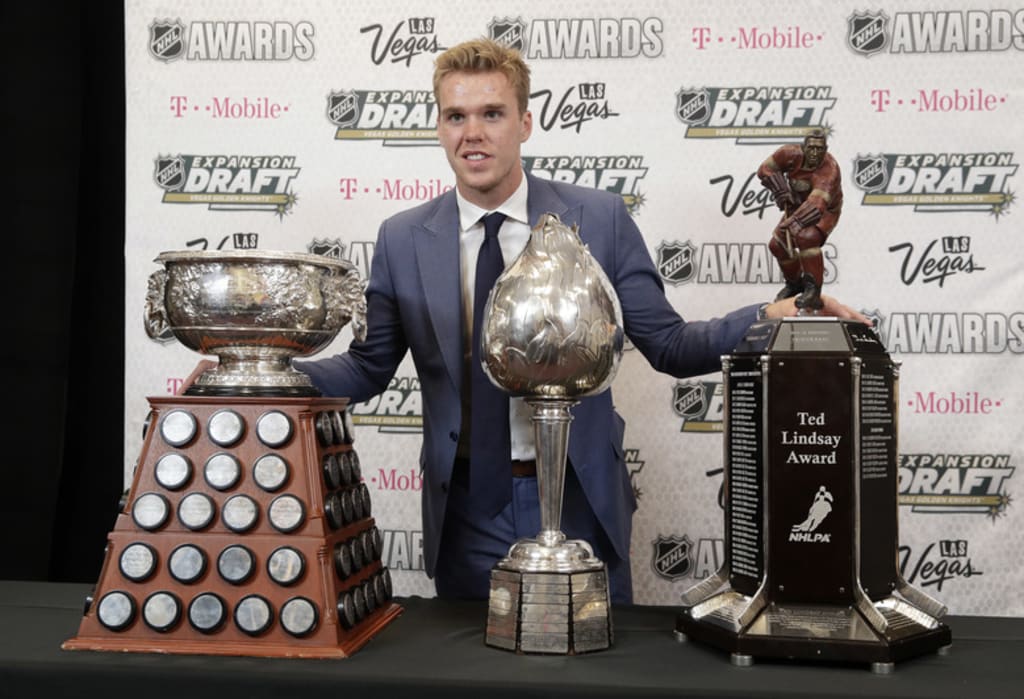 Oilers captain Connor McDavid captured some serious hardware last season. Will he repeat? (Image via The Seattle Times)
The first quarter of the NHL season is behind us, which means that teams and players are beginning to settle in and find their form. Players have set a tone for their play and teams have jostled into early position, hoping to set themselves up for playoff success. At the 20+ game mark, we are able to see the 2017-18 season taking shape, with a few big surprises and some questions left to be answered.
By the end of the season, with the full picture in view, the NHL will award its most coveted trophies for the play of some of the finest players around the league. And although it may be impossible to accurately forecast who will win the league's major awards at this point, we can certainly discuss who is the leader in each category so far.
**-For the purpose of this discussion, I am leaving out trophies that require statistical leadership, such as the Art Ross, William M. Jennings, and Maurice Richard trophies.
Hart Memorial Trophy: Steven Stamkos, Tampa Bay Lightning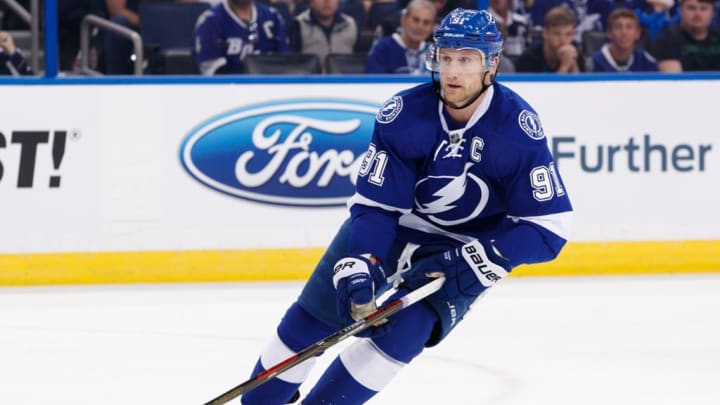 In a recent article, I discussed the enormous impact that Steven Stamkos is having on the Tampa Bay Lightning in his return to the lineup this season. Coming back from injury, Stamkos has been a huge part of the team's turnaround. The Bolts missed the playoffs a season ago, and with Stamkos leading the way this season they are at the top of their division through 23 games and have the NHL's second highest points and wins totals. Stamkos is also pacing the NHL in points and assists, with an impressive 1.57 points per game thus far. It should be noted that Nikita Kucherov has also impressed, and whether that is because of Stamkos or not could be debated. What can't be debated is that Kucherov was on the team last year and they missed the playoffs. Stamkos is back this year and they are one of the NHL's best teams in the early going. That would seem to make him the most valuable player to his team.
Runners Up: Nikita Kucherov, TBL; Jaden Schwartz, STL
Calder Trophy: Clayton Keller, Arizona Coyotes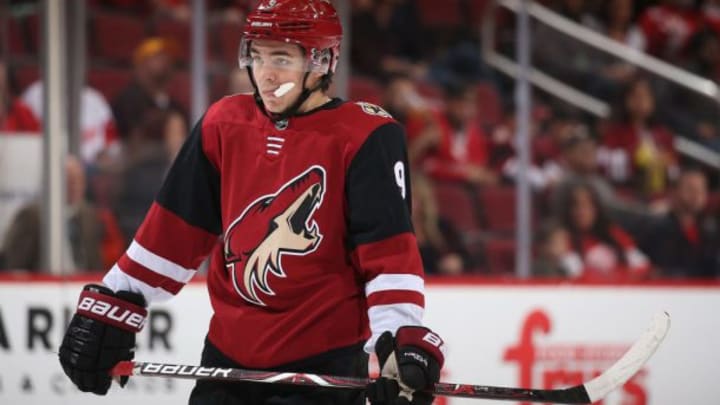 With a very impressive crop of rookie talent this year and his team at the bottom of the Western Conference, it could be easy to overlook Arizona's Clayton Keller this season. But, as I also discussed in a separate article, Arizona's silver lining is putting up historically good scoring numbers as a rookie and has flourished despite the poor play around him. He is currently tied with Brock Boeser for the lead in rookie goals and is in the top three in rookie points. He maintains better than 19 minutes of ice time and is already seeing top line minutes, so his adjustment has come quickly. He hasn't scored a goal in the team's last six games, but his influence on the ice is consistent and he will continue to be a bright spot in an otherwise dark year for the Coyotes.
To be fair, Keller got off to an incredible start and there are other rookies who are now catching or even surpassing Keller's production as we speak. By the end of the year, this award may go differently. But for his play in the first quarter, I'd still give the award to Keller in a slim margin.
Runners Up: Brock Boeser, VAN; Mathew Barzal, NYI
Coming off a Vezina winning season, Columbus' Sergei Bobrovsky has picked up right where he left off in guiding the Blue Jackets again this season. Despite a sluggish first week, Columbus now sits second in their division in a closely contested race with the New Jersey Devils and has their goalie to thank for the turnaround. He is the only goalie in the top two of every statistical category, with impressive numbers all the way around. Bob leads the NHL in Goals Against (1.92), Save Percentage (.935), Shutouts (3), and is second in Wins. With a start like this, it's easy to see why he's the defending Vezina winner, and how likely it is that he'll win it again.
Runners Up: Corey Crawford, CHI; Martin Jones, SJS
Norris Trophy: Alex Pietrangelo, St. Louis Blues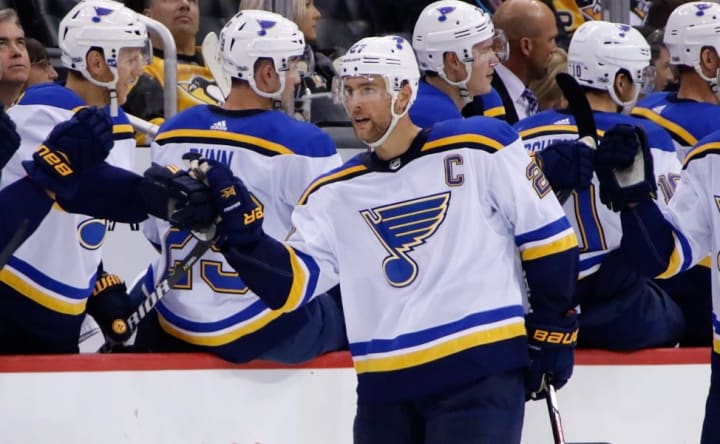 With the great start St. Louis is enjoying, it's easy to see why a number of Blues players could end up on this list. At the core of their success is their captain, Alex Pietrangelo. A perennial playoff contender, St. Louis used to feature a formidable top defensive pairing in Pietrangelo and Kevin Shattenkirk. With Shat now in New York, it has given the Blues captain room to shine. He's always been a solid defenseman, but this year he has taken another step and is near the top of the league statistically for blue-liners. Pietrangelo is second in the league for scoring defensemen (7-13-20) and is second in the league with a +11 rating. He also has a Corsi-for of 51.4 percent, which although it is a solid mark is not even as high as his career average. Pietrangelo is a picture of consistency and has established himself as one of the leagues best defenders this year.
Runners Up: PK Subban, NSH; Victor Hedman, TBL
Jack Adams Trophy: John Hynes, New Jersey Devils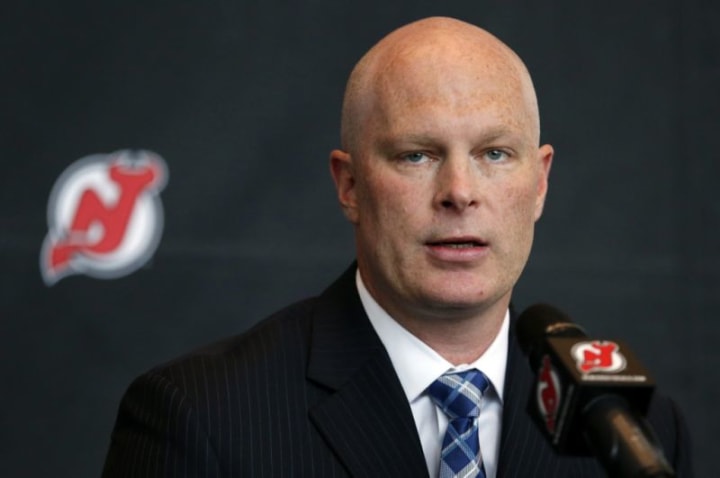 The New Jersey Devils finished last in the Eastern Conference last year and needed a turnaround. At the epicenter of that turnaround has been their outstanding third year coach, John Hynes. With a renewed focus on speed, support, and offensive pressure—things the Devils haven't always been known for_Hynes has helped guide a team of youngsters to the top of the Metropolitan Division. With few superstar talents (Taylor Hall is perhaps the only one who fits that bill), and an inordinate amount of rookies, Hynes has exhibited fair leadership with each player on the roster and makes no exceptions. Players will sit if they don't play well, and Hynes has fostered a "team first" mentality that is extremely evident in pressers with players and staff alike. Going from worst to first usually gets you the nod for the Jack Adams trophy, and as the Devils try to remain consistent, Hynes will be at the wheel pointing them in the right direction.
Runners Up: Gerard Gallant, VGK; Paul Maurice, WIN
There's still much to be decided. But at the quarter mark, these are the men who lead in the races to lift those coveted trophies next summer. Who do you think will be left standing at season's end?
Reader insights
Be the first to share your insights about this piece.
Add your insights