Arizona's Silver Lining
In a season that has been worse than usual, Clayton Keller may be the key to the Coyotes' future.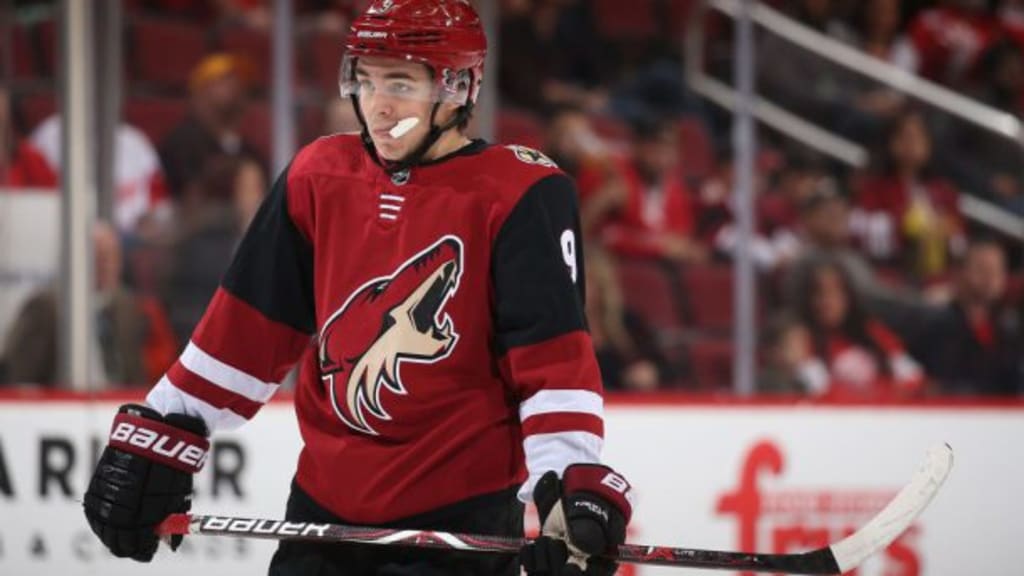 Arizona's rookie sensation, Clayton Keller (Image via NBCSports)
If we are being honest, the Arizona Coyotes are one of the most confusing and enigmatic stories in the NHL. A team that was relocated out of Winnipeg in favor of the desert in 1996 has experienced first place finishes and conference finals appearances right alongside 50-loss seasons and rumors of relocation. The 'yotes moved to Phoenix (or is it Glendale?) and ripped off four straight playoff appearances. Perhaps this justified moving a relatively successful hockey team to an otherwise untested area of the United States. The story since then has not been so bright. Since 2000, the Phoenix/Arizona Coyotes have made the playoffs just four times.
The picture this year has been even worse. After a slew of moves to bring in talent, the Coyotes have started out with the worst record in the NHL, falling to 2-15-3 after a loss to—isn't it ironic—Winnipeg on Tuesday night. Players with tons of playoff experience, like Derek Stepan and Niklas Hjalmarsson, were brought in this offseason to support a deep pool of young talent like Max Domi and Anthony Duclair. They also brought in Coach Rick Tocchet, fresh off back-to-back Stanley Cup seasons as an assistant in Pittsburgh, to lead the young, fresh team to early success. As much as everyone wants to be the 2016 Toronto Maple Leafs, the Coyotes have not even lived up to the most meager of expectations.
Just how bad has the start been? Arizona has already featured four separate starting goalies, due in part to the injury hampering Annti Raanta, their prospective number one netminder. The combined stats for Raanta, Scott Wedgewood, Adin Hill and Louis Domingue are an abysmal 3.59 GAA and .888 SV%, last in the league in both categories as of this writing. Their 2.25 goals per game is also last in the league, and they are in the bottom five in both power play and penalty kill percentages. There does not seem to be one thing about the Coyotes that is going well at the moment.
WAIT. Just kidding. There is exactly ONE good thing about the Coyotes.
Nineteen-year-old Missouri native Clayton Keller is in his rookie season with Arizona and is firmly in the lead for Calder Trophy consideration. On a team that has scored just 46 goals in their first 20 games, Keller has scored a whopping 24 percent of those with 11. A small winger with speed to burn and outstanding hands, Keller is already accustomed to setting records and filling the stat sheet.
Drafted by the Coyotes seventh overall in 2016, Keller was an asset to Boston University's run last season when he scored 45 points in 31 games and was named Hockey East's Rookie of the Year, a title he may also earn this season in the NHL. He finished his career with the US Development Team as the all-time leader in points with 189, besting the marks of Phil Kessel, Patrick Kane, Auston Matthews and others. He was named October's Rookie of the Month, putting up more goals in a single month than any other rookie in history except for Teemu Selanne, who scored 20 goals in March of 1993—you know, that season when Teemu set all the records for rookie goals. Clayton Keller is a phenomenon and is the definition of a diamond in the rough as he sets all-time rookie marks on a team that, simply put, cannot win a game.
It will, of course, be critical to see what the Coyotes will do to continue to develop Keller's talent over the next few seasons. If they bottom out, they may be able to add another high-level rookie talent through the draft next season and surround the Patrick Kane-esque rookie with speedy support. Arizona is not shy about trading assets either, so how they choose to upgrade this season is also something to pay attention to. One thing is for sure, though. Clayton Keller is here to stay.
As the sands around him sink or shift, Clayton Keller has already emerged as the Coyotes' player of the future. And for as bad as this season could turn out to be, they can move forward with their franchise player already identified, making a rebuild that much simpler. Shane Doan, the Coyotes' last franchise player, rode off into the sunset and retired this offseason. Just in the nick of time, their next franchise man, Clayton Keller, has exploded onto the scene.
Reader insights
Be the first to share your insights about this piece.
Add your insights