The Steven Stamkos Effect
How the return of Tampa's captain has made them a contender again.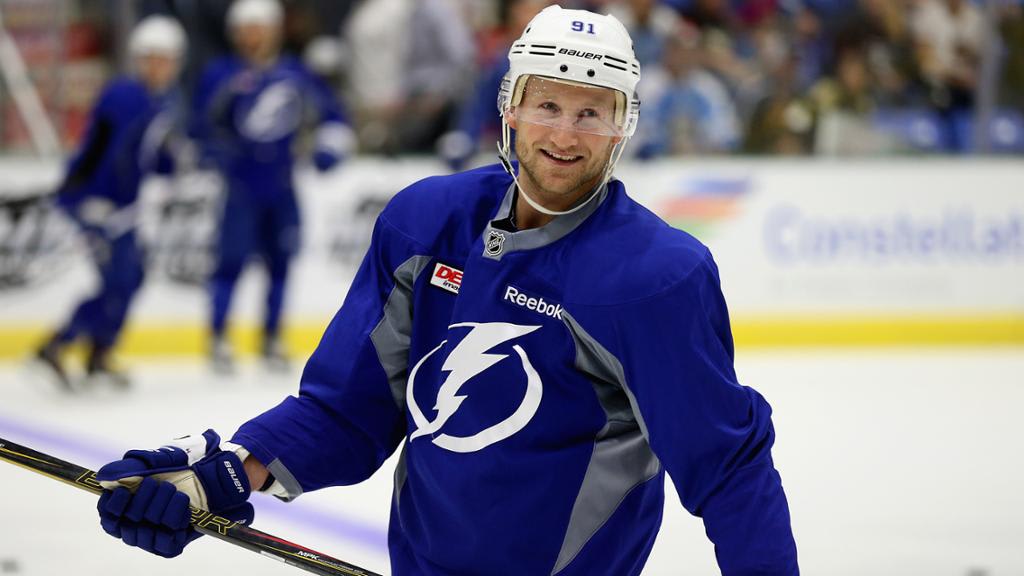 Image via NHL.com
Last season, due to a torn meniscus in his right knee, Steven Stamkos played just 17 games. With the Lightning captain sidelined almost all year, Tampa Bay managed to miss the playoffs in 2016-17.
In 2013-14, Stamkos suffered a broken tibia after slamming into the goal post on a horrific play. He missed roughly half of that season, playing in 37 games. An otherwise pedestrian season saw the Lightning bolstered by Stamkos' return and make a run to the playoffs, finishing second in the Atlantic. They responded to this by naming Stamkos the team captain that year.
Stamkos has been an offensive juggernaut for the bulk of his career. He has averaged over a point per game and over half a goal per game since he started in the league back in 2008-09 and has put up huge scoring totals over and over. In eight healthy seasons (not including the two injury-plagued ones mentioned above), he has scored 40 or more goals four times, including one season of 51, and one of 60. His possession metrics are desirable as well, with both his Corsi and Fenwick stats at over 50 percent. He is a powerhouse and the lifeblood of the Tampa Bay Lightning.
So, it should be no surprise that with a healthy Stamkos leading the way, Tampa enters its Thursday night tilt with the Rangers at 10-2-1 and leading the NHL in goals scored.
Stamkos' Impact on the Lightning
It should be noted, of course, that Stamkos is not carrying the team by himself. He's played with some excellent forwards throughout his career and has been buoyed by veteran leadership in his younger years, thanks to Martin St. Louis and Vincent Lecavalier. As he transitions into his second decade of NHL experience, youthful production has helped him out too, thanks to Nikita Kucherov, Tyler Johnson and Ondrej Palat.
With all of this, though, his offensive production has often directly impacted the production of the team, as evidenced last year. Even with Kucherov rounding into form as a powerful offensive weapon for the Lightning, they were still unable to put the pieces together and make the postseason.
It was a disappointing result for a team that had made the Stanley Cup Finals just two years prior. But, with a point-per-game producer shelved for three quarters of the season, it is hardly an outcome that is all that surprising. Even in a league that is so defined by the production of the team as a unit, a superstar like Stamkos has found a way to influence his team's success just by being on the ice.
2017-18 has started off red hot for Stamkos and, in turn, the Lightning as a team. Stamkos has scored six goals through his first 13 games, but has managed 24 points as well to give him an incredible 1.85 points per game average in this young season. He has not been called upon to be the goal scorer each and every night like he has been in past years, and has found an impact in supporting his line-mate Nikita Kucherov.
The duo is already being called the best forward tandem in the league and has put themselves in the record books with point streaks and totals that are defiantly outpacing the rest of the NHL. The icing on the cake came Wednesday afternoon, when Stamkos was named the first star for the month of October. The second star was Kucherov.
Coming back from injury turned out to be a long road for Steven Stamkos. The decision to stay in Tampa Bay during his most recent free agency was a grueling one for both parties. The result, a healthy Stamkos guiding the offensive machine in Tampa, has the Lightning back at the top of the standings and hoping for a season that ends in playoff success.
The only thing that could be standing in their way is the health of Steven Stamkos. If he is healthy, the Stamkos Effect could be completely undeniable and would take Tampa from whiffing on the playoffs to a division title... and maybe more.
Reader insights
Be the first to share your insights about this piece.
Add your insights