Evander Kane is Better Than You Thought
The Sabres winger is quietly putting up huge numbers.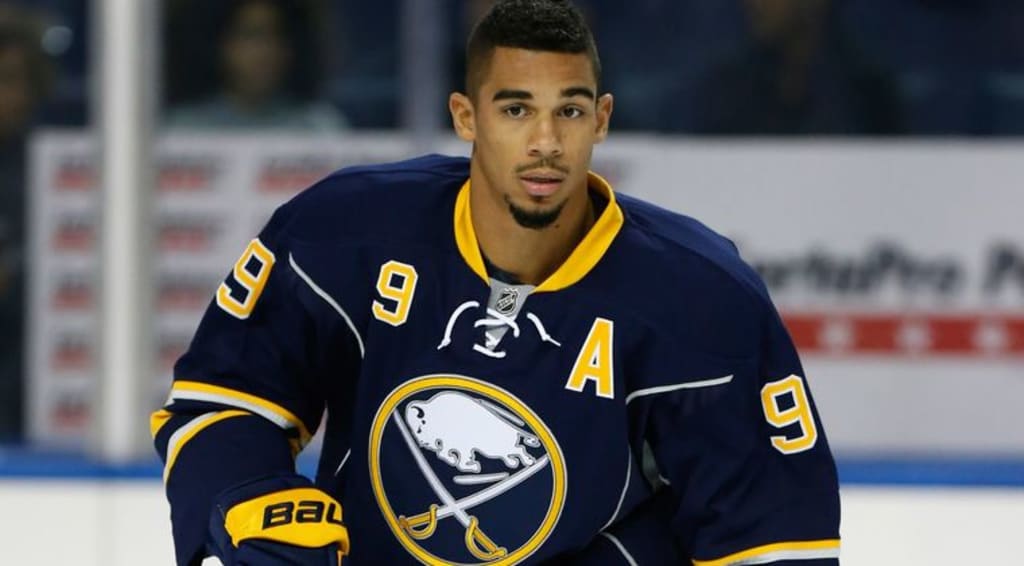 Sabres forward Evander Kane. (Image via Today's Slapshot)
As the NHL celebrates its centennial, it could be argued that the league is more stacked with stars than ever before. With names like Crosby, Ovechkin, Price, Burns, Toews, Stamkos, Matthews, McDavid... has there ever been an era in the NHL where more big names all share the ice? You'd be hard-pressed to find it. Even in the 80s, when Gretzky and Lemieux ruled the ice, there simply weren't as many players in the league to see such an abundance of meteoric superstars across the game. As a result, some players get lost in the shuffle. Such is the story of Evander Kane.
To be fair, Kane has pushed himself to the top of the headlines before, but for all the wrong reasons. First in Atlanta and Winnipeg, he drew the ire of more than one of his teammates and coaches for just being a young knucklehead. No real problems there, as his blockbuster trade to Buffalo signaled his worth to the then bottom-dwelling team. That's when his minor antics became real problems, though. A sexual assault lawsuit turned into multiple allegations from multiple women, as well as an altercation with a nightclub bouncer.
With those charges either dropped or dismissed, Kane has had the last year or so to put himself back together. He's stayed off the front page for any off-ice antics. And is it any wonder that at the same time he begins to put up extremely impressive numbers? In the last 70 games he's played, Kane has put up 34 goals and 52 points overall. In the first ten games of this season, he's averaging better than a point per game and is coming off a season in which he led the Sabres with 28 goals. His high mark for a single season is 57 points with Winnipeg back in 2012, so Kane is currently in the midst of career high output.
What lies ahead for Kane could still be a little rocky. He will become a free agent at the end of the season and is already being discussed as a possible trading piece. Whether Buffalo wants to continue to build around Kane and their bevy of capable forwards could determine whether he plays out the year up north, but either way he could be an extremely attractive piece to add in the free agent market next off-season. At present, he is one of the Sabres best players and is obviously an incredible talent. He could get paid handsomely this off-season and be an impact player on a playoff team. Since Buffalo isn't quite there yet, there's a chance Kane's name is in the headlines again this year — just for the right reasons this time.
Buffalo made a lot of moves this past off-season and anticipated a surge in production that could land them in the playoffs this season. Could they still do that without Kane? Not likely, the way he's playing right now. He is the co-leader in points on a team that is dealing with injuries to their defense, a rotating door in goal, and a 3-5-2 record to start the year. Perhaps the lone silver lining on the Sabres, Kane adds more to this roster playing this well as any player in the league would. The problem? He has to stay consistent and has to stay out of trouble. He seems to have fixed the latter; right now he's addressing the former. Kane has failed to live up to expectations many times throughout his nine-year career. Living up to them now would not only benefit Buffalo, but ensure that Kane's next contract keeps him comfortable for a long time.
The pressure is on this year for Evander Kane. But he just might be better than we thought. As of now, he's on pace for 88 points, which would eclipse his former career high and then some. It took a couple years, and a lot of bumps in the road, but Kane may have finally arrived.
Reader insights
Be the first to share your insights about this piece.
Add your insights