How To Find Vintage Fashion Online
For those interested in discovering some great retro pieces for your wardrobe, here are some expert tips and tricks to help you find vintage fashion.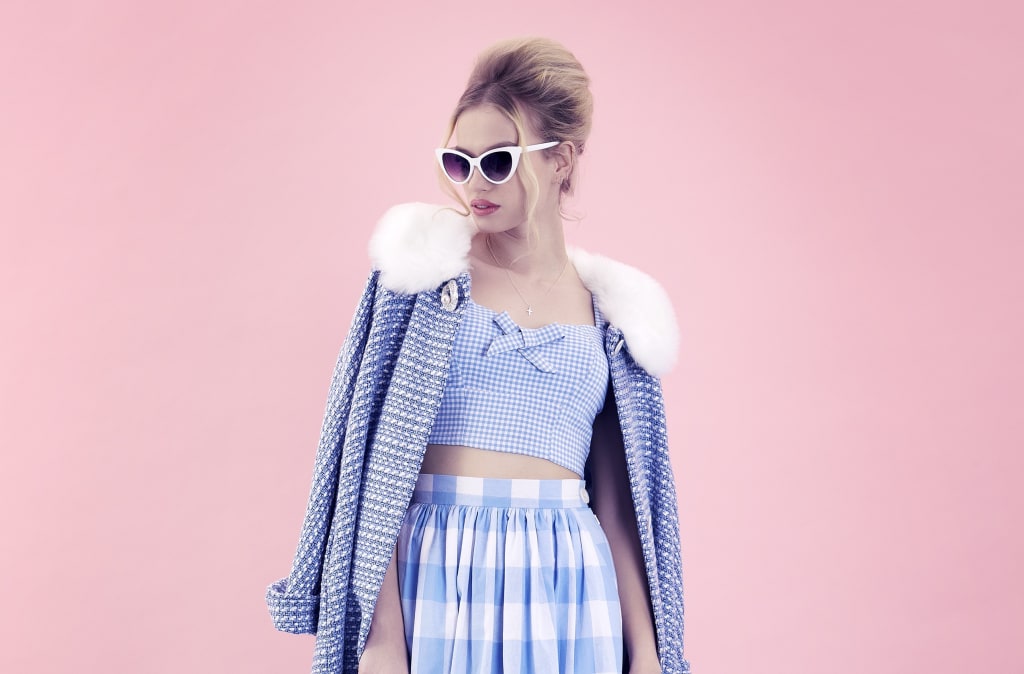 There is something magical about a thrift store. From the nostalgic smell when you walk through the door to the rows upon rows of well-loved garments from decades past, shoppers are immediately transported into a completely different world. Tips for thrift shopping mention spending your whole afternoon there. Vintage clothing stores are the ultimate fashion treasure hunt, especially with retro clothing making a major comeback, and are truly a indescribable shopping experience for true fashion lovers.
Unfortunately, most of us do not have the time or luxury to spend hours digging through each item to find vintage fashion; however, many new online retailers have opened up specializing in retro goods, making thrift shopping a breeze. From bigger stores like ThredUP to smaller specialized accounts on Instagram or Shopify, finding unique vintage pieces is easier than ever before.
Get over your thrifting fears.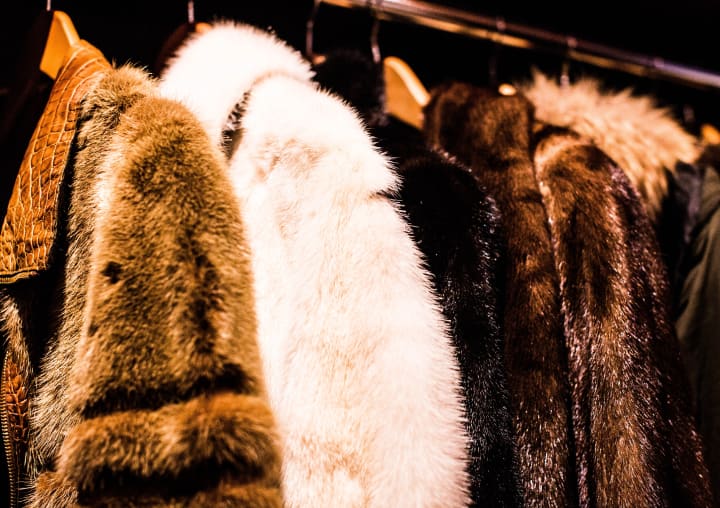 The idea of wearing somebody else's clothes can initially feel very uncomfortable, and the term "second-hand shop" creates vivid mental images of stained and sweaty pieces that were thrown away after years of hard use. For shoppers concerned about the cleanliness of their products before use, thrift shopping might sound like a complete nightmare.
Nevertheless, there are hundreds of gorgeous pieces found in vintage stores that are still in great condition. Thrift shopping is the shit, in all honesty. In fact, many high end thrift stores even have "new with tags" sections in which you can find a plethora of unworn garments for a fraction of their retail price. Even with items that have been worn, many are greatly beloved pieces that were treated with the utmost care and consideration. From high-waisted jeans that simply stopped fitting to prom dresses worn for one magical night only, there is a whole treasure trove of wonderful pieces just waiting to find their perfect home in your wardrobe.
Check out the tried and true sources.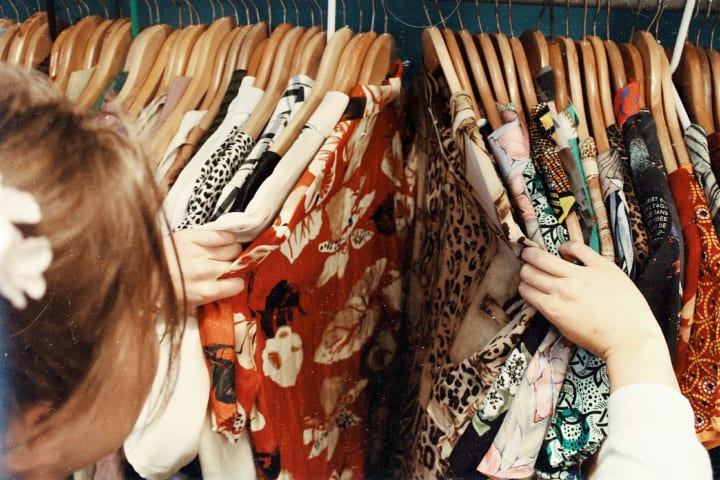 There is a reason why Nasty Gal took off as the original online vintage retailer—their organization! Shopping on larger platforms such as ThredUP or traditional retail stores that have thrift sections such as Nasty Gal enables users to sort through vintage pieces in a highly organized fashion. With specialized filters that allow you to search for specific items, sizes, or brands, these large platforms allow shoppers to specifically pinpoint items that fit their exact needs. As a result, retro browsing takes significantly less time when using these systems, allowing the everyday person to efficiently thrift shop. Unfortunately, digitized systems do steal some of the magic of digging through the racks to find unexpected pieces, so be sure to check back often to find new styles.
Other sources that online thrifters love include Poshmark and Shopify, which break down items into individual digital stores per seller. Getting started on Poshmark is actually pretty easy. Like ThredUP, these sites have algorithms that help customers browse through thousands of items, making it significantly more efficient than traditional brick and mortar vintage shopping. However, by keeping each seller as an individual entity, customers can get a better feel for the personality of the shop and the items, and therefore may continually return to their favorite sellers for repeat purchases. This allows these websites to feel more like specially curated vintage boutiques, bringing back a more personal touch to a highly virtual process.
For those concerned about trusting a larger site, another option is to seek out specially created Instagram accounts with specific style aesthetics. Accounts such as MARKT and The Break allow for thrifting newbies to take a more manageable bite into the vintage marketplace and find vintage fashion online with relative ease. Most of the curators for these Instagram boutiques are experts in vintage fashion, meaning there will be full transparency about the quality and condition of their products. Having a trusted middleman takes out the worry of shopping for previously used items, making Instagram boutiques the perfect first step for those looking to expand into vintage without the risk.
Look into your Facebook Marketplace.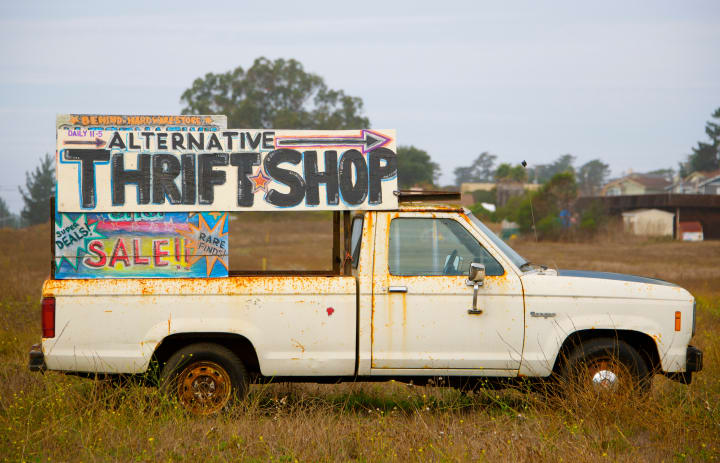 A new option for online thrift shopping is one of Facebook's newest features, the Marketplace. Designed for easy consignment in local areas, the Marketplace is essentially a family friendly eBay or Craigslist. While some groups may be invite only or specific to certain universities, most local sellers are public, meaning buyers can easily sort through local sells to find the perfect pieces. Although buyers are often required to pick up their purchases, the specialized locator ensures a short drive no matter the product. Check out this platform for the cheapest of cheap finds that could be waiting right next door.
Other Thrifting Tips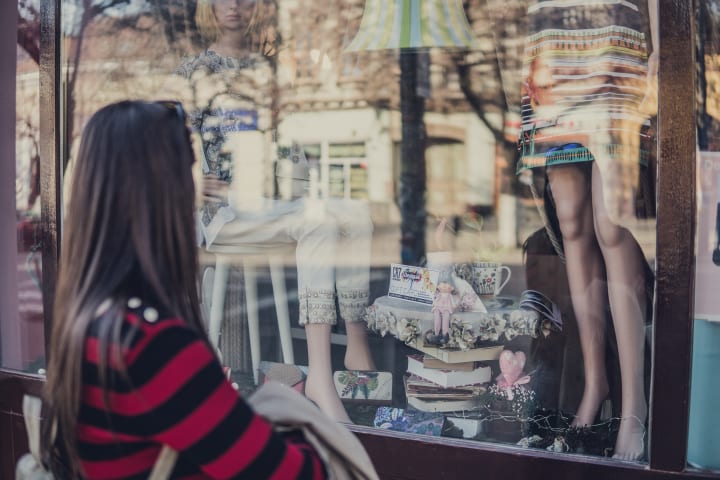 As with real life thrifting, there are a few general tips to keep in mind when online shopping for vintage fashions that may pose even more of a challenge in the digital world. As clothing sizes and body shapes have evolved over the years, online buyers have to be very wary of the exact dimensions of their clothing. For example, a dress in a size two today may have completely different dimensions than the same size decades ago, meaning that purchasers need to scrutinize the written measurements before buying. In addition, clothing from decades closer to now will have sizing more accurate to today's standards, making it a safer starting point for those interested in slowly expanding their vintage collection.
Another trick to remember is that due to the low initial cost of most vintage pieces, tailoring is a great option to perfect a piece. By nipping and tucking a few loose ends, any retro piece can suddenly gain new life. In addition, finding the proper undergarments to compliment a item in the correct style can immensely change the look of an outfit. If a dress was designed in an era that required the use of a girdle or corset, it will not fit properly without the intended support and shaping. Thankfully, most decades that are currently popular do not require extensive lingerie, but for some eras, buyers should seriously consider investing in quality stylistic shapewear to truly compliment their new vintage pieces.
Finally, the beauty of thrift shopping is that a piece can always be resold. If an online order arrives in the mail and the garment is not as promised, the first step should be to contact the original seller for a return, but ultimately it can always be rethrifted through another platform. Always be sure to double check the quality of the fabric immediately. As a result, learning to find vintage fashion online is a painless and inexpensive way to experiment with new styles, making digital thrifting a great way for the modern women to shop for retro styles easily and efficiently.