The 10 Best Gifts for Service Members Returning Home
Military life is rough. That's why gifts for service members returning home will help soldiers readjust to the home front while rewarding them for the work they did.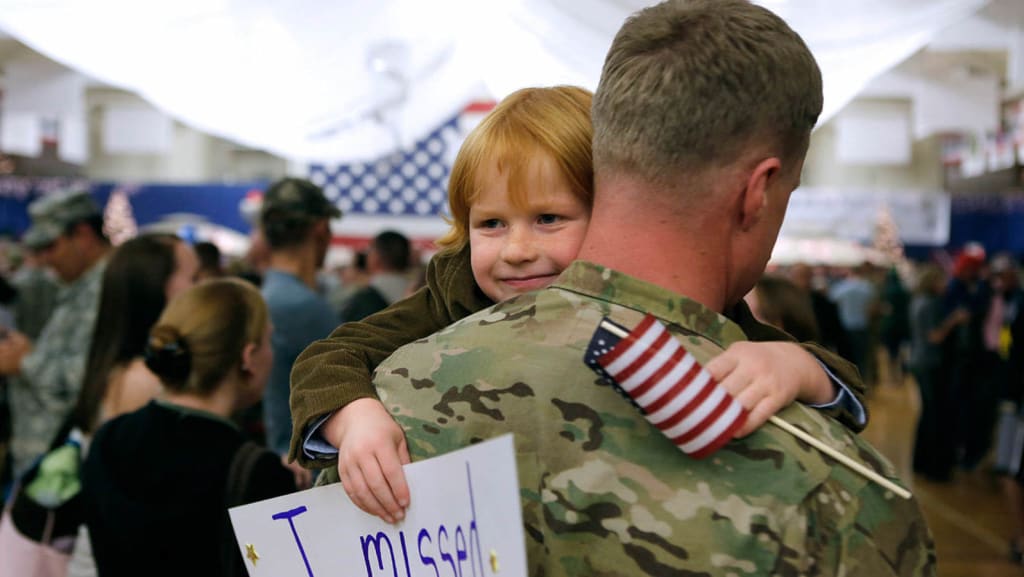 If you're a family member or friend who was faithfully sending care packages to a friend in the military, you already know how rough that life can be. Rougher still though is trying to re-integrate into the civilian world after being deployed at war.
As someone who's seen war, I can explain a little bit about what soldiers want to experience when they return home. When you are returning home from deployment, there are several things that you are always hoping to see.
You hope to see your friends and family greet you. You hope to see the green, green grass of your yard looking as good as you left it. You want to just feel like yourself again.
Even if you've changed and seen things that were difficult to digest, you want to maintain a level of normalcy you had come to expect from being home, at least until you start believe you are safe again and that things will be okay. This is even true in the National Guard, after seeing fights or fires break out. You just end up wanting normal to be there again.
Trying to find gifts for service members returning home can be hard to do for these people who need them most. Thankfully, I decided to help those who are trying to get their buddies a nice homecoming gift.
Here are my suggestions as far as gifts go.
A little bit of military pride is always welcome—at least, for the most part. Most will totally understand when civilians offer them military-themed gifts for service members returning home. Military culture is a legit thing!
That said, I would generally avoid going heavy-handed with it. These military-themed cookie cutters are perfect for the person who was a mess hall guru while in the service.
Along with being a fun homecoming present, these cutters make great gifts for any military family that's currently sending care packages to the Middle East. After all, what soldier doesn't love sweet treats?
Leaving the service can be jarring, you know. One minute, you're in combat or surrounded by your fellow troops; the next, you're home and have no idea what to do with yourself. It's easy to see why many veterans feel glum about being out of the service.
If your service member has been feeling down about being out of the military, or has been struggling with the kind of life they used to live, it may be a good idea to get them a shirt that will remind them of their heroism. If you don't like the way this one looks, there are plenty of companies which have gifts that help support veteran organizations that take the shape of apparel. Be sure to do your research so you can decide how to incorporate their style into the gift.
You know what military service members like doing? They enjoy kicking back with a cold beer. If you're looking for gifts for service members returning home, almost anything bar-related will be a welcome present.
This polished brass bullet is real, and really does open up beers. For added flair, it also comes in a military-style carrying case. Expect to get a chuckle out of this gift.
I really can't stop emphasizing how much of a transition getting back from war can be. If your friend has seen war, they will not be the same coming back. Oddly enough, being a veteran gives you a newfound purpose. You start seeing the military as an extended family.
If your friend feels a little lost, don't worry. This is a normal feeling, and there are books out there you can give the soldier in your life that can help them acclimate. Down Range is a great book for people returning home, wondering, "What now?"
Personally, I would try to keep the amount of militaria low when picking out gifts for service members returning home after war. That's why I'd suggest keeping the nods to their old life a little subtle. Something like getting an Air Force Member Air Force 1's should work out well.
Most people who are veterans still enjoy a more active life than others, and that means they could definitely use some sneakers for gym sessions. These boots will provide them a comfortable civilian style and military-level breathability.
It's no secret that a lot of service members struggle with the emotional upheavals that come with leaving the service. At times, it can feel a bit overwhelming, even for those who started off feeling pretty grounded.
Personally, I'm a big fan of offering up subscription box gifts for service members returning home. It helps bridge the feeling of having a care package to look forward to, and is also a gift that keeps on giving.
This one is geared towards teaching people therapy skills to help them overcome life's turbulence. Believe it or not, this is one of the best gifts for veterans they'll actually love.
Though I might harp on how much horror they may see, a lot of service members legitimately enjoy their time in the military. (I know, shocker, right?!)
For people who loved donning dog tags and hanging out with friends on base, you can't get a better homecoming gift than a frame to help them treasure those moments. This custom, laser-etched photo frame comes with a place for your military memories, as well as a place to hang up your dog tags, making it a fantastic way you can honor a veteran.
Playing cards on base is pretty much one of the most all-American pastimes you can have when you're in the military. Most people who have been in the service end up being adept at a handful of card games—to say the very least.
This elegant gift box will be one of the better gifts for service members returning home. It's got an awesome Marine Corps motif, is made out of fine wood, and also has dice for more diverse game nights.
Even if they loved their time abroad and didn't suffer from PTSD, many military members just want to be able to cope with the stress that comes with a major life transition. Sometimes, all the little things that are aggravating about civilian life just get to you.
Stress Less Cards are a good tool to have in your corner pocket. They're designed to help people stay calm, even when one's first instinct would be to tell those people to "drop and give me 50."
One of the things that most civilians take for granted is the luxury of a hot shower and being able to stay clean. In many stations in the Middle East, that's not something you get to enjoy. It can be weeks before you get a legit shower!
Female service members, in particular, probably missed being able to enjoy the luxury of a hot bath. That's why I strongly suggest soaps and bath bombs as gifts for service members returning home. It'll make them feel like royalty!

Rowan Marley
Rowan Marley is a 20-year-old sports enthusiast who hails from Brooklyn. When he's not hitting up a local Zumba class, he's drinking organic smoothies. That's just how he rolls.
See all posts by Rowan Marley →