Introducing Quick Edit
Vocal's most requested feature is now here, and it's giving you more control over your stories than ever.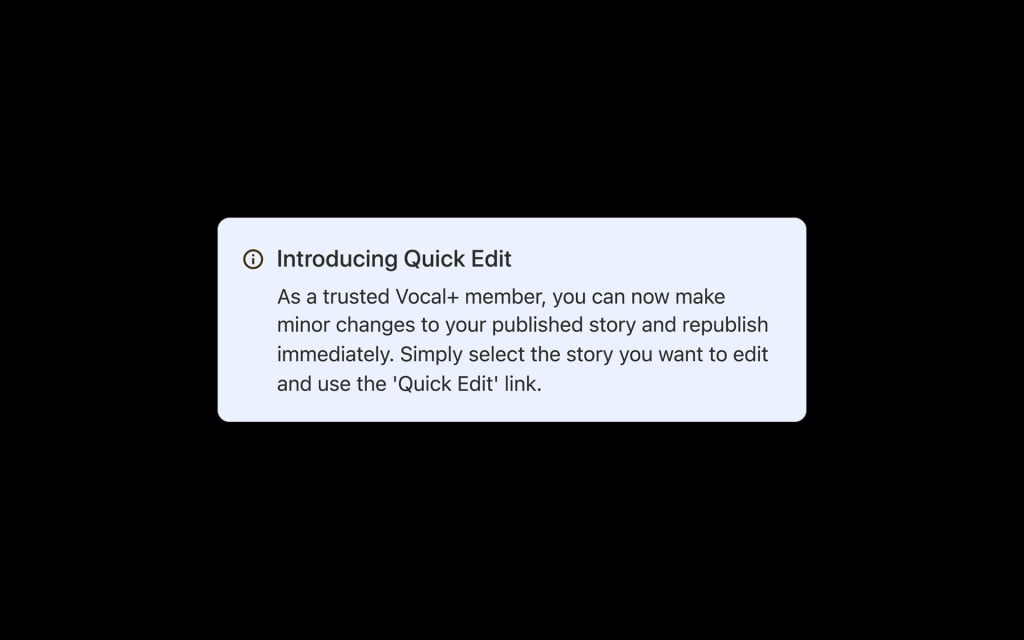 About a month ago, I reflected on how far Vocal has come, owing in large part to the feedback that we've received from you, our creator community. From the introduction of Creator Bonuses, to a major site redesign and the Vocal Ambassador Program, we couldn't be prouder of what we've built thanks to you. And we're just as excited about what's in store for the Vocal community as we continue to provide you with the tools that you need to create better stories.
Today, we are pleased to announce Vocal's newest feature: Quick Edit. As we reviewed all of your requests and feedback, the ability to edit your story after publication was by far our most requested feature, and it may seem like an obvious one for Vocal given our commitment to your stories.
But to be transparent, it's not quite that simple. For us, community safety is our top priority. That means that we work hard to moderate every piece of content that appears on Vocal to ensure that your stories aren't living alongside others that are hateful or harmful, and a site-wide, unmitigated editing feature would defeat the purpose of that proactive moderation, allowing anyone to replace previously approved content with something malicious.
Maintaining a balance between creator control and community safety required a lot of thought, but after many different iterations and a lot of testing, we've found a solution that addresses both concerns. Quick Edit helps us maintain the safety of proactively moderated communities and minimize the risk of malicious intent, while still allowing you to take care of those typos or tiny fixes that drive you crazy after publishing—all without having to go through our Customer Support Team, or wait another 24 hours for your story to be republished.
How does Quick Edit work?
This new feature lets members of the Vocal+ community edit just the contents of the body of their story. For more extensive edits, like updating the title of your story or changing your featured image, you'll still need to request that your story be drafted by our customer support team, but this should help you take care of mistakes, missing words, formatting and the like.
To use quick edit, visit your stories, and click on the "Published" stories column.
Navigate to your published story page
Select "Quick Edit" (located underneath your by line and at the very end of your story)
Make any necessary changes to the body of your story. These changes must still abide by Vocal's community guidelines.
Save changes by clicking "Save + Publish"
Quick Edit is just the first step towards a more robust suite of pre-and post-publish options that give you more agency over your stories and your profile.
Quick Edit FAQs
I saved and published my story's changes, but don't see them published - what's going on?
If you definitely saved your story's changes, you're likely viewing a cached version of your story (an older version stored by your browser). Your browser will eventually show the newer version of this page on its own, but you can also manually clear your browser's cache now. How you clear your cache varies based on your operating system and browser, so search for instructions accordingly. When you are viewing your newly edited story, you'll see a new "Updated Time" next to your story's "Published Time" (next to your by-line).
Why is Quick Edit only available to Vocal+ members?
Here at Vocal, we work hard to provide you with safe, moderated communities. We are only offering this Quick Edit feature to Vocal+ members because they have invested back in the Vocal platform and demonstrated their commitment to keeping Vocal safe.
Why can't I change my title/subtitle?
You'll quickly realize that the Quick Edit feature only lets you modify the content in the body of your story. Your story's unique link, title, and subtitle will remain the same. We plan on introducing the ability to update title, featured image, meta fields, and more down the road. If you wish to make more substantial edits to your story, please contact support.
Are Quick Edit Updates Moderated?
Yes! Although Quick Edit changes will be published instantly, they will still be reviewed by Vocal's moderation team and rejected if they do not follow Community Guidelines. The Quick Edit feature lets creators add in a missed comma, or fix a typo after publishing, but our moderators are still protecting our community from harmful content.
About the Creator
Founder and President of Creatd (Nasdaq: CRTD), the parent company of the Vocal platform.
Reader insights
Be the first to share your insights about this piece.
Add your insights