How To Edit Your Published Vocal Stories!
In case you didn't know...here's how to take out those pesky mistakes in your published Vocal stories!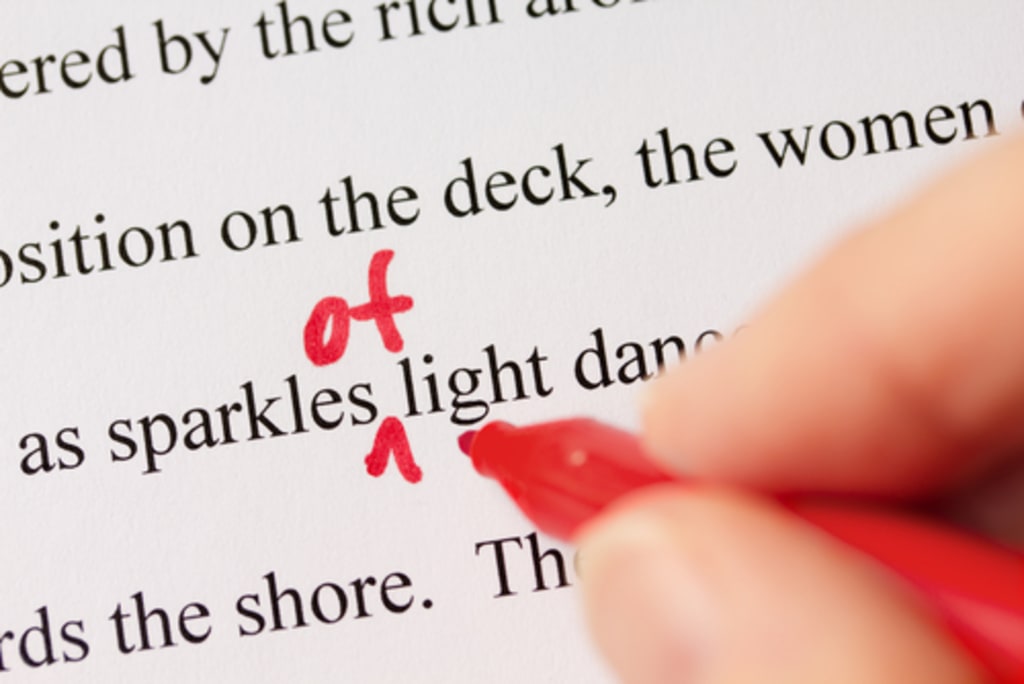 It happened again. You spent five hours writing the perfect Vocal article. You got so excited by the fact you finished, you accidentally hit "submit for review" before deleting any spelling or grammar mistakes. Or maybe you did check for mistakes, but you missed a couple in your editing session. If only the article wasn't locked while pending for review - you could take them out right now!
This sucks. Now your audience can see you're one of those people who uses apostrophes in plural words. Ugh, this is so embarrassing!
I get it. I've been there plenty of times. Even worse: I've made factual errors in my Vocal articles. I've called TV episodes by the wrong name, accidentally wrote Jimi Hendrix was the highest paid artist of the 60's when he was the highest paid musician at Woodstock, and even told thousands of readers you receive $10 from Vocal top stories. (Which used to be true, but now it's $5. Unfortunately, I can't predict the future.)
Never fear, dear reader. I'm about to tell you a secret that will change your life...
You can edit your published Vocal stories.
WHAT?! Yup. You heard me. I know, you're in shock right now. I thought it was impossible, too. Turns out, it's not. In fact, editing on Vocal has only gotten easier!
Back in the day, the only way to edit your published stories was by submitting a request to the Vocal team. Thanks to popular demand, a new Quick Edit feature is now available to Vocal+ members! It allows you to quickly edit typos and other mistakes in the body of your articles without having to go through Customer Support and waiting another 24 hours for your story to be republished.
However, if you're looking to make more extensive edits to your story - like changing the title or featured image - or if you are not subscribed to Vocal+ yet, you will still need to edit stories the ol' Customer Support way. And that's what I'm about to teach you now!
Let's get down to brass tacks. Here's a step-by-step guide of how to edit your published stories, followed by some questions you may have about the process!
1. On the homepage, scroll all the way down and click on the 'Support' tab. It's next to 'Terms of Use', and underneath the little Twitter sign.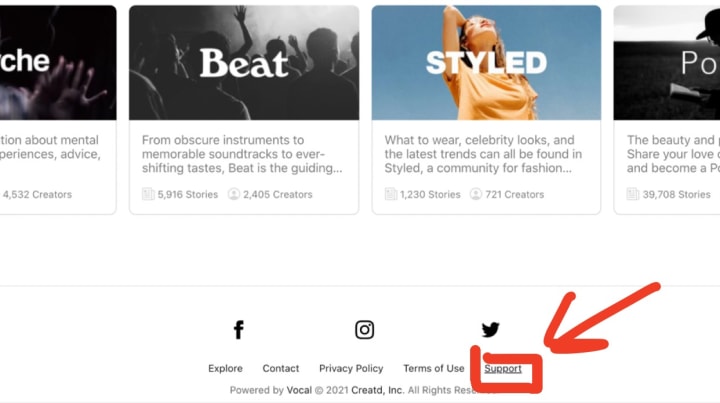 2. On the 'How Can We Help?' page, click the button in the top right corner that says, 'Submit a request'.

3. You will be redirected to a request form. First, put in your email address. In the second bar, select 'I need help with my account or my stories'. In the third bar, describe your problem.
A bunch of articles will pop up when you type in the third bar. You don't need to click on them! However, you can't leave the third bar empty, or your request won't go through.

4. In the "What's the nature of your request?" bar, select, "I want to edit one of my published stories".
After that, you can select how many you want to edit (you can edit up to five at a time), and provide the published link to your story. You can also give more details if necessary, and add an attachment if you want.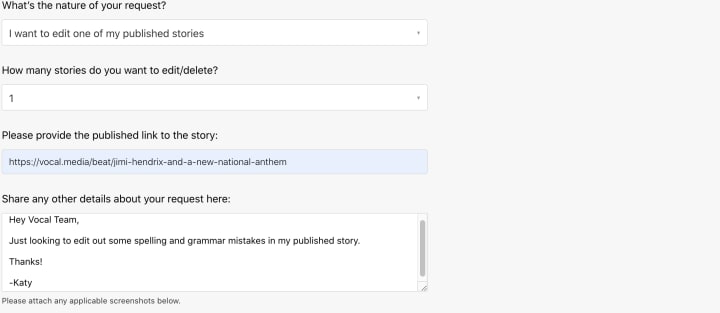 5. Click the pink 'Submit' button, and you're done! Check your emails to see when your Vocal story is back in your drafts.
Once you've finished your new edits, you can re-submit the story, and it will be re-approved for publishing.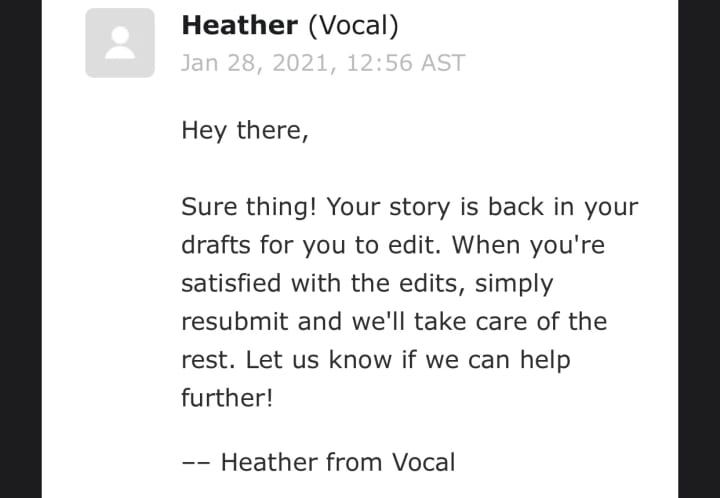 Easy peasy lemon squeezy! Obviously, it's a good habit to always check your work before you submit your article for approval. Remember: the Vocal team is made up of humans, too. If you're requesting to edit articles 24/7, it may get tedious for them to keep sending back stories. Therefore, it's best to use this editing trick sparingly. The goal is to make your edits, then never touch your article again.
Still on the fence about putting your stories back in your drafts? It's okay: I've experimented with editing so you don't have to. Here are some answers to questions you may have...
Will I still be able to see the story on my profile while I'm editing it?
No. When the article is back in your drafts, you will not see it on your profile page, in your 'published stories' page, or submitted in any challenges you entered it into. You can't view the story in your stats, either.
Will I lose my reads and likes once my edited story is re-published?
Nope! You will keep all the reads and likes you had before the article was sent back to your drafts. You'll also keep all the earnings you've made from the story! No need to be a penny-pincher.
If I edit a story published before other articles, will it appear first on my profile page once it's re-approved?
Yes. This may be the only drawback to editing published stories. I requested to edit my Jimi Hendrix article that won a challenge around the Fourth of July last year, but now it appears first in my profile page. So if you care that your article about Christmas Eve dinner is about to be re-posted in the middle of summer, you're just going to have to live with the mistakes. This is why it's best to request access to your published story as soon as you know there are errors. Don't wait too long!
What happens if I edit a story that won a challenge?
It will still keep its badge! You'll also still see it on the "winners" page, but you won't be able to read the story when you click on it. Not until it's re-approved.
How did you find out about this nifty editing trick!
Thank you so much for asking! How thoughtful of you. :) Yes, I learned about it after seeing a post on the Vocal Media Creators Hub. If you're not a part of that Facebook group yet, you should get on it. We've been making a lot of discoveries lately, including some other Vocal secrets! Plus, it might help you network with other creators and get more reads.
Special thanks to Heather from the Vocal team for answering my questions while testing out the editing feature. That's all I've got for you today, folks. Hope you found this article useful. Now go out there and fix your s**t!
This article was last updated 7/12/21
______________________________
If you found this article resourceful, make sure to click that little heart button! Tips are greatly appreciated. Wanna say hi or ask about my editing experiences? Send me an Insta DM @katyisaladybug and I'll try to get back to you as soon as I can.
As always, thanks for reading! Until the next advice article,
-Katy <3